In this guide, I'm going to show you how to complete the Fiendish SBC in FIFA 22 Ultimate Team.
This is the third Squad Building Challenge in the League and Nations Hybrid category after The Challenger SBC and the Advanced SBC.
I'm going to show you an example that you can copy (should you wish to) and also explain why this FIFA 22 fiendish SBC solution works so that you can swap specific players out if you need to reduce the cost.
When people land on guides like this they all end up buying the same players. This drives the price up and makes the SBC lower value overall — they're still good value, but you want to make them as profitable as possible.
With this in mind, I do encourage you to continue reading past the example below so that you can learn how to actually complete this without needing to directly copy the full list of players, though of course if all of the players are still cheap then, by all means, go for the same FIFA 22 Fiendish SBC solution that I did.
This is a solution for Fiendish SBC in FIFA 22 without loyalty, meaning you can buy all of these players from the transfer market — you don't need to have packed them or played them for 10+ games.
Let's get started.
Fiendish SBC Solution for FIFA 22
To complete this Squad Building Challenge, you can use this team: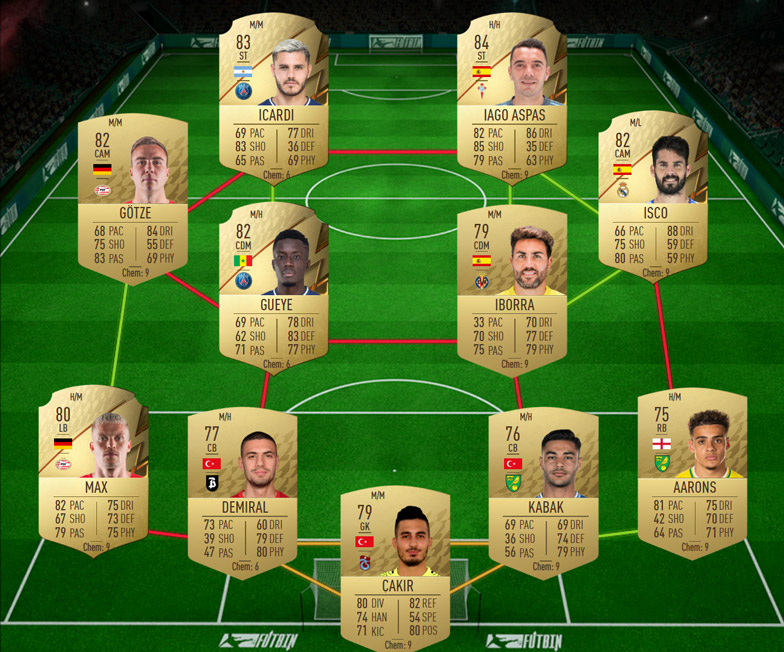 It's important to remember that this is just an example. It does work and you can copy it, but you need to understand why it works and I'll explain that below.
The players included above are:
Cakir (79)
Philipp Max (80)
Demiral (77)
Kabak (76)
Aarons (75)
Gotze (82)
Gueye (82)
Iborra (79)
Isco (82)
Icardi (83)
Iago Aspas (84)
Let's break the Fiendish SBC down and talk about why the solution above solves the puzzle, so that you can find cheaper alternative options if these players have risen in price due to demand.
What Does the Fiendish SBC Require?
To complete the Fiendish SBC you'll need:
Exactly 6 nationalities
Exactly 6 leagues
Maximum of 3 players from one country
Maximum of 3 players from one league
Minimum squad rating of 81
Minimum chemistry of 90
Obviously I've already shown you one way of submitting this Fiendish Squad Building Challenge successfully without needing loyalty on your players, but there are a few other small variations that you can consider in terms of the chemistry links. There are many variations of different players you can potentially use.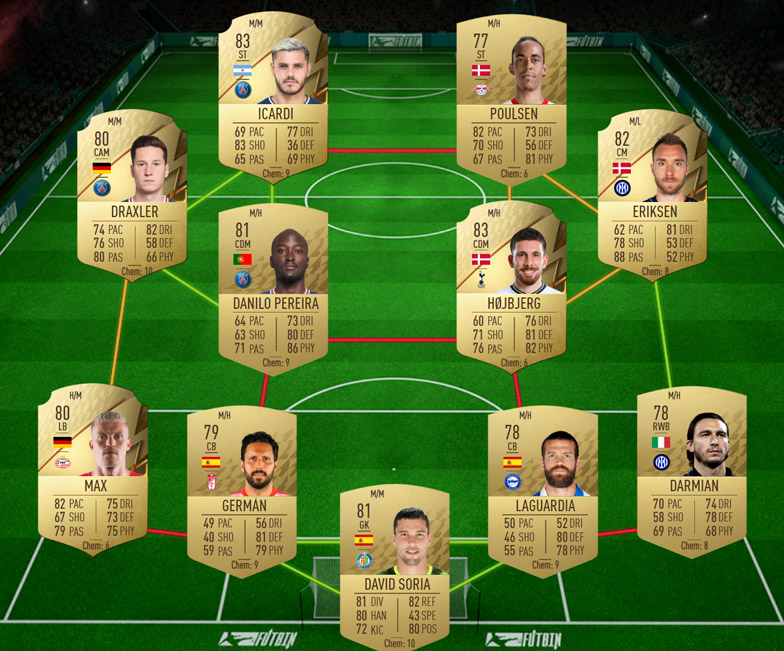 I won't list out the players from this alternative example to help keep the prices down, but we can use it to look at the chemistry links and where you specifically need your green links and orange links to go to make this work.
Remember, you need 90+ chemistry but you need 6 different nationalities and 6 different leagues. This makes things tricky.
So, how does this one break down?
The GK and both CBs are Spanish players in La Liga (green links)
The RB and right-sided CAM are Serie A players, both at the same club
The LB and left-sided CAM are both German, though play in different leagues (one Ligue 1, one Eredivisie)
The left-sided CDM and left-sided ST play for the same club as the left-sided CAM (Ligue 1)
The right-sided CDM and right-sided ST are the same nationality as the right-sided CAM, but both play in unique leagues to everyone else in the team (one Premier League, one Bundesliga)
This might sound complicated, but all you need to realize is that these bullet points can essentially be swapped out for different groups of players, especially ones that have no links to any of the other bullet points.
For example, you could swap the two Inter Milan players on the right for two gold players from a totally different club in the world, assuming their ratings were high enough and their league was different to the rest of the team still. All you'd need to make sure is that you can also link the right-sided CDM and right-sided ST with players of the same nationality as the right-sided CAM, from unique leagues.
None of this is as tricky as it sounds when you start to play around with options.
The important thing is that once you know the formula for completing this SBC, it becomes much easier — and now you have it.
If you go back to the first example, you'll notice that the groups or pockets of players actually work in slightly different ways to this second example, which shows you do have flexibility with this. And flexibility is a great thing with SBCs as it means you can always look for cheaper options if one player has had their price driven up.
Go ahead and get this one submitted and then we can move onto the FIFA 22 Puzzle Master SBC.