The League and Nations Hybrid SBCs are always tricky and the Advanced SBC in FIFA 22 is no different. This is the second Squad Building Challenge in this category after The Challenger SBC.
If you want to get this one completed without the use of the loyalty glitch then you need to make sure you follow this guide carefully, every green chemistry link really matters.
However, when you follow guides like this — or copy specific player recommendations — chances are that the prices of players increase. After all, lots of people are looking for these solutions and everyone ends up trying to buy the same players. With this in mind, we'll explain exactly how to do the Advanced SBC in FIFA 22 without needing to copy our exact player picks.
Once you've read this guide, you'll come away knowing exactly what you need to do to submit this SBC and you'll have the knowledge to know which players you can look towards instead if some of them are overpriced at the time you're completing it.
Advanced SBC Solution for FIFA 22
Here's an example FIFA 22 Advanced SBC solution that shows you how to do the Advanced SBC in Ultimate Team on FIFA 22: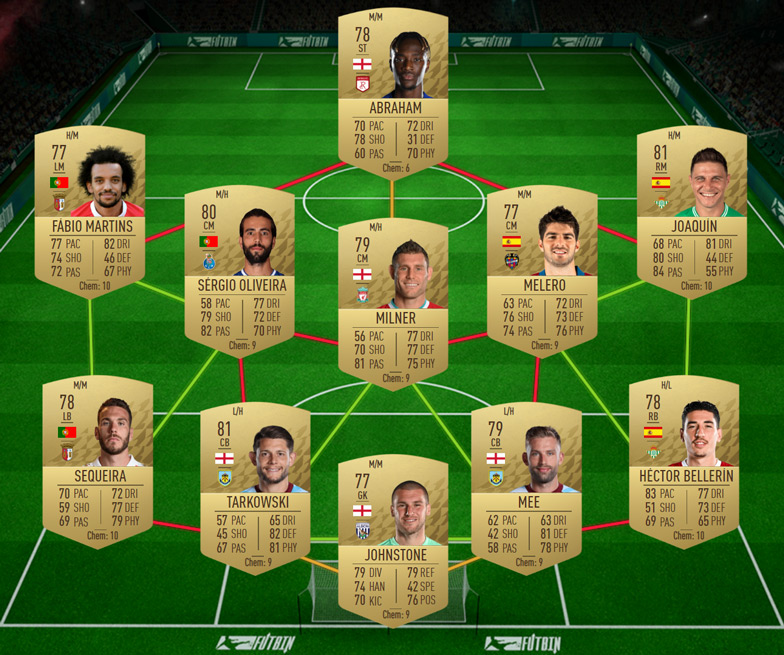 Now there are actually a couple of different Advanced SBC FIFA 22 no loyalty solutions but this is the first one we'll look at (in terms of the chemistry links, not the specific players).
The players included in the example above are:
Johnstone (77)
Sequeira (78)
Tarkowski (81)
Mee (79)
Hector Bellerin (78)
Fabio Martins (77)
Sergio Oliveira (80)
Milner (79)
Melero (77)
Joaquin (81)
Abraham (78)
But more importantly, so that you can figure out cheaper options if this example is expensive, let's take a look at how exactly this one works and where you can potentially change players.
What Does the Advanced SBC Require?
To complete the Advanced SBC you'll need:
Exactly 3 nationalities
Exactly 5 leagues
A maximum of 5 players from one country
A maximum of 5 players from one league
A minimum squad rating of 79
100 chemistry
The example that we included earlier focuses on smaller numbers of green links in order to maximize the players that have 10 chemistry, rather than having a wider spread of 9 chemistry that you can get if you use more orange links.
So, in our example, here's how it breaks down:
The LB, LM and a CM are Portuguese and play in the Portuguese league
The CBs and a CM are English and play in the English Premier League
The GK is English but plays in a different league (the English Championship)
The RB, RM and remaining CM are Spanish and play in La Liga
The ST is English but plays in a unique league to all of the other players (Serie A)
It's quite easy to see how these pockets of green links work:
And fortunately for you when completing these options, you have a large number of different options for changing players to be able to always complete this one cheaply. You could have Italian players from Serie A, German players from the Bundesliga, Dutch players from the Eredivisie — there are lots of potential options if one of these 'pockets' of players is expensive for some reason.
The only thing to remember is to make sure you hit that minimum 79 squad rating, meaning the average player in the team must be rated 79.
We do think that the above method of completing this is the best way in general, but you might find a cheaper alternative by looking towards something like this:
In this one, we don't have the tight, neat pockets of green chemistry links but instead have a good number of green mixed with more orange and less red.
The above is slightly cheaper at the time of writing this but doesn't allow for as much flexibility in terms of easily switching one player, or one group of players, out.
If you need the list of players that were used in this one, it's:
Alex Remiro (81)
Alex Centelles (75)
Aritz Elustondo (79)
Sakho (75)
Aguilar (79)
Jony (78)
Gonzalo Villar (76)
Savanier (80)
Tchouameni (79)
Townsend (77)
Calvert-Lewin (81)
Now that you've got multiple options to get this one completed, get it submitted and let's move on to the Fiendish SBC solution.