If you're looking for a First XI SBC solution in FIFA 22, look no further.
This is a tricky one to complete and will cost a fair few coins (if you're new to the game at least) but it can be done in a number of different ways, and I'm here to talk to you about the multiple options you have to complete it.
This is the final Squad Building Challenge in the 'Hybrid Leagues' category of FIFA 22 after the easier-to-achieve Give Me Five SBC, Seven-League Boots SBC and The Whole Nine Yards SBC.
There's something very important to know about completing this, but let's get stuck in with telling you exactly how to do the First XI SBC and then we'll cover the crucial factor — you can't complete it without knowing this, so do keep reading below.
First XI SBC Solution for FIFA 22
There are a number of different potential solutions for the First XI SBC but most of them revolve around three main nationalities, the cheapest of which (at the time of writing) is Colombian: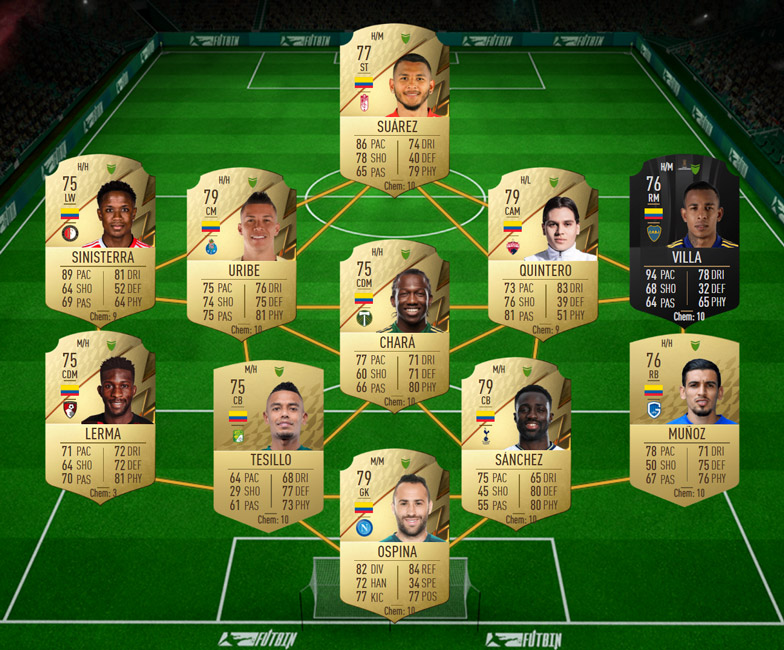 The above solution includes:
Ospina (79)
Lerma (75)
Tesillo (75)
Sanchez (79)
Munoz (76)
Sinisterra (75)
Uribe (79)
Chara (75)
Quintero (79)
Villa (76)
Suarez (77)
However, guides like the one you're reading now and images shared like the one above can have some negative effects. As everyone is looking to complete the First XI SBC and finding the same solutions, the player prices increase.
With this in mind, you need to have alternative options in mind and here are a couple of different nationality solutions you could look to in order to do it the most affordably at any given time:
This Brazilian solution includes:
Helton Leite (78)
Ismaily (80)
Alex Telles (82)
Gabriel Paulista (82)
Paulo Otavio (76)
Davidson (77)
Ivo (75)
Thiago Mendes (78)
Arthur (83)
Luiz Araujo (77)
Talisca (82)
And in this Argentinian solution, you'll need:
Gazzaniga (77)
Tagliafico (82)
Medina (75)
Cabral (75)
Robertone (76)
Ocampos (83)
Pereyra (80)
Lo Celso (81)
Gonzalo Martinez (76)
Centurion (75)
Higuain (81)
If Centurion is expensive, you should be able to find plenty of alternative 75+ rated RW or RM players that are Argentine in the Libertadores 'league'.
What Does the First XI SBC Require?
To complete this Squad Building Challenge you'll need:
Exactly 11 leagues
At least 8 rare players
All players gold
100 chemistry
Because you require 100 chemistry from 11 different leagues, opting for the same nationality in every position is essential here — as you can't get league or club chemistry links.
The most important thing with the First XI SBC is that it must be done with loyalty.
There unfortunately isn't a first XI SBC FIFA 22 no loyalty solution unless you do it with icons, and I'm going to presume no one in their right mind would ever do such a thing.
This means you need to get loyalty on the squad that you build for this, but there is an easy way to get loyalty in FIFA 22.
How to Do the First XI SBC in FIFA 22
Due to the loyalty requirement, the actual team-building part of the first 11 SBC in FIFA 22 is quite easy.
You need a full squad of Colombian, Brazilian, Argentinian or Portuguese players (other nationalities may work too) but each of them will need to play in a unique league, meaning you don't have too many options outside of the players and solutions listed above.
Usually, there will be one or two players in each solution that can be traded out for an alternative player of the same nationality, rating and league, which is useful if certain options are too expensive. But players like Lerma who are unique (Colombian, gold, rare and playing in the English Championship) are always going to be relatively expensive in the early months of the game.
So, build the team in the SBC but also make the team into a new squad or put the players into the starting XI of your main team.
Once you get loyalty on them you can submit the SBC and you will then have completed the category of Hybrid Leagues SBC in FIFA 22 — as long as you did the easier ones first, of course. You can then move onto the Hybrid Nations SBCs, with the first one being the Final Four SBC.