In this guide, I'm going to show you exactly how to complete the Around the World SBC in FIFA 22.
This is the final Squad Building Challenge in the Hybrid Nations category after The Final Four, Six of the Best and Elite Eight, and you'll get a Rare Players Pack (12 gold players, all rare) for completing it.
The great news is that you can do the Around the World SBC with no loyalty, meaning all eleven players can be purchased from the transfer market and no additional work is needed.
However, as the cheapest solutions typically require loyalty, I'm including examples below that don't need it and then I'll also explain why the solutions work so that you can look for alternative players to reduce the costs if needed.
Let's get stuck into it now.
Around the World SBC Solution for FIFA 22
Here is an example for completing the FIFA 22 Around the World SBC with no loyalty:
The players used above are:
Cragno (81)
Ricardo Rodriguez (76)
Demiral (77)
Kjaer (83)
Rrahmani (77)
Dumfries (82)
Eriksen (82)
Vidal (81)
Perisic (81)
Correa (81)
Kulusevski (81)
As always with these solutions, I include this list purely for the sake of an example.
My common warning: sometimes players in these guides increase in price. Lots of people want to find how to complete the Around the World SBC in FIFA 22, they read this guide (and other similar solutions), and then people all try to buy the same players and drive the price up. Keen traders will also buy up the supply so they can raise prices, too.
With that in mind, make sure you're not overpaying for these players. You should hopefully be able to buy all of these players for less than 2,000 coins, with many below 1,000.
If you can't, take a look at how this solution works below so you can buy alternative players instead.
Don't overpay, it ruins the effectiveness and profitability of these huge value SBCs — arguably the best SBCs in terms of value on the entire game release each year.
What Does the Around the World SBC Require?
To complete Around the World, your squad will need:
Exactly 10 nationalities
A minimum of 8 rare players
A squad rating of 81+
Exactly 100 chemistry
Because we need 10 different nationalities here and also exactly 100 chemistry, it does mean you'll need to opt for a single league of players in order to complete this.
You can do this with Serie A like in the example I shared above, and you can also use the Premier League, the Bundesliga, and maybe other top leagues too. There are plenty of ways to make this work.
Here's the team I submitted, which actually used (and required) one loyalty: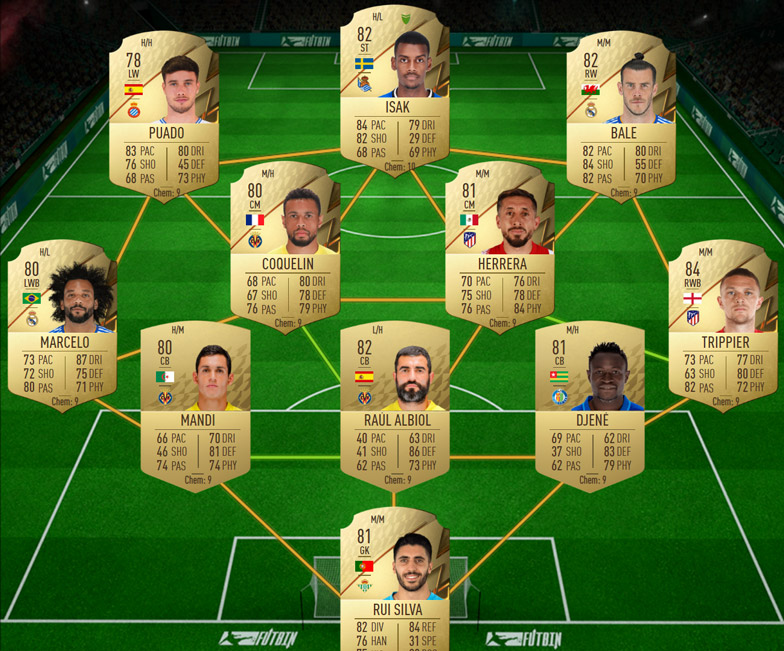 The reason mine needed loyalty is because I didn't have enough players that played for the same club. If you compare the one I submitted with the first example, there were only three green links compared to seven (technically seven, although five of those links join between the same four players).
All I needed was an extra green link or two between players, which would mean going for another player from the same club in the same league (as we can't re-use the same nationality again), and it would have been enough to submit without loyalty. As I'd packed Isak as an untradeable, I decided to use him and submit.
If you want to complete this using a different league such as the Bundesliga, obviously you need to remember to use 10 different nationalities and plenty of rare players, but the most important thing to ensure is to get yourself four or five players from the same team that are able to get a green hyperlink between one another.
Despite having tough requirements, this is actually quite an easy Squad Building Challenge to complete.
Get your solution submitted and you should now hopefully have completed the Hybrid Nations SBCs.
This is the only final SBC in the Foundation category that doesn't require loyalty, unlike the First XI SBC from Hybrid Leagues and the Puzzle Master SBC from League and Nation Hybrid that both need it in order to be completed.
If you're working through these SBCs in the order they appear in-game, next up for you is the FIFA 22 The Challenger SBC.