Allen Iverson is one of the most influential people in NBA history. He has inspired countless players and fans around the world because of his never-say-die attitude on the court.
For the past two decades, NBA 2K users have loved playing as The Answer. In fact, the first five editions of NBA 2K featured him as the cover athlete.
Even his contemporaries had nothing but praise for the undersized superstar. For instance, legendary big man Shaquille O'Neal once said that Iverson was one of the greatest to ever play the game despite not winning a championship.
The two Hall of Famers' playing styles couldn't be more different. But because of his dominance on the court, some users opt to look for the best Shaq build in NBA 2K22.
However, if you're on the other side of the fence and would rather play with heart and finesse like Iverson, there are ways to set up your character to achieve that.
Below is a guide that shows how you can create the best Allen Iverson build in NBA 2K22.
Allen Iverson Build Overview
Iverson was known for his agility and ability to score from anywhere inside the three-point line. He also had God-tier dribbling moves, particularly his deadly crossover. Even Michael Jordan would agree.
Because of his scoring prowess and shoot-first mentality, anyone could easily forget that the 6-foot guard was also a solid playmaker. However, he dished out 6.2 assists per game during his career.
His ability to play both point guard and shooting guard made combo guards more popular across the league. It is for this reason that you might find yourself in a dilemma when choosing between the backcourt positions as you create your character.
If you want to initiate the offense more often, then I suggest selecting the point guard position. If you want to play off the ball more, then shooting guard is the way to go.
Skill Breakdown
The type of player you are creating must primarily be focused on finishing and playmaking.
A case can be argued for picking shooting over finishing. However, almost throughout his career, Iverson was more efficient attacking and scoring inside the paint than when he settled for outside shots.
Furthermore, by raising your player's finishing attributes, you will be able to gain more potential badge upgrades under that category. Increasing the driving layup attribute will unlock more layup styles as well.
Iverson was an underrated defender, especially during his prime. He even led the league in steals for three straight seasons.
But something's got to give because of the limitations in MyCareer. You will need to sacrifice defense in the skill breakdown in favor of offense.
Physical Profile
The four-time NBA scoring champion used his quickness and ball handling skills to move past defenders. What's more, his vertical was also insane, enabling him to reach higher than much taller opponents.
For these reasons, the ideal Allen Iverson build in NBA 2K22 has a physical profile that combines agility and vertical.
Setting Your Potential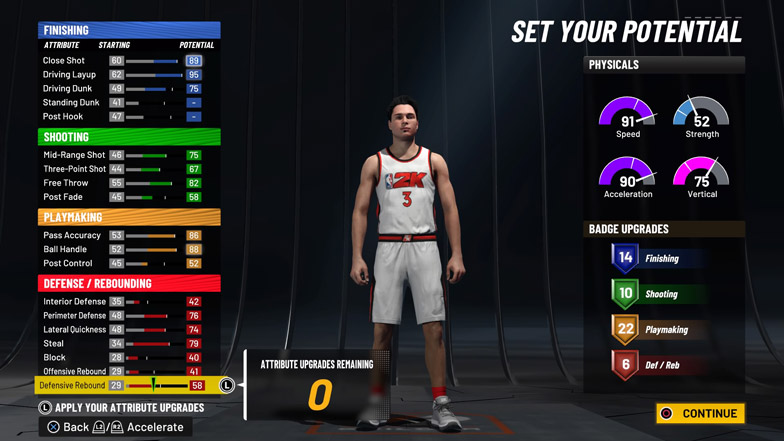 When setting the potential, you will need to prioritize driving layup, close shot, mid-range shot, and free throw under the finishing and shooting categories.
Be sure to allot some points for driving dunk. After all, if you watch Iverson's top career players, the highlight reels will include some of his iconic slams.
Like mentioned before, Iverson was a wizard with the ball and had handles for days. Thus, you really should maximize ball handle and add some points to pass accuracy.
As for the defense/rebounding category, just focus on lateral quickness and steal, while also putting some points on perimeter defense.
Physical Attributes
Although he didn't play like it, Iverson stood just 6-foot tall. There were even rumors that he was actually one or two inches shorter than his listed height.
Iverson also had a slight frame, weighing just 165 lbs during his playing career. As you customize your character, you can set it to that number and not any lower. This is to avoid a sharp decrease in your strength and interior defense.
The wingspan can be set to about 77.4 inches. Extending it beyond that will boost some finishing and defense attributes. But on the downside, it will decrease your shooting and ball handle.
Takeover
You only have to select from two choices for your character's takeover: slasher or shot creator.
Slasher allows your player to gain extra boosts to his finishing attributes when it gets hot. You can go for this takeover type if you want to keep on attacking the paint.
Selecting shot creator though is the better alternative, and here's why.
When this takeover is enabled, it will be easier for you to catch opposing players sleeping when performing dribble moves. After leaving the on-ball defender in the dust, you can then either take the open jump shot or drive to the basket. If help defense arrives, then an option of passing to an open teammate will arise.
Allen Iverson Badges
A significant number of Iverson's badges will be coming from finishing and playmaking, especially since these are your character's major strengths. Moreover, on most possessions, you will surely have the ball in your hands.
To play like the 2001 NBA MVP sooner, you might want to get more badges early in your career. Fortunately, we have a guide on the fastest way to unlock badges in NBA 2K22.
Shooting Badges
Because your player archetype is built around finishing and playmaking, there might be less potential badge upgrades under the shooting category. So, it is best to concentrate on only a few.
The Deadeye, Difficult Shots, and Mismatch Expert badges will help you convert your mid-range shots even with defenders nearby.
Upgrading Volume Shooter will prevent your player's shooting attributes from being penalized even after you have attempted many shots. Iverson himself was known for his volume shooting. During his prime years, he typically attempted more than 20 field goals per game every season.
You can also consider the Clutch Shooting badge. Iverson did make several shots when the game was on the line throughout his career. But statistics show that he made just 38.9 percent of his field goals during clutch time.
1. Deadeye – The badge increases the chances of converting jump shots taken with a defender closing out.
2. Difficult Shots – High difficulty mid-range jumpers, such as hop steps, spins, stepbacks, and pull-ups receive a shot percentage boost.
3. Mismatch Expert – Increases the chances of making shots attempted over a taller defender
4. Volume Shooter – After a player has taken a small handful of shots, an additional boost to shot attributes is given for every subsequent shot, whether it's a make or miss.
Finishing Badges
One of the many things that made Iverson beloved among fans is his craftiness near and under the rim. He would always find a way to score a bucket over taller players.
His arsenal of gathers and layups made it difficult for primary and help defenders to strip or block the ball. Therefore, the finishing badges you ought to keep your eyes on are those that will allow you to score inside, such as Acrobat, Fearless Finisher, Slithery Finisher, Tear Dropper, and Unstrippable.
You should certainly upgrade Giant Slayer, too. This will help lower the chances of opposing big men blocking your layups.
1. Acrobat – Spin, half-spin, hop step, euro-step, cradle, reverse, and change shot layup attempts are more likely to go in the bucket.
2. Fearless Finisher – Strengthens the ability to finish a layup through contact, while reducing the amount of energy lost after such a play.
3. Giant Slayer – The badge boosts the likelihood of converting a layup attempt when the player is up against a taller defender, and it reduces the possibility of getting blocked.
4. Slithery Finisher – Improves a player's ability to move through traffic and avoid contact during gathers and finishes inside the paint.
5. Tear Dropper – Increases the shot percentage of floaters and runners.
6. Unstrippable – When going to the basket and performing a layup or dunk, the chances of being stripped are decreased.
Playmaking Badges
Before the likes of Kyrie Irving, Stephen Curry, and Jamal Crawford were breaking ankles, Iverson did it first. There are several badges that will allow your character to pound the rock like the superstar did.
Iverson was also a blur on the court. He was one of the fastest ever with the ball. As such, you will definitely have to upgrade the badges that will speed up your character both in the open court and half court.
There are several playmaking badges to select from. Most of them would be sound choices, to be honest. Below are the badges I suggest you allot points on.
You can also just choose a few in order to level up more badges to the Hall of Fame tier.
1. Ankle Breaker – Causes defenders to stumble or fall more frequently when performing stepbacks and other certain dribble moves.
2. Downhill – Gives the player a Speed with Ball boost during fastbreak situations.
3. Handles for Days – Less energy is consumed when a player takes performs consecutive dribble moves, allowing them to chain together combos more quickly and for longer periods of time.
4. Hyperdrive – Gives the ability to speed up dribble moves when attacking down the court.
5. Quick Chain – This badge allows the player to quickly put together a series of dribble moves while sizing up their opponent.
6. Quick First Step – Ball handlers can launch more quickly and effectively when driving out of triple threat or after a size-up.
7. Space Creator – Increases the chances of successfully creating a separation from the defender when performing any stepback move or shot.
8. Stop & Go – Allows for the ball handler to start and stop a dribble move quickly with unique stops and launches.
9. Tight Handles – Improves a player's ball handling ability when sizing up opponents and makes it easier to break down the on-ball defender.
10. Triple Threat Juke – Speeds up triple threat moves when trying to dribble past the defender, increasing the chances of freezing your opponent.
Defense/Rebounding Badges
Unlike players with solid physiques, Iverson's thin frame made it difficult for him to body up opponents on defense. Instead, he relied on his quick hands and uncanny timing to steal the ball.
To be like Iverson on the defensive end of the court, you should look at upgrading the Pick Pocket and Interceptor badges. This will increase your chances of finding success when gambling for a steal off dribbles, shots, and passes.
1. Pick Pocket – Improves the chances of successfully stealing the ball from the opposing player who is dribbling or attempting a layup or dunk. Also reduces the chances of committing a foul when trying to strip the ball from a ball handler.
2. Interceptor – The frequency of successfully tipped or intercepted passes greatly increases.
Final Thoughts
Setting up your character to resemble Iverson is just the beginning. To move and shoot like AI, you have to master the NBA 2K22 dribbling and shooting controls.
Iverson once went on an infamous rant about practice. But avoiding practice is probably not something you can afford to do if you want be a legendary ball handler and slashing playmaker on NBA 2K22. It will take a lot of effort to memorize the Right Stick and Right Bumper or Trigger mechanics.
But if you're like me, playing as Iverson on NBA 2K is definitely a fun experience, making the grind to increase your rating and earn badges worthwhile.