The small forward is one of the best positions to play in NBA 2K22. With the right attributes and physical profile, you can have a versatile player in your hands.
In MyCareer, choosing to create a small forward will provide you plenty of options when it comes to the build. You can make it similar to a backcourt player with high-level ball-handling skills. Another alternative is to construct it like a big man and dominate the paint.
If you want to imitate arguably the greatest players who filled the position, you can copy the best LeBron James build or the best Larry Bird build in NBA 2K22.
You can also create your own, of course. And if you need help in doing that, this guide will show you what skill breakdown, physical profiles, attributes, and badges you will need for your character in order to have the best Small Forward build in NBA 2K22.
Small Forward Build Overview
The first question you must ask is, "What makes the best small forward build in NBA 2K22?"
There is no completely objective answer to that. As for me, I believe that for anyone to be a top player in the league, he has to be a two-way force. This way, he can be a game-changer on both offense and defense.
Creating a two-way player is then the best way to go.
By additionally making it a finisher, you will have a player who can proficiently score inside the shaded area or make the defense collapse. When the latter happens, a teammate can be left open for the unguarded shot.
Skill Breakdown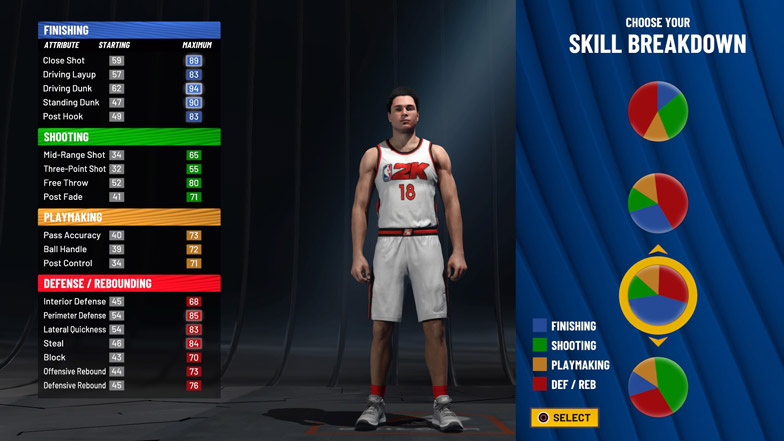 When choosing the skill breakdown, you should certainly opt for one that has a bigger distribution of finishing and defense/rebounding.
I recommend selecting the pie chart with a greater amount of finishing. This way, the character's starting and maximum attributes under this category will be higher. The said option will also provide more stats for speed, acceleration, and vertical.
The increased finishing attributes will also let you put up buckets inside the paint. You can also easily get contact dunks in NBA 2K22 when you have a good amount of driving dunk attribute.
Physical Profile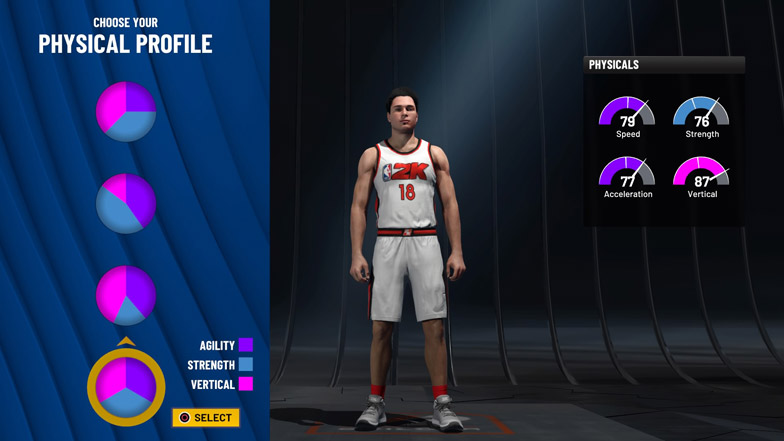 As a small forward who can moonlight as a shooting guard in some lineups, your player should have more agility and vertical than it has strength.
However, instead of selecting the alternative with the least amount of vertical, you should choose the one with an equal division of each characteristic.
Because later on, when you adjust the height and weight to the ideal measure, your player's strength will be compromised. On the plus side, the change will result in an increase in the speed, acceleration, and vertical.
Setting Your Potential
In this part of the MyCareer build, there are certain attributes you should definitely look at maximizing.
For the offensive attributes, these are driving layup, driving dunk, standing dunk, mid-range shot, free throw, pass accuracy, and ball handle. When it comes to defense, what you should set to the maximum are perimeter defense, lateral quickness, steal, and block.
These attributes are what you will need in order to be play your role well on both the offensive and defensive ends of the court. In particular, the shooting attributes will provide you with more scoring weapons and the ball handling attributes will help you protect the ball better, especially when attacking the basket or passing to a teammate.
As for what's left of your upgrade points, assign just enough to post fade to increase your potential badges under the shooting category to six. The rest can be allocated to interior defense to compensate for the attribute penalty when you modify the height and weight.
Physical Attributes
In the current era, the average height of a small forward is 6-foot-7. Some of the best small forwards are even taller at 6-foot-8 or 6-foot-9.
But when creating your player, giving up an inch or two provides many advantages. It increases the agility, as well as important attributes in all categories. Having said that, I advise setting the height of your player to 6-foot-6.
As for the weight, you can lower it to around 195 lbs to further raise the agility. The cost is lower strength and interior defense, which is an acceptable compromise.
Lastly, for the wingspan, you can expand it to the maximum. This will result in a huge boost to many finishing and defense/rebounding attributes.
Takeover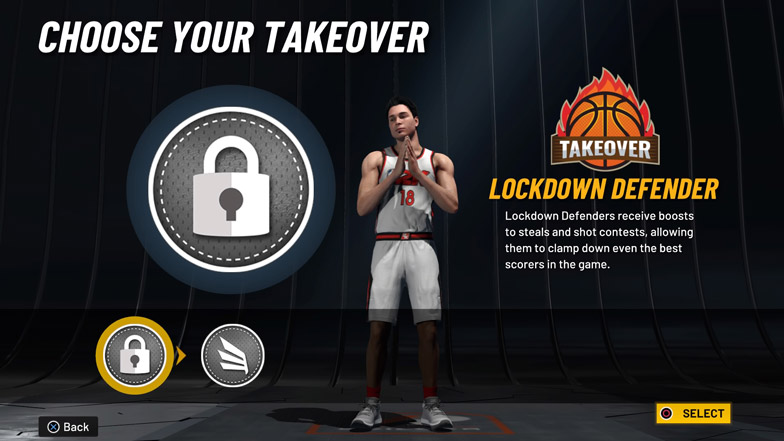 You cannot go wrong with either of the takeover choices.
Lockdown Defender will provide bonus to steals and shot contest attributes when the takeover is activated. On the other hand, the Slasher takeover will help your player be more effective when attempting to drive past the defense and finishing at the rim.
I suggest going for Lockdown Defender. After all, you will be matching up against the likes of LeBron James and Kawhi Leonard. This takeover will increase your chances of clamping down such offensive beasts.
The Best Small Forward Build Badges
If you didn't know yet, the fastest way to unlock badges in NBA 2K22 is to concentrate on the category you want to upgrade badges in during the games.
For instance, because your player's strengths are finishing and defense and you are going to want to earn badges under this category, you should try to score more in the paint and put more effort in defense and rebounding.
The following badges are what you should prioritize when you finally earn upgrade points.
Finishing Badges
Because you will eventually have around 20 badges for finishing, you can upgrade some to the Hall of Fame tier. However, if your preference is to spread them out so you can unlock more badges, that works, too.
Those that you should undoubtedly get are Fast Twitch, Lob City Finisher, Posterizer, and Slithery Finisher. Acrobat, Fearless Finisher, and Giant Slayer will help you convert more layups and dunks in traffic.
Another finishing badge worth adding is Tear Dropper, especially after you have mastered how to do a floater. This can allow you to shoot over taller defenders inside the paint.
1. Acrobat – Spin, half-spin, hop step, euro-step, cradle, reverse, and change shot layup attempts receive a significant boost.
2. Fast Twitch – Speeds up the ability to get standing layups or dunks off before the defense has time to contest.
3. Fearless Finisher – Improves the player's ability to absorb contact and still finish dunks and layups. Also reduces the amount of energy lost when attempting contact layups.
4. Giant Slayer – Raises the shot percentage for a layup attempt when the player is being defended by a taller opponent. Also reduces the chances of getting blocked.
5. Lob City Finisher – Improves the player's ability to finish dunks or layups off alley-oop passes.
6. Posterizer – Increase the chances of throwing down a dunk over an opponent.
7. Slithery Finisher – Raises the player's ability to slide through traffic and avoid contact during gathers and finishes at the rim.
8. Tear Dropper – Improves the player's ability to convert floaters and runners.
Shooting Badges
Your character will not be as strong a shooter as other elite small forwards. With the limitations of NBA 2K22, something's got to give – and that means giving up outside marksmanship for insider scoring with this build.
Even so, if you follow this guide, you will get a handful of upgrade points for shooting badges. You can use it on several badges or a few important ones, such as those mentioned below.
The Slippery Off-Ball badge will allow your player to wriggle free from opponents when you are moving without the rock. If you receive the pass with a lot of space, you can either take the open jump shot or drive to the basket.
Volume Shooter is also a great badge to take, more so if you are looking to attempt a lot of field goals every game.
1. Slippery Off-Ball – When attempting to get open off screens, the player can navigate through traffic more effectively.
2. Volume Shooter – After a player has taken a small handful of shots, an additional boost to shot attributes is given for every subsequent shot, regardless of whether it's a make or miss.
Playmaking Badges
The build you are making is more proficient in putting up buckets than dishing the ball. So, the playmaking badges you should consider are those that will let you find more success when attacking the basket.
What I recommend are Downhill and Tight Handles. The former will boost your speed when bringing the ball up court during fastbreaks. Meanwhile, the Tight Handles badge will help you break down opponents when attempting dribble moves.
You can also upgrade Needle Threader to increase the likelihood of succeeding at passing to a teammate when help defense comes.
1. Downhill – Gives a boost to speed with ball attribute in fastbreak situations.
2. Needle Threader – When passing through a tight window between defenders, a bonus is given to the player's passing attribute.
3. Tight Handles – Increases the player's ball handling ability in size-ups, making it easier to break down the on-ball defender.
Defense/Rebounding Badges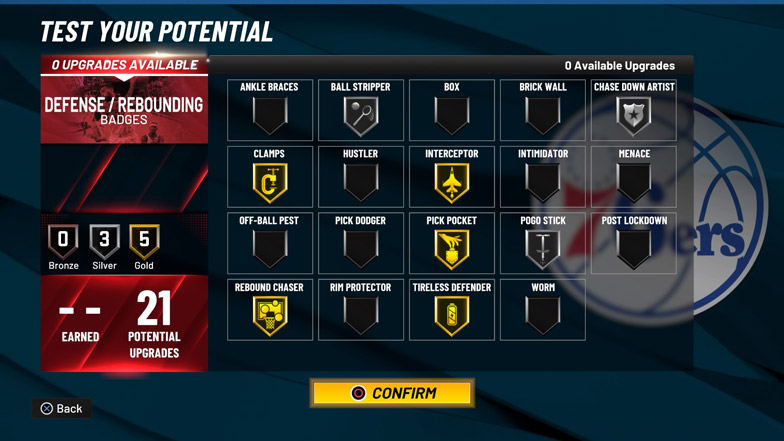 With this build, you will eventually be granted at least 20 badges to expend in the defense/rebounding categories.
You can allot it to badges that will boost your stats (rebounds, steals, and blocks.) These include Ball Stripper, Chase Down Artist, Interceptor, Pick Pocket, and Rebound Chaser.
If you want to perform much better on defense, the Clamps and Tireless Defender badges are worth adding. Pogo Stick is also a sensible choice due to the ability to jump twice quickly the badge provides.
1. Ball Stripper – Increases the chances of successfully stealing the ball when stripping an opponent who is attempting a layup or dunk.
2. Chase Down Artist – Boosts the speed and leaping ability of the player when chasing down an offensive player in anticipation of a block attempt.
3. Clamps – The player is given access to quicker cut-off moves and is more successful when bumping or hip riding the ball handler.
4. Interceptor – The frequency of successfully tipped or intercepted passes greatly increases.
5. Pick Pocket – Boosts the chances of a steal and reduces the chances of fouling the ball handler when attempting to strip the ball from him.
6. Pogo Stick – Allows the player to quickly recover and go back up for another jump upon landing. This could be after a rebound, block, or jump shot attempt.
7. Rebound Chaser – Improves a player's ability to track down rebounds from farther distances than normal.
8. Tireless Defender – Allows the player to play defense more aggressively without losing that much energy.
Final Thoughts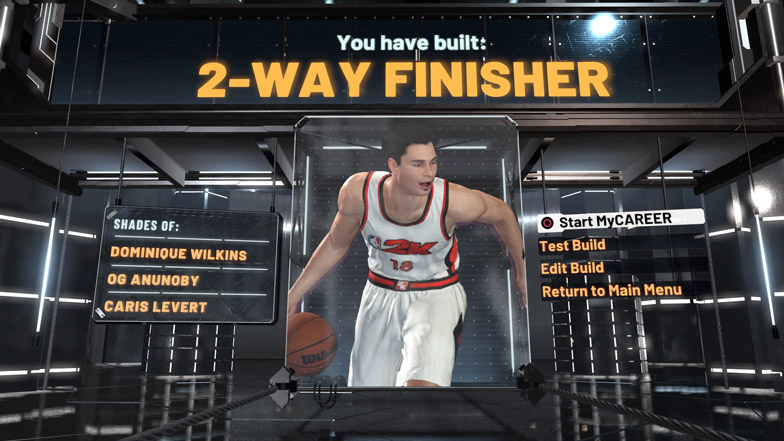 If you follow everything I've written except for the takeover and badges, the player archetype you will get is a two-way finisher.
After finishing setting up your player, it will only be the start of an exciting MyCareer journey. If you want to follow in the footsteps of the likes of Andrew Wiggins and LeBron James, the last two small forwards who were No. 1 draft selections, be sure to study on how to get drafted in NBA 2K22 as the first overall pick.