The Los Angeles Lakers' LeBron James is one of basketball's greatest stars. Year after year, he doesn't fail to impress the worldwide NBA audience with his tremendous talent and skill, which has made him a player that can easily be put against players in the likes of Kobe Bryant, Steph Curry, and Michael Jordan.
Due to popular demand, in this guide, I will create the best LeBron James build in NBA 2K22. Though what you're about to see is my final, and easily best build of the LeBron, previously, I spent hours testing various badges and attribute point allocations to find the one that stands out the most. And to be honest, I really think I've found it.
Below, I'll give you a complete breakdown of the best NBA 2k22 LeBron James build. I'll start off with the best skill breakdown for James, and after, I'll move on to physical profile, attribute point allocation, body type, takeover, and badge upgrades.
Every step of the way also comes with an image that shows you everything you need to know, in case any of the text isn't clear enough.
Without further ado, let's take a closer look at this amazing LeBron James build in 2K22.
LeBron James Skill Breakdown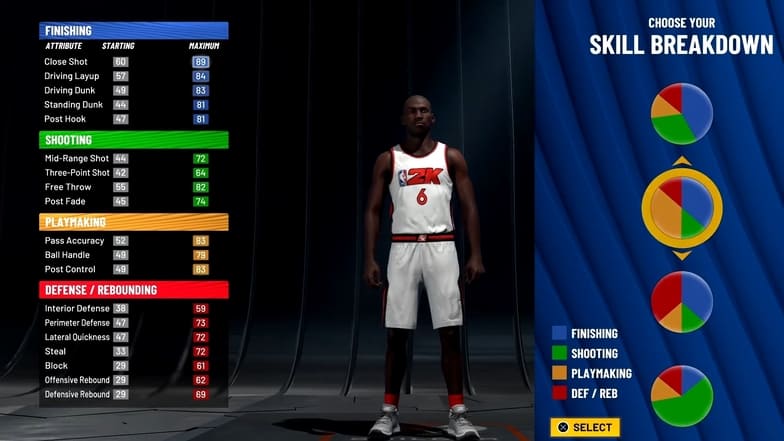 For the skill breakdown pie, I've seen a lot of people who want to do the pure yellow option at the small forward position so you can unlock pro dribbles but you only get a certain amount of pro dribbles when you're a 6 ft 4 player or lower.
Personally, it doesn't really make any sense to make a 6 ft 7 player and have 89 ball handling. So, for this LeBron build, I've decided to go for the split blue and yellow skill breakdown pie chart because it has all the things you need to unlock such as various dribble moves as you progress in the game.
LeBron James Physical Profile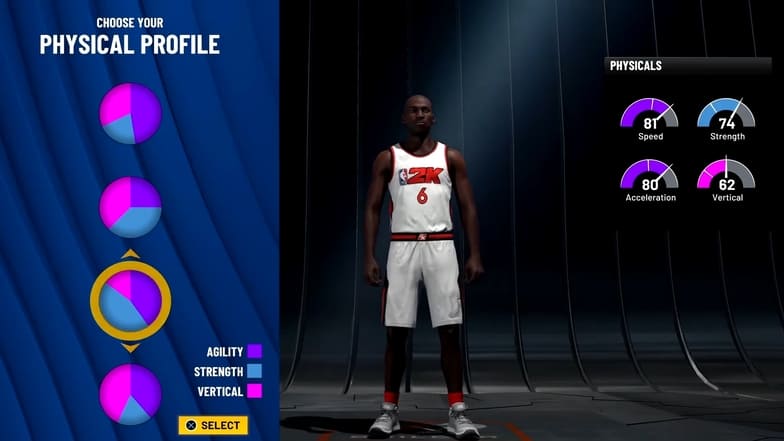 As far as the physical profile is concerned, go for strength and speed (use the image above for a visual reference). LeBron James is known for his physicality and his speed, which were fundamental to his success as a player.
You could go for a more balanced physical profile, such as the one above the one selected in the image, but you don't really need that much vertical as a small forward or a shooting guard.
LeBron James Attribute Points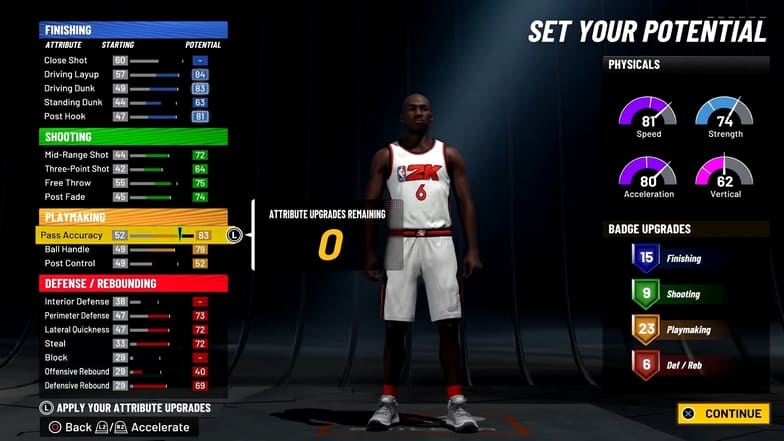 For the attributes, we want to be super specific with what we go for in order to unlock the takeover that we want – post scorer. In case the image isn't clear enough, below, you can find the exact breakdown of each.
Finishing
| | | |
| --- | --- | --- |
| Attribute | Starting | Potential |
| Close Shot | 60 | 60 |
| Driving Layup | 57 | 84 |
| Driving Dunk | 49 | 83 |
| Standing Dunk | 44 | 63 |
| Post Hook | 47 | 81 |
For finishing, we want to allocate attribute points to driving layup, driving dunk, standing dunk, and post hook. This will make your LeBron James build a lot more complete.
Shooting
| | | |
| --- | --- | --- |
| Attribute | Starting | Potential |
| Mid-Range Shot | 44 | 72 |
| Three-Point Shot | 42 | 64 |
| Free Throw | 55 | 75 |
| Post Fade | 45 | 74 |
On shooting, you want to pretty much max out everything except free throw as we need to save some of those attribute points and allocate them elsewhere.
Playmaking
| | | |
| --- | --- | --- |
| Attribute | Starting | Potential |
| Pass Accuracy | 52 | 83 |
| Ball Handle | 49 | 79 |
| Post Moves | 49 | 52 |
In regards to Playmaking, we want to upgrade passing accuracy, ball handle, and post moves/control. From this allocation of points, we will unlock 23 playmaking badge upgrades, which is pretty insane.
Defense / Rebounding
| | | |
| --- | --- | --- |
| Attribute | Starting | Potential |
| Interior Defense | 38 | 38 |
| Perimeter Defense | 47 | 73 |
| Lateral Quickness | 47 | 72 |
| Steal | 33 | 72 |
| Block | 29 | 29 |
| Offensive Rebound | 29 | 40 |
| Defensive Rebound | 29 | 69 |
And last but not least, for defense/rebounding, you want to max out your perimeter and lateral defense, steal, defense rebound, and put whatever points you have left on offensive rebound.
This is the badge upgrades spread that we want. 15 finishing, 9 shooting, 23 playmaking, and 6 def/reb badges. Some of you may want to take a few points off pass accuracy, but I'd advise against that as with pretty much every attribute point you take away, you will lose a badge upgrade in playmaking.
LeBron James Body Type
For body shape, we'll go for defined as LeBron James is quite muscly and bulky in nature (definitely stronger than most small forwards). In regards to height, we'll leave that at 6 foot 7, which is actually LeBron's real-life height. If you really want to go a bit higher, you could get away with going for 6 foot 8 in terms of still having a decent mid-range shot and three-point shot.
What does start to drop quite significantly if you make the jump from 6 foot 7 to 6 foot 8 is the ball-handling, which drops by a whole 6 points. The speed also goes down by four points and with all that in mind, it's a little too much in my personal opinion.
As for weight, we want to go from the default 222 lbs, all the way to 247 lbs as that increases our player's strength a whole lot more. Now, these aren't definitive stats but your LeBron James build will easily be amongst the strongest opponents that your opposition will face.
For wingspan, we're going to stick with 84.0″ as I don't feel like it's worth sacrificing anything in my three-point or mid-range shot. On the other hand, if you're confident that you can green-light consistently, then you could increase the overall wingspan of your player as per your preference.
LeBron James Takeover
From the four takeover options, I'd suggest that you go for the post scorer. This takeover makes your player more dominant in the paint with stronger backdowns and more enhanced movement and shots.
The Post Scorer takeover remains one of the most overpowered takeovers in the game, and for that reason, it's my takeover of choice for this LeBron build.
LeBron James Build Badge
Our final badge allocation includes 5 HOF badges, 4 Gold Badges, 8 Silver Badges, and 5 Bronze Badges. Here's the breakdown of each one. Do note that there is plenty of flexibility with your badge allocation. You can play around and see what works for you, but after numerous tests, the below is what I've found to work the best for this LeBron build.
LeBron James Finishing Badges
1) HOF Limitless Takeoff: Making use of this perk will favor layups and dunks from farther take-off range.
2) HOF Posterizer: This perk will improve your player's likelihood of posterizing your opponent.
3) Silver Backdown Punisher: Using this badge will increase your player's chances of successfully backing down an opponent.
4) Silver Dropstepper: This badge will improve your player's ability to effectively use drop steps in the post area.
5) Silver Unstrippable: Making use of this badge will help your player protect the ball while trying to do a layup or a dunk.
6) Bronze Lob City Finisher: Using this badge will significantly improve your player's chances of completing a successful alley-oop dunk or layup. Just because the ball handling of this build is a little low, this badge will be of great help against getting ripped while driving to the rim.
LeBron James Shooting Badges
1) Gold Hot Zone Hunter: Utilizing this badge will boost your player's shot percentage for attempts taken in LeBron Jame's favorite spots.
2) Gold Limitless Spot-Up: This badge will boost your player's effective range while attempting to shoot standing three-point shots.
3) Silver Catch & Shoot: Using this perk will boost your chances of hitting a three-pointer right after your player catches the ball. It's the perfect badge if you're someone who likes faster-paced games.
4) Bronze Volume Shooter: Making use of this perk will boost your player's shot percentages your shooting attempts accrue throughout the game.
LeBron James Playmaking Badges
1) HOF Dimer: Using this perk will give your player a boost in the shot percentage for open teammates on jumping shots after catching a pass. This would particularly help the LeBron James build as he's a facilitator.
2) HOF Handles for Days: Making use of this badge will reduce the amount of energy your player will lose while performing dribble moves.
3) HOF Quick First Steps: This badge provides your player with more explosive first steps out of triple threat and size-ups.
4) Gold Quick Chain: I'd highly recommend quick chain as it improves the ability to quickly chain dribble moves together. That will make the defender's job even more difficult when it comes to defending against your build.
5) Silver Bullet Passer: Utilizing this badge will improve your player's ability to quickly pass the ball. It's a great upgrade to have, especially on a counterattack or in tight and urgent situations.
6) Silver Ankle Breaker: Using this badge will improve the likelihood of freezing or dropping an opposing defender during dribbling moves.
7) Silver Special Delivery: Making use of this badge will increase the alley-oop throwing success and shot chance for receivers after a flashy pass.
8) Bronze Bail Out: This perk will increase your player's chances of successfully completing a pass from mid-air.
9) Bronze Unpluckable: This badge will reduce your player's chances of getting stripped by enemy defenders.
LeBron James Defense Badges
1) Gold Intimidator: This badge will make your LeBron James build a whole lot more intimidating to offensive players causing them to miss shots a lot more often. It's a great badge that will decrease your opponent's shooting success to a pretty great extent.
2) Silver Clamps: Using this perk will boost your player's ability to stay in front of the ball handler on the perimeter. As defending actually matters a whole lot more in NBA 2K22, this badge alone would be of great help in solidifying your defensive potential.
3) Bronze Rim Protector: This perk will improve LeBron's ability to block shots and significantly reduce the chances of getting dunked on. Essentially, your opponents will have a lot more of a difficult time scoring when they are facing your LeBron James build.
Note: Rather than the rim protector badge, you could also opt-in for the interceptor badge, however, I'd much rather go for the rim protector perk as I'd like to be able to protect the paint a lot more successfully with this LeBron build.
If you're yet to unlock some of the badges, check out our guide on the fastest way to unlock badges in NBA 2K22.
Final Thoughts
LeBron James is one of the biggest stars in basketball, and it comes as no surprise that so many players, including myself, would love to create a build that closely resembles the legend.
After spending numerous hours testing different attribute point allocations and badges, I've come up with what I believe to be the best LeBron James 2k22 build.
From here, it's entirely up to you whether you want to trust me with my recommendation and copy this build to the T, or whether you want to snag bits and pieces and improvise a little further. Either way, let me know what you think and how you get on.