It might take you a long time in learning how to become a starter in MyCareer NBA 2K22. This is because there are a ton of factors involved when it comes to earning your minutes and getting in the starting lineup.
If you become a starter in 2k22, there will be a few players on the roster that will lose some minutes of playing time. This will factor in the position you play, the team you are on, and your overall performance.
This blog post will show you the fastest way to become a starter in NBA 2k22 so you can easily earn more minutes and get more VCs.
Getting Drafted in MyCareer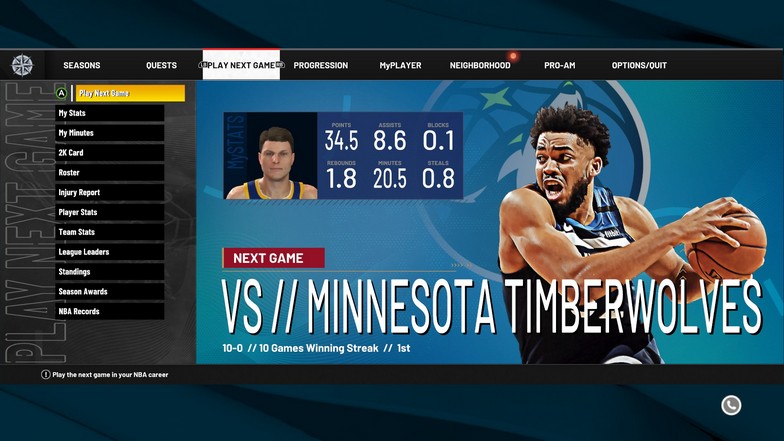 The first step in becoming a starter is finishing the first phase (college season and NBA Draft) in MyCareer mode. The road to becoming a starter is dependent on which team drafts you and the position you play.
If you get drafted on a team that has a better player that plays the same position as you, it can be a long process. However, positions are quite flexible in the NBA. There are a lot of players, including superstars, that can play multiple positions.
This means that you can still get inserted in the starting lineup and the other good players will just switch positions. For example, when I got drafted by the Golden State Warriors as a point guard, I started my career on a measly 18 minutes per game.
You cannot just expect them to give you minutes over Stephen Curry and Klay Thompson. However, if you get drafted as the first overall pick and play for the Detroit Pistons, it will be somewhat easier.
You only have to fight for minutes against guys like Dennis Smith Jr. and Jeremi Grant, who can also switch positions. There are only a few good teams that can give you the minutes you want but, it is only a matter of preference at this point.
Even the best teams to join will give you the chance to become a starter no matter what.
Better Overall Performance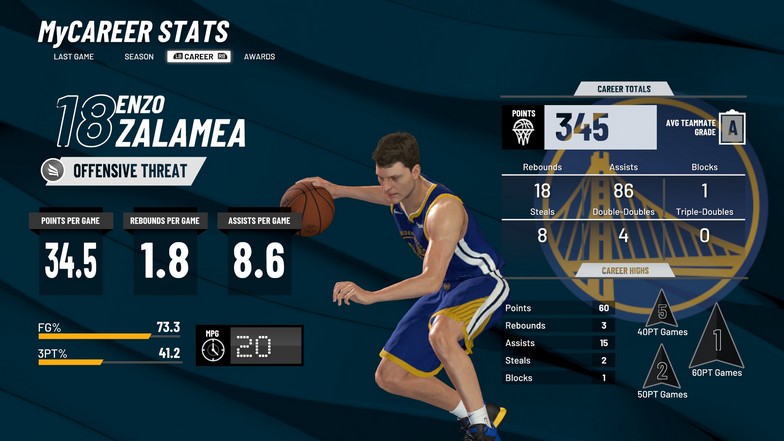 At this point, things can get a little random when you start playing in the NBA. You can either get a lot of minutes at the start already or you have to work your way up. The fastest way to become a starter is by performing extraordinarily well.
By extraordinarily well, I mean dropping double-doubles and 30+ point games consistently. If you are only looking to increase your teammate grade, it will not be enough.
When I started my career in the NBA, I played the default 5 minutes per quarter setting. With limited 2k22 playing time, everything adjusts. If you have only 22 minutes per game on a 5 minute per quarter setting, you will only be seeing around 7-9 minutes on the floor.
It will be almost mandatory to set your settings to 12 minutes per quarter if you want to do this as fast as possible. If you can perform well with fewer minutes, you can opt to lower it.
It is also worth noting that when I did play a total of 8 minutes, I was able to get a teammate grade of A- with just 8 points, 4 assists, and a couple of defensive stops.
However, my post-game interview had everyone talking about my poor performance so it seems that the teammate grade will not affect your overall performance significantly.
How Do You Get More Minutes?
If you just stick to focusing on playing the game and performing better, you will eventually get more minutes in MyCareer in 2k22. If you go to your player and choose "My Minutes", you can see the team's current rotation and each player's total minutes.
You can keep track of this every time you play a game. Speaking from experience, I was able to drop 30-point games consistently and my minutes literally increased each game. It is all about filling up the stat sheet.
When Do You Become a Starter?
After getting drafted and playing a few NBA games, you will see a few scenes every time after the game. Most of the time, they would only be post-game interview questions.
Sometimes, it would be an event trigger or something big has happened. If you just follow the steps above and fill up the stat sheet, you will see a cutscene where you are talking to your former coach about being moved up to the starting lineup.
If you wonder how long it takes to become a starter in 2k22, it depends. The length of the whole process of becoming a starter is completely dependent on your performance. If you have a few bad games, it will take longer for you to become a starter or maybe even lose minutes.
Once you see the cutscene where you get promoted to a starter, you will be inserted in the starting lineup but, you might still get limited minutes. You will just have to earn those minutes by performing better consistently.
Final Thoughts
Once you become a starter, you will have more freedom when it comes to impacting the team and earning some VCs. You will eventually get more fans and endorsement deals.
This will give you more objectives to work on while playing the game and it will be a lot easier to accomplish when you get more minutes as a starter.