Stephen Curry is one of the best players of the sport, and it comes as no surprise that many, including yourself, want to create a build similar to the Golden State Warriors legend. Due to popular demand, our experience, and our research on the topic, we decided to create the best Steph Curry build in 2k22 from the ground up.
Having played NBA 2K22 for quite some time and having attempted to build a player with the shades of Steph Curry multiple times, I finally believe to have found the best Stephen Curry build in 2k22. It's a monster of a build. Just try it out for yourself and then tell me what you think.
First, we'll take a look at the different skill breakdowns, and pick the one that best suits Curry's play style. That will be followed by selecting his physical profile, distribute all attribute points available, build his in-game body type based on his real-life body composition, find the most suitable takeover, and in the end, we'll spend some time deciding on what badges we're going to go for to make a player with the shades of Steph Curry.
Steph Curry Skill Breakdown
For the skill breakdown pie chart, I decided to go for the one with the best combination of playmaking and shooting. That is essentially Steph Curry's nature – a true playmaker and shooter. For reference, you can check the exact pie chart that I've chosen from the image above.
Steph Curry Physical Profile
As a point guard, Steph Curry's responsibilities within the team will require a whole lot of agility and vertical and not so much strength as he isn't a power forward or a small forward. He needs to dribble, get through the enemy defense and either create space for shooting or pass the ball to a teammate.
This is the core reason I went for the physical profile that you can see in the image above. I guess you could go for the bottom (4th) pie chart, which gives an almost fair distribution of agility and vertical, however, I really do think you can benefit from having more agility than vertical.
Steph Curry Attribute Points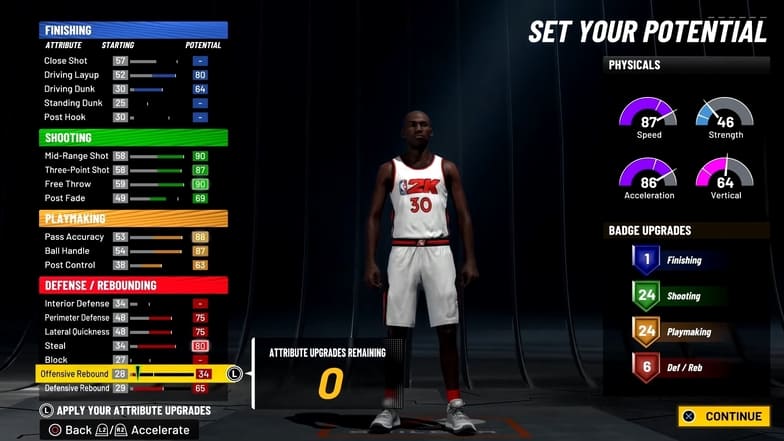 In the image above, you can see the final allocation of all the attribute points and how I've decided to allocate them. You could tweak them slightly (depending on your preference), but honestly, I'd just leave them at that if you want to get as close to Steph Curry as possible. Below, you'll also find four tables with each of the player-making segments and a little breakdown as to why I distributed the points the way I did.
Finishing
| | | |
| --- | --- | --- |
| Attribute | Starting | Potential |
| Close Shot | 57 | 57 |
| Driving Layup | 52 | 80 |
| Driving Dunk | 30 | 64 |
| Standing Dunk | 25 | 25 |
| Post Hook | 30 | 30 |
One thing that Steph Curry lacks is Driving Layup. Because of that, giving it a boost to 80 will be of huge help. He won't reach a Derrick Rose MVP level or have the dunking abilities of players in the likes of Michael Jordan or LeBron James, but the rest of the attributes are really going to depict Stephen Curry in a very decent way.
Shooting
| | | |
| --- | --- | --- |
| Attribute | Starting | Potential |
| Mid-Range Shot | 58 | 90 |
| Three-Point Shot | 58 | 87 |
| Free Throw | 59 | 90 |
| Post Fade | 49 | 69 |
I played around quite a bit with the shooting attribute points and concluded that by increasing the free throw to 90, and the post-fade to 69, on top of the amazing mid-range shot, and three-point shot attributes, we could get a total of 24 badge upgrades, which will really make a big difference in getting this build as close to Steph Curry as possible.
Playmaking
| | | |
| --- | --- | --- |
| Attribute | Starting | Potential |
| Pass Accuracy | 53 | 88 |
| Ball Handle | 54 | 87 |
| Post Moves | 38 | 63 |
In a similar fashion to shooting, I wanted to unlock 24 potential upgrades for the playmaking badges, and to do that, I had to pretty much max out (or near enough max out) all the playmaking attributes. If you're in need of unlocking any of the badges that you need for your build, check out our guide on the fastest way to unlock badges in NBA 2k22.
Defense / Rebounding
| | | |
| --- | --- | --- |
| Attribute | Starting | Potential |
| Interior Defense | 34 | 34 |
| Perimeter Defense | 48 | 75 |
| Lateral Quickness | 48 | 75 |
| Steal | 34 | 80 |
| Block | 27 | 27 |
| Offensive Rebound | 28 | 34 |
| Defensive Rebound | 29 | 65 |
For defending, I decided to put a heavy emphasis on perimeter defense, lateral quickness, steal, and defensive rebound. With the remaining six attribute points, I decided to put them on offensive rebound, which would bring the total potential offensive rebound score to 34.
Take a look at this amazing spread of potential badge upgrades – 1/24/24/6. You just can't go wrong with this.
Steph Curry Body Type
Steph Curry is naturally very slim. To become the best point guard, he needs to be versatile and quick with his movement in order to penetrate through the enemy defense and open up shooting possibilities for either one of the shooting guards or for himself.
Thus, we will go for the "Slight" body type from the body shape option's bar. As far as height, we'll go for Curry's real-to-life height, which is 6'3″. One thing you can do is increase the player's height, which brings down a speed a little bit but you can easily fix that by using the gym rat badge. One thing to note is that the shooting doesn't go down at all, even if you make your player 6'5″, which is quite insane in my opinion.
For weight, we'll go down to 176 lbs, as that gives us a boost of 3+ speed by going 19 lbs lighter than the default 195 lbs. It really makes a difference, which is why I'd highly recommend it. Don't forget that once you pop on the gym rat badge, your player's actual speed will increase to 98 speed. Absolutely insane.
When it comes to the wingspan, I played around with it for some time, but in the end, I decided to leave it to the default 79.5″. This keeps the player's stats very balanced and gives all the other attributes an opportunity to become overpowering.
Steph Curry Takeover
I've decided to opt-in for the Shot Creator takeover as Steph Curry is naturally a fantastic finisher. With that in mind, the Shot Creator takeover makes the players shooting off the dribble particularly more effective.
Aside from that, this takeover will allow you to shake off defenders quite consistently by using stepback and spin gathers. You'll become a point-scoring machine, and your whole team will be thrilled by your level of performance.
Once you've selected the Shot Creator takeover, you will get a Playmaking Shot Creator build with the shades of Stephen Curry – just like we wanted to. Aside from Curry, you'll also get the shades of Kirk Hinrich and Jamal Murray.
Steph Curry Build Badges
The last thing we need to do is allocate all of the badges. The badges can make or break a player, so it is of vital importance that you place them accordingly. Luckily, I've done all that for you, and believe to have found the perfect combination of all to help you build an NBA 2K22 player just like Steph Curry.
Here's how I have allocated the badges for finishing, shooting, playmaking, and defense/rebounding.
Steph Curry Finishing Badges
As we only have one potential upgrade in finishing, the goal here is to double down on the badge that would make the most sense. The badge I decided to upgrade is the:
1) Bronze Slithery Finisher: This badge will improve your player's ability to avoid any contact when attacking the rim. In NBA 2k22, this badge is quite overpowered and will make quite a bit of difference in your game when you decide to directly attack the rim as opposed to shooting from distance.
Steph Curry Shooting Badges
Unlike the potential for finishing badge upgrades, this time around, in shooting, we have 24 potential upgrades. I decided to upgrade 5x badges to HOF status, 1x badge to Gold status, and 1x badge to Bronze status. Here's the breakdown.
1) HOF Catch & Shoot: This perk is one of the most vital ones as it boosts the chances of hitting a three-pointer right after a pass or a rebound. A pretty decent way to almost guarantee that you'll be scoring more three-pointers.
2) HOF Chef: This perk will increase the overall range for off-the-dribble three-pointer shooting attempts. A great badge screams Steph Curry so do make sure to go for the HOF variant.
3) HOF Hot Zone Hunter: Going for the Hot Zone Hunter badge will significantly boost the shot percentage for attempts taken in the player's favorite shooting spots.
4) HOF Limitless Spot-Up: This badge boosts the range that your player can effectively shoot standing three-pointer shots.
5) HOF Sniper: Using this badge will exaggerate the impact of good and poor shot timing. This is excellent if your shooting is good as it will improve your scoring success. If your shooting is not so good, and you're unlikely to score, then it doesn't really matter by how much you miss.
6) Gold Green Machine: This badge increases the bonus you receive for consecutive excellent releases.
7) Bronze Volume Shooter: Making use of this badge will boost your shot percentages as shot attempts accrue throughout the game.
Steph Curry Playmaking Badges
Like the shooting badges potential upgrades, in the playmaking badges potential upgrades we have a total of 24 points to allocate. Here's the breakdown:
1) HOF Ankle Breaker: When using this badge, your player's ability to freeze or drop a defender during a dribble move will improve significantly.
2) HOF Handles for Days: Making use of this badge will reduce the amount of energy lost when performing dribble moves. If you're naturally a dribbler and love playing around and humiliating your opponents, this badge will do wonders for you as your Stephen Curry build in 2k22 will be performing at a top level for longer.
3) HOF Quick Chain: This perk will improve your player's ability to quickly chain dribble moves together, which will make your Steph Curry build a whole lot more complete and difficult to defend against.
4) HOF Quick First Step: Using this badge will provide your player with more explosive first steps out of triple threat and size-ups. Quite an important badge for an attacking player like Steph Curry.
5) HOF Space Creator: By utilizing this perk, your player's ability to create space from a defender will naturally improve. Whether you want to shoot or pass to your point guard, having the ability to create space will prove vital in your overall success.
6) Silver Dimer: This badge will boost the shot percentage for open teammates on jump shots after receiving and catching a pass.
7) Bronze Unpluckable: Making use of this perk will greatly benefit you as it reduces the chances of getting stripped by a defender.
8) Bronze Bail Out: This badge will increase your chances of completing a pass from mid-air successfully.
Steph Curry Defense Badges
And last but not least, we have defense badges. We have a total of 6 potential upgrades. Here's the breakdown:
1) Gold Clamps: This perk will boost your player's ability to stay in front of the ball handler on the perimeter. This badge is great for defending very early on before your opponent has even begun creating an attack.
2) Gold Intimidator: In case you're facing a potential three-pointer shot against your team, making use of this perk will increase the intimidation of your opponent's offensive players causing them to miss their shots a lot more often.
Note: If you feel like you're a decent defender, what you can do is make the above badges silver, which will free up additional two points for upgrades, which I would then recommend you to stick on the Interceptor perk.
And there you have it. The complete, and in my opinion, the best NBA 2K22 Steph Curry build in the game. After numerous tries and tests, I believe what I showed you above to really be above anything you'll find across the internet.
Give it a try, and let me know what you think. Also, feel free to play around with it a little bit and adjust anything from the attribute points to the badges to your desired play style. This way, you might actually create a better build that best suits your style of play.
What to Do Next?
Your next step is surely improving your player more. That is the goal of any MyCareer player, and getting that elusive 99 overall rating is what puts your player at the top.