Building your team through the draft is one of the most exciting aspects of MyLeague/MyGM in NBA 2K. If you do the scouting part right, you can draft great young talents that can turn your franchise around and help you create a superteam in MyLeague or at least give you some leverage on the trade market.
One thing that a lot of 2K players like to do is download draft classes instead of using auto-generated rookies. These classes have been created by the community so they're a representation of the real-life upcoming draft class – or about as close as the community can get to creating one.
In this article, we will be covering how to download a draft class in NBA 2K22.
Should You Download a Draft Class?
The main reason why you'd want to download a draft class is realism. The auto-generated rookie class will have random players with random names, faces, and stats. If you follow college basketball or you just want to have a more realistic experience, downloading a rookie class is the way to go.
These community-generated draft classes can also often be more potent than auto-generated ones. The top picks will be true talents, capable of carrying a franchise in two years' time. The auto-generated draft class will usually be more conservative to provide a certain balance and avoid shifting things around too much.
On the other hand, the auto-generated draft class is a little more random than what you get from the community. In these draft classes, you might see an 80 OVR rookie slipping down the draft and getting drafted 15th. The user-generated drafts will be a little more predictable, with top 10 picks usually being at least solid, and the top 3 almost a lock.
Ultimately, it comes down to preference. If you prefer realism in terms of player names and backgrounds but you like more talent in the draft, then downloading a rookie class is the way to go. If you like more balance in terms of talent but you enjoy the made-up players, go with the auto-generated rookie class.
How to Download a Draft Class
Downloading a draft class happens as soon as you start your MyLeague or MyGM save.
Once you've gone through all the settings, selected your team, and adjusted the automation settings, you'll arrive at your main screen. There, you will be prompted via a pop-up if you want to:
Auto-generate rookies
Create/Edit draft class
Load/Download draft class
Select Load/Download draft class and you'll get to the next screen. On this screen, you will have to choose between a pre-created, historic draft class that features real-life classic players or a user-created draft class. When people talk about downloading a draft class, they're usually referring to these user-created classes.
However, it will certainly be tempting to choose the 1984 or 2003 classes since they're some of the best drafts in NBA history and it would be fun to relive them.
We'll stick to the standard user-generated rookie class, so choose that one and proceed to the next screen. Here, you will see all the different draft classes from other NBA 2K22 users, arranged by the number of downloads. The community is generally pretty good with assessing these classes so the first few will be the best ones.
Choose a draft class, apply the storylines, and you're done!
At any time, you can tap R1/RB until you get to the Scouting tab, then go to Prospect Scouting, and you'll see the draft class you downloaded.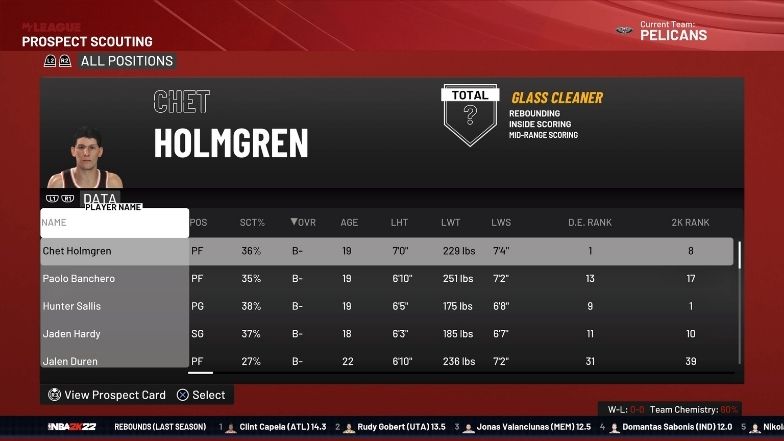 Here, we can see Chet Holmgren from Gonzaga, Duke's Paolo Banchero, and other real-life prospects. They'll be sorted by your scouts' projection of their overall ratings but you can always navigate to the D.E. Rank column and tap Square/X to sort them by Draft Express's ratings.
You can use other rankings as well – 2K and NBA.com have their own predictions – but, in my experience, Draft Express is the most reliable.
Final Thoughts
Some players like to set up a fantasy draft in NBA 2K22 MyLeague for a completely new, experimental experience that can turn the entire league on its head.
Others like to maintain as much realism as possible and learning how to download a draft class is a crucial step in this process.
Keep in mind, though, that these draft classes will usually bring lots of talent into the league pretty early on. This will make for a fun experience but, if you don't choose the right players, the CPU-controlled teams will be building franchises left and right. Use your scouts to the max and acquire draft picks to put yourself in a position to make the right moves!