Just like all of the MyCareer modes in NBA 2K22, the story will always revolve around the player you build and his journey into the NBA.
Every career starts with their journey as a college basketball prospect and performing well will help your draft stock increase. Since your main goal as an aspiring player is to become the first overall pick, you will have a tough task ahead of you in winning all those games.
However, there are other aspects involve when it comes to increasing your draft stock. This guide will teach you how to get drafted in NBA 2K22 as a first overall pick so you know what you should and should not do.
Creating Your Player
A common question that is frequently asked is "Does positions matter when getting draft?". Since the draft picks are set in the real NBA, a team like the Detroit Pistons will have the 1st overall pick in NBA 2K22.
You might wonder if the position you pick will play a role in getting drafted to the team's needs instead. It is safe to say it does not matter. When I played my player as a point guard, I got drafted by the Golden State Warriors even if they had Stephen Curry and Klay Thompson on the team.
It seems that they pick the players by the results of your MyCareer more than anything else. Even as a top NBA 2K22 lottery pick who played almost everything perfectly (including winning the NCAA championship), you can still end up on a team that has another superstar playing the same position as you.
When it comes to creating your player, you have all the freedom in the world. You can choose any position you want to play and, each position will be played differently.
Winning Games to Increase Draft Stock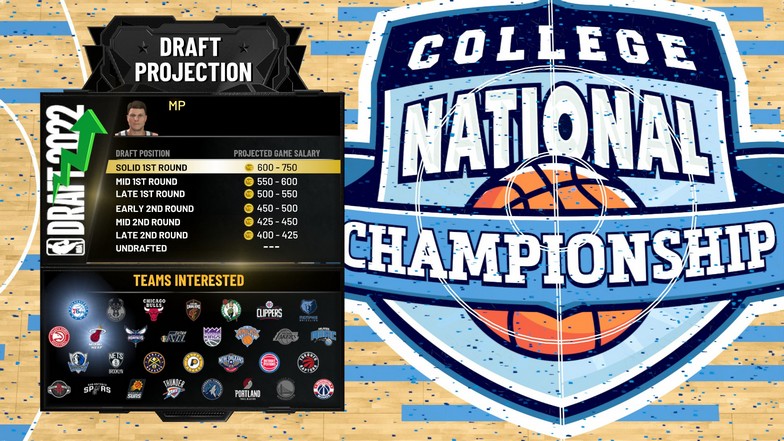 After creating your player, you will immediately start playing on a college team and, you get to choose which college team to play for. At this point, it does not matter which team you play for as the players are completely randomized.
You will not be able to play against players like Cade Cunningham, Jalen Green, and other NBA rookies. It would be a little unfair to play against those guys as they are some of the best young players to trade for when it comes to other game modes.
Just choose any college team you wish to rep. Once you have chosen the team, do not play the first game yet. Always choose the practice first so you can improve your player.
It is still unclear if performing well in practice increases your draft stock but, you get to unlock badge upgrades as well as increase stats for the game which is good enough for a few minutes of work.
Every time you play a game, you can do another practice round with your coach. This will help you improve as you play each game.
For the college games, you will need to win all of them to have a shot at becoming the first overall draft pick. You cannot afford to lose even a single game because the draft race will be extremely tight.
Things are a lot different in NBA 2K21 since you have more options to increase your draft stock in the previous installment.
The good thing about these college games is that you can restart the game if you are in trouble. Even if the game finishes on a game-winning buzzer-beater, you can close the game immediately. If you reopen the save file, it will start at the beginning of the game.
With this trick, you can win all the college games and ultimately win the NCAA championship. This should propel you to a "solid first-round pick" after finishing the college games.
For the teammate grades, it will be a relevant factor in increasing your draft stock but, it is not as big as winning the actual game. The absolute minimum teammate grade you need is at least an A-. You should also have some games where you get an A+ to help your draft stock.
Finishing the Draft Combine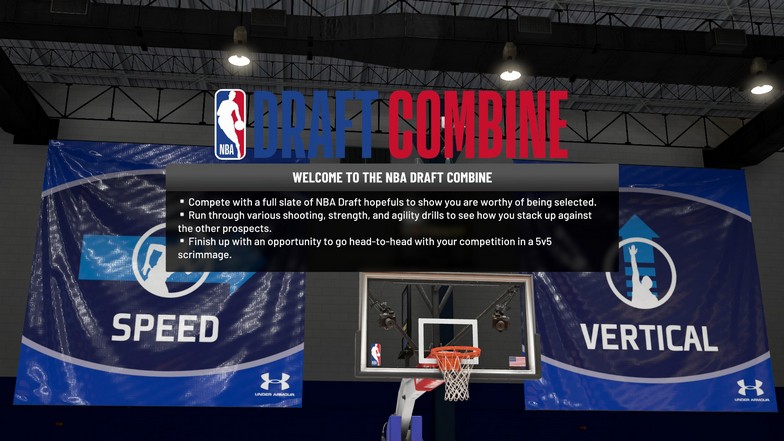 After winning the championship, you will see a cutscene where your manager will ask you if you want to attend the NBA 2K22 draft combine. He will say that if you are comfortable with your current draft stock, you can opt not to join and head straight to the draft.
Always attend the draft combine. This will give you a chance to increase your draft stock even more. Since the draft class is quite stacked this year, you need to push a little harder to get the first overall pick.
There are a ton of drills that you will need to finish perfectly. These drills are separated into physical and shooting drills.
Complete these drills perfectly and you will boost your draft stock significantly. It is best to know how to finish the Draft Combine before attempting the drills as the results are highly critical in increasing your draft stock.
Winning the Draft Combine Scrimmage
The last way of increasing your draft stock will be through the scrimmage at the end of the drills. At this point, you will be able to play with or against the current rookie class in NBA 2K22.
This will be a tough challenge as you will be playing against players who are way above your overall rating. Unless you spend some money on VC or grind VC in other game modes, you will have to do your best in every possession.
The teammate grades will matter here as well. You will be playing the whole game if you perform well. This makes it a little easier to increase your teammate grade.
After finishing the scrimmage, you will see the last increase in your draft stock as seen above. Maybe as a rule of thumb, if you do not see the Detroit Pistons highlighted here, you will not get drafted first overall because they will be the one holding the 1st overall pick.
Draft Day
After the NBA 2K22 draft combine, you have used up all the ways you can increase your draft stock. This will trigger a cutscene where you are alongside your manager and agent waiting for the call.
This call will eventually lead to you knowing which team you got drafted by and, this will progress your MyCareer into the NBA.
In case you are wondering which teams have the first 10 draft picks, below, you can find a list of the NBA 2K22 draft order.
Detroit Pistons
Houston Rockets
Cleveland Cavaliers
Toronto Raptors
Orlando Magic
Oklahoma City Thunder
Golden State Warriors
Orlando Magic
Sacramento Kings
New Orleans Pelicans
Final Thoughts
For more clarity, I had two separate MyCareer runs to experiment with a few interactions. In my first playthrough, I got drafted 7th by the Golden State Warriors. In this run, I was able to win all games with a minimum teammate grade of A-.
I perfected all practice drills during the college season. However, in the draft combine, I failed to 3-star the bench press and the sprint. All the other workouts were perfect and I also won the scrimmage with a teammate grade of A-.
It was tough playing around a 70-rated player but, that is what makes it a challenge. On my next playthrough, I invested a lot of VCs into my player right at the start. I had an overall rating of 81 when I started the college games and everything was a breeze.
Starting over, I fixed the draft combine mistakes and had a better overall teammate grade during the college season. This is where I got drafted 1st.
It will take a lot of time and commitment to be grinding those VCs for your player but if you can finish everything perfectly without spending that many VCs, you can try to push for it. It is all up to you, as the groundwork to increase your NBA 2K22 MyCareer draft stock is already laid out.