If you ask NBA fans who their favorite dunker is, chances are many of them will answer Vince Carter.
The man called 'Half Man, Half Amazing' mastered the art of dunking and showmanship.
His performance in the 2000 NBA Slam Dunk Contest helped the competition regain the fame it used to have back in the 1980s. He also paved the way for some of the popular winners of the dunk contest, such as Jason Richardson, Nate Robinson, and Zach LaVine.
Some NBA 2K users would rather play like a ground-bound player with strong outside shooting. For that, we have the best Larry Bird build in NBA 2K22.
But if you have a preference for high-flyers, then I suggest that you use a player based on 'Vinsanity.'
To do that, here is a guide on how to make the best Vince Carter build in NBA 2K22.
Vince Carter Build Overview
Carter's game was not just defined by his acrobatic dunks and layups. He also made sure to develop his outside shot that allowed him to dominate in scoring even without always attacking the paint. At the time of his retirement in 2020, he ranked sixth in the list of NBA career 3-point scoring leaders.
Additionally, Carter was known for his longevity. He is the only player in league history to play 22 seasons.
Throughout his career, the 6-foot-6 guard played primarily in the wing. But he shifted to the power forward position during the latter stages of his career.
When creating your player, the ideal move will be to make it a shooting guard. It will provide your player with more speed, acceleration, and vertical than if you choose small forward.
Skill Breakdown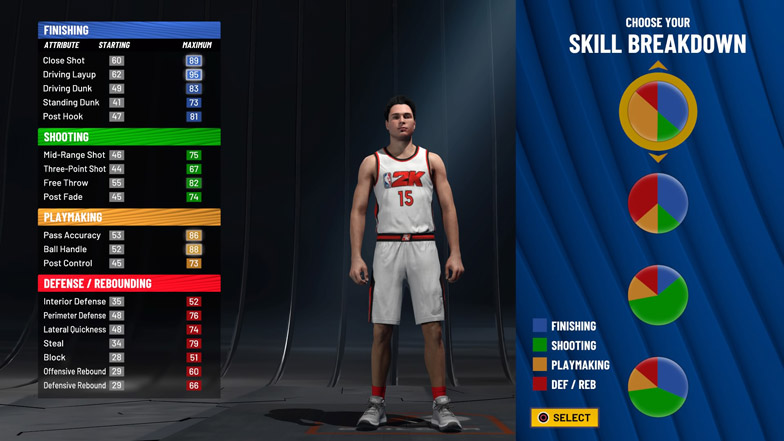 There is no doubt as to which among the categories in the skill breakdown you should prioritize. That would be finishing.
However, I do not recommend choosing the pie chart that solely focuses on finishing. Instead, you should select the finishing plus playmaking option.
Common sense might say that the finishing and shooting combination is the right choice. But the option I put forward will provide your character with higher maximum potential for important finishing attributes, namely driving layup and driving dunk.
Moreover, by adding more playmaking to the skill breakdown, your character will have more badge potentials under the same category. Carter, of course, also had handles that enabled him to drive past opponents or create some space from defenders before attempting a jump shot.
Physical Profile
The 1999 NBA Rookie of the Year had one of the highest verticals in league history. His 43-inch jump was just five notches lower than that of Michael Jordan.
While he was not the fastest player on the court at times, Carter was no slouch either. He could outrun opponents on the way to a fast break dunk.
So, for the physical profile selection, you should opt for the combination of vertical and agility.
Setting Your Potential
You will be creating a high-flyer who can also shoot from mid-range and beyond the arc. Therefore, the attributes you should max out first are close shot, driving layup, driving dunk, mid-range shot, three-point shot, and free throw.
Increase the standing dunk to the maximum for good measure. After all, Carter can easily reach the rim even without a running takeoff.
To round out the finishing and shooting attributes, be sure to add some points to post hook and post fade to expand the number of potential badges under these categories.
As for the playmaking category, you should upgrade your character's pass accuracy, ball handle, and post control. Since you will be using a wing player, there are some possessions wherein you will be tasked to bring the ball down the court, particularly in fast break situations.
Remember to leave some points for the defense/rebounding attributes. He may not have been an elite defender, but Carter more than held his own on that end of the court.
You can focus on the lateral quickness, perimeter defense, and steal attributes. However, it is better to also allot a moderate number of points to each attribute, especially offensive rebound and defensive rebound.
Physical Attributes
Carter's listed height was 6-foot-6. His pre-draft measurements, though, show that he was shorter by 0.5 to 1 inch. Still, you can use 6-foot-6 for your player to avoid the attribute penalties that come along with decreasing your character's height.
When adjusting the weight, I do not advise copying Carter's registered weight of 220 lbs. Instead, set the weight to 202 lbs. It will give your player an extra speed attribute.
As for the wingspan, expand it to the longest possible. This will provide your character with a bonus to several finishing and defense/rebounding attributes. Although it will negatively affect the shooting attributes, the boosts make it a good compromise.
Takeover
There will be two takeover choices for you. And Slasher is the only option you should be looking at when making the best Vince Carter build in NBA 2K22.
When enabled, this takeover will equip your player with additional boosts to finishing at the rim even if there are other defenders. Your gather moves will also be more effective.
The Shot Creator badge is also a viable choice. Carter was quite effective in creating enough space off the dribble to launch a jump shot.
But keep in mind that you will be using a character based on one of the greatest rim-rattlers in the history of the sport. Thus, it is only appropriate to go for the Slasher takeover.
Vince Carter Badges
Most of the badges you must look to upgrade will clearly fall under the finishing category. By following the guide, you will eventually get around 20 potential upgrade points for finishing and 10 for shooting, which sounds about right for a Carter-inspired player.
In real life, it did not take long for 'Vinsanity' to showcase his leaping ability and dunking prowess upon entering the NBA. He even put four-time Defensive Player of the Year Dikembe Mutombo on a poster twice during his rookie season.
Performing similar highlights may be difficult for your player to achieve early in MyCareer because that's just how the game mode has been set up. But badges can certainly help in this regard. We have a guide that will teach you the fastest way to unlock badges in NBA 2K22.
Finishing Badges
It would be wonderful to be able to upgrade as many finishing badges as possible. Unfortunately, there will not be enough points available.
With the given points, you can either spread it across many badges or just select a few badges and upgrade them to Hall of Fame.
The three badges that you should absolutely unlock are Fast Twitch, Fearless Finisher, and Posterizer. These will allow you to convert dunks or layups even with defenders nearby.
Two other badges you should also prioritize in order to dunk like Carter are Limitless Takeoff and Lob City Finisher. Some other badges worth considering are Acrobat, Putback Boss, Slithery Finisher, and Unstrippable.
1. Acrobat – Gives a huge boost to spin, half-spin, euro-step, cradle, reverse, and change shot layup attempts.
2. Fast Twitch – Speeds up the ability of a player with the badge to get standing layups or dunks off before opponents have time to contest.
3. Fearless Finisher – Increases the ability of the player to absorb contact and still finish a layup or dunk. It also reduces the amount of energy lost from attempting contact layups.
4. Limitless Takeoff – Gives the player the ability to jump farther out than others can when taking off for a dunk or layup.
5. Lob City Finisher – The badge improves the chances of successfully finishing an alley-oop layup or dunk.
6. Posterizer – Increases the chances of throwing a dunk over a defender.
7. Putback Boss – Enables putback dunks and boosts the shot attributes of a player that attempts a putback layup or dunk off an offensive rebound.
8. Slithery Finisher – Improves the ability to slide through traffic and avoid contact during gathers and finishes at the rim.
9. Unstrippable – Reduces the chances of having the ball stripped when attacking the basket or performing a layup or dunk.
Shooting Badges
Carter was one of the most prolific outside shooters in NBA history. The shooting badges will help your character be more like the eight-time NBA All-Star.
The first badge I recommend that you upgrade is Clutch Shooter. Did you know that he is the only NBA player ever to successfully make five buzzer-beating 3-pointers? No other player has made more than three.
Other badges that merit consideration are Catch & Shoot, Deadeye, Rhythm Shooter, and Stop & Pop.
1. Catch & Shoot – For a short time after receiving a pass, the player has improved ability to connect on a 3-pointer.
2. Clutch Shooter – Shot attempts taken during the final moments of the fourth quarter or overtime receive a significant boost.
3. Deadeye – Jump shots attempted with a defender closing out receive less of a penalty.
4. Rhythm Shooter – Increases the chances of making a field goal after sizing up the opponent with dribble moves.
5. Stop & Pop – Boosts shot rating of stand-still 3-pointers taken right after dribbling.
Playmaking Badges
Your character's playmaking badges will need to focus more on those that boost your dribbling attributes rather than those of passing.
The first badge that you have to unlock is Downhill. This will allow the player to run faster than anyone else in the open court. I recommend upgrading it to at least the gold tier to give you more chances of performing highlight dunks.
For the other options, concentrate on badges that will help your character break down defenders and prevent opponents from easily stealing the ball during attacks to the basket. These include Quick First Step, Space Creator, and Tight Handles.
1. Downhill – The player gains a boost to its Speed with Ball attribute during fast break situations.
2. Quick First Step – When driving out of triple threat or after a size-up, the player is able to launch into a dribbling move more quickly and effectively.
3. Space Creator – The badge increases the chances of successfully creating separation from the opponent when performing any stepback move or shot.
4. Tight Handles – Improves a player's ball handling ability in size-up situations, making it easier to break down the on-ball defender.
Defense/Rebounding Badges
Only a single point will be available for the defense/rebounding category. It's not a cause for concern though, since Carter was more known for his offensive prowess.
I advise placing the point on Pogo Stick to help your character take successive jumps more quickly during rebound or block attempts.
1. Pogo Stick – This allows players to quickly recover and go back for another jump upon landing. This could be after a rebound, block attempt, or even jump shot.
Final Thoughts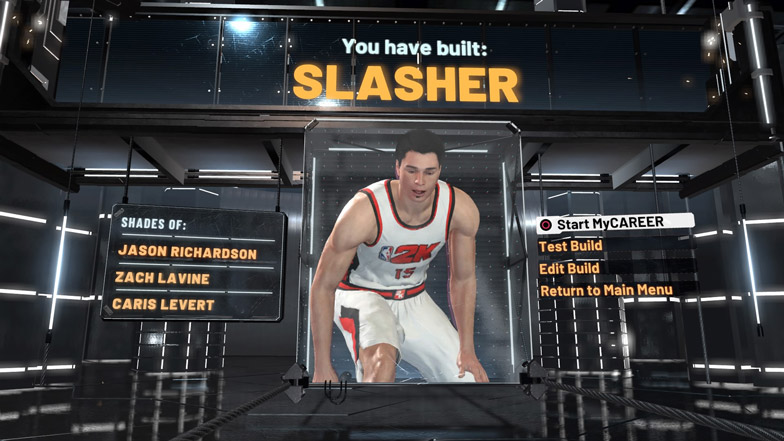 Once you are done creating your player in MyCareer, it will only be the start of an exciting journey.
If you want to immediately make some noise in your league like Carter did when he entered the NBA, then you have to obtain a good amount of VCs early on. This will let you increase your attributes and unlock dunk or layup packages quickly.
While other users want to jump straight into the NBA in the MyCareer mode, you can take the patient route and head to college and the G League first. Doing so will provide you with more attributes and boosts. We also have a guide that can show you how to earn more VCs in NBA 2K22.
The grind may be tough, especially during the initial stages of your career. But it will all be worth it in the end when you are dunking over opponents and making highlight reels like Vince Carter.