Michael Jordan is one of the most undisputed GOATs in the world of sports. Even if some people try to debate it, there is no question about how big he has influenced the game of basketball.
Even if people like LeBron James are trying to come for his title as the best to ever do it in the sport, the majority of fans will never budge on their opinion that Jordan is the greatest of all time. We do have a guide to the best LeBron James build in NBA 2K22 if you're on that side of the fence, though!
As most people aspire to be like Mike, there are ways you can customize your character to resemble his game.
This guide will show you the best Michael Jordan build in 2K22. You will be able to copy or tweak the badges, skill breakdowns, and attributes to what you think is right to be like Mike.
Michael Jordan NBA 2K22 Build Overview
There is a long list of things that Michael Jordan is great at. For one, he is an all-time great at both ends of the floor. His physical profile is way above what you typically see from a 6'6 shooting guard. He defies the law of gravity with his incredible hang time which allows him to finish at the rim better.
He is also a lethal mid-range assassin who can break you down and pull up from 15 feet. He has great handles and can also pass the ball to find open teammates.
With all of this in mind, you are looking at a player that should excel in a lot of areas in the game which might not be possible when you create a player.
Skills Breakdown
To start off this NBA 2k22 Michael Jordan build, we will first take a look at his skill breakdown in the game. This type of player should be heavily focused on finishing and defense while excelling in specific areas in shooting and playmaking. Since you cannot have it all, you will just have to focus on finishing and defense first.
After all, Michael Jordan did win the Defensive Player of the Year award while getting 10 scoring titles. Since picking this kind of skills breakdown will lessen other areas of your game, you will just have to allocate your attributes better.
We are looking at the max potential for this Michael Jordan 2k22 build since it is no question that MJ should be rated 96+. Just basing it off that, it will be close to impossible to fully copy Michael Jordan as a player because of the limitations.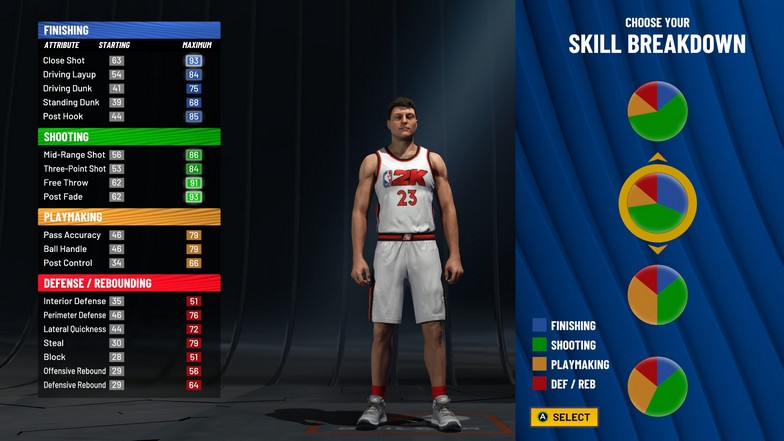 You can choose to pick a different skills breakdown that is more all-around. Since defense/rebounding are in the same category, you can lower it and increase your shooting. This will allow you to increase your mid-range jump shot and post fades.
Michael Jordan made a living out of defenders on the post and this alteration should allow you to do just that. Some of you might prefer to do this instead because of the added offensive arsenal.
Physical Profile and Others
For your physical profile, you can go for the highest vertical with some speed and acceleration. Since strength is quite unnecessary for a 6'6 shooting guard, you will not be able to match Jordan's strength in the NBA anyway.
Your wingspan should be a little longer than normal to increase your finishing, defense, and post fade attributes. Michael Jordan's height is also 6'6 so you can copy that for yourself or increase it to finish better at the rim.
Michael Jordan Badges
Shooting Badges
Clutch Shooter – Improves the ability to knock down shots in clutch moments
Volume Shooter – Boosts shot percentages as shot attempts accrue throughout the game
Difficult Shots – Improves the ability to shoot difficult shots off the dribble from mid-range
Set Shooter – Increases shot rating when taking your time before shooting*
When it comes to shooting, Michael Jordan only excels in the mid-range jump shot. Although that is only one specific area, he was one of the best mid-range assassins the game has ever seen.
The Clutch Shooter badge is the most defining badge in a Michael Jordan build. He has countless plays where he knocked down clutch shots including the iconic ones against the NBA Finals against the Utah Jazz and "The Shot" on Craig Ehlo.
For the Set Shooter badge, it is kind of optional. Just watching Jordan growing up, he was not great in sinking 3-pointers compared to others. But when he does it, it is often because of players sagging on him to prevent the drive. This allows him to set shots and sink the occasional 3-pointer.
Out of all the badges, the Volume Shooter is probably the most important one. Since Michael Jordan takes a ton of shots per game, it does not rattle his energy or his play. The boost allows your player to take more shots without your rating falling off because of your stamina.
Finshing Badges
Slithery Finisher – Improves the player's ability to avoid contact when attacking the rim
Fearless Finisher – Improves the ability to make contact layups
Acrobat – Improves the ability to make layups that have a high degree of difficulty
Giant Slayer – Heightens the effectiveness of layups over taller defenders
Limitless Takeoff – Favors dunks and layups from a farther take-off range
Posterizer – Improves the likelihood of posterizing your opponents
For finishing, there are only a few that applies to Michael Jordan but, you will need to know how to unlock these badges to get them to the Hall of Fame level. These are probably the most defining badges that resemble Michael Jordan's game.
His ability to weave through traffic and break the defense while scoring efficiently against some of the best defenders is unmatched. The relentlessness on his drives allowed him to read the defense and score at will at the rim.
While most of these badges deserve the max upgrade, unfortunately, you only have to choose some of them to max out. Even with all the attributes on your skill breakdown favoring finishing, you will only be able to choose some.
I suggest maxing out Limitless Takeoff, Giant Slayer, Posterizer, and Slithery Finisher to maximize his ability to dunk the ball in traffic. The other badges will help improve his layups in traffic.
Playmaking Badges
Quick First Step – Provides an explosive boost on your first step after sizing up or from a triple threat
Tight Handles – Improves the player's ability to break down defenders
Unpluckable – Reduces chances of getting stripped by defenders
Hyperdrive – Increases the dribbling skills while on the move
Bail Out – Improves your passes while in mid-air
Post Playmaker – Improves shot percentage on passes made out of the post
Downhill – Increases overall speed with the ball in transition
Space Creator – Improves a player's ability to create space from a defender
Since playmaking is not Jordan's strong suit, many of these badges apply to him. There is no way to get all badges unless you just choose to get everything without upgrading them.
The most important ones are the Quick First Step badge and Space Creator. Since you do not see Michael Jordan show flashy dribbling skills, his moves are simple and efficient.
Most of what defines him are his ability to break down defenders and using a set isolation play on the post. Defenders are unable to stop him single-handedly and this is because of his ability to create space and make the shot against a decent defender.
Defense/Rebounding Badges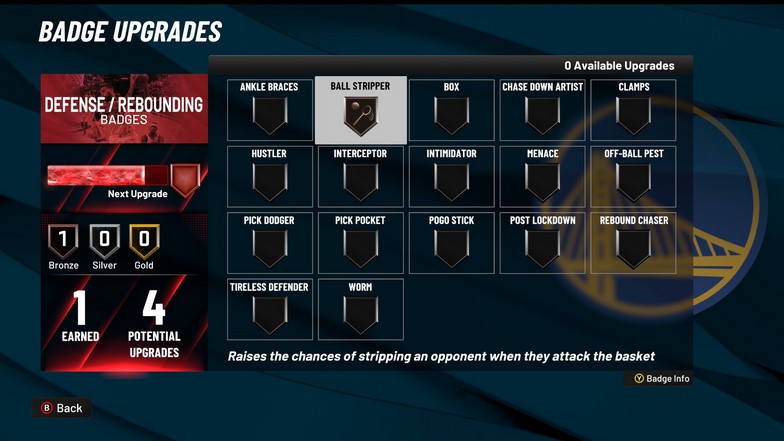 Clamps – Increases ability to stay on the ball handler for perimeter defense
Ball Stripper – Increases the ability to strip the ball when they attack the basket
Pick Pocket – Increases the ability to steal the ball from a ball handler
Menace – A player known for harassing their matchup on defense
Tireless Defender – Reduces energy lost when exerting effort playing defense
Intimidator – Intimidates offensive players causing them to miss more often
Michael Jordan's defense can be sometimes underrated or overrated. Most of the people who watched Jordan play might be exaggerating things. Some who were young enough tend to underrate it as well.
His ability to give his 100% on both ends of the floor allowed him to make the All-Defensive team consistently. He thrives on mentally destroying his opponent on both ends of the floor which made him a monster on defense as well.
Since you had two different options for the skills breakdown above, your defensive badges are dependent on how much allocation you put into defense.
If you lowered it to increase your mid-range shooting, the important badges are Clamps, Intimidator, Menace, and Tireless Defender. While he did average 2.4 steals per game with the Bulls, Ball Stripper, Pick Pocket, and Interceptor are just too much for one player.
This is why it is quite impossible to create a complete Michael Jordan build as he excels in too many things.
Takeover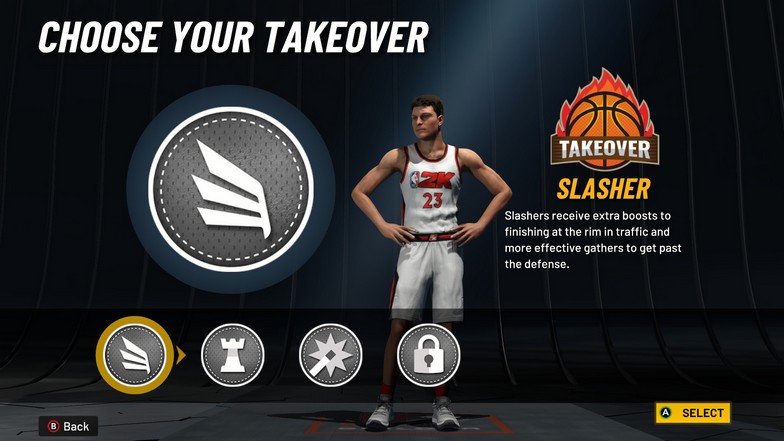 There is only one Takeover that seems pretty obvious since it resembles how Jordan takes over games. You will be choosing the Slasher Takeover.
This will allow you to become unstoppable when finishing at the rim. Combined with the finishing and playmaking badges, you should be able to drive and score on each possession when activated.
Final Thoughts
It might take you a lot of VCs to just get a 99 overall rating on your player. Even if you buy VCs with money, you will still have to grind through unlocking all the badges for this Michael Jordan build.
You can ease things up by learning how to get endorsement deals and capitalizing on the additional VCs while grinding.