Getting annoyed when a team rejects a trade offer even if they are winning the trade? This is usually the case when it comes to trading for superstars.
Each team has a tight grip on their best players as they consider them their "untouchables". However, it is still completely possible to acquire these players through trade but, it will be a long and grueling process.
This guide will show you how to trade for superstars in NBA 2K22 MyLeague whether it is a fantasy draft mode or not.
Which Players Are Considered Superstars?
When it comes to trading players, each one has a different value and it is measured in stars. Players who are considered superstars either have a star valuation of 4 and a half stars or 5 stars. These players are usually rated above 90 but, there are young players with high potential that can get valued higher.
During the start of the first season, you will have players who can develop and improve their star value throughout the season. This is measured by their performance, age, and potential.
The best example would be Cade Cunningham from the Detroit Pistons. Being the first overall draft pick of the 2021-2022 draft, he has the most potential in the whole draft class.
Even with the overall rating at 80, he is valued at 4 stars already. After playing a full season, he could go around 4 and 1/2 star to 5 stars depending on his development.
He could be considered a superstar as he is a lock to be one after finishing a season.
Building Your Assets
With the example above, you should build your assets before triggering a big trade for a superstar. If you do not want to use the trade override, it will take a huge lopsided trade before a team gives up their superstar.
Focus on building for the future and signing superstars through free agency in the offseason. You can trade for players who will increase their star value after a single season. Some notable ones include Cade Cunningham, Evan Mobley, Scottie Barnes, Michael Porter Jr., Jalen Suggs, Jalen Green, LaMelo Ball, and Anthony Edwards.
All of these players should have a 4-star value and get upgraded to 4 and 1/2 stars throughout the first season.
Trade or swap players on a 1-year contract. This will help you free up some cap space. To sign a superstar in the offseason, you have to make room for a max contract player with at least $38million in cap space.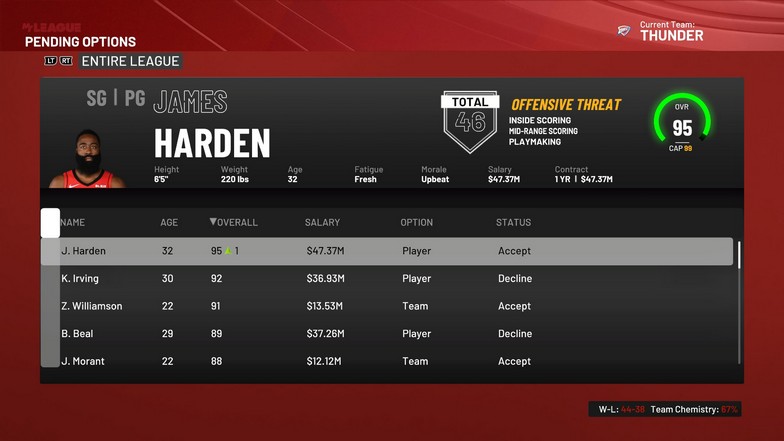 The only superstars available on the first free agency are Kyrie Irving, Bradley Beal, and Deandre Ayton. There are more if you count Zach Lavine in the mix.
I found this out after simulating at least 7 separate MyLeague seasons. Each one had the same players testing the free agency. James Harden always gets his contract extended by the Brooklyn Nets.
John Wall always accepts his player option. Deandre Ayton never gets his contract extension from his rookie contract. Ayton's contract might be because of salary cap limitations brought by choosing the fantasy draft setting or having Devin Booker and Chris Paul on the same team too.
Another way you can build your assets is by investing in draft picks before the regular season begins. Each draft pick will be valued differently. They are based on the team's standing in the 2020-2021 NBA Season.
You can downgrade a few of your players for 1-year contracts while upgrading your picks. This will allow you to rebuild for the current season but, you will be back in contention after the offseason.
How to Trade for a Superstar
Since there are a lot of superstars currently in the NBA with long contracts, it would be hard to get them in free agency right away. The only choice is to trade for them.
Each team values their best player as an "untouchable" player. The only way to get them through trade is by giving them an offer they cannot refuse.
As an example, I was able to trade CJ McCollum, Cade Cunningham, and 3 first-round picks for Kawhi Leonard or Jayson Tatum. With the same assets, I could not get players like Kevin Durant, LeBron James, Giannis Antetokounmpo, and Stephen Curry.
The assets were CJ McCollum (4-star value), Cade Cunningham (4 and 1/2 star value), and 3 first-round picks (2-star, 2-star, and 3-star value).
The only way to get top-level players like Stephen Curry is to increase the value of the assets mentioned above. You can also choose to get superstar-level players on their rookie contracts. These are usually the best young players to trade for when starting a new season.
On a separate simulated fantasy season, I traded CJ McCollum for Al Horford (1-year contract) and grabbed two first-round picks. During the offseason, I managed my draft picks by swapping them for the teams with the worst record for that simulated season.
My whole team is on a 1-year contract except for Luka Doncic and Cade Cunningham for cap space. I released all the cap holds so I can offer Kyrie Irving a max deal.
Since Kyrie Irving seems to act like a diva in NBA 2K22 too, he rejected my max contract offer. He is the best free agent in free agency so, it is a must-have to get him after sacrificing a ton of cap space.
Although Bradley Beal is a good asset to trade for a superstar too, it was not enough. After this failure, I started a new season doing the same thing to collect assets.
The only difference is that I made my team win the season. Being a title contender or a defending champion will help you attract more players to play for your team. This allowed me to get Kyrie Irving to sign with the team during the moratorium period.
After signing Kyrie Irving and maintaining Luka Doncic and Cade Cunningham, I could get any superstar I want. For top-level players like Curry, James, Antetokounmpo, and Kevin Durant, I had to give away both Cade Cunningham and Kyrie Irving in the deal.
Since you also have a ton of draft picks to play around with, you can manage your trades to build your depth.
As a quick overview of a team you can come up with, it could look like Luka Doncic, any top-level superstar, a mid-level exception player, and a ton of veterans on a minimum deal from free agency.
You can swap your remaining draft picks for better depth. This can even allow you to upgrade your mid-level exception player to an all-star caliber player.
It all depends on what you want to do with your assets. There are a lot of players you can get from this strategy.
Is This Possible in a Non-Fantasy Draft MyLeague?
This is possible in a non-fantasy draft MyLeague but, the methods are highly dependent on the team you choose. As some teams may have more assets than the teams you come up with in a fantasy draft, you will find it easier to trade for a superstar.
In a fantasy draft, creating a superteam is extremely hard. You will be playing around the cap space too much and it will force you to downgrade a few players unless you do the strategy above.
For non-fantasy draft MyLeagues, you will be trying to clear cap space to grab a superstar in free agency before trading for a player you want.
If you choose a team like the Los Angeles Lakers or the Brooklyn Nets, it will be easier. I mean, you would not even want to trade your superstars anyway since you already have a superteam.
You can swap your superstars like a Kyrie Irving for a Damian Lillard but, you will be throwing a few more assets. Trading superstars will always force you to give out more unless you override it.
For fantasy MyLeagues, you can follow our best MyLeague fantasy draft tips to help you build your team.
Tips You Should Know When Trading for a Superstar
Player Development
Since the key is always improving your assets for trading power, you need to develop your young players – focusing on the ones with high potential.
Having an asset like James Wiseman, LaMelo Ball, or Jalen Green, will have a huge increase in value after finishing a season. You can double on this by using the player training during the season and the training camp in the offseason.
After drafting Cade Cunningham in a fantasy draft MyLeague, I was able to increase his trade value to a 5-star after the first season. He improved from being rated 80 overall to being rated 89 overall in just a single season.
Focus on training if you are developing young players. This will give you that boost to trade for a superstar in the future.
Trading newly signed players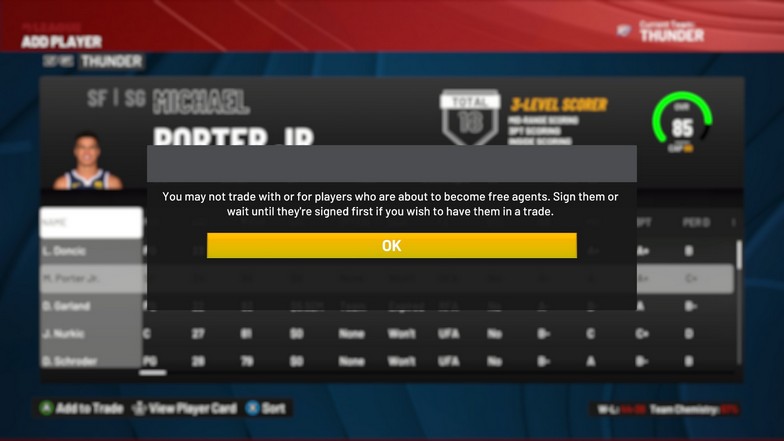 When you enter the free agency period in the offseason, you will be able to sign players you need for your team or for trading.
You should be aware of the rule where newly signed players cannot be traded until December 15. With the strategy mentioned above, trading the newly-signed Kyrie Irving can only be done during the midseason.
Keep this in mind when you are strategically building for the next season. You might mess up your team's chemistry or even get a few players injured before that time comes.
Stepien Rule
The Stepien Rule will prevent you from throwing away all your draft picks in multiple trades. If you traded for a lot of draft picks and you are unable to use them in just one trade, you should find another way to give them all up in a single trade.
After giving away your first-round draft pick, you will be prevented from trading your other draft picks in the future. If you are hoarding a lot of draft picks for a big trade, try including them all in a single trade.
Final Thoughts
When you think about it, it is never worth it to cripple yourself by making a lopsided trade for a superstar. By following the strategy above, you can opt to keep the assets you have instead of trading.
A team like Bradley Beal, Luka Doncic or Zion Williamson, Cade Cunningham, a mid-level exception player, and a ton of veterans is already an insane superteam. This will leave you valuable draft picks where you can choose to improve your depth as long as you play around the cap limit.