If you have just recently learned about how to set up a fantasy draft, these advanced tips will help you create the teams you want a lot easier.
This is without adjusting the trade settings to let every player accept an uneven trade.
These are the best MyLeague fantasy draft tips in NBA 2K22 that you absolutely must know before even drafting the players for your team.
Pick Teams With More Draft Picks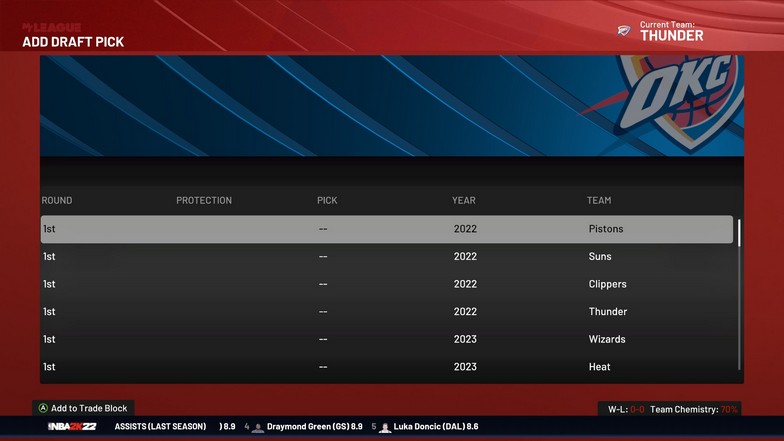 There are only a few teams that have draft picks from other teams including their own. When you start a fantasy draft, the team you choose will start with the same draft picks they originally have. This gives them a slight advantage over other teams.
You can choose a team like the Oklahoma City Thunder, which acquired numerous 1st round draft picks from the Paul George trade, and capitalize on these picks to improve your team even more.
Factor in the Player's Contracts
Every time you draft a player, you have to factor in the player's current contracts in the NBA. Even if they get drafted in the mid-rounds, you can still end up drafting a player on a $25m per year contract.
Drafting guys like John Wall, Al Horford, or even Tobias Harris can put your team way over that cap limit. Since there is no cap limit when it comes to the fantasy draft, it will only take effect once the draft is over.
There are a lot of ways you can manage this. All of the information is available in the draft hub when starting a fantasy draft. You will be able to see each player's contract value, overall ratings, age, potential, and the years left on their contract.
All of this will stick through the fantasy draft settings so you can even go past a team's cap limit during the fantasy draft.
When you are looking to create a superteam in MyLeague, you will need to draft players with good contracts. The only way to build a superteam is through free agency.
To get at least 3 superstars on your team, you will need to capitalize on a superstar with a rookie contract while signing the others through free agency. Draft players with a year left on their contract so it can free up some cap space on the next free agency.
If not, you can go for players with high potential and a low contract.
Drafting Young Players Early
Piggybacking on the last tip – drafting young players is often an overlooked strategy when creating the best fantasy team. Why? Most people would usually sort the players available in the fantasy draft by their overall rating.
If you are playing your own offline league with a bunch of AI-controlled teams, you will see them draft way below the best available player. You can see Zion Williamson get picked ahead of players like Damian Lillard, Anthony Davis, or even Kawhi Leonard.
The same goes for young players way below the 85+ rating mark. Guys like Cade Cunningham can be drafted above players like CJ McCollum.
Always look for good young players who are at least 5-6 overall rating points below the highest available player. When you are looking to trade for the best young players, it is sometimes better to draft them while they are available.
Pick Teams With a Bad Season Record
Combined with the first tip, you can get a lot of value from your draft picks before you start playing games in the regular season. Picking teams like the Oklahoma City Thunder, who also have a ton of draft picks, will have a 3-star value on their current draft picks compared to other teams.
You can check the standings from the 2020-2021 NBA season to find out who has the worst records. Those teams will have better value on their draft picks when starting a fantasy draft MyLeague.
It is worth noting that playing a few games will change the current value of your draft picks. If you win more games, it will lose its 3-star value. If ever you lose, it can retain the same value.
Trade for Draft Picks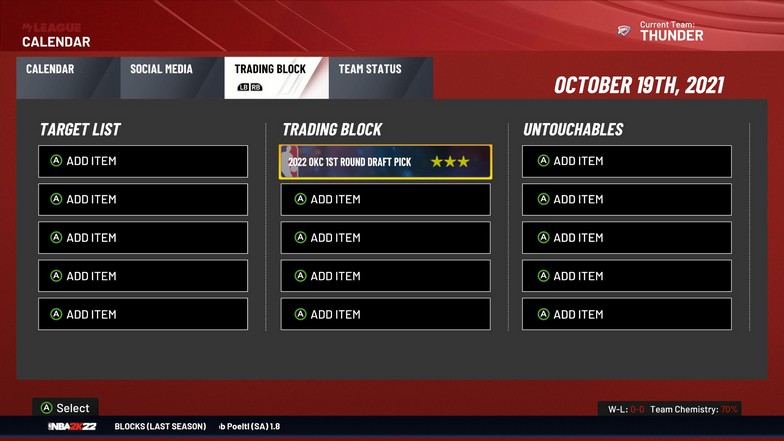 Seeing as you can manipulate the value of the draft picks at the beginning of the fantasy season, you can easily swap draft picks with terrible teams.
You can look through the roster and find teams who either drafted poorly or invested a ton on young players for the future. Their current draft picks will increase in value once they lose a ton of games.
It is best to take advantage of it and invest in these draft picks before the season starts. If you are also looking to build for the future while trying to secure as many wins as you can, you can try to go for the lottery and get the first overall draft pick.
If you know how to download a draft class, you will be able to see the best prospects in the class and draft them for the next season.
Get Cheap Players You Know How to Play
There are a ton of players who specialize in what they do. If you are used to playing them in a quick game with your friends, it would be a great and cheap addition to fill your roster.
You will never be able to pick all the players you want during the fantasy draft. This will allow you to safely fill your roster with players you are familiar with and you can utilize your team from the 1st player down to the last player.
Capitalize on Training
Try to always utilize player development and team chemistry for the team. You can go to the training section and manage the training regimen.
This will allow you to work on specific areas of the game and improve it for each of the players. You can adjust this with every team practice and it is one of the main ways of developing young players throughout the season.
The training intensity is also something you should look at. If you are playing a tough matchup in the next game, it is best to lower the intensity so that the player's stamina does not get affected that much.
Fixing Rotations
When you are drafting players, some of them are used to being the starter for their respective teams before the fantasy draft happens.
For example, drafting Joe Harris, who starts for the Brooklyn Nets, will need to be downgraded to a bench role. If you have better players in the same position, this is a no-brainer. The problem is that Joe Harris might feel unhappy with his role.
This will cause his rating to slip or would even ask to get traded to another team. This applies to all the lowly-rated starters in the NBA. Keep this tip in mind when drafting your players.
Trading for Superstars
When you are looking to add superstars to your team through a trade, it will be difficult. This is because those teams that have them consider them as "untouchables". The only way to get them is by making an absurd lopsided trade in favor of the team giving the superstar away.
Even if you give a superstar in return, they will disrespectfully ask for more. Trading players like Cade Cunningham and Klay Thompson with 4 1st-round picks (picks valued at 3-star and 3 2-stars) for a Kevin Durant will still be rejected.
In the real NBA, even the Brooklyn Nets might pull the trigger on this one and flip them for more value.
A great tip for getting superstars is maximizing free agency. Make some cap space before the trade deadline and try to sign a superstar in the offseason.
Sign that superstar in the offseason while retaining your best assets. Swap that superstar along with some valuable draft picks and a few good players to trade for the superstar you want.
Final Thoughts
The joys of managing a team and leading them to a championship are just a few things that make you want to play MyLeague. You have the freedom to do everything you want and these fantasy draft tips are meant to help you with achieving that.
You can alter the settings to make things the way you want them to be. Things like making a fixed fantasy draft order or having a serpentine draft order to make everything equal. There are so many ways to play MyLeague and you will be going through more than one playthrough if you enjoyed this.