No GOAT debate is ever complete without the mention of Earvin "Magic" Johnson. Many people around the league even consider him the best point guard in league history.
He also served as a pioneer for the next generations' supersized playmakers that had a flair for showmanship, including Penny Hardaway, LeBron James, and Ben Simmons. At 6-foot-9, his ball handling and court vision were out of this world.
Johnson was a true point guard who was always looking to facilitate the offense. If playing as the opposite – a shoot-first, undersized guard – is your cup of tea, check out the best Allen Iverson build in NBA 2K22.
But if you prefer a towering floor general that makes teammates better, then you should use a character based on Johnson.
This guide will aid you in creating the best Magic Johnson build in NBA 2K22 and choosing the right skill breakdown, physical features, and badges.
Magic Johnson Build Overview
Johnson was more than just a point guard. He could also play other positions well and was a walking triple-double.
The Los Angeles Lakers superstar famously started at center in place of the injured Kareem Abdul-Jabbar in Game 6 of the 1980 NBA Finals. He also played as guard or forward at different instances in the match.
Although he was just a rookie then, he still recorded 42 points, 15 rebounds, 7 assists, and 3 steals to lead his team to the title.
It would be nifty to be able to make a build that completely mimics Magic's all-around game. However, with so much constraints in the MyCareer mode, there's only so much upgrade points you can spend. You will just have to focus on what Johnson really excelled at.
Skill Breakdown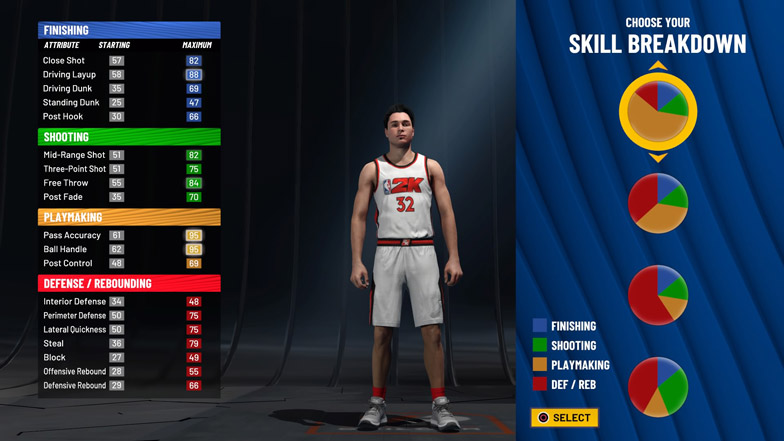 For the skill breakdown, the emphasis should be on playmaking.
Other combinations can also work, such as adding a bit more finishing or defense/rebounding. The three-time MVP was, after all, quite crafty inside the shaded area. He was also solid on the boards and averaged a high number of steals, especially early in his career.
But by concentrating your character's skill breakdown on playmaking, you can maximize its attribute and badge potentials under that category.
Also, you will find out later as you modify your character that raising its height to the limit results in a significant decrease in ball handle. It is better then to maximize playmaking in choosing the skill breakdown.
Physical Profile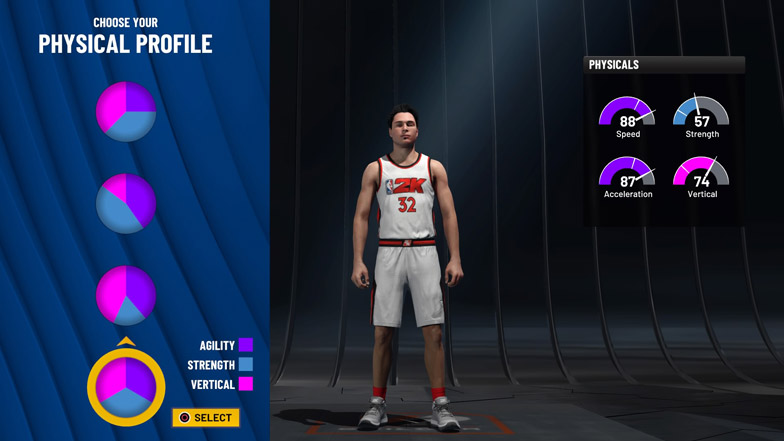 The Lakers of the 1980s were called "Showtime" because of their exciting run-and-gun style of basketball that featured a lot of fast breaks. Johnson led the up-tempo offense using his speed.
But when the team needed to slow it down and called for Johnson to score, he was able to use his height and power to make his way to the rim.
Johnson was not the greatest leaper. It was probably because he never had to jump that high given his extended reach. However, if you watch his highlight reels, you will see how much hang time he usually had when making acrobatic passes or layups.
For these reasons, your character's physical profile should have an equal distribution of agility, vertical, and strength.
Setting Your Potential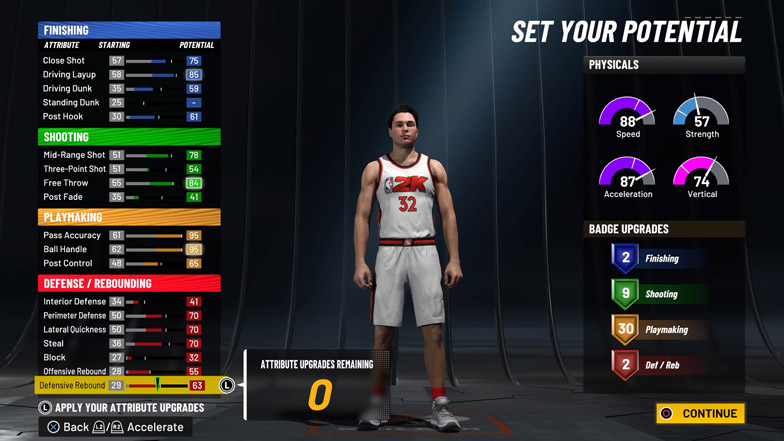 When setting the potential, you will have to consider that maximizing your player's height will drastically reduce some attributes.
Adjusting the height to the upper limit will sharply decrease driving layup, mid-range shot, pass accuracy, ball handle, perimeter defense, lateral quickness, and steal attributes. Thus, these should be set to a high level or the maximum.
Conversely, maximizing the height will significantly increase the potential of standing dunk, post control, interior defense, block, offensive rebound, and defensive reboumd. You can then assign just some of your upgrade points to these attributes.
Make sure to increase the potential of close shot and post hook to provide you with more scoring ability. Even if he made a name for himself as a facilitator, Johnson was still able to record 19.5 points per game in his career.
Physical Attributes
Johnson stands 6-foot-9. But point guards in MyCareer have a height ceiling of 6-foot-8, which you will just have to settle for.
As for the weight, you can copy Johnson's playing weight of 220 lbs. It will lead to a decrease in driving layup, driving dunk, perimeter defense, and lateral quickness. On the plus side, it will give a boost to post control and interior defense.
The wingspan can be set to the default to avoid further lowering your character's ball handle attribute.
Takeover
The takeover of the ideal Magic Johnson build in NBA 2K22 is a no-brainer. You must select playmaker over slasher.
When the playmaker takeover is enabled, you will have improved ball handling abilities. It will also increase the chances of freezing your opponent when performing dribbling moves.
Moreover, the takeover will also boost your teammates' shooting percentage when they receive a pass from you. This can lead to more points for your team and more assists for you.
Magic Johnson Badges
With the player archetype you will be building, most of the badges you will be upgrading will fall under the playmaking category.
You will still have a few opportunities to earn shooting, finishing, and defense/rebounding badges. The following sections will help you decide which should be upgraded.
Shooting Badges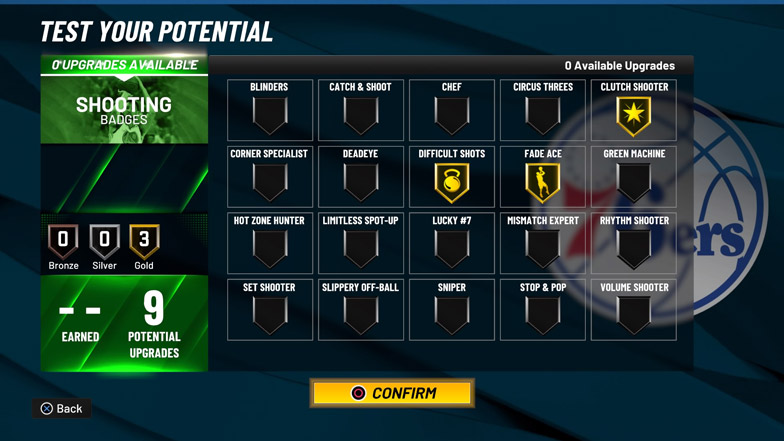 If you follow the guide exactly as presented, you will eventually earn around nine potential upgrade points for shooting badges.
Rather than spread them out to a variety of badges, it will be better to just focus on a few and upgrade these badges to gold.
The shooting badge you must prioritize is Clutch Shooter. NBA fans alive in the 1980s would probably find it hard to forget Johnson's crunch-time shots, particularly his deep 3-pointer against the Houston Rockets and his last-second hook shot against the Boston Celtics.
You can also consider the Difficult Shots and Fade Ace badges. The five-time NBA champion had a funky shooting technique. Yet, he was still able to convert a good percentage of his mid-range shots, especially during his prime.
1. Clutch Shooter – Shot attempts made during the final possessions of the fourth quarter or overtime are more likely to go in the bucket.
2. Difficult Shots – High-difficulty jumpers made in the mid-range area are given a shot percentage boost.
3. Fade Ace – Fadeaway shots attempted right after a post move receive a boost.
Finishing Badges
Ideally, your character should be equipped with more finishing badges. But the nine-point penalty to the layup attribute after raising the height consequently limits the potential upgrades under this category.
Only a few upgrade points will be available, which you can consider using on Acrobat and Backdown Punisher. These badges will help your character move like Johnson when attacking the basket or posting up opponents.
But I recommend using the points on Hook Specialist instead. This is because the Hall of Famer became known for his baby sky hook.
1. Hook Specialist – This badge provides a boost to post hooks attempted from any distance from the rim.
Playmaking Badges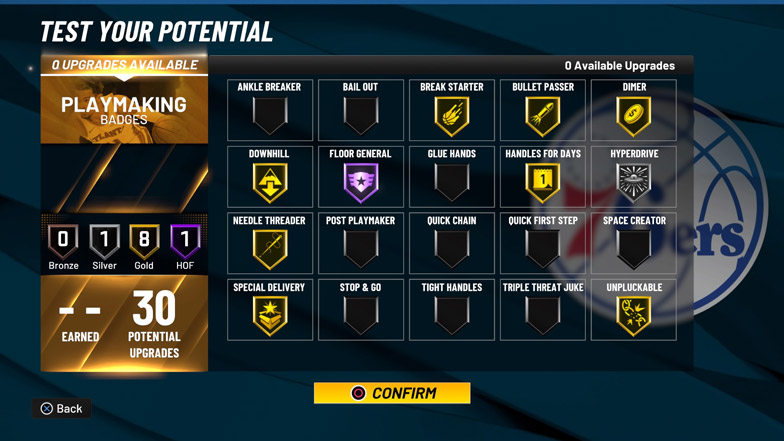 Johnson dished out 11.2 assists per game in his career. That is the record in the NBA for the highest career average in assists.
A good number of your character's playmaking badges should focus then on those that will help you collect more dimes. These include Break Starter, Bullet Passer, Dimer, and Needle Threader.
Given Johnson's ball handling skills, you could also equip your character with badges that give your dribbling a boost. Keep your eyes on those that will improve fast break opportunities, such as Downhill, Handles for Days, Hyperdrive, and Unpluckable.
The badge that you should definitely level up to the Hall of Fame tier is Floor General. This will boost your teammates' offensive attributes.
If you want to earn upgrade points for playmaking badges early on, then you should accumulate as many dimes as possible. To do that, I suggest that you study how to call for a screen in NBA 2K22 to increase your assist opportunities.
1. Break Starter – After grabbing a defensive rebound, your pass to a teammate racing down the court is more likely to connect.
2. Bullet Passer – The badge increases how fast a player gets the ball out his hands when passing and boosts the speed of the pass.
3. Dimer – After passing to an open teammate, his shot receives a percentage boost.
4. Downhill – A player's Speed with Ball attribute receives a bonus during fast breaks.
5. Floor General – Boosts teammates' offensive attributes and shows you which of them are in one of their hot zones.
6. Handles for Days – Less energy is consumed when performing consecutive dribble moves, giving the ability to chain together combos quicker.
7. Hyperdrive – The badge increases the speed at which a player can perform dribble moves when attacking down the court.
8. Needle Threader – Passing attributes are increased when a player attempts a pass through a tight space between defenders.
9. Special Delivery – Increases the chances of connecting an alley-oop pass or the shot percentage of a teammate who has just received a flashy pass from the player equipped with the badge.
10. Unpluckable – When performing dribble moves, opponents will have a difficult time poking the ball free during a steal attempt.
Defense/Rebounding Badges
Just like the finishing category, you will only have a few options for your player's defense/rebounding badges. Following this guide will give you just two upgrade points.
There are various options here for you. These include Ball Stripper, Interceptor, and Rebound Chaser.
What I suggest, though, is upgrading the Tireless Defender badge. This way, staying in front of point guards on the defensive end will not expend too much of your energy. Remember that running fast breaks and chaining dribble combos can have a significant effect on your player's fatigue level.
1. Tireless Defender – Allows the player to play defense more aggressively without losing energy at the same rate as a normal player.
Final Thoughts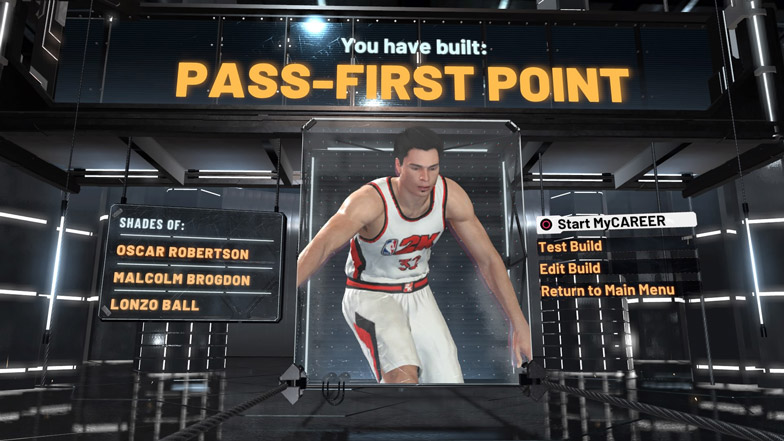 Developing the best Magic Johnson build in NBA 2K22 can be quite complicated. There is a lot of attribute and badge upgrade points you have to sacrifice to boost your playmaking.
But Johnson did not care for his own stats and just concentrated on seeking ways to win. And for him, that meant letting teammates shine on the offensive end. In the same manner, that's what your aim should be when playing like the pass-first point guard.
Maybe another of your goals is to be the No. 1 pick in the draft, just like the Hall of Famer. To do that, we have a guide that will teach you how to get drafted in NBA 2K22 as a first overall pick.
Once you have begun your MyCareer journey using the Magic Johnson archetype, get ready for showtime!