Some NBA 2K players are all about realism and taking a specific, real-life team to glory.
Others like to create alternate histories, play with their favorite players, or even retired NBA legends.
This may not be that realistic but it does create a surprisingly level playing field where every game is packed with stars and all teams are fighting for a playoff spot – regardless of market size or real-life rosters.
Read on and learn how to do a fantasy draft in 2K22 MyLeague.
Why Should You Set Up a Fantasy Draft?
I used to be a big fan of playing in the real-life NBA – there was just something about fantasy drafts that rubbed me the wrong way and struck me as childish.
However, over the years, I started seeing some benefits of playing this way. First of all, if you include classic players, you can combine some of your favorite legends with today's players to create a team you really like. You can also draft young players you like and create a balanced team tailored to your style.
Second, playing with an NBA 2k22 fantasy draft is actually harder than using the real-life league landscape. In today's NBA, you have certain teams that are simply the best teams to manage in NBA 2K MyLeague due to their roster, assets, etc. You also have rebuilding teams like the Oklahoma City Thunder or Cleveland Cavaliers, both of which you can consider instant wins when you see them in your schedule.
Since there are so many stars in the fantasy draft in NBA 2k22 and everyone has an equal number of picks, almost every team will end up with a star or a really good player. Pretty much 90% of the teams get a respectable roster, although some inequalities are inevitable.
How to Set Up a Fantasy Draft Step by Step
The first step to creating a fantasy draft is to start a new League and choose Current NBA Teams. Don't worry – this doesn't mean the rosters will be actual 2022 rosters, just that the teams (cities, names, home grounds, etc.) will be the same as today. Alternatively, you can start with expansion teams or create a custom league with historic and modern teams.
Select Start in Regular Season and go to Setup Options on the next screen: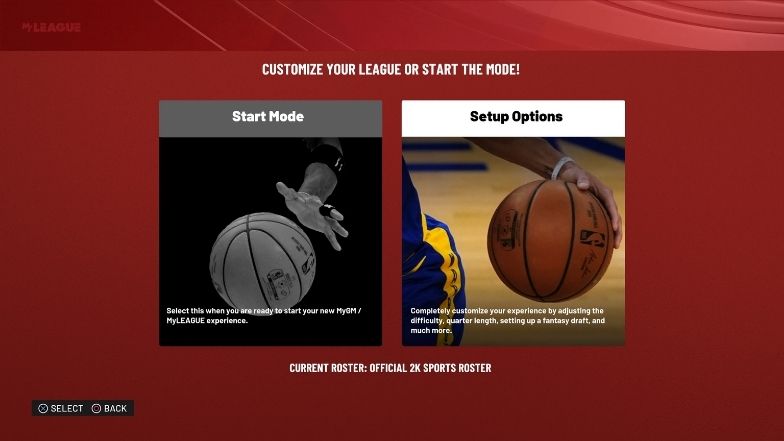 Near the bottom of the next screen, you'll see the 2k22 Fantasy Draft option that you can toggle On or Off. Toggle it on and this will unlock the options below that will determine the nature of your draft.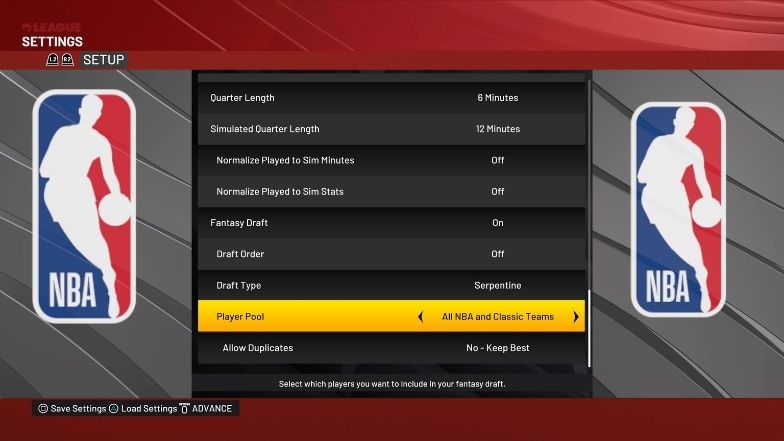 Here is what all the settings signify.
Draft Order can be toggled On or Off. When enabled, it will allow you to manually customize the draft order. Obviously, one reason why you might want to do this is to ensure you're not too far down in the pecking order in the first round.
Draft Type can be Fixed or Serpentine. Fixed means that a team will draft from the same spot in each draft round. Serpentine draft order switches team places in each round. So, if you drafted 2nd in the first round, you'll be drafting 29th in the second, then 2nd in the next round, and so on. I personally like to go with Serpentine since it balances the league even further.
Player Pool determines which players will be eligible for the draft. All NBA Teams will allow you to draft only active NBA players. All NBA and Classic Teams will add classic teams to the mix, while All-Time Teams refers to the all-time Bulls, all-time Bucks, etc. with boosted stats.
Allow Duplicates setting allows you to decide whether the draft will include, for example, all-time Cavs Lebron or real-life, Lakers Lebron. I suggest setting this to No – Keep Best. This way, the game will automatically keep the best version of the player, ensuring the draft is packed with maximum talent.
Once everything is set and you've covered all other MyLeague settings, you can proceed to the next screen. Select your team, advance, and wrap up with the remaining MyLeague automation settings.
Drafting Players in NBA 2K22 Fantasy Draft
When it comes to the actual draft, there are certain things and best practices you need to know to maximize your results.
While it might be tempting to instantly go for the highest-rated players, remember that you're building a real team here. Like any other team, yours will have a rotation, a limited amount of minutes and, most importantly, a salary cap. In real life, you can take a look at some of the teams with the most cap space in NBA 2K22 but, in Fantasy Draft, you're in charge of creating cap space.
Draft with this in mind and try to look for valuable players with good contracts. In the image below, we can see that Kevin Durant is almost twice as expensive as Larry Bird, even though their rating is the same.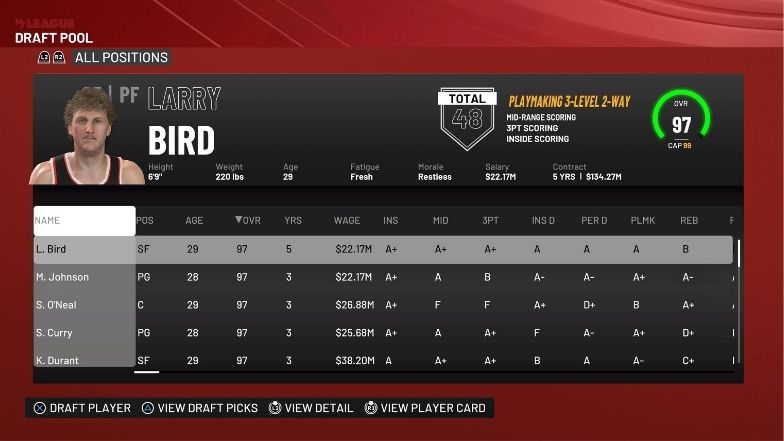 That said, your first 2-3 picks should absolutely be the biggest talents available. As you go deeper into the draft, you should keep looking for valuable players at discount prices. In this next image, there is a reason why Holiday and Harris are still undrafted, even though this is the 6th round.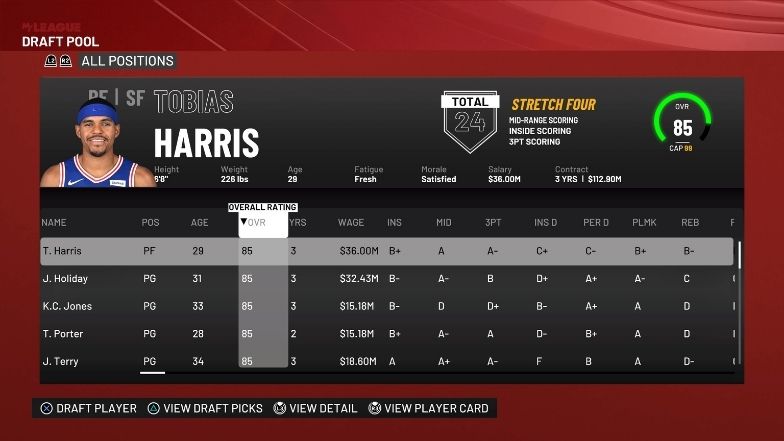 Their salaries are simply too high and there are easily 10-20 better PGs than Holiday that won't take as much cap space. In fact, both Terry Porter and Jason Terry are better choices since they're twice cheaper.
In rounds 10-14 you should be looking exclusively at players with low salaries that you can either develop into solid players going forward or just save money. They won't be playing anyway, a 10-man rotation is about as far as you'll ever go. Even if one of your players suffers an injury, you probably have 2 excellent players that can split his minutes.
Navigate to the Wage column and tap Square/X to sort players and find some good deals.
In one of my experimental Fantasy Drafts, the New Orleans Pelicans obviously didn't follow this logic and ended up 140 million over their cap. You can take a single look and it's clear why this happened: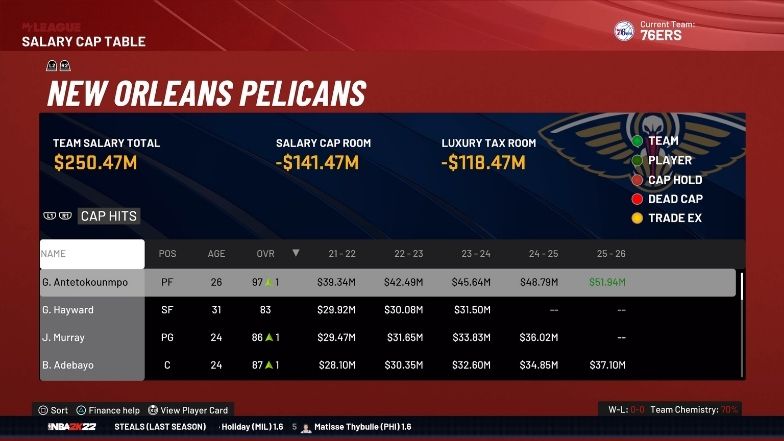 Giannis, Hayward, Murray, and even Adebayo have some monster contracts. You can maybe live with Giannis because he's incredible and you have him locked down for the next five years but Hayward and Murray are unforgivable at this salary range. Especially when you consider that there are much better options on the market since I included classic players.
Here is how my draft turned out. A little over the limit but nothing dramatic, considering the names. There are cool names on the bench like Andre Miller, Toni Kukoc, A.C. Green, and others. You'll also find that, if you include classic players, 99% of teams will go well over the cap.
Do a few trial runs to figure out how to set up a fantasy draft in NBA 2K22 MyLeague.
Explore some interesting players, look at their grades and contracts, and identify your key targets. Remember to cover each position, and don't draft a big name in the later rounds if you still have holes in your team!
What to Do Next?
After setting up your fantasy league, you can start trading for superstars and build a superteam.