Larry Bird cemented his legacy in the sport by leading the Boston Celtics to three championships in the 1980s. He is also the last player to win three straight MVP awards.
NBA 2K users have loved playing as Larry Legend not just because of his ability to score from anywhere on the court, but also because of his versatile game.
Of course, there are some who prefer using a player based on his archrival, Magic Johnson. For that, we have developed the best Magic Johnson build in NBA 2K22.
But if you're a fan of Bird's game, then there are ways to customize your character to dominate on the court like the former Celtics superstar.
Below is a guide to help you create the best Larry Bird build in NBA 2K22.
Larry Bird Build Overview
Bird excelled in almost all facets of basketball. He was a great scorer, rebounder, passer, and defender.
Have you heard of the 50-40-90 club? To be part of this group, a player must record at least 50% field goal percentage, 40% three-point field goal percentage, and 90% free throw percentage throughout a season.
The 'Hick from French Lick' was the first ever to join the club. Only eight other NBA players have achieved the rare feat.
But don't let Bird's efficient scoring distract you from the fact that he was proficient in the other aspects of his game. Even though he was a superstar, he also had no problem doing the dirty work, like playing hard-nose defense and hustling for loose balls.
Skill Breakdown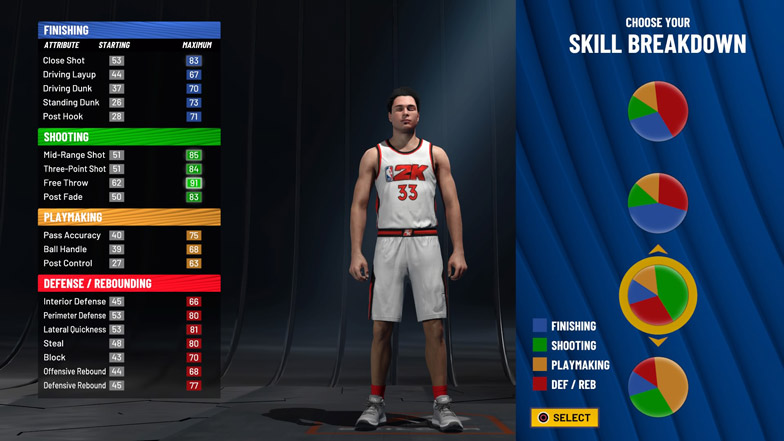 Ideally, you should be able to select a player archetype that excels in finishing, shooting, playmaking, and defense/rebounding to make the best Larry Bird build in NBA 2K22.
Unfortunately, that's not possible and some sacrifices will have to be made.
Your player's skill breakdown should certainly focus primarily on shooting. Because as previously discussed, Bird was an outstanding shooter.
An option for your character's secondary skill is playmaking. After all, Bird dished out 6.3 assists per game for his entire career.
But I recommend opting for defense/rebounding instead. This will provide a huge boost in the attributes under this category.
Additionally, the three-time NBA All-Defensive Second Team selection stood out in that end of the court. By going for a shooting plus defense/rebounding build, you will have a two-way player at your disposal.
Physical Profile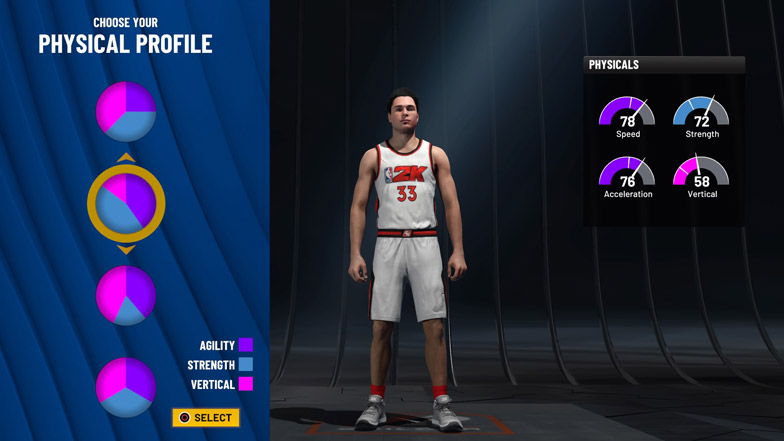 Unlike the other popular wing players of his generation, such as Julius Erving, Michael Jordan, and Dominique Wilkins, Bird did not have the hops to jump over opponents.
What he used was his strength and court sense to outmaneuver and outrebound opponents.
So, when selecting a physical profile for your player, I suggest choosing the combination of strength and agility.
Setting Your Potential
In setting your player's potential, be sure to maximize shooting and playmaking attributes, particularly the mid-range shot, three-point shot, free throw, pass accuracy, and ball handle.
The reason for doing so is not just due to Bird being a proficient shooter and facilitator, but also because you will find out later that increasing the height will decrease these attributes.
To round out the finishing, shooting, and playmaking categories, put some points on close shot, driving layup, driving dunk, and post hook.
As for the defense/rebounding class, set the interior defense, offensive rebound, and defensive rebound to around 10 points below the upper limit. Increasing the height will give these attributes a huge boost anyway.
Conversely, the height change will cause a negative impact on perimeter defense, lateral quickness, and steal. So, you will have to allocate some of the points to these attributes.
Physical Attributes
Bird stands 6-foot-9, and his listed weight during his playing days was 220 lbs.
When adjusting your player's height, you can just copy Bird's real height. During the MyCareer mode, you can be tasked to play some minutes at power forward depending on the rotation. Being that tall will give you an advantage in-game.
As for the weight, you can lower it by one pound (219 lbs) to give your player an additional point in acceleration.
Lastly, the wingspan can be reduced to around 83.0 inches. This will give your shooting attributes a bit of a boost.
Takeover
The game will provide you with three takeover options. Honestly, all of them fit Bird so well.
He was a great post scorer and could dominate the paint like a big man. During the early parts of his career, he even started at power forward for Boston.
Because Bird was wily in creating space for himself off the dribble, the Shot Creator takeover also sounds like a good option.
However, I suggest going for Spot Up Shooter. Because that was usually how the Hall of Famer took over games. When he was on fire from the three-point line or mid-range, no one can stop him.
Larry Bird Badges
The way you will be building your character will give you a lot of potential badge upgrades under the shooting category.
Unfortunately, a trade-off with this player archetype is that there will be fewer points available for the others.
As an alternative to relying on badges for in-game boosts, you can target improving many of your attributes as soon as possible. For this, you will need a ton of VCs. To help you grind efficiently, we have a guide on how to earn more VCs in NBA 2K22.
Finishing Badges
Unless you allot more points to finishing attributes, you will only have one potential upgrade for finishing badges. You can use it on Post Spin Technician to allow your player to be more effective inside the paint.
To help you operate in the lane, this guide discusses the most effective post moves in NBA 2K22.
1. Post Spin Technician – Attempting to perform post spins or drives result in more effective moves, and lessens the chances of getting stripped by opponents.
Shooting Badges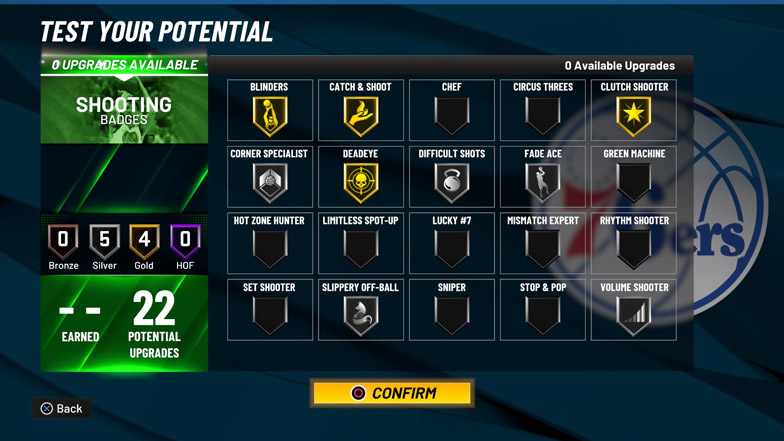 Bird is one of the best shooters in the history of the sport. Shooting badges will allow you to convert more field goal attempts from anywhere outside the key.
What you want to prioritize are those that will help you make shots even if defenders are right by you. These include Blinders and Deadeye.
Also, make sure to equip the Clutch Shooter badge. Bird was one of the greatest players ever in crunch time, making four buzzer-beaters throughout his career. There were also stories that he would walk up to opponents and tell them where he was going to attempt a game-winning shot. That's both confident and cold-blooded.
The other shooting badges you should look to upgrade are Catch & Shoot, Corner Specialist, Difficult Shots, Fade Ace, Slippery Off-Ball, and Volume Shooter.
1. Blinders – Jump shots attempted with an opponent closing out in the player's peripheral vision will not be penalized that much.
2. Catch & Shoot – The badge increases the shooting percentage of a player attempting a three-pointer immediately after receiving a pass.
3. Clutch Shooter – Shot attempts made during the final moments of the fourth quarter or overtime receive a large boost.
4. Corner Specialist – Three-point shots taken near the baseline off the dribble or a pass are given a percentage boost.
5. Deadeye – Jump shots attempted with a defender closing out in front of the player will suffer a lower penalty.
6. Difficult Shots – High-difficulty jumpers attempted from the mid-range get an increased shot percentage.
7. Fade Ace – This provides a shot boost to post fadeaways.
8. Slippery Off-Ball – Increases the player's chances of shaking off an opponent when attempting to get open using off-ball screens.
9. Volume Shooter – Gives an additional boost to shot attributes to every subsequent shot attempted after the player has already taken a handful of shots.
Playmaking Badges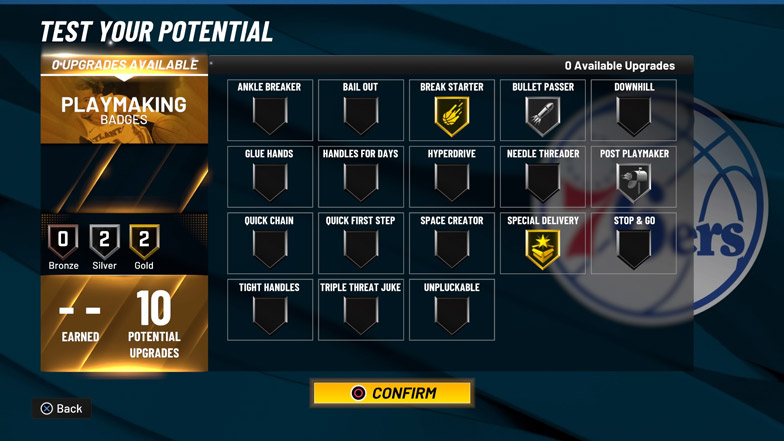 With at least 10 potential upgrade points, you will have several options for playmaking badges.
Some pundits consider Bird as one of the best outlet passers in the history of the league. Thus, you have to upgrade the Break Starter badge.
His other playmaking strengths include quick and flashy passes. He was also quite adept at looking for the open man from the post.
For these reasons, the other badges you should consider upgrading are Bullet Passer, Post Playmaker, and Special Delivery.
1. Break Starter – Deep outlet passes attempted immediately after grabbing a defensive rebound are more likely to connect.
2. Bullet Passer – Increases the velocity of passes and speeds up how quickly the player gets the ball out of their hands.
3. Post Playmaker – When the player passes out of the post or coming off an offensive board, the recipient receives a shot boost.
4. Special Delivery – Improves the chances of connecting with an alley-oop pass and increases the shot percentage of teammates who receive a flashy pass from the player.
Defense/Rebounding Badges
For the defense/rebounding badges, there will only be a limited number of options. Because of this, you can just focus on what Bird was exceptionally good at.
Bird averaged 10.0 rebounds per game in his career. To help you with the boards, you can upgrade the Rebound Chaser badge. This will allow your player to move faster when there are rebound opportunities.
Another badge you must target is Interceptor. Bird had an uncanny ability of reading and anticipating opponent's passes that helped him record 1.7 steals per game throughout his career.
His most famous steal was in Game 5 of the 1987 Eastern Conference Finals. He came out of nowhere to intercept an inbound pass by All-Star Isiah Thomas then immediately dished the ball to teammate Dennis Johnson who made the buzzer-beating layup to give the Celtics the win.
1. Interceptor – This significantly increases the frequency of successfully tipped or stolen passes.
2. Rebound Chaser – Raises the player's ability to track down rebounds from farther distances than normal.
Final Thoughts
Many people following the NBA would love to see Bird play in today's era of basketball. The legend was quite ahead of his time. He complemented his all-around game with accurate outside shooting and unmatched bravado.
Find out for yourself how a player like him would fare against this generation's crop of basketball players by developing the best Larry Bird build in NBA 2K22.