The power forward position in basketball has evolved so much over the years. Most of the current crop of power forwards prefer to do their damage from beyond the arc or the mid-range area.
Even so, there are still players like Zion Williamson who are strong interior finishers. If you want to play like him or other similar paint beasts in the MyCareer mode of NBA 2K22, then I will show you how to create one.
This guide is a bit like the best Shaq build in NBA 2K22. A major difference is that you will be assigning your character a different position from that of Shaquille O'Neal, who was a center.
Through the following sections, I will show you what skill breakdown, physical attributes, and badges you need to make the best power forward interior finisher build in NBA 2K22.
Power Forward Interior Finisher Build Overview
To be an effective interior finisher, a player must be able to get buckets inside the paint. Typically, he can create his own shot. In order to do so, he must be prolific in the post or have solid ball-handling skills to attack from the perimeter.
Some elite interior big men also have a knack for playmaking. This way, they can keep the defense honest and be able to pass from the post when a double team comes.
Skill Breakdown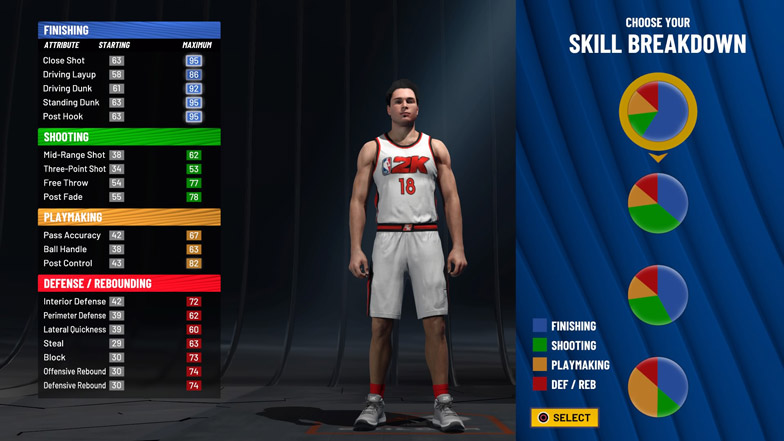 When choosing among the skill breakdown choices, you are going to want to prioritize finishing as it is your primary strength.
The next question is whether to add a secondary ability or not. Adding any of the other skills sounds good. Each of them can bring additional assets for your player.
Even so, I recommend going all in on finishing. Doing that will increase the maximum of the finishing attributes, which consequently provides more potential badge upgrades under this category.
Physical Profile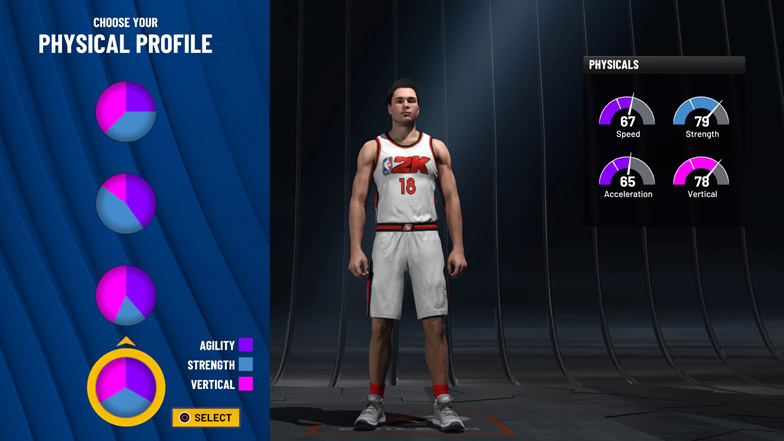 For physical profile, a case can be made for prioritizing one of the abilities over the others. Your player will definitely need each of agility, strength, and vertical when creating the best power forward interior finisher build in NBA 2K22.
Choosing agility will provide it with more speed and acceleration, especially when dribbling. Strength will allow your character to back down opponents more easily in the post. Vertical will give it a higher jump ceiling than other players.
For these reasons, the best alternative will be to select the physical profile that has an equal allocation of each ability.
Setting Your Potential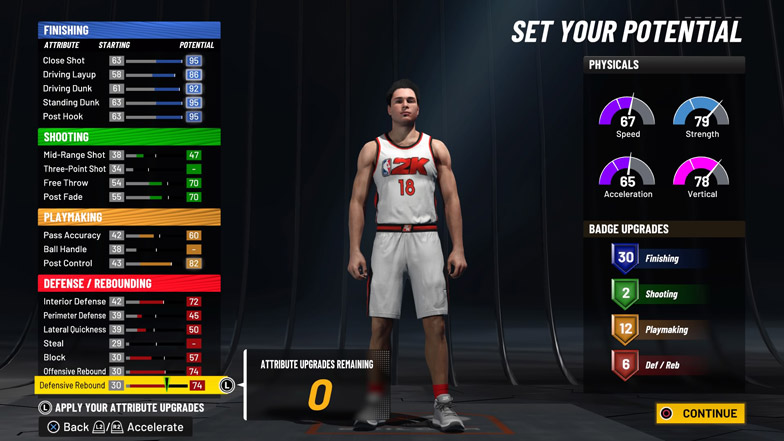 In setting up your character's potential, you should definitely raise every finishing attribute to the maximum.
Another attribute you should maximize is post control to help your player protect the ball effectively when backing down defenders. Others you should do the same for are interior defense, offensive rebound, and defensive rebound.
For shooting attributes, you could add some points to mid-range shot and post fade to give you more scoring weapons. Moreover, increase the free throw attribute by a significant level because your player can potentially draw a lot of fouls.
As for playmaking, you can allot just enough points to pass accuracy or ball handle to give you at least 10 potential badges under this category. Choosing pass accuracy over ball handle is the more ideal option to help you dish out the ball more accurately from the post.
Lastly, the defense/rebounding attributes you should improve, aside from the previously mentioned ones, are perimeter defense, lateral quickness, and block. But you do not have to maximize them because there are not enough points to spread around.
Physical Attributes
You can set the height to the default 6-foot-9 if you prefer to use a taller player. But lowering it to 6-foot-8 is more sensible because of the boost to the speed, acceleration, vertical, and other significant attributes.
When selecting the weight, you can increase it up to around 230 lbs. An amount more than that will have too much of a negative impact on your player's agility and vertical.
Expanding the wingspan to around 90 inches can provide a bonus to some of the attributes that were penalized when you adjusted the height. These include the dunk, block, and rebound attributes.
Takeover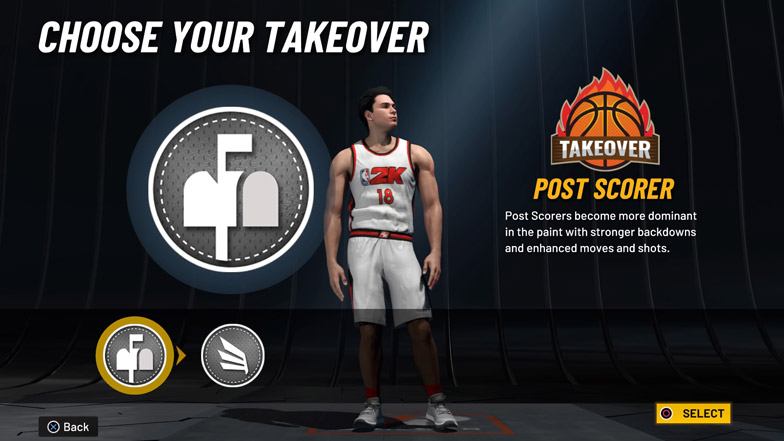 Both takeover options are attractive choices. Picking Slasher can allow your player to drive to the basket strongly when takeover is enabled.
However, your character's forte is based on feasting inside the shaded area. It makes sense then to take even more advantage of his strength. The Post Scorer takeover will let you to do this as it will give you more enhanced moves and shots from the post.
Power Forward Interior Finisher Badges
Most of the badges available to you will come from the finishing category. In fact, you will have around 30 potential upgrade points here.
There will also be other opportunities for you to unlock badges in the other classes. When given the chance, you should certainly focus on the best badges to use in NBA 2K22 – those that will help you both on offense and defense.
Finishing Badges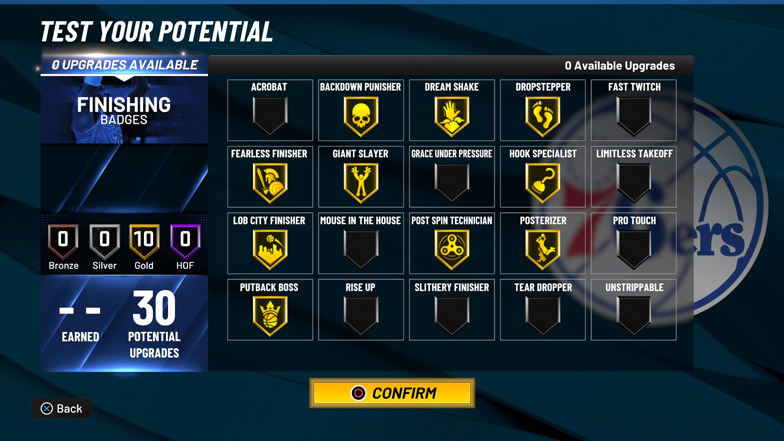 Since you have so many badges to allot eventually, you can either upgrade as many badges as you can or focus on a smaller number and level them up to the gold or HOF tier.
The badges I recommend that you keep your sights on are those that will make you unstoppable in the post. These are Backdown Punisher, Dream Shake, Dropstepper, Giant Slayer, Hook Specialist, and Post Spin Technician.
You can also check out Fearless Finisher, Lob City Finisher, and Posterizer to convert more attempts inside – even in the face of defenders. The Putback Boss badge, meanwhile, will improve the likelihood of scoring second-chance points.
1. Backdown Punisher – Allows players to be more successful in backing down an opponent while posting up.
2. Dream Shake – Fakes performed while doing post moves will have a higher chance of freezing the defender. Also increases the shot percentage of shots attempted right after the fake.
3. Dropstepper – When attempting post dropsteps or hop steps, the player is more likely to be successful and less likely to have the ball stolen.
4. Fearless Finisher – Improves the player's ability to absorb contact and still finish when attempting layups or dunks. Having the badge also lessens the energy consumed during contact layups.
5. Giant Slayer – Boosts the shot percentage for a layup attempt when being defended by a taller defender. Also reduces the possibility of getting blocked by that opponent.
6. Hook Specialist – Gives a boost to post hooks taken from any distance.
7. Lob City Finisher – Improves the player's ability to successfully finish an alley-oop layup or dunk.
8. Post Spin Technician – Post spins and drives become more effective with this badge. Also reduces the chances of the ball getting stripped when doing post moves.
9. Posterizer – Raises the chances of throwing down a dunk on the defender.
10. Putback Boss – Enables putback dunks. The badge also boosts the shot attributes of the player when attempting a putback layup or dunk immediately after grabbing an offensive board.
Shooting Badges
You will have less than a handful of shooting badges at your disposal. And that is fine because most of your points will come from inside the shaded area anyway.
I suggest putting the points to Fade Ace, so fadeaway shots attempted out of the post have increased chances of going in.
1. Fade Ace – Gives shot boost to post fadeaways taken from any distance.
Playmaking Badges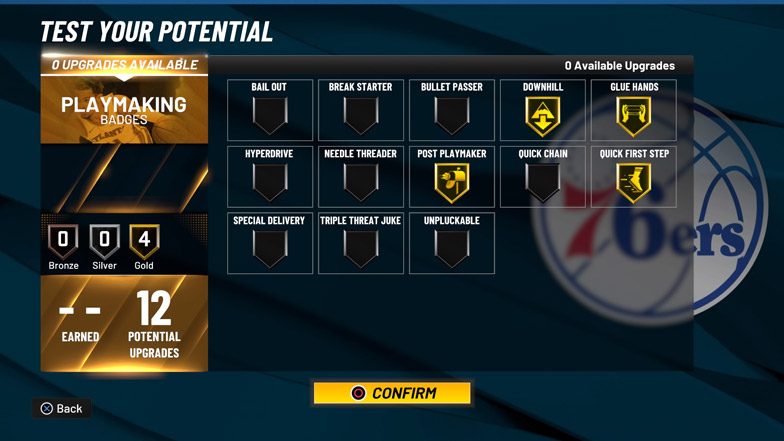 The player you are building will be more of a scorer than a facilitator. However, the boost that playmaking badges will provide will help your team's offense flow more effectively. They can also limit your turnovers.
Post Playmaker is the first badge you should be looking at. This will provide a bonus to your character when passing from the low or high post.
The Glue Hands badge is also worth considering and even upgrading. When your teammates throw bad passes at you, especially at the post, the badge will improve your ability to catch those passes. Downhill and Quick First Step are also good additions in order for your player to move more quickly in fastbreak and size-up situations.
1. Downhill – Provides Speed with Ball attribute boost when there is a fastbreak opportunity.
2. Glue Hands – Reduces the chances of an errant pass, boosts the ability to catch tough passes from teammates, and allows the player to quickly make the next move after receiving the pass.
3. Post Playmaker – After passing out of the post or following an offensive board, the recipient is given a shot percentage boost.
4. Quick First Step – When driving out of triple threat or size-up situations, the player is given access to quicker and more effective launches.
Defense/Rebounding Badges
While the build you will be creating is focused more on offense, you also need to play decent or solid defense. As a big man, it is also better if you can grab a high number of boards in both the offensive and defensive ends. These badges will help you play your role well.
The Rebound Chaser badge will provide you a greater chance of nabbing rebounds, even if the ball falls far away from where your player is. Pogo Stick is also beneficial as it will improve your ability to jump for a second time quickly.
I always advise getting the Tireless Defender badge. It allows users to exert more effort on defense without consuming too much energy.
1. Pogo Stick – Allows the player to quickly recover and go back up for another jump upon landing. This could be after a rebound, block attempt, or jump shot.
2. Rebound Chaser – Enhances the player's ability to track down rebounds from farther distances than normal.
3. Tireless Defender – Allows the player to play defense more aggressively without losing too much energy.
Final Thoughts
There are several ways to tweak some of the details above to fit your preference. But the guide I presented is what will help you create and play the best power forward interior finisher build in NBA 2K22.
Once you have started your MyCareer journey with this build, you should learn and practice the most effective post moves in NBA 2K22. After polishing those skills and leveling up your character's rating, you will be ready to dominate the paint.