If you find yourself playing for a team you have no intention to play for, you might want to get out as soon as possible.
Even if you get drafted as the first overall pick and become a starter with all the minutes in the world, you might still want a change of scenery, particularly if you have a favorite team in real life that you know you want to play for — even if they're kind of bad.
This guide will teach you how to request a trade in NBA 2K22 MyCareer and switch to a team you would prefer to play for instead.
Requesting a Trade
Right at the start of the NBA season, you can go to the Progression tab and find the "Request Trade" button. However, there is a catch. The feature is not available yet because you have to have other teams interested in having you on their team. That's probably why you haven't seen the option and are wondering how to request trade in 2k22.
It might take a while before you can do this but, there are ways you can have other teams interested in your player faster.
How to Get Teams Interested in You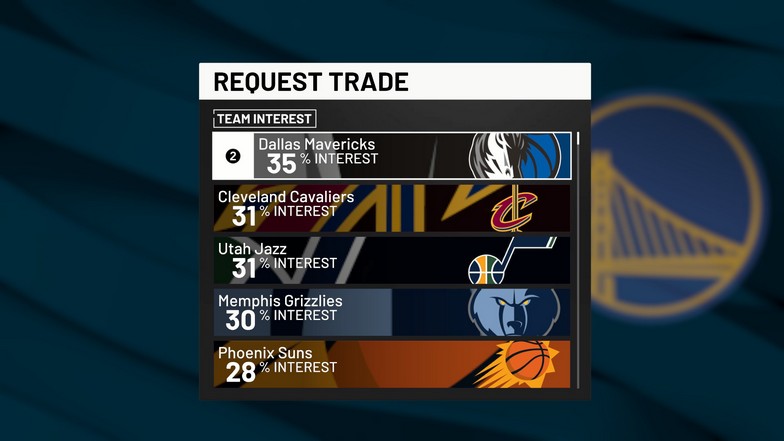 Like most of the problems you may encounter, most of them are solved by just playing the game more and performing better each game. If you're wondering how to get traded in NBA 2K22, this is one of the main ways of moving to a team you want to play for.
This can be a long process as through a few experimentations, a big performance only gives you a slight bump in interest. For example, I dropped a 60-point game while dropping 12 dimes and shot 83% from the field.
This only bumped my interest from teams by 3-5%. When I played more games where I dropped 30 or more points, they usually go up at the same rate.
However, when I purposely scored 8 points in a whole game and performed a lot worse than my average, some of the teams dropped interest and some of them did not change at all.
It seems that having an overall good game will matter when it comes to gaining interest from other teams. The stellar performances will only give you boosts to unlocking badges faster, getting more VCs, and getting more attribute upgrades to get a 99 overall rating.
The teams that show interest in you are completely random. When I played against specific teams, their interest still grew normally even if you completely destroy them during the game.
For example, I played against the Oklahoma City Thunder and dropped a 50-piece with an A+ teammate grade. The Thunder's interest in me only grew by 3% for that particular game.
It seems that it does not matter whether you are playing against the team you want to play for. Everything is randomized when it comes to requesting a trade and getting teams interested.
If you are starting from scratch, it will be better to gain more minutes and move your way into becoming a starter for your team. This will give you more chances to perform better and become more consistent with your stats.
If you find yourself having trouble, you can easily reduce the game difficulty in the game settings or increase the total minutes per quarter.
Simulating Games
This leads us to the other way of getting teams interested faster. After a few tests, I found out that you can increase the other team's interest in you by simulating games.
This is by far the fastest way but, there are a few things you should know first. For one, when you start simulating games, you may perform worse than when you actually play the game.
This factors in your current matchup against the current team you are playing against. If you have someone like Kawhi Leonard, Jrue Holiday, or Anthony Davis guarding you, it will definitely affect your simulated performance against that team.
You should also take note of other things such as your overall rating, skills, and current minutes allocation. All of these have a huge factor when it comes to your performance in simulated games.
It is best to earn your minutes first and get it up over 33+ minutes per game before simulating games. This also helps in preserving your season and career stats.
To put things into perspective, I simulated a total of 4 games after playing the first 14 games (12 minutes per quarter). All of the simulated games increased the interest of other teams by 2-4% per game.
However, my simulated games had me averaging around 28 points and around 7 assists per game. All in all, they are all above-average performances which allowed me to increase interest in other teams.
The best way to go around this is by increasing your minutes and overall rating first before simulating games. You can then choose which matchups you want to simulate as well.
If you have one of the best defensive players guarding you, it is best that you play the game to ensure that your performance is still up to par with your averages.
Final Thoughts
Since you might have a particular team in mind when it comes to getting traded in MyCareer mode, you will just have to follow the steps above and treat every game as a game to showcase what you got.
Gaining interest from other teams is completely random and the team you want to play for might even be the last team that can be fully interested in acquiring you. If you have no team in mind, you can always look for the best teams to join in NBA 2K22 and try to play for a championship title.
In the end, it will be up to you on how you want things to go since you might be sacrificing your averages, season awards, and VCs when you keep simulating games.