In MyCareer you have a chance to write history – you can win the first title for a team, win a title for your favorite team, take complete underdogs to the Finals, and ultimately build a dynasty.
To do all of this, however, you need to go to the right team. This means striking that perfect balance between a weaker team that would give you room to grow while having enough pieces around you to succeed. The last thing you want is to be the rookie star and MVP in a team that doesn't have the talent to surround you with.
Here are some of the best teams to join in NBA 2k22 MyCareer that fit all of the above.
New Orleans Pelicans
Zion Williamson, Brandon Ingram, Josh Hart, and Jaxson Hayes are already an interesting young core for the Pelicans. Add to this roster a future star (you), and it's a force to be reckoned with, even in the overly competitive Western conference. This is one of the main reasons why Pelicans are also one of the best teams to manage for MyGM or MyLeague in NBA 2k22.
If you're a point guard or a shooting guard, it likely won't take you too long to break into the NBA 2k22 starting lineups and start making a difference instantly for the New Orleans Pelicans. The shooting guard position was already a little shakey for the Pelicans and, with Lonzo Ball out of the picture, guard spots are pretty much yours for the taking.
That isn't to say that there are no good guards on this team: Devonte' Graham, Nickeil Alexander-Walker, and Josh Hart all had pretty solid seasons last year and will provide you some solid support along with veteran Garrett Temple. Zion will undoubtedly continue to grow, and so will Jaxson Hayes.
You can easily be looking at this lineup: You, Garrett Temple, Brandon Ingram, Zon Williamson, Jonas Valanciunas. A few moves in free agency and this team can be scary!
Miami Heat
Miami Heat are another one of the best teams for MyCareer in 2k22. They have been a fun team to watch for the past two seasons – quick offense, lots of movement, flashy three-pointers, you name it.
Obviously, it won't be that easy to break into the starting five if you're a guard, with the likes of Kyle Lowry, Victor Oladipo, and Tyler Herro having these spots reserved for them. Still, given Lowry's age and Oladipo's injury struggles, it might not be as hard as it seems.
Additionally, if you like playing as a power forward, you'll be able to create a great duo with Bam Adebayo and contribute to what is already a great roster with Jimmy Butler, P.J. Tucker, Markief Morris, and Duncan Robinson.
With Eric Spoelstra at the helm and a future MVP, this can be a fun and competitive team early on.
Boston Celtics
The Celtics are the most decorated franchise in NBA history and restoring them to their former glory definitely seems like an exciting prospect. For that reason, I believe that they are the best team for MyCareer in 2k22. With the young core already in place, that looks quite possible.
The only positions that are out of reach are the two and the three spots occupied by Jayson Tatum and Jalen Brown (although I get the feeling you might be able to push Brown out of his spot). Minutes at the point guard spot are split between the newcomer Dennis Schroeder and fan-favorite Marcus Smart – both of them can be pushed out of their spots in the roster, especially since Smart can also play SG.
You'll have even better chances of starting as center or power forward if that's what you like to play.
The Celtics are also known for their great role players so you'll be surrounded by the likes of Al Horford, Payton Pritchard, Robert Williams, and Josh Richardson.
Sacramento Kings
Another young and dynamic squad, the Kings are a team that constantly fails to capitalize on young talent and draft picks – so they're a tough sell but let's try.
They finished 12th in the West last year with the same record as the Pelicans and getting a generational talent in the draft will definitely put them in a playoff conversation.
You'd be joining one of the best young point guards in the league – De'Aron Fox – surrounded by a roster of pretty solid players that just know how to play ball. Harrison Barnes, Buddy Hield, Marvin Bagley, Richaun Holmes, and Tyrese Haliburton all had very good seasons last year, and at least two of them (Bagley and Haliburton) are expected to continue developing.
It won't be an easy ride but you can break into the starting lineup from almost any position (except PG) and create a fun, young team ready to be a contender.
The Kings are also drafting from no.9 so you might join them from season one. Moreover, they might just be the most interesting team to join in NBA 2k22 out of the entire top 10 teams in the draft.
Memphis Grizzlies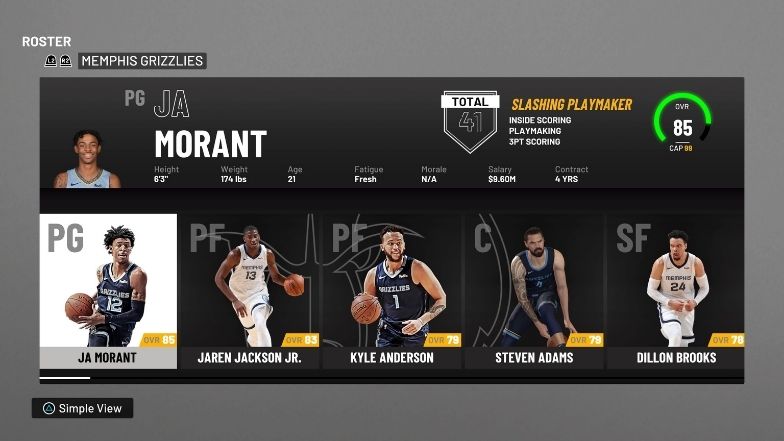 Talking about exciting young cores, the Grizzlies are the 4th youngest team in the NBA with an average age of 24.4.
Ja Morant and Jaren Jackson are great talents but they need that missing piece to get them over the hump. Dillon Brooks had a really good season last year while Desmond Bane hit the ground running in his rookie season and is expected to take the next step.
If you're a shooting guard, you can start making an impact almost instantly and break into the starting five early into the season. Almost no position is untouchable in the Grizzlies and, apart from Morant, you'll be able to push just about anyone out of the starting lineup and claim your place.
Steven Adams is also always a pleasant sight to see under the rim and he'll save you a lot of frustration by getting those loose balls on both defense and offense.
Denver Nuggets
For the past few seasons, it seems like the Nuggets are a star player away from getting to the Finals. If you're lucky and you play your cards right – you can be that player.
Obviously, you'll be joining the reigning MVP Nikola Jokic and his second fiddle Jamal Murray. The duo is pretty well-established, even with Murray's injury and form struggles. Still, pretty much any position apart from center is up for grabs in Denver, shooting guard included. If you're a guard, the coach Mike Malone will probably split the minutes between you and Murray, keeping you both on the floor and shifting Murray to PG or SG depending on what you play.
The Nuggets are in dire need of a point guard so you'll certainly have a spot there if that's your position. Although Jokic currently has the playmaker role in Denver, the game likely won't replicate this model perfectly and a traditional PG will fit right in.
If you don't mind sharing the spoils with Jokic, you'll be building a dynasty in Denver for years to come.
Conclusion
Unfortunately, the best teams to join in 2k22 MyCareer isn't the one drafting from the top five positions.
You'll likely find yourself requesting a trade early on or begging the front office to bring in talent to create a competitive team. On the other hand, there are some exciting young teams forming and the league landscape is arguably more interesting than ever. Choose the young teams that need a player in your position and start making history!
At the end of the day, the best MyCareer team in 2k22 for you to join would be the one that matches your needs the best.