Cap flexibility gives you a lot of room to maneuver the trade market which is arguably one of the most interesting aspects of MyGM.
While teams like the Golden State Warriors and LA Clippers are tied down with big contracts for the next few seasons, there are other teams that have almost instant cap flexibility. With these teams, you have expiring contracts that are just begging to be moved, along with some salary cap room as soon as you take control.
Here are the teams with the most cap space in NBA 2k22 MyGM.
San Antonio Spurs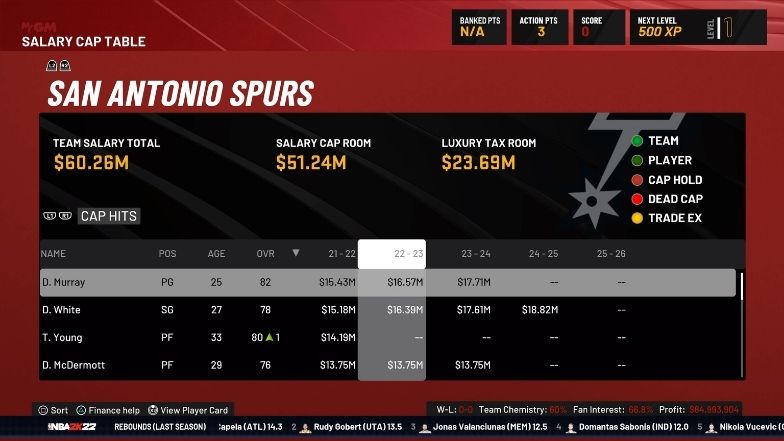 2022/23 cap space: 51.24 million
The Spurs don't have that many exciting prospects other than Dejounte Murray but there are lots of moves to be made here. Both Thaddeus Young and Al-Farouq Aminu are in their last contract year with nearly 25 million tied up. The same goes for Lonnie Walker and Bryn Forbes, although their paychecks aren't nearly as expensive.
If you power through your first season, you'll be looking at lots of cap space. You can also try moving Young and Aminu in your first season if you want to free up space instantly.
Orlando Magic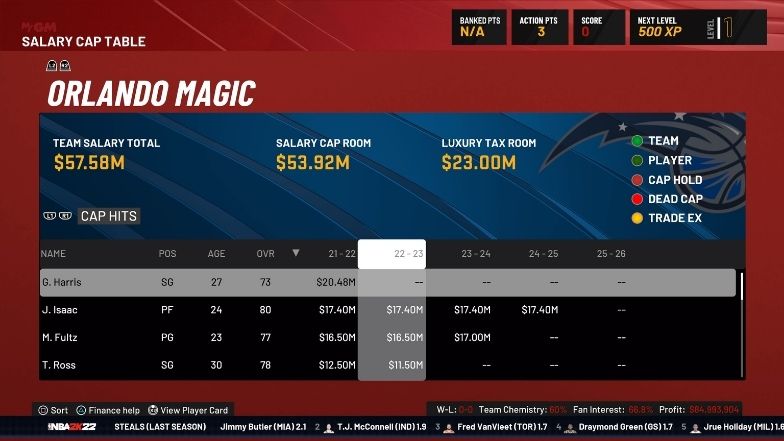 2022/23 cap space: 53.92 million
The big expiring contract here is Gary Harris: he's on a 22.48 million contract that expires before the 22/23 season. Robin Lopez is also playing his last contract year, taking up 5 million. Carter-Williams's and Wendell Carter's contracts are also expiring at the same time but you might want to extend Wendell since he's still young and has a decent rating (81 OVR).
Jalen Suggs and Franz Wagner are interesting rookies with solid ratings (77 and 74), on affordable rookie contracts.
Even if you decide to extend Carter, you'll be looking at cap flexibility pretty early on. The only issue with the Magic is Markelle Fultz's contract that reaches 17 million/year in 2023/24 so you'll probably look to move him somewhere as soon as possible. Unless you still believe in him, of course!
New Orleans Pelicans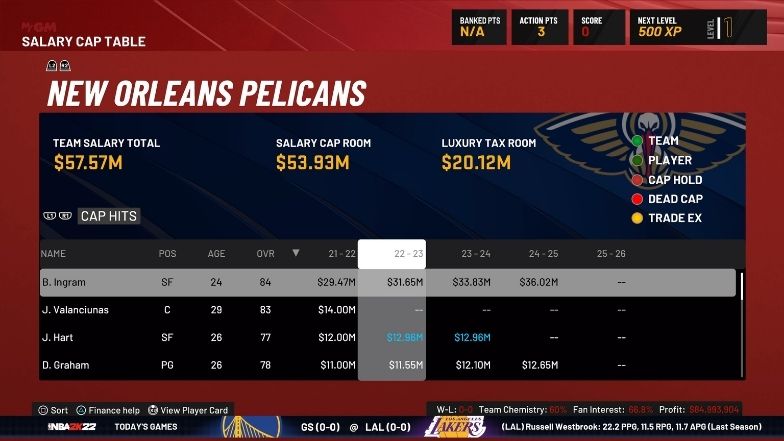 2022/23 cap space: 53.93 million
The Pelicans are in a great spot at the moment, they almost seem like any GM's dream. Talented young players (one of which is a generational talent) and pretty good contracts that can be moved make the Pelicans one of the best teams to manage for MyGM or MyLeague in NBA2K22.
The two players that can free up space instantly are Tomas Santoransky (10 million) and Jonas Valanciunas (14 million). They'll both generate some trade interest, especially Valanciunas with his 83 OVR.
Be aware, though, that Zion's rookie contract expires in 2023/24 so you'll have the choice to either offer him a max or let him go. You have two seasons to figure this out and you'll have more flexibility with Jaxson Hayes's and Alexander-Walker's contracts also expiring the same year.
Detroit Pistons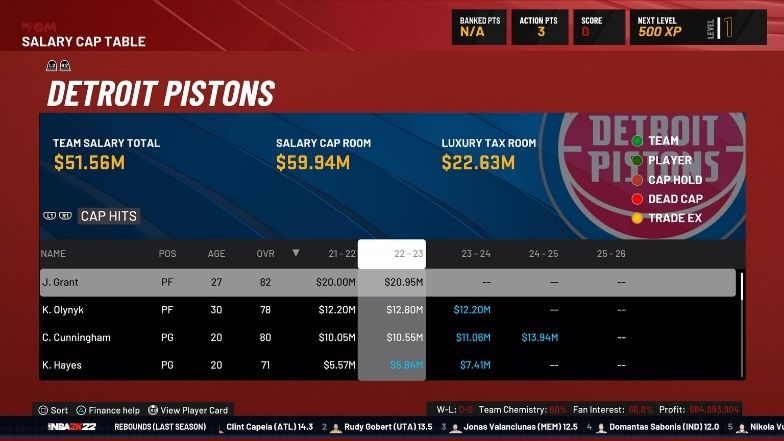 2022/23 cap space: 59.94 million
Blake Griffin's contract is still an issue for the Pistons, taking up nearly 30 million in 2021/22. Once the season is over, though, both Griffin's and Josh Jackson's contracts will be off the books, freeing up some valuable space.
Jerami Grant's contract is also taking up lots of cap space (20 million) but it's nearing its end in 2022/23. You can move Grant for picks and young players, tank a season, and wait out Griffin's contract. You can give the Pistons that fresh start they've been trying to get for years.
You also have Hamidou Diallo, Killian Hayes, and the first pick Cade Dunningham to help you on the way.
Oklahoma City Thunder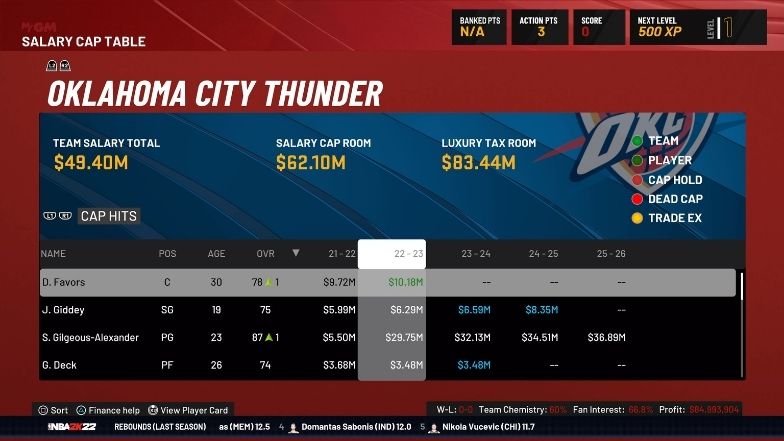 2022/23 cap space: 62.10 million
The Thunder one of the rare teams in the game that has instant cap room: you'll get 57.41 million in your first season. Come free agency, you can make big moves.
The team is filled with young players and movable contracts, the only ones you probably wouldn't want to move are Gilgeous-Alexander (87 OVR) and Dort (78 OVR), everything else is on the table. Derek Favors instantly jumps out since he's on a 10 million contract ending this season, with a player option for 2022/23.
The Thunder have lots of young players on very affordable contracts. If you want to make a move with them, you can get some interesting pieces. I was able to trade for Tyler Herro and Domatas Sabonis in my first season without giving up that much (OKC has a bunch of picks as well).
Memphis Grizzlies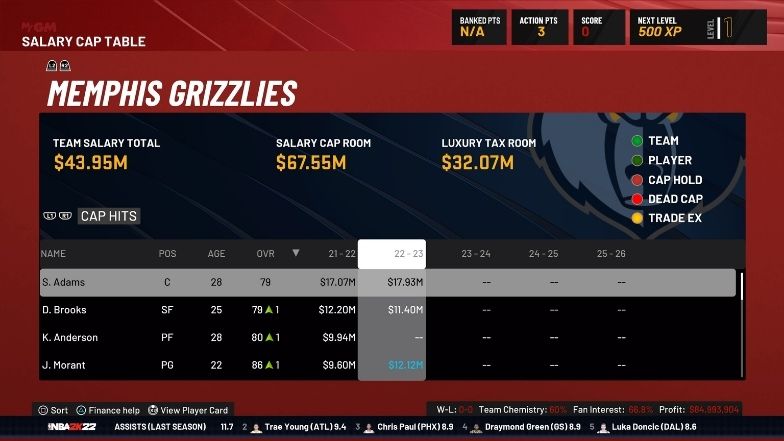 2022/23 cap space: 67.55 million
The Grizzlies also start with some free cap space – a little over 6 million. Kyle Anderson and Tyus Jones are in their last contract years, taking up around 20 million combined in 2021/22. You can move them early on to free up more space, get picks, or young players you might like.
The Steven Adams situation in Memphis is also an interesting one. He's a 79 OVR player with two years left on his contract, taking in around 17-18 million a year. He's a valuable piece that can definitely be turned into some assets if you want.
Jaren Jackson's expiring rookie contract will be an early issue to solve – are you going to bet on him or let him go? The obvious real-life issue with Jackson is his struggle with injuries but it remains to be seen whether these issues will be replicated in 2K22.
A bright spot in this team is Ja Morant, one of the best young players to trade for in NBA 2K22.
Final word
If you want to make waves in free agency and build a superteam, it all starts with cap space.
Of couse, salaries aren't everything so consider these teams with the most cap space in NBA 2K22 MyGM but take other things into consideration as well. Do they have solid players that can compete in your first season? Do they have lots of future picks? Maybe they have solid veterans that can be traded for picks?
Taking all these things into consideration, Oklahoma City Thunder might just be the best choice if you want to make big moves early on. They have lots of cap space from day one, along with affordable young players and moving pieces.