Shaquille O'Neal is one of the most dominant big men to ever play basketball. During his prime, very few opponents were able to stop him in the paint. Those who tried were likely to be on the other end of highlight reels instead.
The NBA Hall of Famer partnered with the late Kobe Bryant to lead the Los Angeles Lakers to three titles in the early 2000s, cementing his legacy in the sport.
As league interest has shifted more toward perimeter-oriented players in recent years, some NBA 2K22 users prefer a MyCareer build that resembles Bryant. For that, we have found the best Kobe Bryant build in NBA 2K22.
But if you're more old-school and would rather create a paint beast, emulating O'Neal is the way to go.
This guide will show you the best Shaq build in NBA 2K22 and help you determine what skills breakdown, attributes, and badges will allow you to control the paint like The Diesel.
Shaq Build Overview
Compared to that of other builds, O'Neal's primary skill set is pretty straightforward. He is a strong finisher and you will want to max the attributes under the finishing category.
However, some underrated aspects of the 7-foot-1 legend are his defensive and playmaking skills.
O'Neal was named to the NBA All-Defensive Second Team three times and consistently reached the league leaders in rebounds and blocks in his heyday. He also showed the ability to bring the ball down the court, especially during the earlier stages of his career.
Skill Breakdown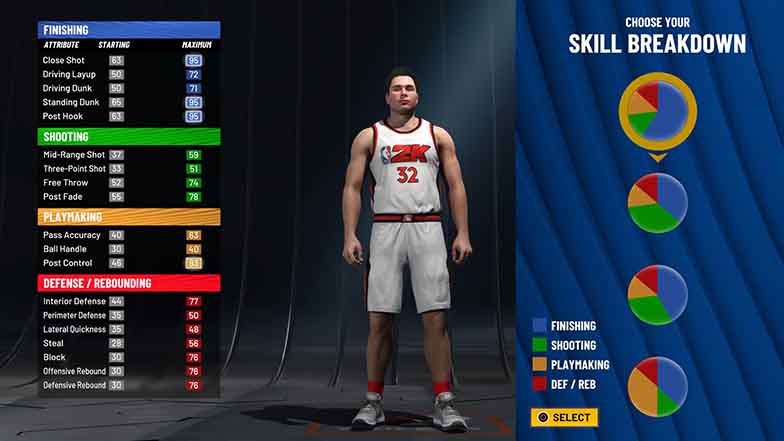 For the skill breakdown, you could opt to focus primarily on finishing.
It also makes sense to choose a skill breakdown with a combination of finishing and defense/rebounding. After all, O'Neal was more than just a one-dimensional player.
However, by going all in on finishing, you can earn early points in offensive attributes that would allow you to rack up the score early in your MyCareer. It will also provide you with a high number of potential upgrades for finishing badges, making you an offensive behemoth.
When setting your player's potential, make sure to maximize your close shot, standing dunk, and post hook because these are your most potent offensive weapons.
As for the defense/rebounding category, you should raise the caps of your block and rebound attributes, which would also increase the potential upgrades for badges under this category.
Physical Profile and Others
O'Neal was revered – and feared – for his physically imposing frame. However, he was not like other centers of similar heights because he was quite agile despite being 7-foot-1.
For this reason, you can adjust your player's physical profile to give it enough strength and a bit of speed and acceleration.
While O'Neal was a heavy 325 lbs during his playing days, you do not have to set your player's weight to the maximum. Doing so will reduce your agility and other relevant attributes. A weight of around 266 lbs will suffice. After all, with that weight, your strength will already be at about 95.
The ability to modify the wingspan can give your player added boost. Maximize the wingspan to improve some attributes, such as block, offensive rebound, and defensive rebound. The tradeoff will just be a decrease in shooting and ball handle.
Takeover
Built like a tank and equipped with a high basketball IQ, O'Neal was able to take over games by controlling the paint. Thus, the only takeover option for you is post scorer.
This takeover will allow your player to become more unstoppable inside the shaded area, giving you stronger backdowns and enhanced post moves and shots. You will also notice that it is easier to hit the green on the shot meter when scoring inside once your takeover is enabled.
Shaq Badges
The badges you have to concentrate on to develop the best Shaq build in NBA 2K22 are the finishing and defense/rebounding badges.
But as you progress along in the game, there will be opportunities to upgrade the other badges. When you get the chance, you should definitely level up the badges that would help you make the most of your offensive and defensive skills.
Shooting Badges
Using an archetype that bears close resemblance to O'Neal will result in less chances for you to attempt shots outside the paint. Therefore, shooting badges will not be that useful for your player.
Furthermore, with this build, you will only get around one potential upgrade for a shooting badge, which you could use on the Volume Shooter badge.
1. Volume Shooter – After a player has taken a small handful of shots, an additional boost to shot attributes is given for every subsequent shot whether it's a make or miss.
Finishing Badges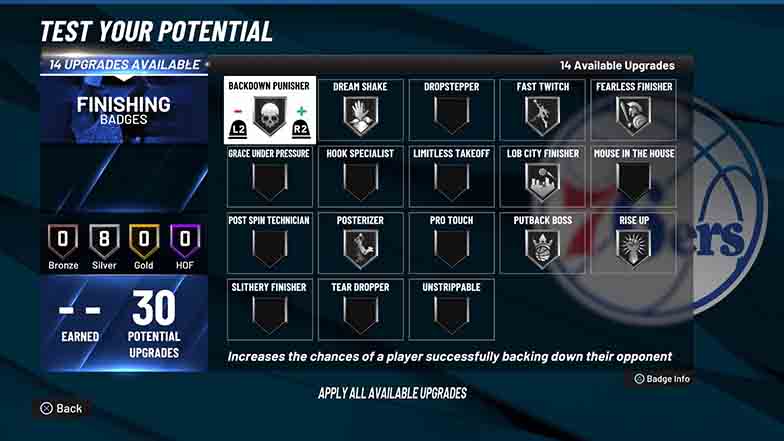 If you were able to watch O'Neal operate in the low post, you would have seen that it's not all about strength for the offensive juggernaut. He also had a repertoire of post moves and uncanny timing that allowed him to slip through defenders.
Fortunately, with a player archetype built around finishing, you will get more or less 30 potential upgrades for finishing badges. This will allow you to obtain Hall of Fame level on several badge types.
But during the initial phase of your MyCareer, what you should prioritize spending a good chunk of your upgrade points on are those that would let you overpower or slither past opponents.
I suggest assigning points to Backdown Punisher, Fearless Finisher, Lob City Finisher, and Posterizer in the beginning. These will allow you to convert points even through contact.
Alternatively, you could also upgrade the Dream Shake, Fast Twitch, Putback Boss, and Rise Up badges. These will help you catch defenders off guard.
1. Backdown Punisher – Allows players to have more success than normal when backing down a defender while posting up.
2. Dream Shake – Post move fakes have a higher chance of stunning a defender. Also, shot attempts following post move and shot fakes have an increased shot percentage.
3. Fast Twitch – Speeds up the ability to get standing layups or dunks off before the defense has time to contest.
4. Fearless Finisher – Strengthens a player's ability to absorb contact and still finish. Also reduces the amount of energy lost from contact layups.
5. Lob City Finisher – Improves a player's ability to successfully finish an alley-oop layup or dunk. The shot must be taken before the receiver lands.
6. Posterizer – Increases the chances of throwing down on your defender.
7. Putback Boss – Enables putback dunks and boosts the shot attributes of a player that attempts a putback layup or dunk right after getting an offensive rebound.
8. Rise Up – Increases the likelihood of dunking the ball when standing in the painted area.
Playmaking Badges
Like shooting badges, there will be limited opportunities for you to gain potential badge upgrades under the playmaking category. But if you are able to draw double teams and tally a decent number of assists, you can receive upgrade points in no time.
The playmaking badges you must consider are Break Starter, Glue Hands, and Post Playmaker. These provide attribute boosts that will allow you or your teammates to score the basketball.
O'Neal himself was a decent passer from the post. He averaged 2.5 assists per game throughout his career.
1. Break Starter – After grabbing a defensive board, deep outlet passes made up the court are more accurate. Passes must be made quickly following the defensive rebound.
2. Glue Hands – Reduces the chances of an errant pass, while improving the ability to both catch tough passes and quickly make the next move.
3. Post Playmaker – When passing out of the post or after an offensive rebound, receivers are given a shot boost.
Defense/Rebounding Badges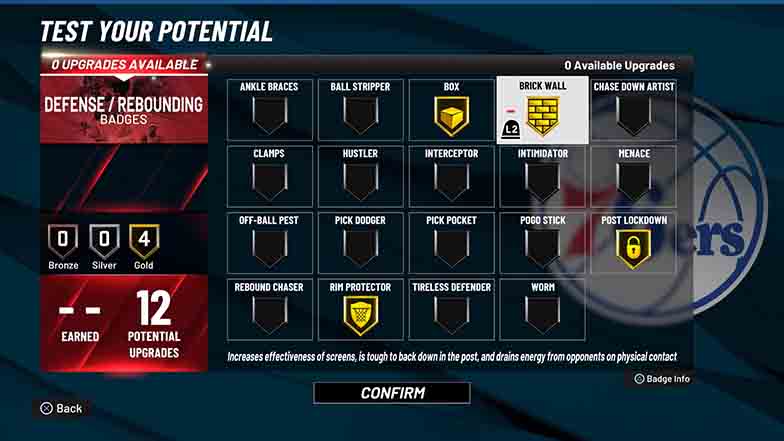 Depending on the skills breakdown and attributes cap you set, you could have as low as 10 potential upgrades for defense/rebounding badges and as many as 20. If you chose the paint beast archetype and have limited badge upgrades, it is important to allocate the points wisely.
O'Neal, while not the best defensive center around, did have the ability to make good use of his burly frame to stop opposing players from scoring in the paint. He also had a knack for limiting second-chance possessions because of his rebounding ability.
The defense/rebounding badges that are no-brainers for a Shaq-like player are Box and Brick Wall. Other badges you can look at are Post Lockdown and Rim Protector.
1. Box – Strengthens a player's ability to effectively box out opponents in anticipation of a rebound.
2. Brick Wall – This badge makes it tougher for defenders to get around screens and harder for offensive players to back you down.
3. Post Lockdown – Strengthens a player's ability to effectively defend moves in the post, with an increased chance at stripping the opponent.
4. Rim Protector – Improves player's ability to block shots, reduces chances of getting dunked on, and unlocks special block animations.
Final Thoughts
Crafting an ideal Shaq build can be a challenging task because of limitations in the MyCareer mode and the legend's great overall game. Did you know that he is the only player to be given an overall rating of 100 in NBA 2K history? He achieved the feat back when NBA 2K2 was released.
It would be impossible now to reach an overall rating of 100. But you could get a 99 rating in NBA 2K22 by consistently earning a substantial amount of MyPoints and through boosts and increased team chemistry.
There are various ways to tweak the guide above. An example is giving more focus on defense/rebounding skills and attributes to unlock more potential badge upgrades under that category.
However you want to go about it, I'm sure you will enjoy powering through opponents in the paint and shouting "barbecue chicken" every time you score a bucket like Shaq.