Minecraft can be loads of fun to play with others. Sharing a Minecraft world with your significant other allows for quality game time together.
If you are playing Minecraft with your partner it could be nice to surprise them with a romantic build or activity. Maybe your anniversary is coming up or Valentine's day is just around the corner.
In this article we will give you ideas for 14 quick and easy romantic Minecraft builds you can build for your significant other.
We will start off with the easiest ones to replicate and progress to the slightly harder ones as we go down the list.
1. Valentine's Day Banners
Banners are a very customizable part of Minecraft and you can paint them and draw whatever your heart desires on them.
Turning all your usually white banners into reds and pinks with shapes of hearts on them is the perfect way to decorate your base and your date spot. You can make all kinds of pretty color designs and patterns right on a loom.
To get the heart shape just play around with what you are given, making big or small hearts however you like.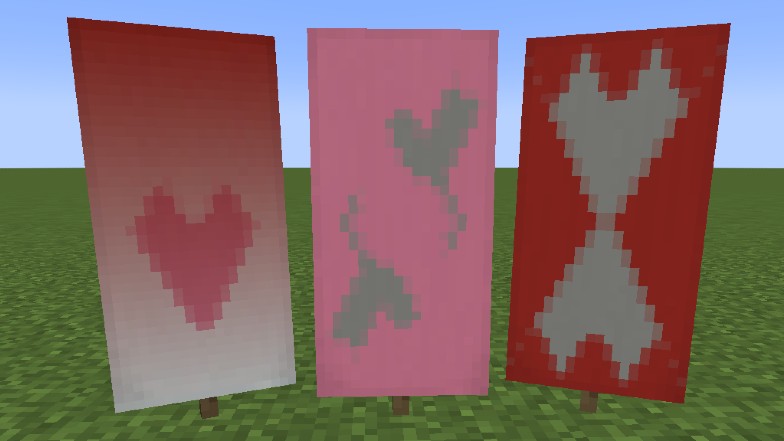 2. Valentine's Day Balloons
The simplest thing you can make that acts simply as some detail to your already existing builds are Valentine's Day balloons. You can make them in various ways, have them lit up, flying in the air, or tied to some posts.
The easiest way to make them is using a glass block and a wooden post of your choice.
Alternatively you can also leave them floating around in the air.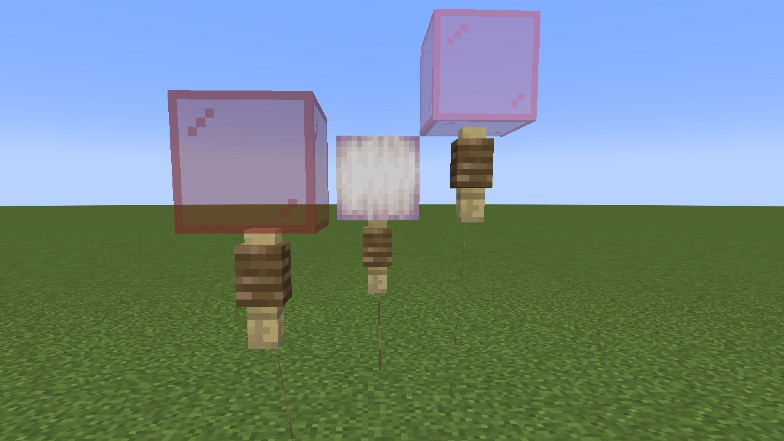 If you know the scene from Tangled where lanterns are being released into the night sky, you can completely recreate the scene. Simply place your glass blocks in the sky with lanterns hanging from the bottom.
You can also completely replace the glass blocks with froglights so that your balloons turn into glowing lanterns at night.
3. Romantic Sakura Tree
We had covered building custom trees before and this is the perfect occasion to put that into practice.
The pink petals that cover cherry trees in their bloom and rain down onto paths is a romantic sight that any couple should share. It is a perfect thing to include in your garden.
You can also use it together with some of our other builds you will see further down the list. Make a picnic right under the tree with the balloons as a present you brought along.
Nothing screams Valentine's more than pink.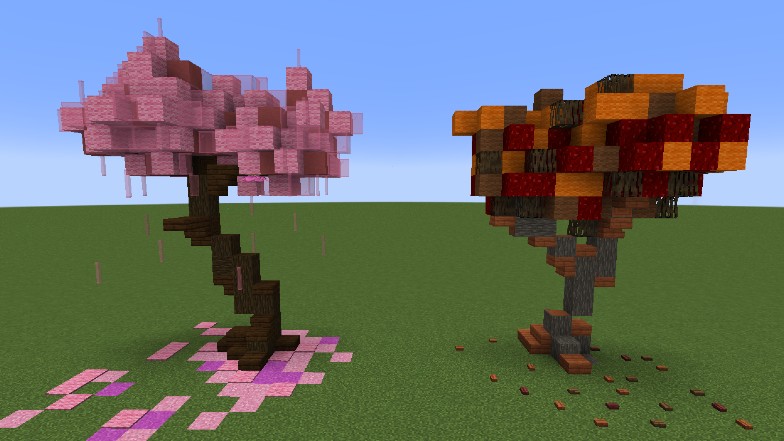 4. Heart Statue
Well, there is one thing that is more romantic than the color pink and that's hearts. Being the symbol of love you can never go wrong with hearts in any of your builds.
Making a pretty heart shaped statue to declare your love to your significant other is the perfect surprise.
With many different pink and red blocks in Minecraft you can really get creative. My personal design uses crimson wood, along with sculk and soul lanterns for that mystical glow at night.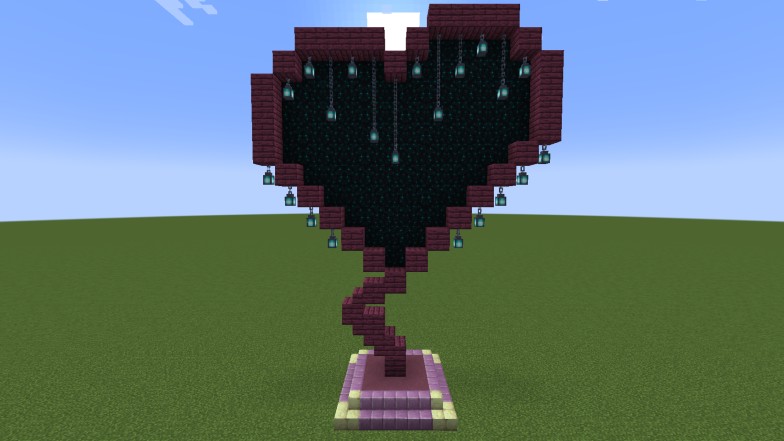 5. Giant Teddy Bear
During Valentine's day the simplest and most common gift to give, after flowers, is almost always a teddy bear. Whether a cute little one or a giant stuffed teddy bear for your significant other to hug into.
You can do the same in the world of Minecraft, but scaled up to be much bigger.
Similarly to building the heart shaped statue, for this one you will be building a statue of a large teddy bear.
You can pick whichever material you want and even add a small heart for the bear to hold. I personally went all out with using wool because I wanted to make the bear look soft and cuddly even at its huge size.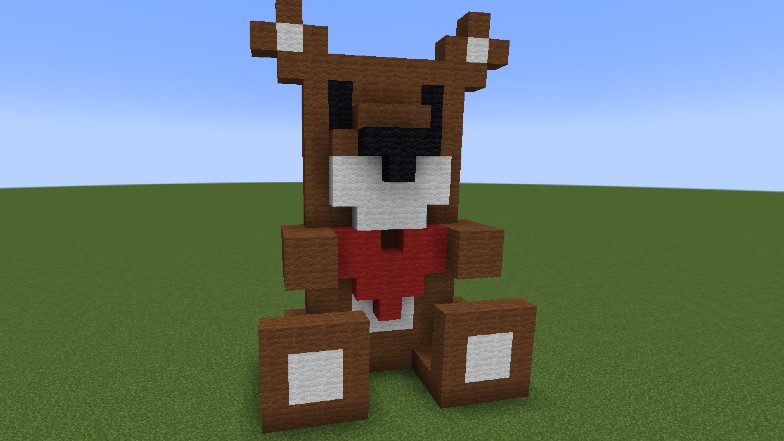 6. Swan Boat
Everyone has heard of the couple swan boat rides down a lake and river. You can recreate that in your Minecraft world as well.
Similarly to building a heart statue, here you would be building a large swan statue on the water, equipped with a seating area and some romantic lights to set the ambiance.
Add a small table and a cake slice on it to share with your partner, or use a flower pot with a pretty flower or rose.
Decorate the lake or pond with lanterns and floating candles for more romantic atmosphere.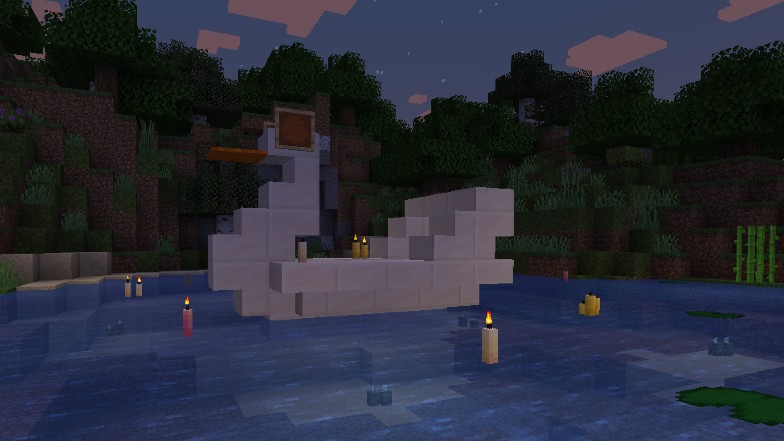 7. A Couple's Swing
A perfect addition to add outside your home or to a garden, a couple's swing is a romantic and chill pass time for all lovers.
A simple seat for you and your loved one in the garden or outside your shared home. This can become a very special place for you two to share happy moments, enjoying a sunset or drink, and making the most out of your company.
The design for the bench is very simple and quick to build, using just a couple of fence posts and bench making tricks.
8. A Romantic Picnic
Preparing a picnic for your significant other is the perfect way to humbly spend time together and share a meal.
Minecraft is well known for some amazingly generated terrain. Go into the world and find the perfect spot with the perfect view to set up your picnic there. Think about a lovely cliffside, a flower covered meadow or hill, or even a lovely beach at sunset.
Set down a cake and a flower pot next to a laid out carpet.
Feel free to light up the area with Froglights or candles to make a romantic ambiance.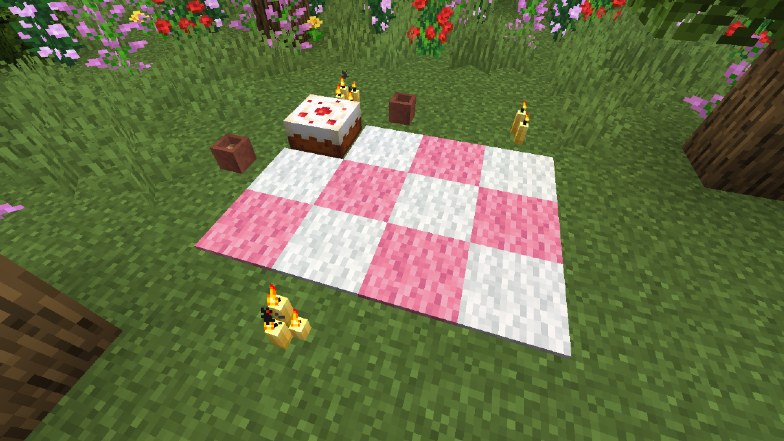 9. Romantic Gazebo
A gazebo is another place to take your significant other to. You can have your picnic there or a romantic dinner with some drinks.
Gazebos are cozy builds that fit really well anywhere outside, particularly in a garden like the one we will show you further down the list. Gazebos are easily decorated with flowers and are left open so you can see the nature around you.
My own gazebo is slightly overgrown with moss and its roof is made of azalea leaves and flowers.
Inside the roof I placed spore blossoms to give that mystical effect with the particles. I surrounded it with flowers of all colors and finally made a seating spot right inside.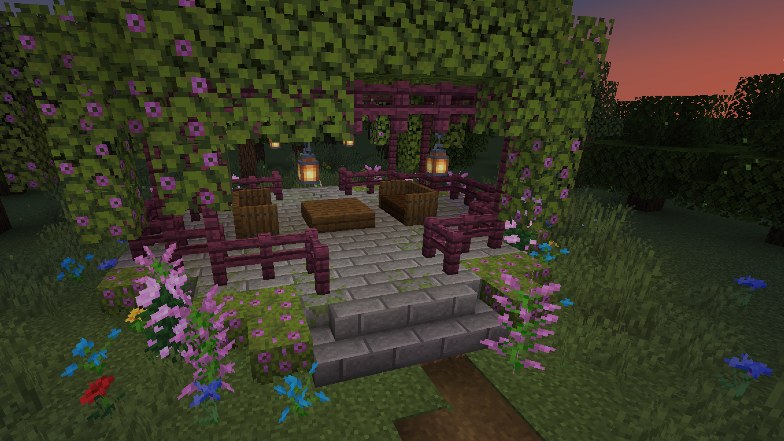 10. Romantic Garden
Sometimes a walk through nature can be perfect for a lovely date. Creating a park or garden filled with flowers for your significant other and yourself to spend time in is a perfect idea.
Not to mention a garden can hold all the builds we have mentioned thus far: from a statue and fountain to magnificent blooming cherry trees. The cherry blossoms would only add to the beautiful colorful atmosphere of your garden.
Perhaps the garden is just what you may need to bring all these ideas together into one whole picture.
11. Romantic Fountain
Similar to the statue, but with much more pizazz. A fountain can usually be considered as a statue surrounded with flowing water and a pool of water surrounding it. So, if you managed to build a pretty Valentine's day statue, try expanding on it.
This beautiful heart shaped fountain holds a similarly simple design with water coming out of it in different ends.
The heart itself is asymmetric, but all of the decoration around it as well as the pool of water retain symmetry. The pool itself is also big enough to be decorated with floating lanterns and lily pads.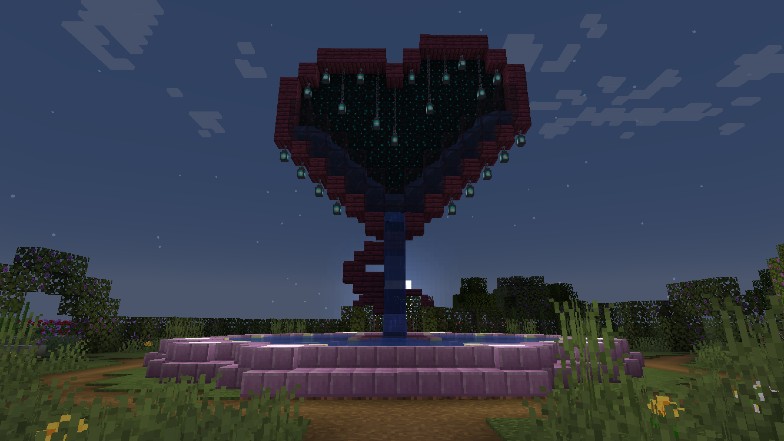 12. A Romantic Ride
This is one of the much bigger romantic builds on our list and it includes a whole array of different buildings coming together.
Whether you wish to ride in a boat or a minecart, you can create a whole ride themed around your undying love for your significant other. Make your ride take you through pretty flower gardens and illuminated heart shaped tunnels.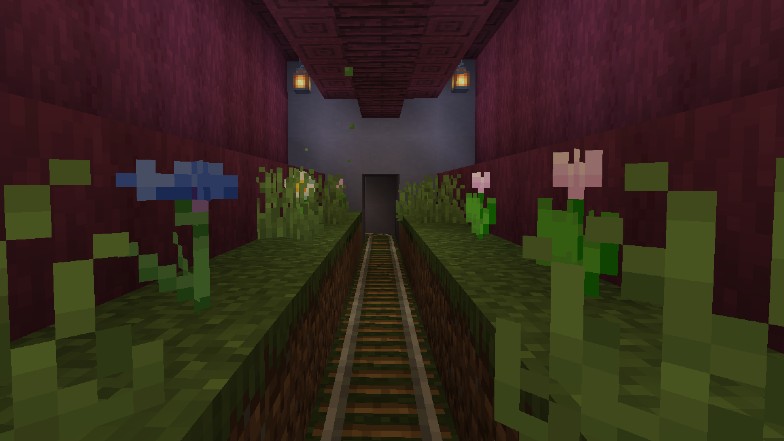 13. Romantic Cabin for Two
Something that keeps its utility after your special day passes by is good too. A small cabin somewhere near the shoreline with a beautiful view just for the two of you. The smaller and cozier the better.
Make it simple, with a few rooms inside and a beautiful little garden for the two of you to tend. Decorate the lights with froglights and more, creating a lovely little haven.
You can see the design in the image below, using mangrove wood for its pretty red color.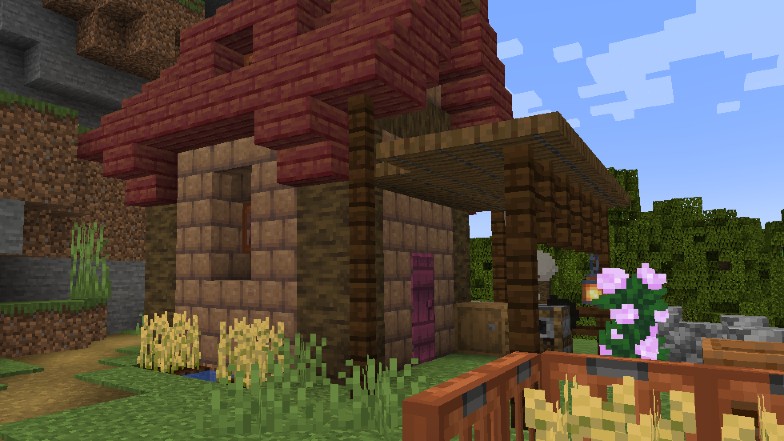 14. Wedding Venue
Weddings in video games may feel a little cliché, but who doesn't love some cliché romance?
Designing a big wedding venue could be a perfect pass-time. Setting up the guest chairs, choosing the flowers to decorate with. You can also use any and all of the previous build ideas alongside your venue.
A statue or fountain right behind the altar, surrounded by balloons and flowering cherry trees.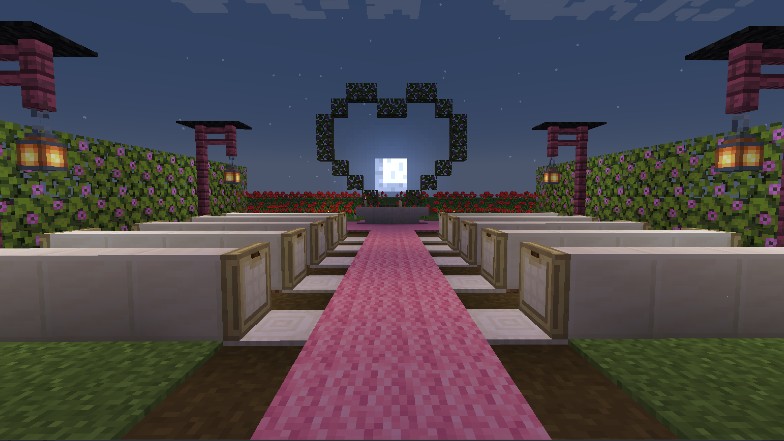 And there you have it! Be sure to check out our other Minecraft builds for more creative inspiration.