Cherry blossoms are trees in Minecraft that give you a unique type of wood. The bright and adorable pink color is certain to inspire many building ideas.
In this article we will help you get ideas for some basic and easy to recreate Minecraft builds that use these pink trees in their construction.
The builds are listed from the easiest to recreate to the more complex ones.
Romantic Gazebo
Gazebos are small and easy to make builds that can be added outside to gardens. Usually they are a place to hang out and enjoy the nature.
To build my gazebo I used stone bricks with cherry blossom logs and cherry wooden planks. I used some crimson wood fences as an accent. Their color fits very well with the cherry pink.
Lanterns were used for lighting and azalea leaves for decoration.
Inside the gazebo there is a table, but you can add any furniture you wish or none at all.
Cherry Blossom Walkway
What's more romantic than walking among countless cherry blossom trees as their pink petals all fall around you.
This build is a perfect addition to a larger town or city build. It follows a river through the village that is lined with multiple cherry blossom trees. Lanterns, decorated fences, and bridges help connect the two sides of the river.
I kept it this build very basic, using regular dirt paths and anvils for the fences. You can certainly add more details, but the simplicity makes it work well.
Pink Tea Shop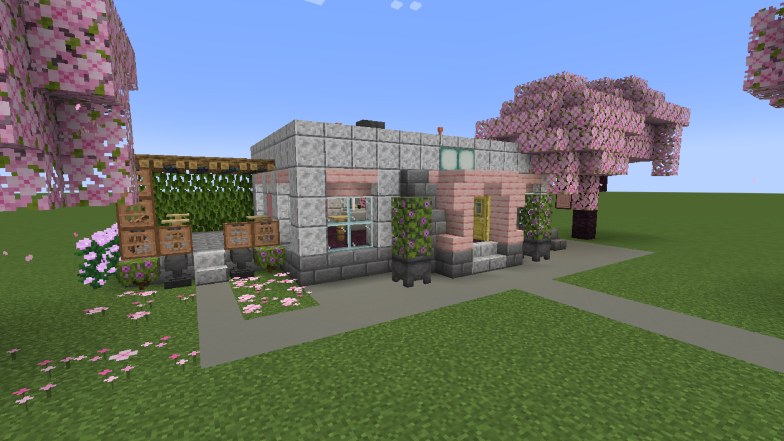 For any of your more modern Minecraft builds, you can build a cherry blossom themed tea shop!
In my build I surrounded the building with regular gray concrete to make it look like a street. The building itself is made using polished diorite blocks, stone bricks, and cherry wood for the accents.
Inside I made some small furniture, along with chiseled blocks to make it a reading nook in the corner. Hanging signs I used to make the menu above the counter.
Finally, I made a small terrace just outside, surrounded by flowers and cherry blossom trees.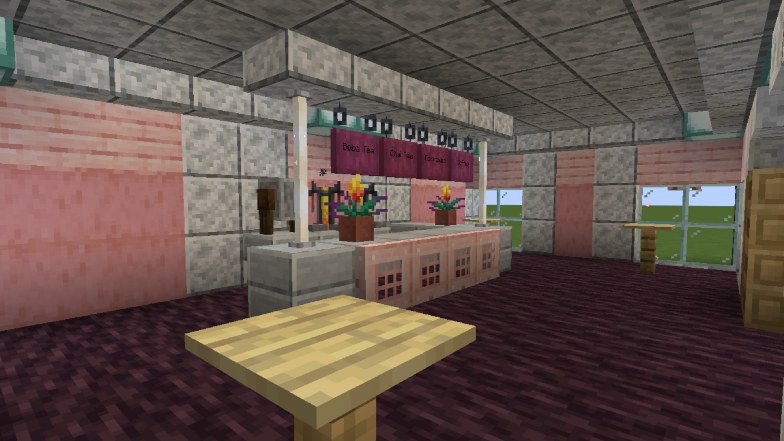 Cozy Library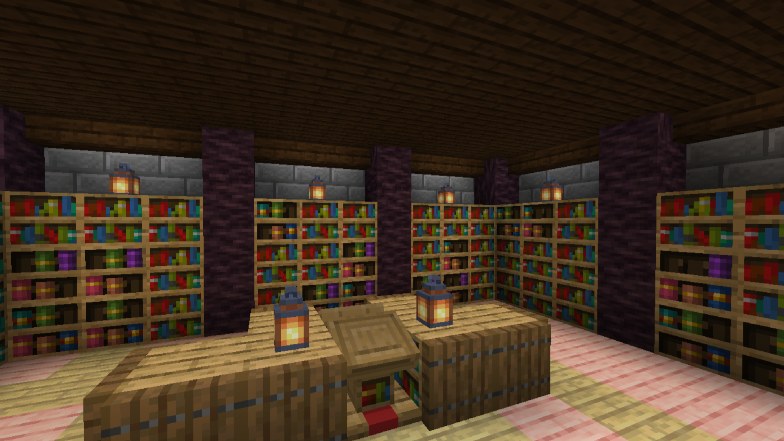 Libraries aren't just cozy builds full of books, but they can also serve as a space to enchant your items and store away your enchanted books if you use chiseled bookshelves.
This library has cherry wooden planks for its floors paired up with birch wood to create a bright pattern. I wanted this build to look like a bright and inviting place to pick up books and enchant all your items on the enchanting table that can be put in the middle.
I used a mix of regular decorative bookshelves and chiseled bookshelves to make it look less monotone. It's a nice way to break up the regular pattern of the bookshelves.
You can add plants and other decorations to give it more color or lighting.
Cherry Pink Fairy Cottage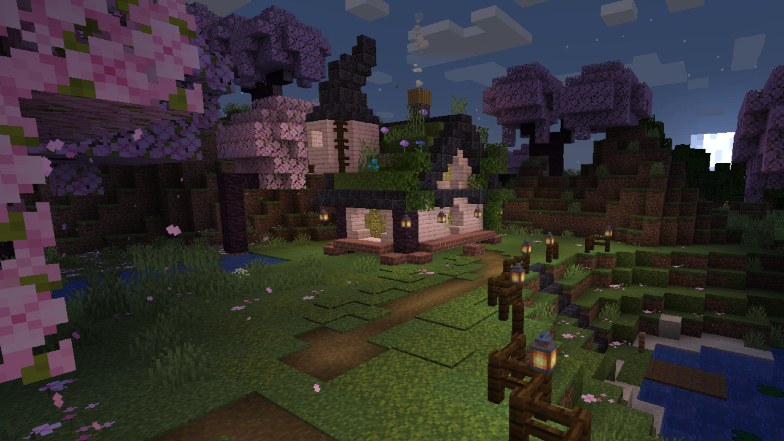 This pink fairy cottage can be build almost anywhere, but it looks absolutely best in the cherry biome itself. If unable to find a cherry biome big enough, you can simply surround it by planting cherry blossoms around it.
In my world I created a tiny pond right under the cottage to make a cozy landscape.
The doors and windows of the cottage are all circular to give it a more fantasy like vibe. I used bamboo doors and trap doors to close the windows in.
The roof is made using grass and moss blocks, with bonemeal used to make grass and plants grow on it naturally.
Finally, I added a mini circular "tower" to the side, poking out the roof, with its own little swirly roof to make it stand out.
What to do Next
Cherry blossoms are an amazing material to create a lot of cute and cozy builds. The pinks go well with red and they can be amazing to use for Valentines day!
We have an article to give you some amazing ideas for romantic builds that you can build for your significant other on Valentines day to make it feel a bit more special on Minecraft.