Sci-Fi is a theme that makes almost everything more interesting. Some of the best fiction and fantasy work has a bit of Sci-Fi in them. Star Wars, Nier, Alien: Isolation, and even Stray are some examples of that.
Yes, there are great fantasy games out there, but this theme can be merged into nearly anything to make a more interesting setting for a story. Dragon Age is excellent, and saving the world is fine, but it won't ever be as epic as saving the galaxy in Mass Effect.
Stick around if you like sci-fi games, from 2D platformers to cosmic horror games. This list has what I consider to be the best sci-fi games on Steam.
Deux Ex: Human Revolution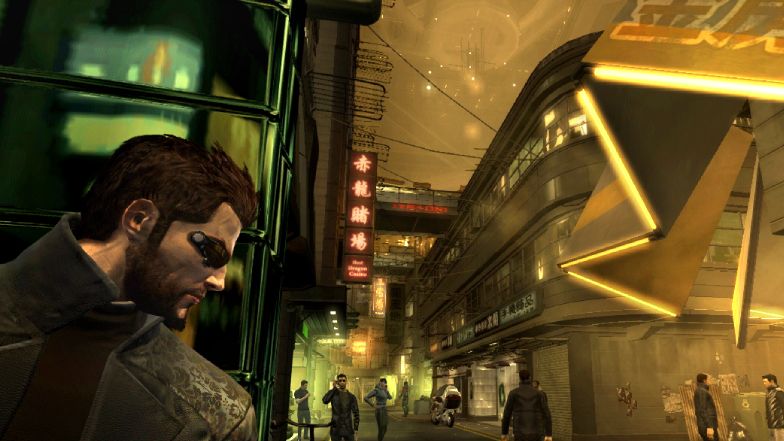 In Deus Ex: Human Revolution, you take on the role of Adam Jensen, a former SWAT operator. He has been chosen specifically to manage the defensive requirements of one of America's most cutting-edge biotechnology companies.
Adam's job is simple. He is responsible for the protection of company secrets. However, everything he believed to know about his position is turned on its head when a black ops team murders the scientists he was hired to protect.
This game provides players with a lot of freedom. You have dialogue choices, and the missions can be completed in many different ways. You build Adam to fit the way you enjoy playing the most, be it hacking through the offices or gunning down the security guards.
This is also a classic Cyberpunk game, and it constantly dabbles into the topics of technology and how it affects people in different social classes. It's a fun game with a great story and is definitely worth playing.
Mass Effect: Legendary Edition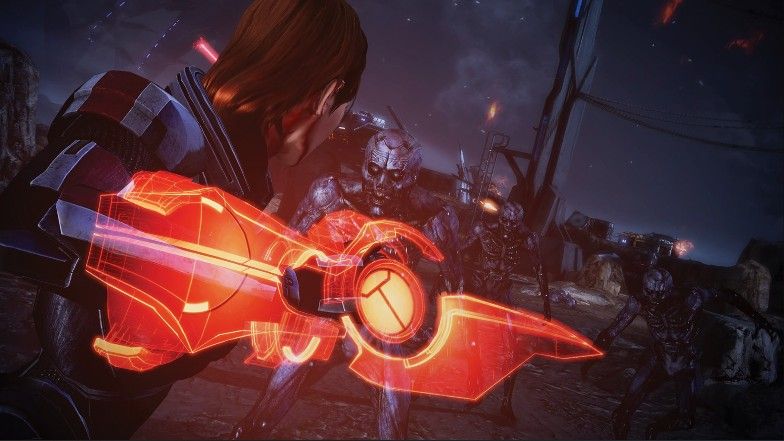 Mass Effect is a series of science fiction action role-playing video games developed by Bioware and published by Electronic Arts. The game is set in a science fiction universe where humanity is at the center of galactic events. The player takes control of Commander Shepard and can customize him or her to their preference.
Mass Effect: The Legendary Edition is a remastered version of the older games with high-resolution textures and sound. It includes all three games in the series: Mass Effect, Mass Effect 2, and Mass Effect 3. It also includes bonus content such as an interactive comic book, digital art book, and soundtrack. The Legendary Edition also brings slightly different gameplay to the first game, making it a better experience.
Generally speaking, the game is a third-person shooter RPG. You do spend a lot of time shooting and ducking under covers. Still, you can also upgrade your characters and use their special abilities. Regarding the RPG side of the game, Mass Effect is truly outstanding. This is not surprising since it was made by the studio behind games such as Dragon Age and Baldur's Gate.
Players have to make choices that significantly impact the course of events and might result in the permanent death of a party member or an important NPC. There are also many situations in which players can make choices that significantly improve the situation for the good guys.
Nier: Automata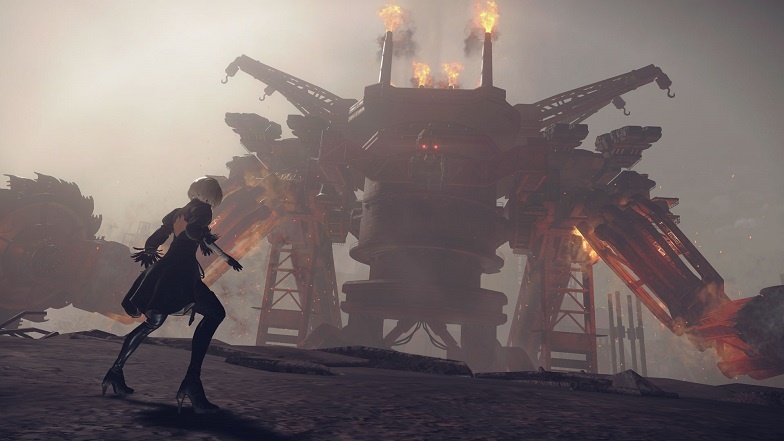 One of Steam's finest Japanese role playing games, Nier: Automata is a masterpiece in so many ways. It has one of the best-written characters and storyline. It is also written as an experimental piece with experimental gameplay that somehow works together to make something truly unique.
Yes, this is an action RPG, but it is also a thorough exercise. Yes, it is a third-person game, but it is also a bullet hell game. Yes, you are the hero of the story, but it also depends on points of view.
In NieR: Automata, mechanical beings from another world have expelled humanity from the Earth. After all that, a group of android soldiers was sent to the planet by the human resistance. It was their last-ditch attempt to retake their home and eradicate the invaders.
Now, the androids 2B, 9S, and A2 fight to restore the machine-driven dystopia that powerful machines have taken over. Meanwhile, a battle between robots and androids is unfolding. This war might soon expose a long-forgotten secret about the planet, the androids, and humanity.
Final Fantasy VII Remake Intergrade
This is another game that is more Science Fantasy than Science Fiction. It is also an epic, cinematic, action-packed adventure with which you will probably fall in love. Final Fantasy VII has a fantastic story filled with well-written characters and carefully tailored twists.
Remake Intergrade is one of those rare projects made by pretty much the same people responsible for the original. The developers behind the game can take liberties and toy with old concepts while taking some creative liberties.
The result is an undeniably memorable game, even if it doesn't please all the fans of the original. The world is rich and feels alive, the story is epic, the characters are charismatic, and the gameplay is surprisingly fun. When it comes to battle, the developers managed to come up with a miracle that feels both like an action game and a turn-based JRPG.
Final Fantasy VII is Square Enix's most valuable franchise. It has resulted in countless spin-offs, from movies to many other games. However, this remake is such a massive project that it even looks better than Final Fantasy VII: Advent Children, a CGI movie originally meant to be eye candy.
If you are interested in JRPGs or the Final Fantasy franchise, it's safe to assume that you will enjoy Final Fantasy VII on Steam. On top of all that, the expansion, Intergrade, comes with the steam version. It allows you to play as Yuffie and see more of what the story offers.
Portal
In my humble opinion, Portal is one of the best video games ever made. Portal is a puzzle game that behaves like a first-person shooter. This alone was a bit different but not groundbreaking. However, it was a puzzle game with a completely innovative mechanic. 
Portal was quite subtle in how it exposed you to its key elements. As a result, players got engaged in the storytelling, dark humor, and unique puzzles before they had any chance of feeling overwhelmed. The puzzle genre doesn't tend to birth the most popular titles, but Portal clearly was something else.
If you haven't played Portal yet, just do it. Stop everything that you are doing and go play it. You might not feel like this game is a masterpiece today, but I'm sure you will understand why it impacted the industry when it first came out.
Portal is one of those games, like Elden Ring, that doesn't insult a player's intelligence and increases in popularity because of how immersive it is. For a game about a human lab rat who is trying to escape a facility run by a crazy AI, Portal is quite funny. However, it uses humor to remind players of their goals by showing how little the AI cares about humans.
Mechanically speaking, most people should know what this game is about. You eventually control the Portal Gun. This gun shoots portals connecting two different areas, hence the game's name. However, Portal is very clever in how it uses physics and its core mechanics to create puzzles. Portal is a memorable experience that everyone should go through at least once.
Stray
The most adorable game of 2022 is also a Sci-Fi game. In Stray, you play as a stray cat who gets lost from its gang. As a cat, you will scratch couches, drop buckets, jump from and on high places, and drink water from puddles you find.
It might not sound great to you, which probably means you don't have a cat, but believe me when I say this game is incredibly well designed. Stray is masterfully animated and delivers an odd experience from the eyes of an innocent creature detached from the world of humans. As a result, you get to see how unimportant humanity can be to certain living creatures.
In Stray, the main cat ends up falling into an abandoned city populated by robotic creatures. You get to explore, run, solve puzzles, and meow your way through this magnificently constructed Sci-Fi world.
Warframe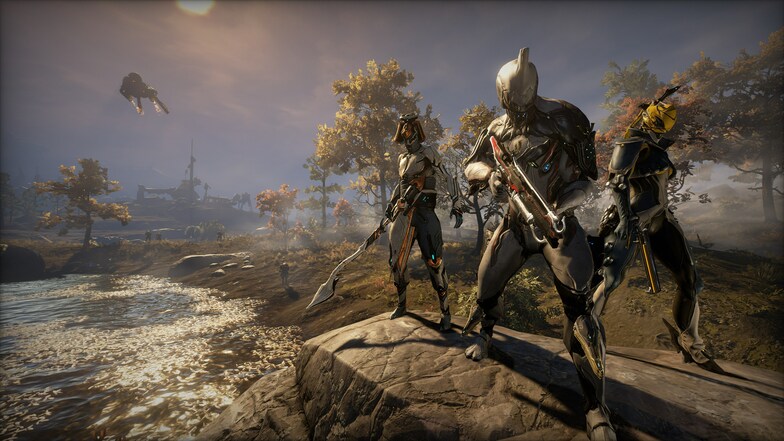 This is the game where you get to be a space ninja. If that doesn't make you want to play the game, I seriously don't know what will. The unimaginably powerful bio-metal suits that the Tenno utilize to combat those who pose a threat to the galaxy are known as Warframes.
As a Tenno, you will use your Warframe's powers as well as a wide variety of destructive weapons to quickly and easily eliminate swarms of foes. However, although you have to choose a Warframe when you start the game, you can earn more and change them when going to different missions.
Warframe is full of loot and one of the top action games I've ever played. This game also proves that adding Sci-Fi as an element can make something better, even games about ninjas.
You can create a Squad in this game with your friends so that you can all work together to finish assignments. Make use of your Warframe's abilities to make up for the weaknesses of your teammates' Warframes. In-game matchmaking makes it simple to connect with friendly Tenno anytime you need a helping hand if your team is not there when you wish to play.
Star Wars Jedi: Fallen Order
Star Wars Jedi: The Fallen Order is the Star Wars game we wanted while EA was making Battlefront games. In it, you play as Cal, a padawan who survived Order 66.
You will participate in dramatic showdowns with him using Cal's lightsabers and the Force. Fallen Order tries to deliver the same kind of thrilling battles witnessed in Star Wars films. You are not able to mindlessly press buttons in this game.
In Star Wars: Fallen Order, you can't just walk forward and hope for the best. You will need to approach enemies intelligently, weighing the benefits and drawbacks. In some situations, you will need to use Cal's Jedi powers to outwit opponents and unravel the secrets. It's all part of the fun, though.
As they are introduced to new elements, Star Wars fans will instantly recognize legendary settings, weapons, technology, and foes. I'm sure fans of the franchise will become fully immersed in this galaxy and want to fight the Empire in a true Star Wars adventure.
No Man's Sky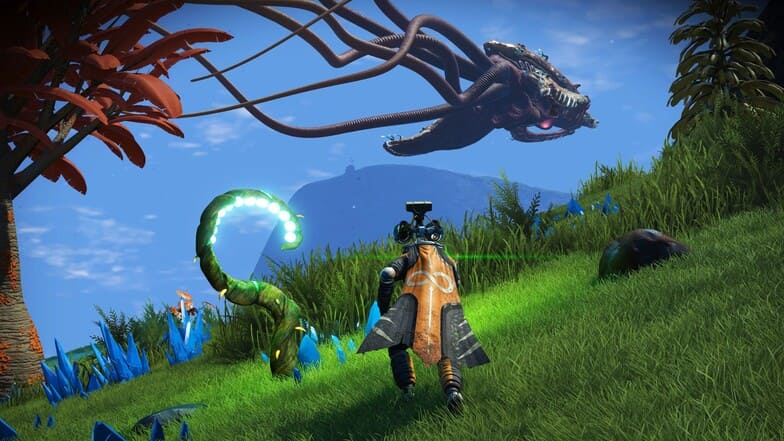 Although it had a rough start, No Man's Sky became a sci-fi game in which you can do nearly anything you want. The universe is procedurally generated, allowing you to explore an endless number of planets, each different from the others.
In No Man's Sky, your adventure is your own. Which type of fighter will you be: the one who hunts down the helpless and plunders their wealth or the one who engages in combat with pirates for the treasures?
If you want to be a space pirate, you can gain power by upgrading your ship's speed and weapons. However, you can also be a businessman and find hidden sources of wealth. This game might not be as social as Eve Online, but it certainly provides a very accessible experience where players do whatever they want.
No Man's Sky has many places to visit and situations to deal with. You will always find something to do. However, you might have to work for it.
Eventually, you will be able to enhance your engines to enable your equipment and travel to areas that were unreachable before.
Part of the fun in this game is venturing beyond the known frontier and finding places and things that no one has ever seen before.
Star Wars: Squadrons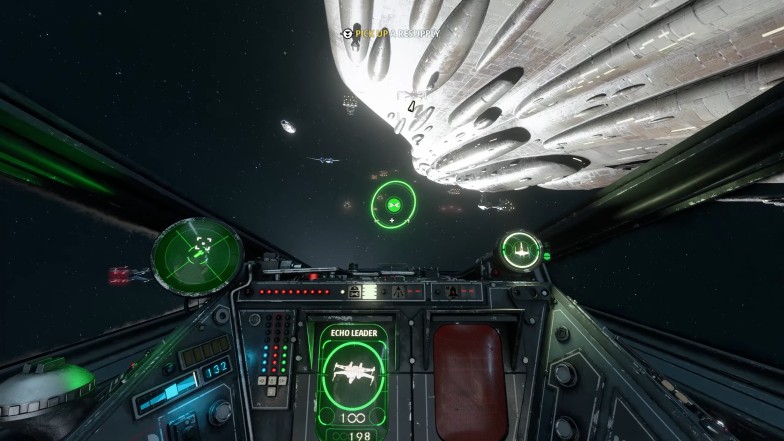 Star Wars: Squadrons is a very authentic space dogfight experience. Players really get to feel what it's like to be a part of the kind of space battle that has very much named the franchise. Strap in and experience the rush of first-person team space battles.
In this game, players will engage in tactical 5v5 space combat in the cockpits of starfighters from the fleets of the New Republic and the Empire. In order to defeat the opposition, you can modify your starfighter and fit various fighting strategies.
The battles happen in several different places. For instance, Yavin Prime, the gas giant, and the broken moon of Galitan are only two of the previously unexplored battlegrounds where pilots will fight against their enemies.
This is a niche game, but it's certainly fun. Not everybody is into piloting a fighter, and not everybody is into Star Wars. However, if you like both of these things by any chance, this game has everything you want. Go ahead and assume control of starfighters like the TIE and X-wing and blow up the opposition.
XCOM: Enemy Unknown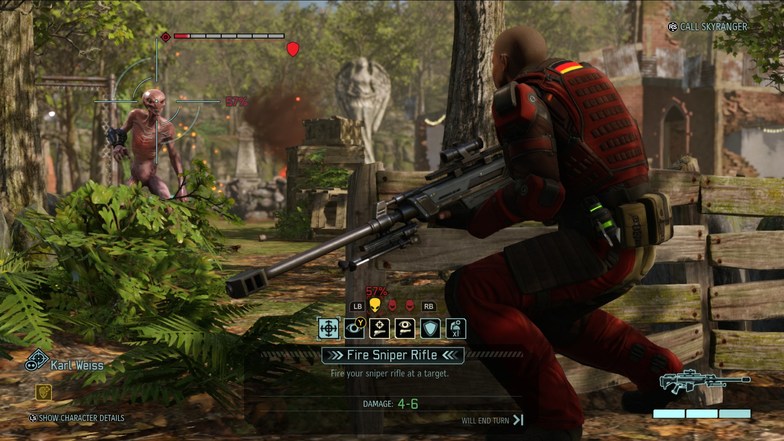 XCOM is considered, to this day, one of the best video games ever made. It is a classic strategy game that is constantly referred to as an example of good game design and innovation.
Back in its time, it was a sensational product, and it can be enjoyed to this day. That said, the strategy masters at Firaxis Games have reinvented the classic video game XCOM and blessed us with Enemy Unknown.
This game has a totally new invasion plot, enemies, and technologies to battle aliens and defend the planet. Remakes don't always deliver the experience we want. Yet, XCOM: Enemy Unknown is a great game, even if it's not the exact same game some of us played back in the day.
Much like the original one, XCOM: Enemy Unknown is a turn-based strategy game where you will be in charge of XCOM, a covert paramilitary group. By controlling resources, upgrading technology, and coming up with tactics and strategies, you will do your best to protect the planet against a horrifying global alien invasion.
XCOM: Enemy Unkown is highly acclaimed on Steam, and 94% of its total reviews are positive.
It also has an excellent expansion called Enemy Within. This DLC provides additional multiplayer content, new tactical and strategic gameplay, and new maps and missions for a brand-new gameplay experience.
Elite Dangerous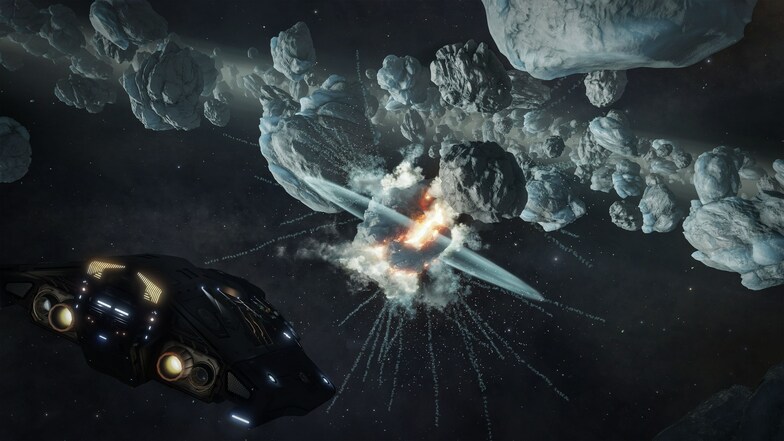 Although it has a well-known name, this game is far from the original, but not in a bad way. This version of Elite Dangerous is an open-world adventure with a lot to offer. This is a fantastic MMORPG. If the idea of a space epic in a connected galaxy makes you interested, tag along for a developing plot and a recreated version of the Milky Way. You will have a blast.
In Elite Dangerous, you start from the bottom. All you have is a modest spacecraft and a few credits. It's okay, though. The process of gathering better parts and gear is quite fun. You must work your way up to gain expertise, knowledge, money, and power.
Once you start the game, you will be part of Elite Dangerous's living world. Players' decisions have the potential to change the course of the galaxy, cause wars, and bring down entire nations. The game's distinctively interconnected gameplay and ever-expanding narrative are shaped by each individual story.
If you want to be a great pilot, explore the solar system, and leave your mark in the galaxy, you better start now.
Eve Online
Eve Online is a science fiction-themed MMORPG where there are so many different things for you to do. Players can engage in mining, piracy, manufacturing, trading, other economic activities, and so much more. This is one of the most well-known space games and is renowned for its player-driven economy and freedom.
Eve Online has been available for over 15 years and has become one of the most remarkable games ever made. One of the reasons behind it is Eve Online's socially driven aspects that change how the in-game world behaves. Playing this game will give you a unique perspective on space travel. It will also immerse you in a living galaxy where decisions matter.
This game's success, and the fact that it has been active for this long, can all be attributed to CCP Games. They went to tremendous lengths to make the game engaging and let the community dictate how they wanted to play.
This is one of the few games with a vital social aspect to its emergent gameplay. Even has a steep learning curve, but if you like the idea of socially dictated Meta and a living sci-fi world, give it a shot.
Katana Zero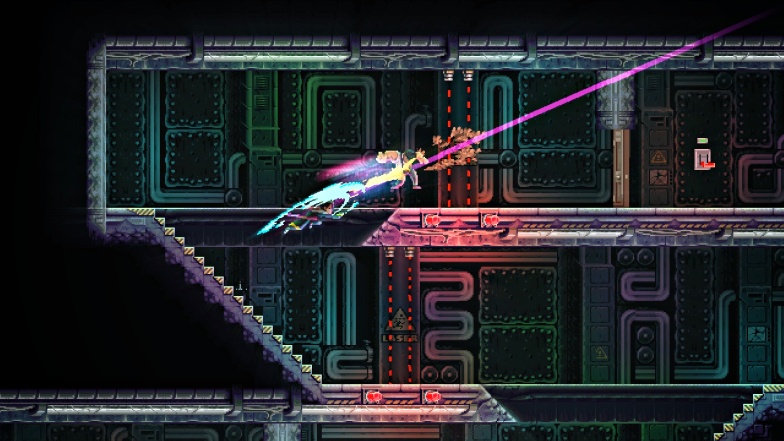 Katana Zero is a stylish pixel art game, but it's undoubtedly more than how it looks. With its fast-paced action and instant-death fighting, Katana ZERO is a stylish neo-noir action-platformer that is very innovative and nostalgic at the same time.
In this game, you play as a deadly swordsman who is able to deflect bullets and run through dozens of enemies with ease. By taking control of this lethal character, you will be able to defeat your opponents however the circumstances demand.
In fact, there is no correct answer to each combat encounter. The game is simple enough on the surface that you will quickly understand what to do, but it has so many ways to get things done that it becomes a matter of personal style. You fight many armed foes while dodging strikes, manipulating your surroundings, and parrying gunshots.
Not many games make you feel as cool and awesome as you do in Katana Zero. On top of that, if you are looking for a good story, Katana Zero also has a mysterious, captivating narrative. It is revealed through gameplay-integrated cinematic sequences, twists, and folds to a dramatic final scene.
Mass Effect: Andromeda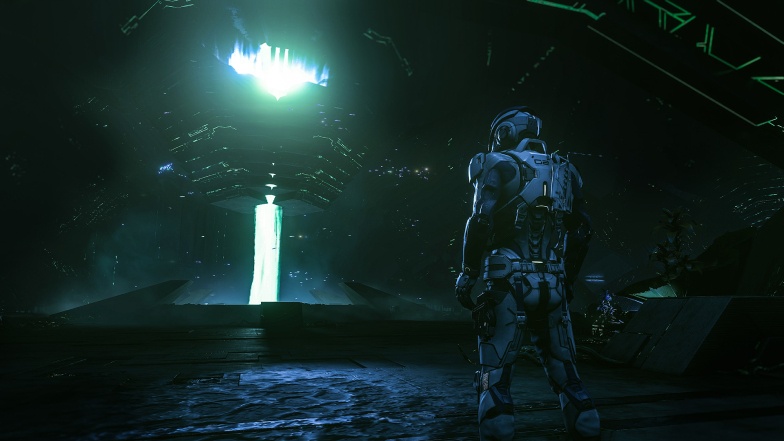 The story begins with humans finally reaching the Andromeda galaxy. They are participants in the Andromeda Initiative, a program developed so that humans could create settlements in the closest galaxy. However, this would be a boring game if there weren't any bumps in the way.
Ryder, the protagonist of the game, is forced to assume command of the entire situation and handle the developing issues before they escalate. The story of the game tackles several intriguing problems. The crew must, for instance, deal with the absence of Mass Relays and how it makes colonization much more difficult.
Ryder is in charge of finding locations for the creation of the human colony in addition to seeing the wonders of the new cosmos. On top of that, conflicts between different races that naturally occur during first contact must be resolved by the main character.
Mass Effect Andromeda is a third-person shooter with some RPG features. The game built on everything that was used in the original trilogy by adding new features and giving players a more seamless experience. Despite all the criticism Andromeda received, the game is actually rather good. On top of that, its value has increased since most of its problems have been resolved by now.
FTL: Faster Than Light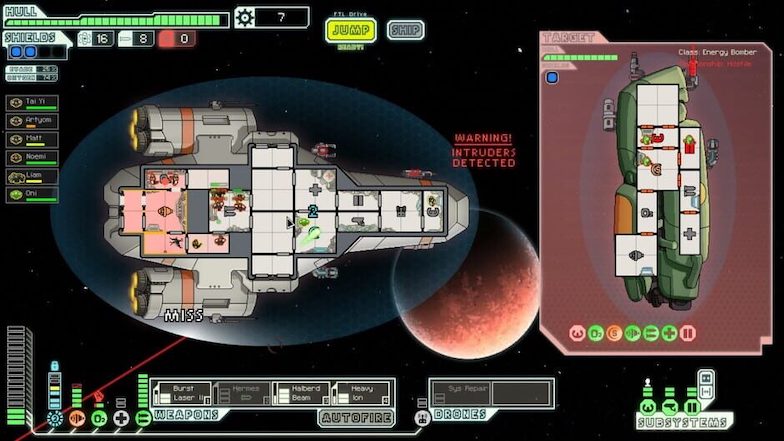 In FTL, you live the experience of running a spaceship while trying to save the galaxy. It's a dangerous mission, and every encounter presents a unique challenge with multiple solutions. For instance, the game can suddenly throw a barrage of missiles to take down your shield and force you to think outside the box.
You can do many things, and there is no single answer to each issue. You might have to reroute all power to the engines in an attempt to escape, power up additional weapons to blow your enemy out of the sky, or take the fight to the enemies.
FTL: Advanced Edition, this game's expansion, is available for free. It comes with new alien races, activities, weaponry, playable ships, drones, and more. Ben Prunty's additional musical compositions are added together with Tom Jubert's and Chris Avellone's events as well.
This is one of those games that is hard to recommend to everyone. However, suppose you are more into technology, administration of resources, and Star Trek. In that case, you might have a lot of fun with FTL: Faster Than Light Advanced Edition.
Ghostrunner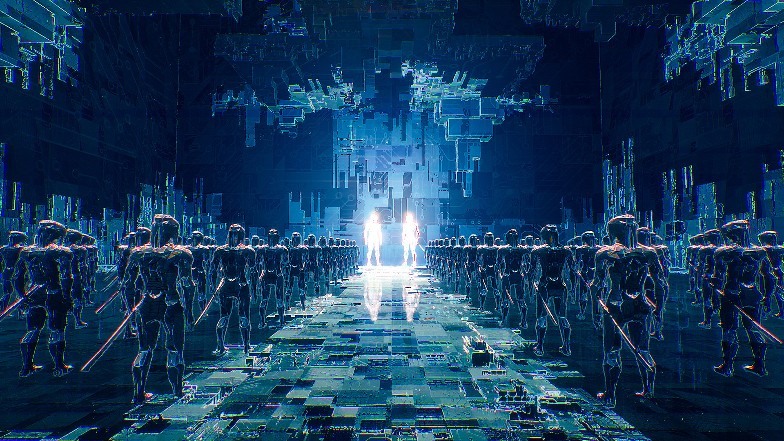 A cyberpunk action video game called Ghostrunner was created by the Polish studio One More Level and co-published by All in! Games and 505 Games. In 2020, the game was made available on the PlayStation 4, Xbox One, Nintendo Switch, and PC. In 2021, it was released for Xbox Series X, S, and PlayStation 5.
Ghostrunner takes place in the aftermath of a worldwide catastrophe. The last city of humanity is a massive tower, or so humanity was led to believe. The lore shows a dystopian system with castes and little regard for human life and individuality.
That said, most people who play Ghostrunner don't do it because of its plot. Yes, the visuals help, and the theme makes everything better. After all, as Warframe knows, sci-fi ninjas are better than ninjas. This is why this game is so cool.
You will play as a superior being with mechanical and human parts which can't be defeated by regular foes. The main character can run on walls, jump high, hit all enemies, and even deflect bullets with his sword. This awesome game wants you to feel badass from start to end, and it succeeds.
Horizon Zero Dawn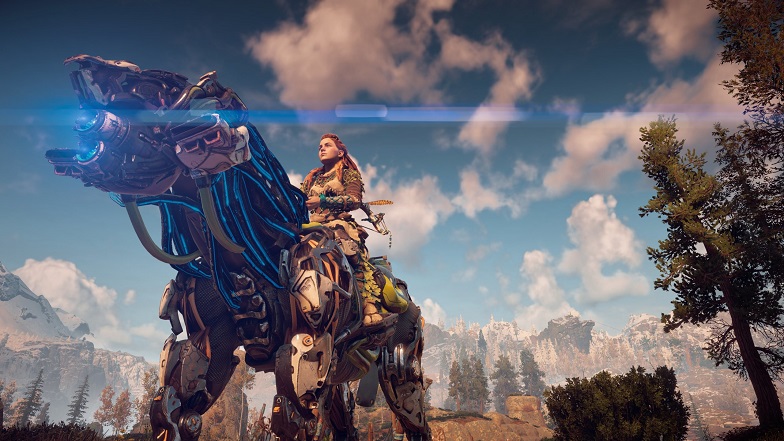 Besides being a Sci-Fi game, Horizon Zero Dawn is a post-apocalyptic game with a very unusual take on the genre. It seems that, in this game, the world we live in has died. Now, humanity lives among dangerous machines in various tribal systems.
In Horizon Zero Dawn, you take on the role of Aloy. She is a young woman who was expelled from her tribe shortly after she was born. She aims to understand who she is and why she is an outcast. Unfortunately, a lot happens while Alloy is seeking answers, forcing her to deal with far more than she initially expected.
For humanity to survive what is to come, Alloy needs to help solve the secrets of an Earth dominated by Machines that her people cannot even comprehend. She will learn about the old humans and how this new world came to be. She will also learn about machines and how to use their power.
This game is impressive, beautiful, and undoubtedly fun. Horizon's world is engaging, with many mysteries to solve. The world is gigantic, and there is much to be done. If you enjoy action games and sci-fi games, there is a good chance you will enjoy battling against the gargantuan machines in Horizon Zero Dawn.
Detroit Become Human
For a game that doesn't fall under the most common genres in the industry, Detroid Become Human was a breath of fresh air. It isn't necessarily innovative, but it is definitely impressive. Some consider it an adventure game, others a video game novel. Whatever it is, Detroid Become Human is an interactive story with many characters and interconnected stories that also work independently.
You control several different androids and follow their stories as something awakens within them. The game constantly tries to present you with thought-provoking ideas, like classic science fiction stories used to do.
In this game, you are in charge of the androids' and humans' fates. It takes you to a time in the future when artificial intelligence has surpassed that of humans. Every choice you make affects how the game unfolds because it has one of the most intricate branching stories ever created.
Detroit might be similar to other narrative games on the surface, like Telltale's games.
However, it does bring a very compelling story with one of the best possible graphics for its era. There are so many different paths and outcomes that part of the fun is to return and try to make things go differently. If that sparks your interest in any way, it's safe to assume there's a good chance you'll enjoy playing Detroit Become Human.
Scarlet Nexus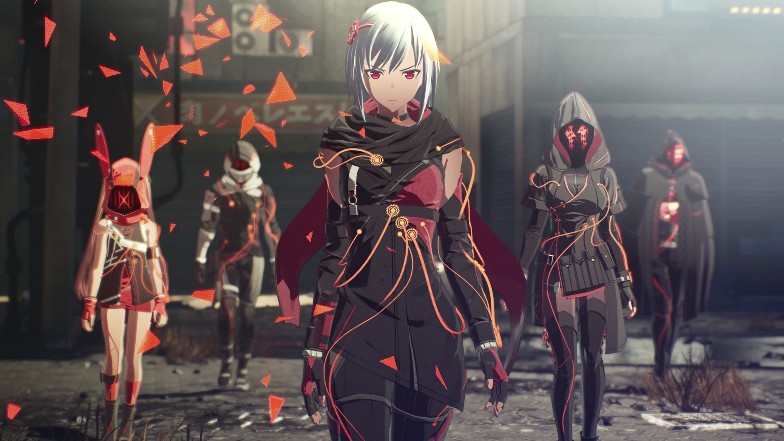 Scarlet Nexus will be a lot of gamers' favorite action games.
It was made by the same team behind Code Vein, but they decided to go on a different path this time. This is a very entertaining game that is more aligned with Devil May Cry and Metal Gear Rising: Revengeance. Yet, it's way more anime than both combined.
Its story is nothing groundbreaking, but it works well enough. At some point, a psionic hormone was found in the human brain that gave people psychic abilities and changed the course of history. As humanity entered this new era, insane mutants known as Others with an insatiable appetite for human brains began to descend from the skies.
Extreme had to be taken to counter the overwhelming invasion and save humanity.
The Others could not be taken down by conventional means; therefore, humanity's weapons were useless to contain the threat. For that reason, people with special psychic abilities, known as Psionics, were our last hope to repel the attack from above.
Scarlet Nexus is really fun. The characters feel great to control, the powers are over the top, and the poses and camera angles are what you'd expect from an anime game, but the gameplay is also very satisfying.
The 3D models and animation resemble Arc System Works' 3D games. If you are into their art style, you might consider Scarlet Nexus one of the best-looking action games on Steam.
Dead Space
In Dead Space, players take on the role of the engineer Isaac Clarke who must fight for his life in a ship he was meant to rescue. Isaac and his team are greeted by strange, undead creatures that defy science and hunt down the living, but it seems that the monsters might not be the root of all evil.
The graphics, music, and atmosphere of this game have received numerous positive reviews. There's really no denying that this game was unlike anything released back in its days. While playing this game, I was actually scared.
The claustrophobic corridors of the dead ship and the weird noises coming from pipes and malfunctioning gravity pads are amazing details. They keep you constantly wondering if there is another creature crawling nearby.
I have no idea who was the first brilliant mind to merge science fiction and Lovecraftian horror successfully. That's the kind of thinking that inspired the original Alien movie. As a result, those concepts would resurface in the future and lead to a masterpiece like Dead Space.
Alien: Isolation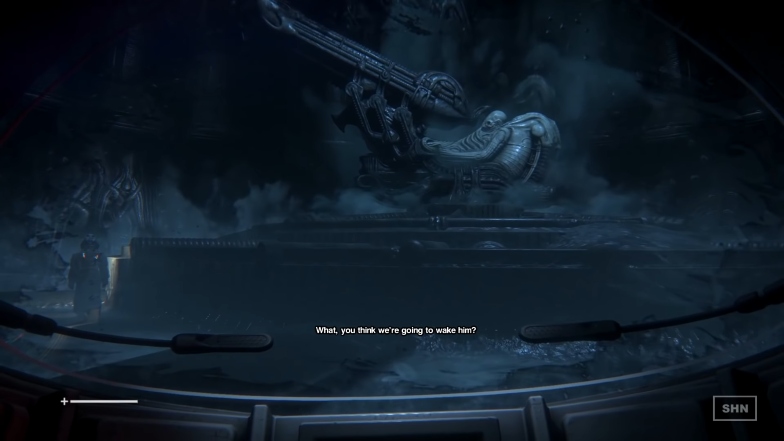 Alien: Isolation is a first-person survival horror video game developed by The Creative Assembly and published by Sega. It was released on October 7, 2014, for Microsoft Windows, PlayStation 3, PlayStation 4, and Xbox 360.
The game is set in 2137, 15 years after the events of Alien and 42 years before the events of Aliens. The player takes control of Amanda Ripley, daughter of Ellen Ripley, who investigates her mother's disappearance.
As Amanda explores the space station Sevastopol, she encounters hostile human survivors as well as an unpredictable alien creature that becomes more aggressive as it hunts her. That's when the game truly starts. You will never feel safe and calm once the Xenomorph learns of your existence, and you will have to constantly outsmart it to survive.
The game was met with generally positive reviews from critics, who praised its atmosphere and fidelity to the film series on which it is based. It has sold over 1 million copies worldwide on PC alone as of March 2015.
Soma
The same company that created and released Amnesia: The Dark Descent, Frictional Games, has developed and released SOMA, a science fiction horror video game. In many ways, this is a game like Alien: Isolation. However, the closer you look, the more different they become.
The game takes place on board the undersea research facility PATHOS-II, where mysterious events have occurred. As the player explores the complex, things become increasingly complicated, and dangerous creatures become aware of their presence.
In order to survive and understand what is occurring, the player must utilize their wits to avoid all the lurking dangers. There are many things coming for you in Soma. This is a game with corrupted people, evil monsters, mad machines, and even a strange, omnipresent AI.
This game is quite immersive, which I appreciate. I like the first-person view in this game a lot. Since it helps you live the claustrophobia and paranoia the game wants you to feel, this perspective feels appropriate.
Without question, this is one of the best sci-fi games I've ever played.