The 12 Best Kids Games on Steam
Image credit: National Westminster Bank plc
Kids' games are usually simple, educational, whimsical, but more importantly, PG-friendly. There are a ton of games that meet these criteria, and we have listed all the best kids games on Steam in no particular order.
These games range from all types of genres like tower defense games, casual games, simulation games, and a whole lot more.
Almost every game will be different and you will surely find a game that your kid will enjoy without worrying if it is unsafe for a kid or too complicated.
Bloons TD 6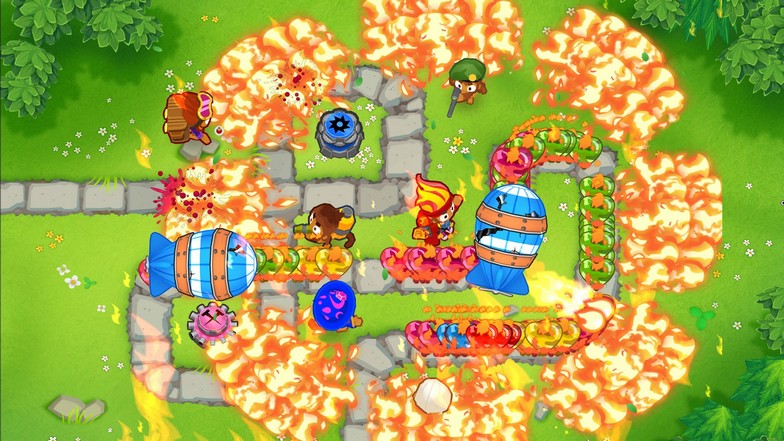 Bloons TD 6 is a great way to teach their children the wonderful experience of playing tower defense.
Developed and published by Ninja Kiwi, the game was released in December 2018 and received overwhelmingly positive reviews on the Steam store.
Kids can play it solo or with up to three of their friends through an online co-op. Bloons TD 6's art is cartoonish but sharp and full of fun details that can cater to both young and old.
Flashy and colorful effects from various skills and explosions will flood the screen as you do your best to defend your realm from every balloon.
Bloons TD 6's tower defense gameplay is very deep and well-executed. It features twenty-two different (monkey) tower types, thirteen unique heroes, and fifty-six handmade maps that will generate endless combinations and playing time.
Beneath the game's kiddie appeal is a content-filled tower defense experience that makes popping balloons fun and addicting. Bloons TD 6 is one of the best children's games on Steam that is enjoyable to both the parent and their kids.
Fall Guys: Ultimate Knockout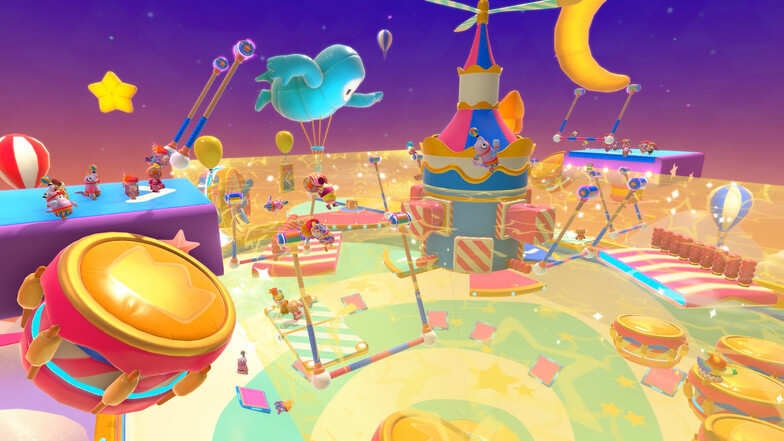 Fall Guys: Ultimate Knockout is a ridiculous and masterfully-executed multiplayer platform game that exceeds childish yet timeless fun. Developed by Mediatonic, the game was released in August 2020 and was met with very positive reviews.
It is a family-friendly online game that pits you with countless other goofy cartoon avatars in a silly race of survival from obstacles and challenges that become more and more chaotic every round.
Only one player will survive among up to sixty different gamers, and the winner is rewarded with the pride of overcoming some of the most challenging and ridiculous obstacles ever played by humans.
Fall Guys: Ultimate Knockout can be overwhelming for younger kids below nine years old due to mild cartoon violence and semi-scary drops to the abyss.
The game is also a great way for youngsters to appreciate and experience gravity and physics as they play and see their characters tossed and flying through the air.
Fall Guys: Ultimate Knockout is an instant classic and will be forever recognized as a game that brings out the kid in all of us through pure fun.
LEGO® Star Wars™: The Skywalker Saga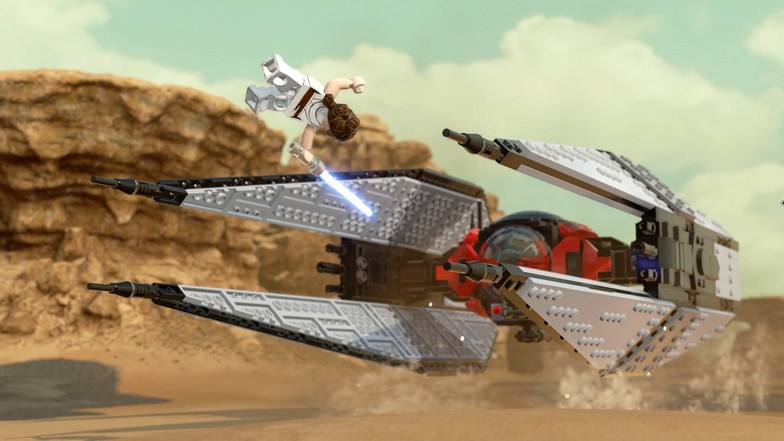 LEGO® Star Wars™: The Skywalker Saga is an iconic Star Wars LEGO game that features the whole nine-episode movie series. Developed by Traveller's Tales, the game was released in April 2022 and received very positive reviews from the steam store.
It is a single-player 3D adventure game that is filled with so much content and Star Wars lore that it is a great way to introduce this legendary story to your children.
Adding to this mix is the timeless LEGO universe that has both young and old addicted to its unique and classic charm.
LEGO® Star Wars™: The Skywalker Saga is an almost faithful representation of the entire main Star Wars story with a dash of LEGO fun and silliness.
Despite the childish look, the game is beautiful and full of exhilarating action and character build customization.
You get to play as over three hundred different characters and travel across twenty-three different planets using over a hundred unique vehicles.
Swing and slash your lightsaber or engage in epic space dogfights; the game is an immersive Star Wars LEGO experience that kids will surely enjoy.
Alba: A Wildlife Adventure
Alba: A Wildlife Adventure is a beautiful experience, a game that teaches about nature through the lens of an adventurous young girl visiting her grandparents on a majestic island.
Developed and published by ustwo games, the game was released in December 2020 and has garnered overwhelmingly positive reviews in the team store.
It is a single-player story-filled family-friendly game that creates an immersive world that is visually impressive and memorable, especially for kids.
Alba: A Wildlife Adventure succeeds in combining cuteness with quality story-telling, and the game paints a sobering yet inspiring reality of nature and how we, as humans, affect it in our everyday lives.
The island is a joy to explore as the lush sceneries contrast well against areas littered with unsightly trash.
Along the way, countless opportunities to help the island and its animal inhabitants pop up as part of the adventure.
Alba: A Wildlife Adventure is a family-friendly game that is full of heart and memorable lessons that make it a must-buy for parents who wish to teach their kids on how to love our world.
Wobbledogs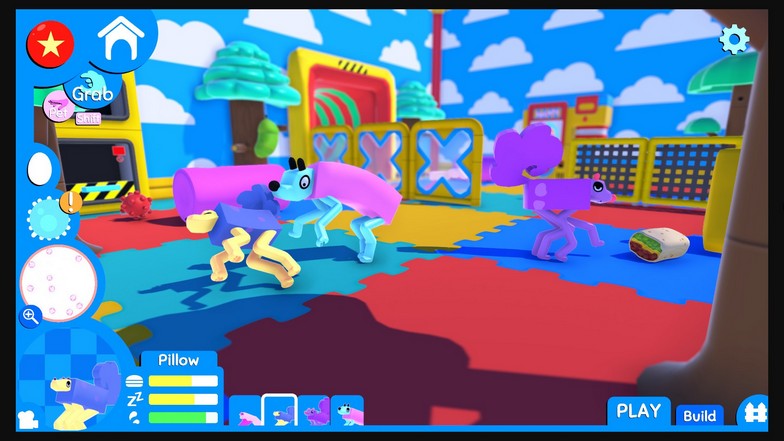 Wobbledogs is a fun and quirky 3D virtual pet simulation that can both engage and relax players of all ages. Developed by Animal Uprising, the game was released in March 2022 and has been met with overwhelmingly positive reviews from the steam store.
It is a single-player kid-friendly life simulation game that allows you to create your own pet while loosely using a dog as its base.
As you progress in the game, your "dog" changes or evolves into unique and silly forms, and the change will depend on what they eat or how their environment is set up.
Wobbledogs is a refreshing and unique experience as the player interacts with their own genetically fascinating pet using an interesting in-game mechanic where the animal's gut can be filled with different food, thus determining their specific mutations.
You are also encouraged to build the perfect habitat to encourage their unique growth, and you can find various items to decorate their home with.
Wobbledogs is a gem of a game filled with charm and opportunities for children to experiment and vaguely learn about the concept of mutation while having mindless fun.
Webbed
Webbed is a charming 2D indie game that follows the life of a small spider with a big appetite for adventure.
Developed and published by Sbug Games, it was released in September 2021 and was reviewed with an overwhelmingly positive rating on the Steam website.
The art is full of cel-shaded charm that is appealing to both young and old. Webbed follows the story of an energetic spider and her mission to save her love from being eaten by a bird.
Webbed builds an immersive world through insectoid eyes, and one of the most fun features of the game is how you can swing and web-spin your way across the entire screen to the next area.
The web-swinging mechanic is simple, effective, and quite fun as you fling yourself all over the forest and encounter different friends or foes.
The game looks simple, but the gameplay is superb despite having a relatively short story. Cute and unforgettable, Webbed is something parents should check out for their kids.
Machinarium
Machinarium is a point-and-click adventure game set in a distinct and unique cyberpunk world. Developed and published by Amanita Design, it was released in October 2009 and has fared with overwhelmingly positive reviews from the Steam store.
Family-friendly and light, the game sets you on the capable feet of Josef, a robot whose current mission is to save his girlfriend from a group of robot thugs.
You play by pointing your mouse cursor over specific items or areas in the beautifully drawn world of Machinarium in the hopes of triggering certain events or actions to solve the puzzle.
Rustic, dusty, and a bit gloomy, the world of Machinarium is filled with other robots, yet it still feels very human and has a lot of heart.
The short yet satisfying plot is communicated not through walls of text dialogue but rather through symbols and images.
The game is a great learning tool for kids to hone their focus, planning, and overall critical thinking as they find ways to solve every unique puzzle Machinarium throws at them. This game is a highly-satisfying experience that will stretch any player's imagination and creativity.
Island Saver
Island Saver is one of the most colorful, family-friendly games available right now. Developed by Stormcloud Games Limited, it was released in May 2020 and was met with overwhelmingly positive reviews from the steam store.
The game sets you on a wild and action-filled adventure to save a group of islands from one of the most real problems our world faces today, human litter and waste.
You are given an amazing weapon, the Trashblaster, to defeat monster globs or clean up trash along the beach, effectively making cleaning up fun.
Island Saver's world is full of colors and cartoon relief, and it will definitely appeal to a younger audience. They are given the opportunity to play around and learn about different ecosystems; jungles, deserts, and beaches.
There are over forty-two local animals to save and then eventually ride on. Island Saver is a game full of fun and life and is very appropriate for the younger gamers to build their appreciation of nature and our role in protecting it.
Unravel Two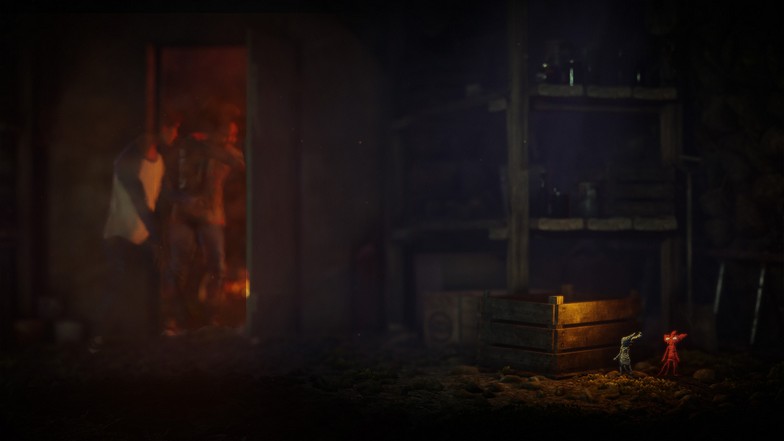 Unravel Two is a beautiful and refreshing take on simple platform gaming but introduces a lot of heart and humanity in its immersive story. Developed by Coldwood Interactive, the game was released in June 2018 and has garnered very positive reviews from Steam.
The game follows a thread-like creature called Yarny and its adventure in scaling through various obstacles and puzzles while uncovering deep game lore that can be appreciated by both young and old.
Being a sequel, Unravel Two doubles down on this experience and opens up the option of creating your own Yarny and playing with another person in a local co-op.
Unravel Two is a game of friendship, and the story and gameplay encourage teamwork and playing with other people.
Enjoying this experience with a partner or your kids is highly recommended to unlock the full potential of the well-designed gameplay of the game.
It's always better to share the awe of traversing through the game's lush and immersive world based on Scandinavian landscapes.
Unravel Two sounds as good as it looks while also being masterful in spinning a heartwarming story full of symbolism and personifications that may fly over the younger gamers.
Despite this, it's still a great platform for kids to develop courage and sharp thinking while enjoying.
Brick Rigs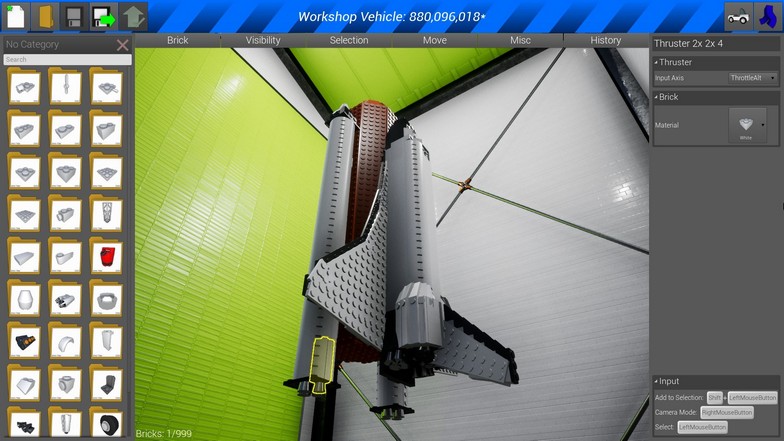 Brick Rigs is an interesting take on open-world building games where you are given the freedom to craft your own vehicle using LEGO-like bricks and then proceed to do whatever you want with your creation.
Developed and published by Lukas Rustemeyer, the game was released in November 2016 and received very positive reviews from the steam store.
The two main mechanics of the game is both vehicle creation and destruction as you experience the convincing in-game destruction physics as you crash your colorful car into a not-so-colorful lamp post.
Brick Rigs is very kid-friendly and is a great way for them to develop their creativity and building skills as they make their own car.
The other half of the fun is doing whatever they want with their car as they drive across a vast and open world filled with fun opportunities to destroy their creation.
Like real-life LEGOs, there are people who enjoy dismantling their works rather than building them, and Brick Rigs offers other modes online to play with your car or plane with other people on the server.
This game is a must-buy just for being able to offer the unique experience of breaking your block creations in a comically realistic fashion.
SpongeBob SquarePants: Battle for Bikini Bottom – Rehydrated
SpongeBob SquarePants: Battle for Bikini Bottom – Rehydrated is a great visual remake of the classic SpongeBob game that was released way back in 2003.
Developed by Purple Lamp, the game was released in June 2020 and has met overwhelmingly positive reviews on Steam.
The game once again puts you in the clunk and goofy shoes of SpongeBob Squarepants or his other two friends, Patrick and Sandy. Primarily a platform game, Battle for Bikini Bottom is a fun and wholesome experience that kids will definitely enjoy.
SpongeBob SquarePants: Battle for Bikini Bottom succeeds not just because of the heavy name the game carries but rather it is also with how it executes and simulates the fun and goofy experience of being a Bikini Bottom character.
Full of color and iconic SpongeBob humor, the game offers refined platforming action mixed with inevitable nostalgia for the popular tv show.
SpongeBob SquarePants: Battle for Bikini Bottom is a great entry for your kids to know more about this beloved franchise, and you will miss out on a lot by not getting this.
The Jackbox Party Pack 7
The Jackbox Party Pack 7 is a fun-filled package of a game that is definitely a great bang for your buck. Developed and published by Jackbox Games Inc., the game was released in October 2020 and enjoyed overwhelmingly positive reviews from Steam users.
It is intended as a multiplayer game that would fit with any fun party occasion. Playing with other players can either be through local split-screen or through online multiplayer modes.
The Jackbox Party Pack 7 consists of five unique and silly games that will test both your knowledge and patience as you battle it out with your friends and family.
The games are called Quiplash, The Devil and the details, Champ'd, Talking Points, and Blather Round. Each game has its own quirky mechanic and min-max number of players per round.
From word vomit-type games to self-drawn figures fighting to the end, The Jackbox Party Pack 7 is an all-around entertainment platform that is best shared with family and friends of all ages.