Tower Defense games were never my first choice in gaming. It took me a while to understand what is fun about them, but it did happen at some point.
After playing some of these games for a while, I got addicted to the idea of optimizing my defense and not letting anyone through. I believe that this happens due to the easy concept behind most tower defense games, "don't let them in."
Over the years, tower defense games evolved in many different ways. While some refined the classic gameplay, others introduced new elements or borrowed ideas from other genres.
This attracted many players from other genres and gave us surprisingly refreshing titles, but it didn't change the genre. If anything, the genre was expanded.
Now you have even more classic tower defense games for those who love the genre for what it has always been, and you also have hybrid tower defense games for those who like a few things about the genre or just want to try something different for a change.
All games here are very well-received by fans of the genre, and they are probably the 27 best tower defense games on Steam.
Sanctum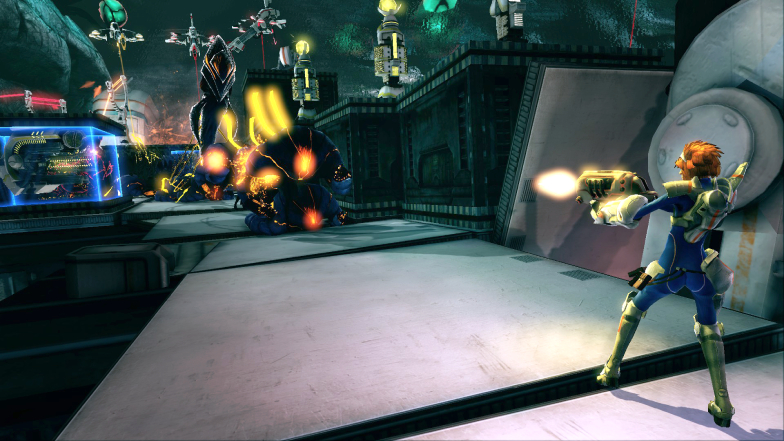 Among all the Tower Defense games I've played, this is by far one of my favorites. Maybe it's because its hybrid characteristics are so interesting to me.
Sanctum defines itself as "one of the world's first First Person Shooter – Tower Defense games," and it does feel like a perfect mix of the two genres.
You build towers and mazes to attack and control the flow of enemies so you can shoot them yourself with the help of your defensive structures.
On top of all that, you can invite someone to play with you in a co-op mode, which only adds to the overall value of this title.
X-Morph: Defense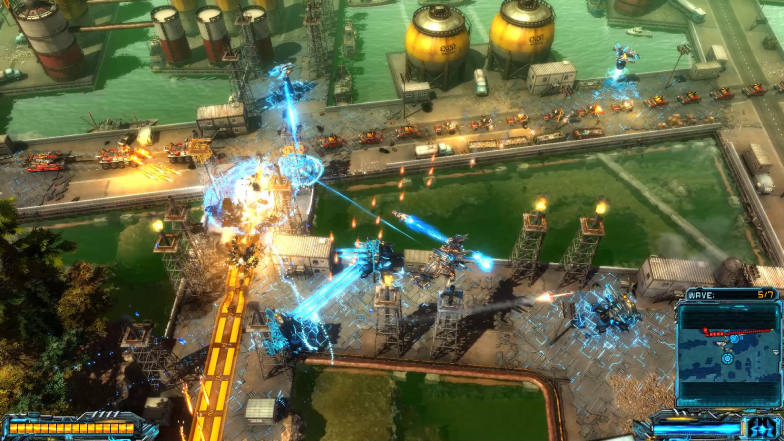 X-Morph: Defense mixes the shoot 'em up and tower defense genres and turns it into a very interesting action-oriented strategy game.
You play as a member of the X-Morph, an alien race that invades the Earth for its resources. In order to complete your objective, you must create tactics, place towers, and go to battle in your own ship.
Besides the fact that you can actually fly your spaceship into battle, the rest of the game works pretty much like many other tower defense games.
This game is fun for fans of both shoot 'em ups and tower defense games. It looks pretty good as well. X-Morph: Defense also has a free demo available on Steam, so you can start from there.
Mechs V Kaijus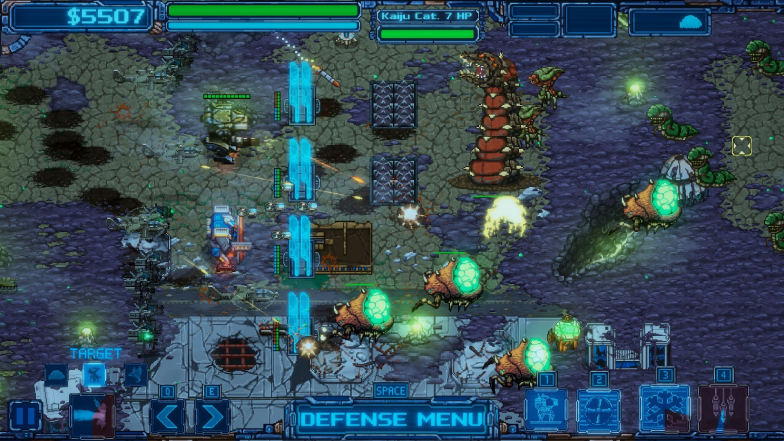 This tower defense can get quite overwhelming sometimes, but I suppose it's part of what makes the game fun.
Mechs V Kaijus has you taking the role of the commander of a Mech squad. Generally speaking, this is a classic tower defense game with a really cool theme behind it.
You must strategically place towers and traps on the battlefield to prevent the Kaijus from invading your stronghold. There are unlockable towers, upgrades, abilities, mechs, and units that you can use to fight the monsters.
If you appreciate the tower defense genre for what it is and don't need these games to be super innovative hybrid games, you will appreciate Mechs V Kaijus. If you like mechs and kaiju as I do, you might enjoy this game for that reason too.
Minion Masters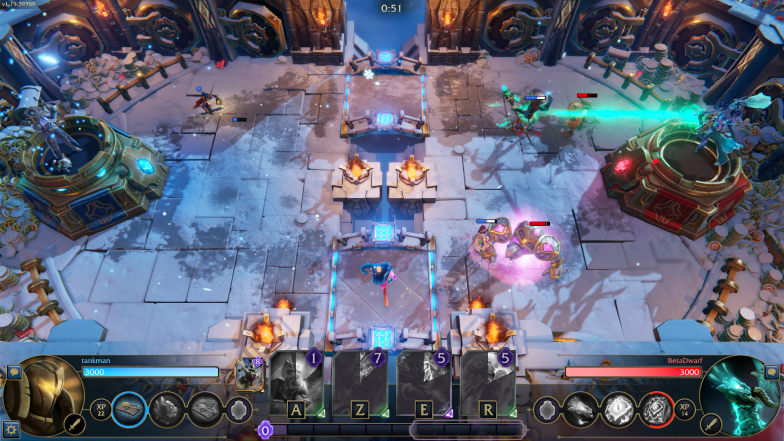 This is a hybrid game with elements of tower defense and card games. You choose a Master that dictates how you're going to play, and then you start placing your offensive and defensive creatures in a duel.
The thing that makes this game unique is specifically how you're defending yourself in a tower defense style while attacking the enemy who is doing the same thing.
The game has over 200 cards with unique mechanics, and you can use them in 1v1 and 2v2 battles.
This game is free, so if you don't know if you should play this game, now you know you can try it out without spending any money.
Fort Meow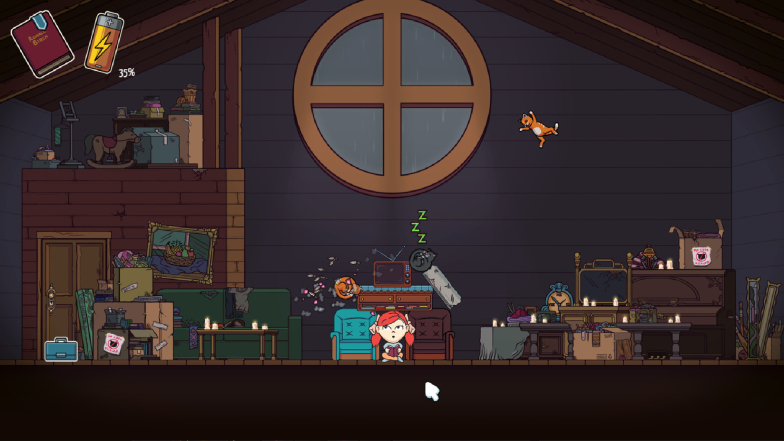 You play as a little girl exploring a house who has to build a stronghold out of furniture and other mundane objects to protect herself from the upcoming cat attacks.
This game is a physics-based puzzle adventuring tower defense game. Yeah, too many things that might seem like it's an overwhelming combination, but it ends up being pretty fun and straightforward.
You get to build a stronghold out of pillows, clocks, toasters, and many other things that you'd find at home, which I particularly find funny to watch.
There are over 20 items to find; each works differently and should help you survive the leaping cats.
Dwerve: Prologue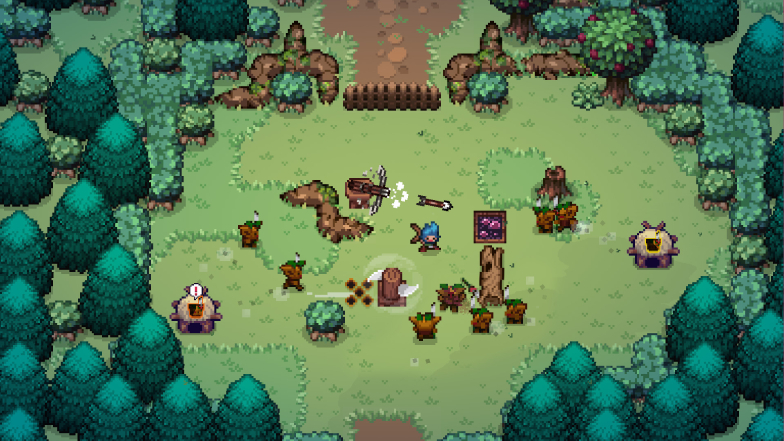 Dwerve: Prologue combines the classic tower defense gameplay with dungeon crawling, making it a charming, pixelated hybrid indie game that is definitely worth checking out.
You get to see the story of a young dwarven tinkerer who adventures into the ruins of an old dwarven civilization.
This game is fun, but it curiously sells itself as some sort of tutorial or practice for the main game, Dwerve.
It's okay, though, since Dwerve: Prologue is actually a free-to-play game. So you get to check it, play, and get a pretty good idea of what Dwerve is like so you can make an informed decision before buying it.
Also, a tower-defense Zelda-like game is something that sounds awesome, isn't it?
Infinitode 2 – Infinite Tower Defense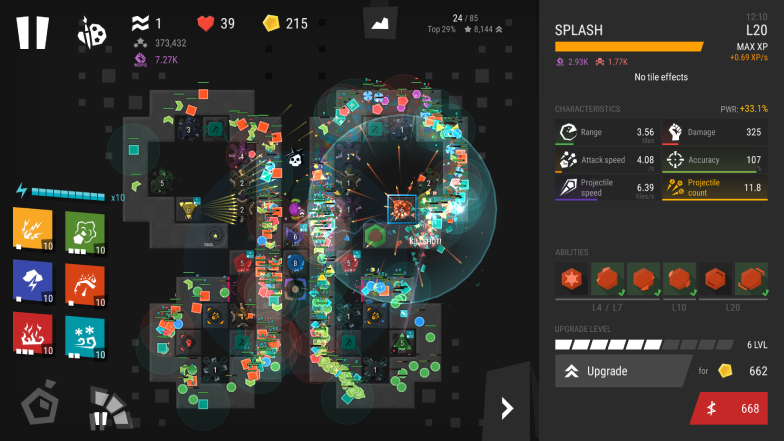 This game was developed by a single person, which might explain the minimalist style. Still, it is one of the best tower defense games on Steam, and it is a pretty good experience for fans of the genre.
The game is well-optimized and polished. It has 14 different types of towers, 11 different enemies, bosses, teleporters, barriers, and many other resources.
Infinitode 2 also counts over 40 different levels and over 300 new researches, and players can create new maps with any song and share them with others.
For a low-budget game with a one-person development team, Infinitode 2 – Infinite Tower Defense is already a surprisingly good game, but chances are you'd find it enjoyable anyway.
The Riftbreaker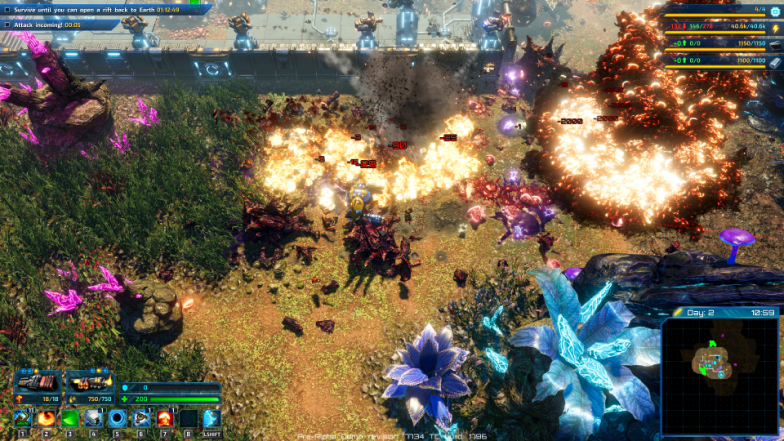 This is such a fun title. I'm sure you are not surprised to see it on our list. Rift Breaker combines elements of many different genres and delivers a game with frenetic action and tactical decision-making.
You play as the Rift Breaker, Captain Ashley S. Nowak, who controls a power suit named Mr. Riggs. Your objective is to create a pathway to Earth that demands a tremendous amount of energy but to do so, you must defend your base.
The game is voiced, and the visuals are pretty good, which adds to the game's overall value. You get to place structures, walls, sentries, and so on, but you also have to control your power suit and fight to protect everything you built.
It is safe to call this game an open-world, tower defense game with action and RPG elements to it, and it's much safer to say that this is a fun game that's worth trying.
Exodus Borealis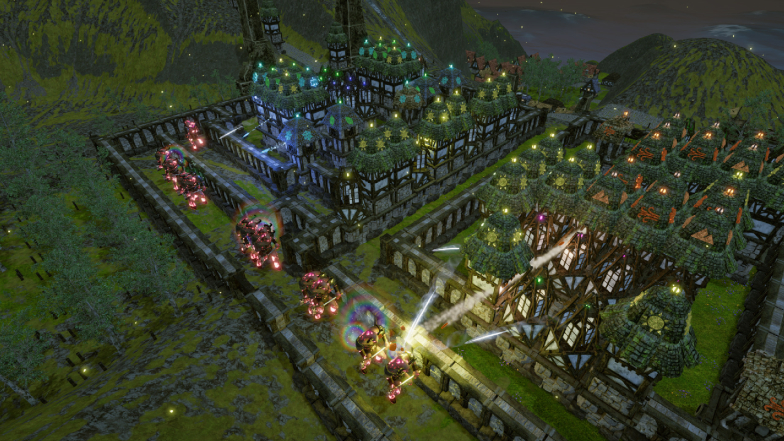 Exodus Borealis is a hybrid game that combines tower defense gameplay with the city builder genre. As a city builder, the game looks pretty good, and as a tower defense game, it has solid and fun gameplay.
It seems that Vupfoxes fled their homeland to seek refuge, and only a few have survived the journey. You must guide the few survivors and help them overcome challenges and build a prosperous society.
The settlement has to be built in a way that both accommodates the Vulpfoxes and protects them from whatever comes from outside the gates.
Exodus Borealis has 6 hand-crafted islands, many different challenges to be faced, and some macro-management elements that make you balance building construction, jobs, and resource spending.
Go Home Dinosaurs!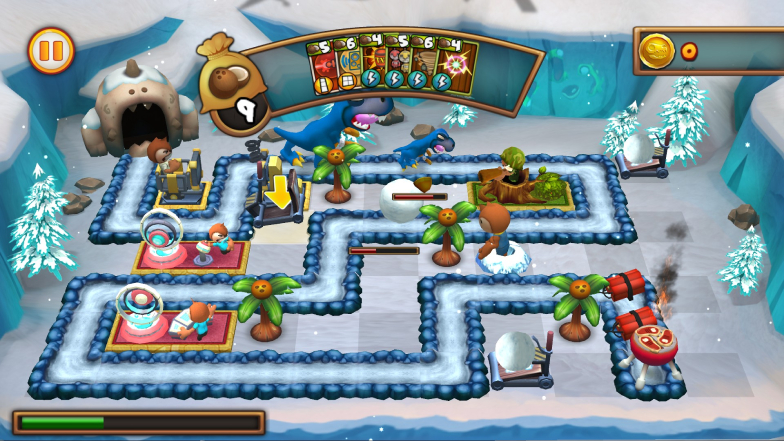 Go Home Dinosaurs might look like traditional tower defense game at first, but it becomes clear that this is an innovative game as soon as you see its puzzle mechanics.
In this game, you play as a marmot who has to prevent Todd Rex from turning you into a barbecue.
There are 60 levels, 18 collectible cards, boss levels, and a highly innovative tower defense gameplay that seems to have pleased most players who acquired the game.
Although Go Home Dinosaurs can become quite challenging, and it is simple to understand at first. It has a beautifully vibrant world and a cute art style.
This is a game that was most likely designed to please adults and children.
3 Minute Heroes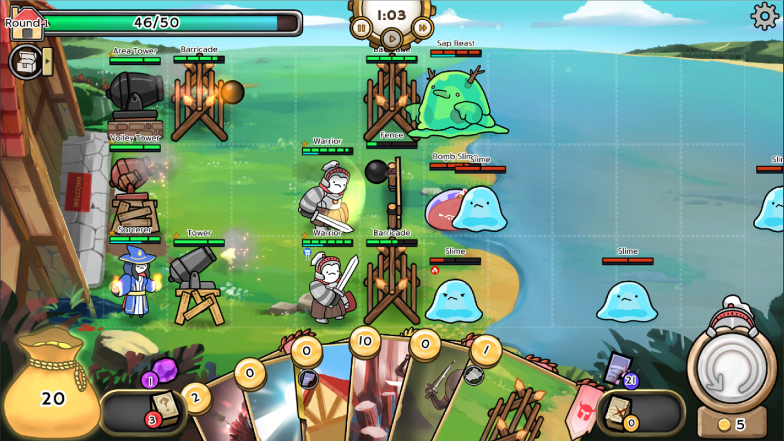 I seriously like this game. At first, it feels like Plant vs. Zombie, but once you start playing around with the cards system, you see that 3 Minute Heroes is unique and special.
Players pick a class to lead the rest of the "party," which can significantly change how you play this game. There is a lot of fun to be had and discovered by pairing different heroes and seeing how it changes the gameplay.
Generally speaking, this game combines deck building, rogue-like elements, and tower defense into a unique hybrid game that is pretty fun and worth checking if you like any of these genres.
It seems that the real-time elements of the game can become quite frantic and demand quick decision-making, but I consider it part of the fun.
Infested Planet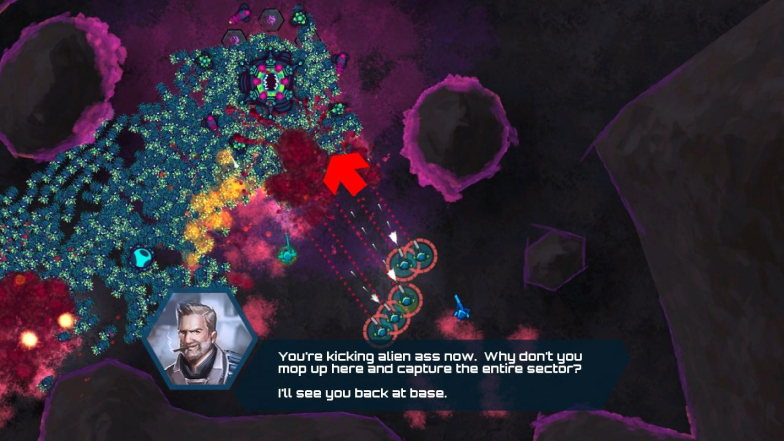 This game will throw thousands of enemies at once at you and demand you to use real-time tactical combat in order to survive.
You command a team of 5 elite soldiers that need to handle countless enemies. Infested Planet has over 33 Alien mutations that cause you to frequently adapt by using stealth suits, miniguns, grenade launchers, and much more. 
There are 21 different weapons and buildings, the combat happens in real-time, and the maps are procedurally generated.
One thing that I like about this game is the fact you can develop new weapons throughout its quite long campaign mode.
Bloons TD 5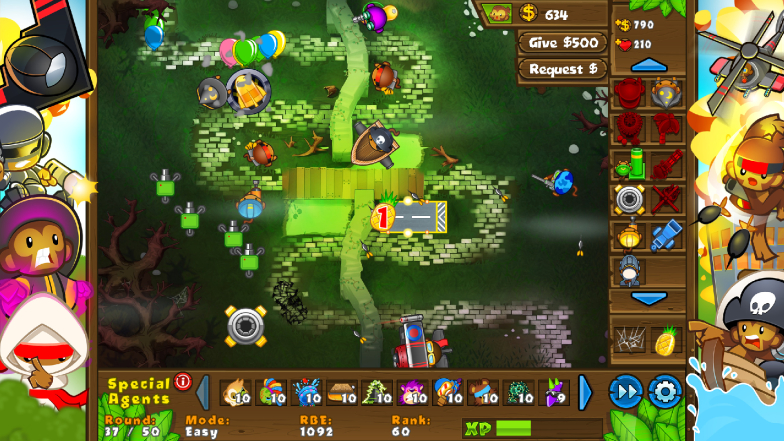 From what I can tell, this is a tower defense that doesn't really look like most games of the genre. However, it does seem to have a surprisingly considerable depth and replayability.
This HD remaster has no microtransactions and a free-play mode that seems never to end. There are incentives to return every day, the graphics are in HD, and you get to build a fierce army of towers.
There are upgrades to be unlocked, over 40 tracks, and 10 special missions, and if you like Steam achievements, Bloons TD 5 has over 50 of them.
On top of all that, it seems Bloons TD 5 still is being supported by the developer. Considering how this franchise is successful, there might be many other Bloons TD games to show up in the future.
Legendary Knight – 傳奇騎士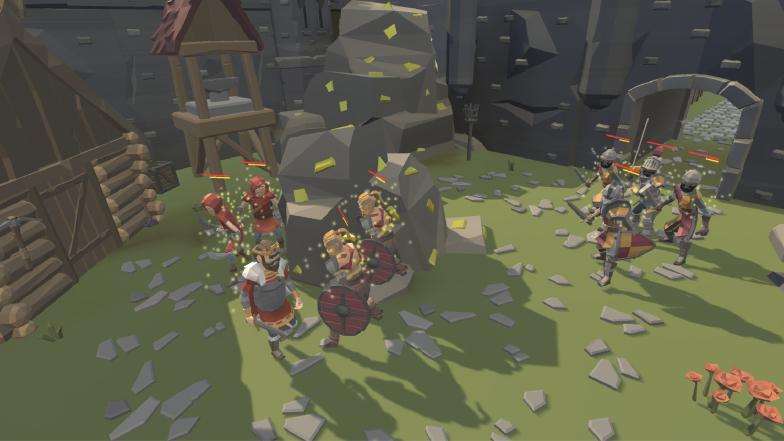 As far as tower defense games go, this one is on the weird side. However, it is a very well-received game.
The idea behind it is very simple, and you have to protect the king during invasions. If either the statue of your kingdom or your king gets defeated, you lose.
In order to protect your king, you will train your army, assign generals and subordinates to protect buildings, and use your experience points to learn skills and improve soldiers.
You can also buy things that will help you survive the invasion, but you need to use your coins wisely. If you manage to beat a difficulty mode, a harder one will be unlocked.
Gensokyo Defenders
Gensokyo Defenders is an action-packed tower defense game in the Touhou world. In this fan-made game that made its way to Steam, you get to use traps and spells to fight magical enemies.
On top of being a tower defense game, it also has shoot-em-up action, which I certainly appreciate. There are nearly 20 popular characters to choose from, each with unique abilities.
This game also features an online co-op mode that allows you and your friends to tackle more complicated stages together.
The mix of character abilities, shoot 'em up elements, and tower defense mechanics make this game an exciting take on the genre that is worth trying.
Creeper World: Anniversary Edition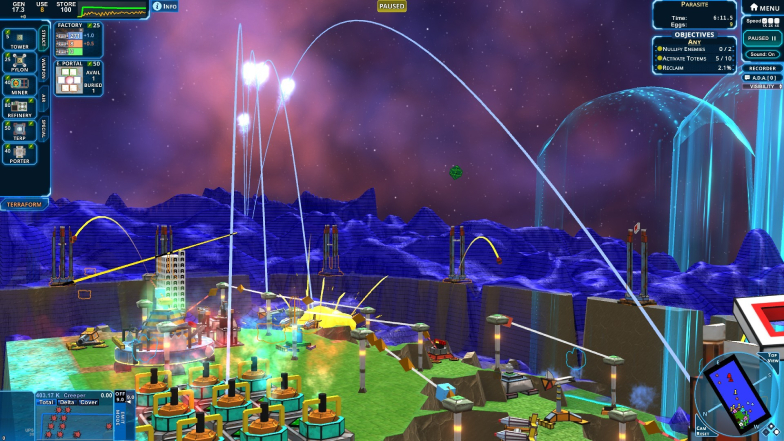 As far as Tower Defense games go, this one is not the one with the most eye-catching visuals I've seen, but it seems that Creeper World has some unique ideas that make it really fun.
This game bets on that easy-to-play, hard-to-master ideals that modern games are trying to achieve. The gameplay seems quite simple but challenging at the same time.
The idea behind this game is that the enemy is everywhere and moves like a giant, organic mass.
If you buy the Anniversary Edition of Creeper World, you also get better graphics and higher-resolution backgrounds. There's a newer installment of the franchise, but this one is almost free.
Dungeon Warfare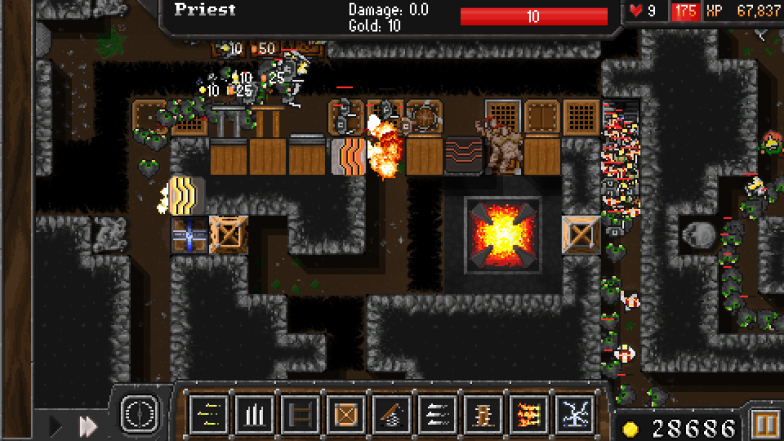 I really like the premise of Dungeon Warfare. You are a dungeon lord who has to defend your dungeon against greedy adventures.
This is a game that takes a familiar trope and flips it upside down, and I genuinely appreciate that. The more adventures you manage to keep out of your dungeons, the more powerful traps and gadgets you will get.
The game has over 26 different traps with passive upgrades, over 40 hand-crafted levels, 22 kinds of enemies, and an endless mode.
The use of fantasy elements only makes the game more interesting. Not only is this a good tower defense game, but it is also a fun twist to be on the other side.
Defender's Quest: Valley of the Forgotten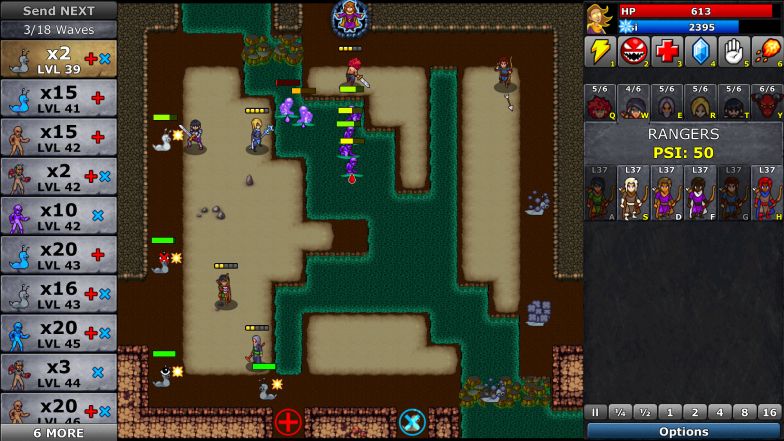 This game is both a tactical RPG and a tower defense game. The combat has a lot of tactical depth, but the story is not just flavor.
Although the combat is mostly like a classic tower defense game, you have characters instead of towers. Those characters can level up, learn new skills, and have unique equipment.
The game happens in real time, but you can pause it to command your characters.
This game had me wanting to try it from the moment I saw the RPG elements. Hybrid tower defense games are often fun and unique for bringing elements from other genres. This might be the case with Defender's Quest: Valley of the Forgotten.
Creeper World 4
Creeper World 4 is an expansion of the previously mentioned game. If you like the game the way it was, there is a slight chance you might not like this version.
However, it seems that most players of the genre do appreciate the direction Creeper World has taken.
The terrain is now in 3D, which adds numerous strategic options. The graphics are much better. There are physics-based mechanics, more weapon variety, an online map database, and even an experimental co-op multiplayer mode.
If you didn't really grasp the concept of Creeper World before, it is much clearer in 3D since you can actually see the world closing around you while you basically try to push back an ocean with your bullets.
Kingdom Rush Origins – Tower Defense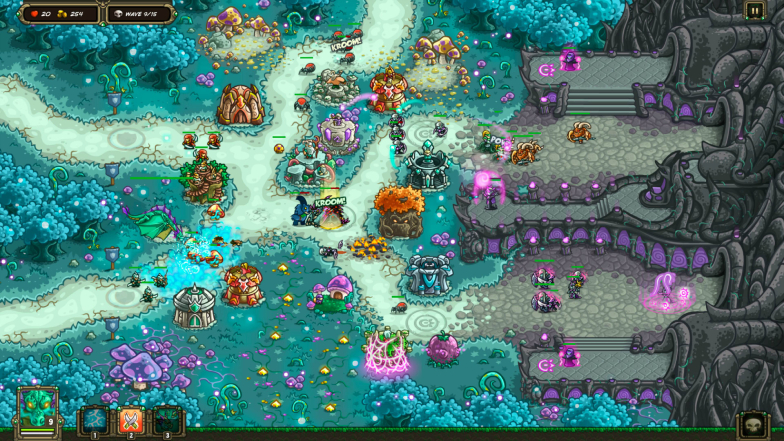 Seems that this is the third Kingdom Rush game, but now we are in prequel territory.
If you are a fan of the franchise, it seems that the game became a bit more challenging and a bit faster too, which pleased most of the people who played it.
In Kingdom Rush Origins, you get to visit elven forests, fairy kingdoms, and even floating ruins. There are new towers, troops, and spells that you can use to protect your territory.
For achievement hunters out there, this game has over 70 for you to unlock, and it also has different game modes that will have you constantly returning to try out something different.
Kingdom Rush Vengeance – Tower Defense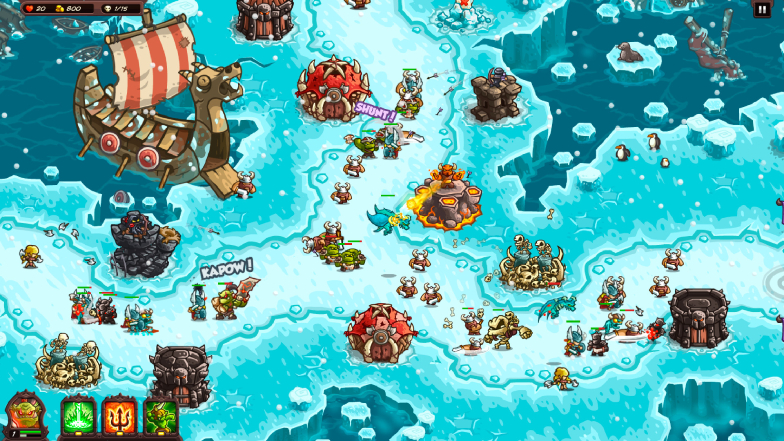 This is another tower defense that, in many ways, feels a lot like the previous installment of the franchise, but it has enough things going to make it worth buying.
First, significant quality-of-life changes made this game much more intuitive to play than its predecessor. Secondly, although it plays mostly the same, it has fundamental changes that will have you relearning a few things.
Secondly, although this game is a sequel to the original Kingdom Rush, there is a twist. This time, you play as the villain.
You get to control Vez'nan and his army while trying to enact his revenge on the heroes who prevented him from achieving his goals.
The Riftbreaker: Prologue
The Rift Breaker is a hybrid game with Tower Defense, Strategy, and Hack and Slash elements that combine nearly seamlessly to make one of the greatest tower defense games I've ever played.
This game goes through everything that happens before the main campaign of the original game, so you get to explore a whole new world, build a base, and gather resources to protect yourself from alien creatures.
I particularly love how this game has voiced lines. This makes you feel like you're with Ashley S. Nowak and her A.I. while building your base and getting ready for the next battle.
On top of all that, the gameplay itself is fun and polished. The Riftbreaker: Prologue is absolutely worth checking.
Plants vs. Zombies GOTY Edition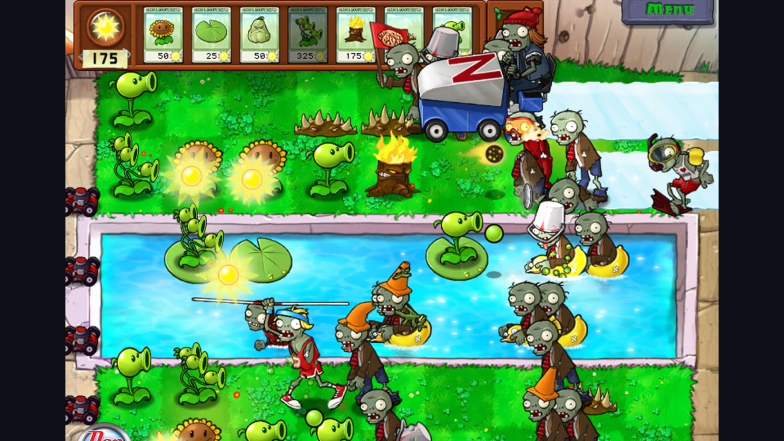 I feel like Plants vs. Zombies needs no introduction, but we're going to talk about it anyway. This tower defense game is silly-looking and doesn't take itself seriously, which I see as a good thing.
In this game, as the name suggests, plants and zombies fight. That's because zombies are trying to invade your home, and the plants are your only way to defend yourself for some reason.
There are over 50 different levels in adventure mode. The game also counts with 26 different zombies, endless replayability, and five different game modes.
This is not a super complex game, but it is fun, well-balanced, and polished. If you like the tower defense genre but don't feel like overthinking strategies, this might be the game for you.
GemCraft – Chasing Shadows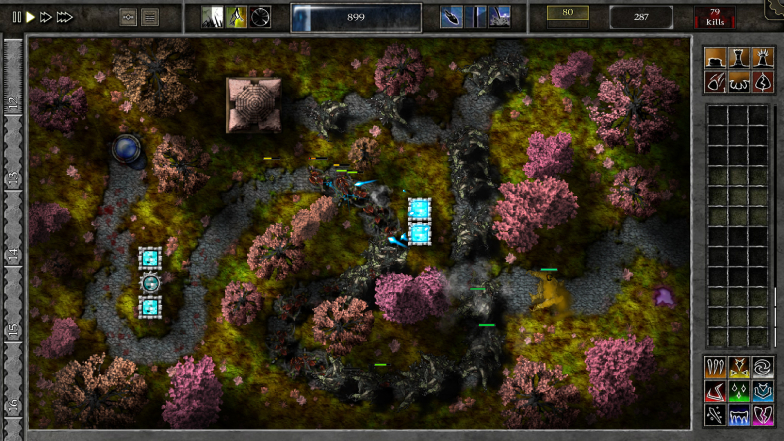 This is a cult classic tower defense where you fight swarms of demonic avatars with gems that you conjure.
In this game, you use gems to cast magic and empower traps and towers to keep the enemies away. The game is a tower defense but also has elements of real-time strategy games.
GemCraft – Chasing Shadows has over 190 different stages, each with unique challenges and win conditions, so the content is vast.
There are passive skills to unlock, devastating spells that can be cast, and several gems that can be combined to generate different and more fantastic effects. On top of all that, Endurance Mode lets you test how long you can hold after you've beaten a stage to get extra rewards.
Defense Grid: The Awakening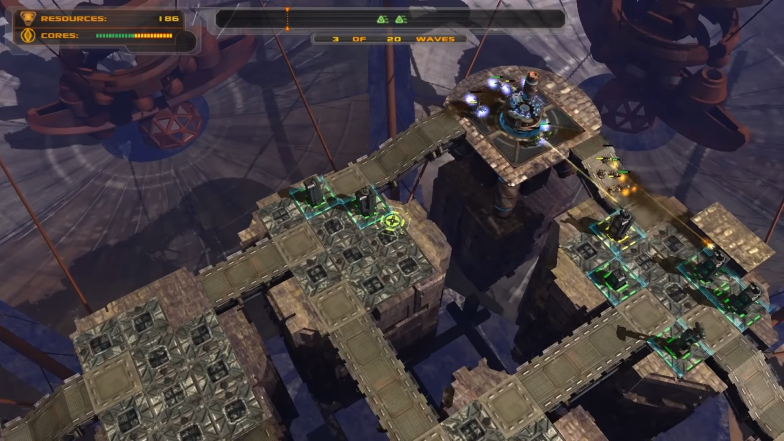 Defense Grid: The Awakening developers claim it is a unique spin on the tower defense gameplay. Although it might have been the case when it first came out, you have to realize that this game was released back in 2008.
Still, this classic is worth playing with surprisingly good ideas for its time. This is a good tower defense game that doesn't count too much on mechanics from different genres to be a good game.
It has 20 unique environments, 15 different enemy types that can change behavior to bypass the player's defenses, and 10 different tower types.
It seems that the selling point of this game, or at least one of them, is the fact you can save during a stage, letting you revise your strategy without having to start all over again.
Kingdom Rush Frontiers – Tower Defense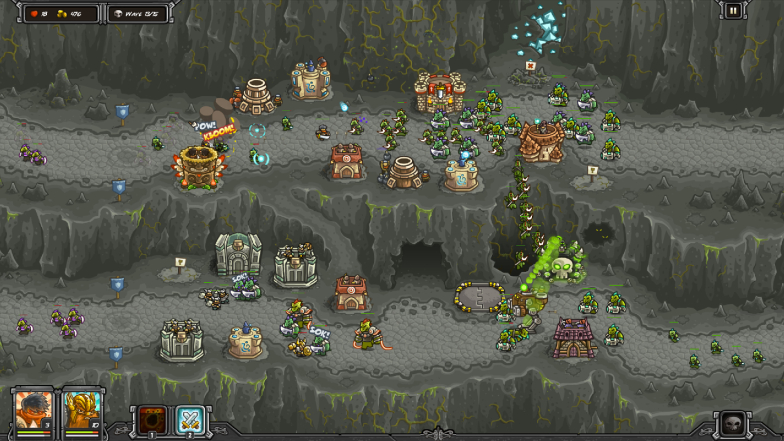 I know we've mentioned two Kingdom Rush games already, but this seems to be a beloved tower defense franchise with unique takes on each game.
I can find nothing but praise when it comes to this title. The game has heroes, reinforce mechanics, over 40 different enemies with exclusive abilities, and so on.
The towers also get over 18 different abilities and 8 upgrades that you can use to keep your enemies out.
There are different difficulty modes, and the hard one is quite challenging. It seems that most fans of the genre consider Kingdom Rush Frontiers – Tower Defense the best Kingdom Rush game and all Kingdom Rush games are very well received by fans of the genre, so that should mean something.
Orcs Must Die!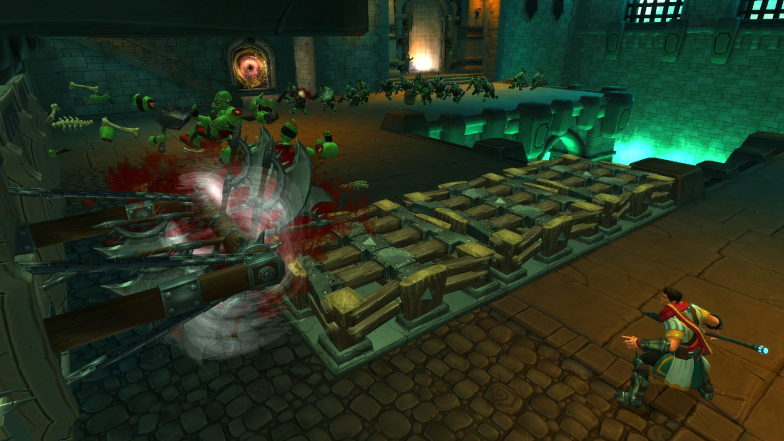 This game is so much fun, and it was an absolute breath of fresh air when it was first released due to how it combined the action, hack-and-slash, and tower defense genres in a single game that continues to be praised.
You play as a warrior wizard who needs to defend castles from ogres, bats, orcs, and other creatures — but mostly orcs.
You get to prepare the place to receive the invasion, but you can also set them as the orcs are trying to get into the castle. Meanwhile, you participate directly by actively fighting by sword-swinging and casting spells while you keep adding traps and see the ones you put in place working.
It is an absolute blast to plan ahead how to use your traps in a way that they can position the enemies in a vulnerable situation for you to finish them off. This is not a traditional tower defense game but is undoubtedly worth playing.