Bullet hell games are quite a niche category in the video game world. It is because bullet hell games are only a subgenre of shooter games in general.
However, developers are pretty creative and mix this subgenre as a subelement on their games, even if they are not shooters.
The best bullet hell games on Steam will all be listed, including games that do not strongly feature its bullet hell aspect. If the list only features games that are purely bullet hell games, the list will be more concise, and the quality of the games will not suffer.
While some might disagree about some games on the list, as long as bullets are raining hell on your screen at some point in the game, it is tagged as a bullet hell game.
Games like The Binding of Isaac and Risk of Rain 2 might take a while before this happens, but when it does, you will feel like you are really playing a bullet hell game.
These games are usually challenging because you will have to avoid all these bullets on the screen to survive. The difficulty is what is most appealing to those craving these bullet hell games.
Touhou Blooming Chaos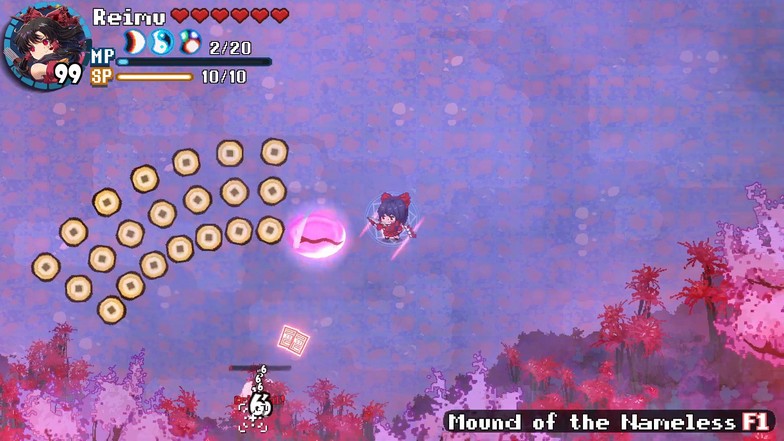 | | |
| --- | --- |
| Genre | Bullet Hell, Action, RPG |
| Where to Buy? | Steam |
| Developer | 二色幽紫蝶 and Re零同人社 |
| Release Date | October 1, 2019 |
| Multiplayer? | No |
Touhou is one of the authentic bullet hell games on the list as its core elements revolve around a shoot'em up bullet hell game. The game is made by a single person who acts as the artist, writer, developer, composer, and everything else involved in producing the game.
Touhou Blooming Chaos is designed to be a bullet hell role-playing game where you control and customize your chosen character. The bullet hell starts when you enter any sort of combat when you explore the world.
If you are already familiar with the Touhou title, you might have been accustomed to the 80s arcade-style gameplay, but Touhou Blooming Chaos is different. You have much more freedom and content to consume as you go through the battles.
Touhou Bloom Chaos has a sequel and a ton of great DLCs to keep you satisfied for more than 30 hours. If you are a fan of bullet hell games and anime, this is the perfect game for you.
Touhou Series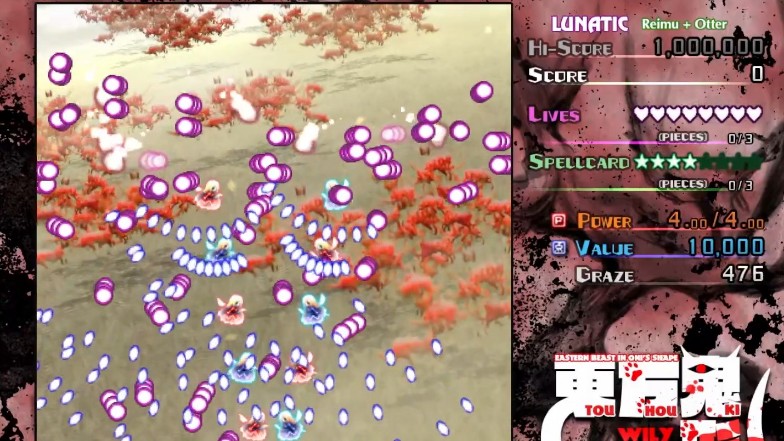 | | |
| --- | --- |
| Genre | Bullet Hell, Anime |
| Where to Buy? | Steam |
As mentioned before, the original Touhou titles are purely shoot 'em-up bullet hell games. Touhou Blooming Chaos is only the RPG-style bullet hell game from the series.
However, this is a list of games of what Touhou originated from and see what extreme levels of bullet hell look like.
Touhou Tenkuushou – Hidden Star in Four Seasons
Touhou Kouryudou – Unconnected Marketeers
Touhou Kanjuden – Legacy of Lunatic Kingdom
Touhou Kekeijuu – Wily Beast and Weakest Creatures
Touhou Kishinjou – Double Dealing Character
Touhou Fuujinroku – Mountain of Faith
Touhou Kikamu – Elegeant Impermanence of Sakura
Touhou Fantasia
Touhou Seirensen – Undefined Fantastic Object
Touhou: Dreaming Butterfly
Touhou Chireiden – Subterranean Animism
Touhou Shinreibyou – Ten Desires
Touhou Makuka Sai – Fantastic Danmaku Festival (1 and 2)
Enter the Gungeon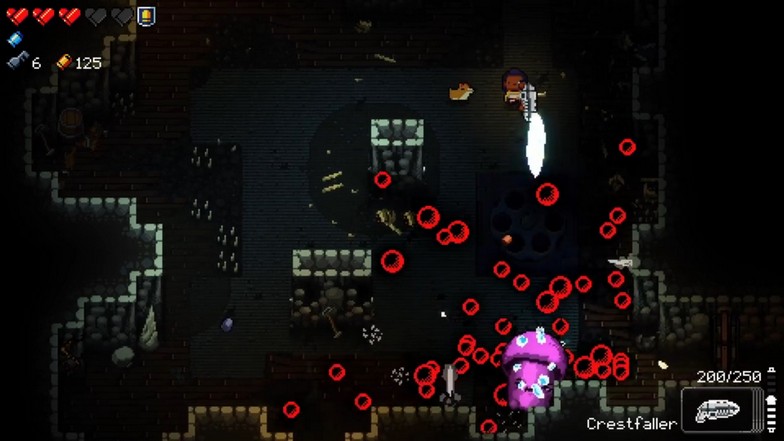 | | |
| --- | --- |
| Genre | Bullet Hell, Roguelike |
| Where to Buy? | Steam |
| Developer | Dodge Roll |
| Release Date | April 5, 2016 |
| Multiplayer? | Yes |
Enter the Gungeon is an underrated masterpiece on this list. The game is available on Steam and other platforms, and it is quite a popular couch co-op game. It is hard to configure co-op on Steam, but it is still possible.
The game is a dungeon-crawling bullet hell game where you choose a character and explore a randomly generated world. There isn't much customization available compared to other games on the list, but the game relies on pure mechanical skills.
You have the dodge roll ability, which is the primary way to avoid taking damage. It takes precision to time it flawlessly, and when you successfully execute a dodge, it is one of the most satisfying things you can do in the game.
You can also push down tables and use them for cover or block the incoming bullets. It is a great challenge to try and progress in Enter the Gungeon, but it is also fun and rewarding. Try playing it with a friend as well; you will need all the help you can get.
Exit the Gungeon is also a good sequel, and it follows the adventure of the previous Gungeoneers. If you like the first one, you might keep it going and play the sequel.
Risk of Rain
| | |
| --- | --- |
| Genre | Bullet Hell, Roguelike, Platformer |
| Where to Buy? | Steam |
| Developer | Hopoo Games |
| Release Date | November 9, 2013 |
| Multiplayer? | Yes |
Risk of Rain is another roguelike game that is less challenging but a little more exciting than the other games on the list. Roguelike usually involves a lot of RNG (randomness or luck), and Risk of Rain revolves around this factor.
There are two titles in the Risk of Rain series (1 and 2). Both are great and feature a ton of unique characters to play. Each character has different abilities you need to unlock and equip. These alternatives offer new ways to play each character with different builds you can experiment with.
The main difference between Risk of Rain 1 from Risk of Rain 2 is that the first title is a 2D platformer, whereas the latter is a third-person shooter. There is a seven-year difference in their release dates, so it was a significant change.
Both titles are standalone, so you can play the second title without playing the first. As previously mentioned, the game is less challenging, but that does not mean it isn't hard. There are hardcore difficulties available, and it is primarily for players who already know a lot about the game and has unlocked the abilities.
When it comes to builds, the combinations are limitless. If you wind up risking for a particular build and not getting what you want, you might lose the run sooner. Since this is a bullet hell list, you will experience it in the late rounds of the game.
Cuphead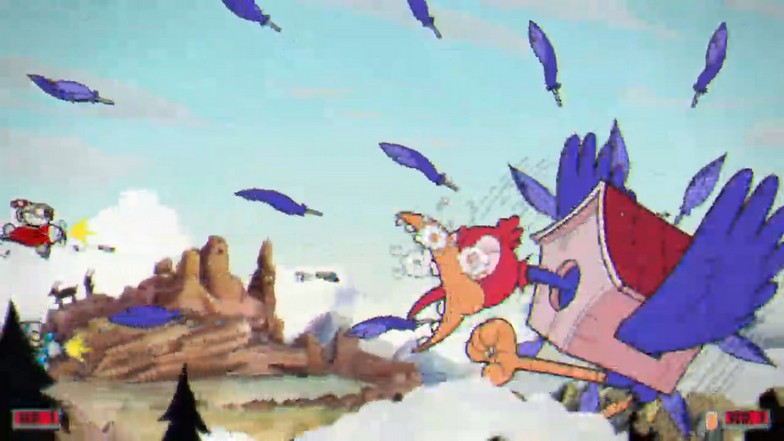 | | |
| --- | --- |
| Genre | Bullet Hell, Platformer, Cartoon |
| Where to Buy? | Steam |
| Developer | Studio MDHR Entertainment Inc. |
| Release Date | September 29, 2017 |
| Multiplayer? | No |
Cuphead is one of the most successful games on the list. It is a platformer game with a 1930s style you see from the old Walt Disney films.
The game gives you control over your customizations, such as weapons, upgrades, and other things to help you finish the stages. Each stage is absurdly challenging, but you have to finish them and get graded with star ratings.
The progression is the same as any popular platformer, but you have the freedom to choose different stages once they open up.
For completionist players, the challenge lies in finishing the stages perfectly rather than increasing difficulty levels. Cuphead is known more for its Souls-like difficulty. It does not look anything like a bullet hell game on paper, but you will know it once you play the game. It is a shooter, after all.
Undertale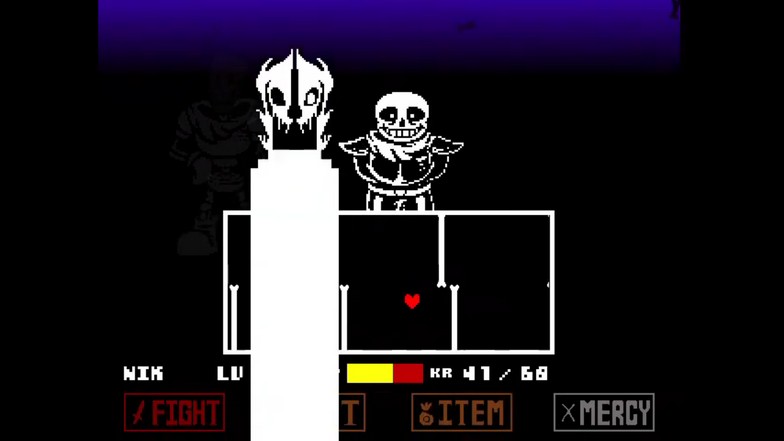 | | |
| --- | --- |
| Genre | Story-Rich, Platformer, Bullet Hell (Bullet Hell is a minigame) |
| Where to Buy? | Steam |
| Developer | tobyfox |
| Release Date | September 15, 2015 |
| Multiplayer? | No |
Undertale is another masterpiece on this list. However, Undertale is an RPG, and bullet hell games are supposed to be a subgenre of shooter games. It is hard to classify a game entirely because of how creative and innovative developers can be.
While you progress in Undertale, it is almost like your typical RPG. The bullet hell comes from Undertale's combat system. The fight starts where you control a heart and play a bullet hell minigame in between fights.
The graphics might be pixelated and might turn a lot of people off, but the game is beautifully done. The story is elegant as each dialogue is rich in context with a few funny quips here and there.
Even if the game does not focus on the bullet hell aspect of the game, it is still worth a look for any gaming enthusiast who wants to experience something new.
The Binding of Isaac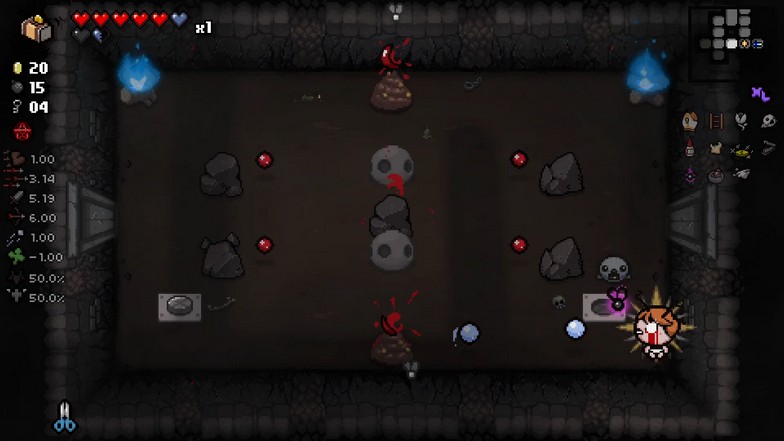 | | |
| --- | --- |
| Genre | Roguelike, Bullet Hell, Indie |
| Where to Buy? | Steam |
| Developer | Edmund McMillen, Florian Himsl |
| Release Date | September 29, 2011 |
| Multiplayer? | No |
The Binding of Isaac is almost the same as Risk of Rain. You will go through stages and customize your character with a variety of builds. Each stage will feature some tough enemies and bosses in a small box where you have to dodge everything. You progress by exploring the area one by one and solving puzzles, and avoiding traps along the way.
Gamers are on the fence about calling The Binding of Isaac a bullet hell game, but the gameplay definitely fits the category in the late stages of the run. Bullets will flood your screen, and it seems fitting to tag the game as a bullet hell game for its subgenre.
The game has a lot of replayability, which is typical for most roguelike games. The randomness and variety of customization leave you wanting more each time you finish a playthrough.
There are two core games: The Binding of Isaac and The Binding of Isaac: Rebirth. The latter features two DLCs that add a ton of new content to the game. If you are still on the fence about trying the game out, you can check the overwhelmingly positive reviews on Steam and see for yourself why this game is absolutely brilliant.
Neon Abyss
| | |
| --- | --- |
| Genre | Roguelike, Platformer, Bullet Hell |
| Where to Buy? | Steam |
| Developer | Veewo Games |
| Release Date | July 14, 2020 |
| Multiplayer? | No |
Neon Abyss is another roguelike game entering the list. It is a roguelike platformer, but the combat will feel like a bullet hell game once your playthrough picks up.
It is usually the case for most of the games on the list, but it should still be considered a bullet hell game just because of how the endgame plays out.
Neon Abyss has a ton of customization options where you can allocate points on a skill tree and even collect pets to help you through your playthrough. It adds a ton of randomness and replayability to the game.
You can spend hundreds of hours experimenting with builds, and each game will always be different. Neon Abyss has flown over the radar for most roguelike gamers out there, and it is definitely worth every penny.
Honorable Mentions
Rising Hell
The game was released in May 2021 and looked to capitalize on the popular roguelike formula from games like The Binding of Isaac. With a heavy gothic metal theme, it fits the playstyle of playing the heroes as you traverse hell and beat hordes of demons.
Just Shapes & Beats
Just Shapes & Beats is unique bullet hell and rhythm game. The game mixes the two elements perfectly, and you can dance through badass beats while dodging shapes or die trying. The game can be played on co-op, so you can grab a friend and challenge each other through this rhythmic hell.
ScourgeBringer
ScourgeBringer is another roguelike platformer that pushes you to a bullet hell scenario once you progress further through your playthrough. There are tons of titles that follow the same formula.