Off-road games are quite a niche genre to find, but there are a ton of games that focuses on delivering the best authentic off-road experience, whether it is through racing or driving through a beautiful open world.
Each game has its own take on racing physics. Some might lean towards a fun and arcadey playstyle, while others deliver the most realistic off-road driving experience.
In this best off-road games on Steam list, you will find a game that satisfies your off-road cravings. The list will have no particular ranking or order as we will describe each game and what makes them fun, interesting, and unique.
MudRunner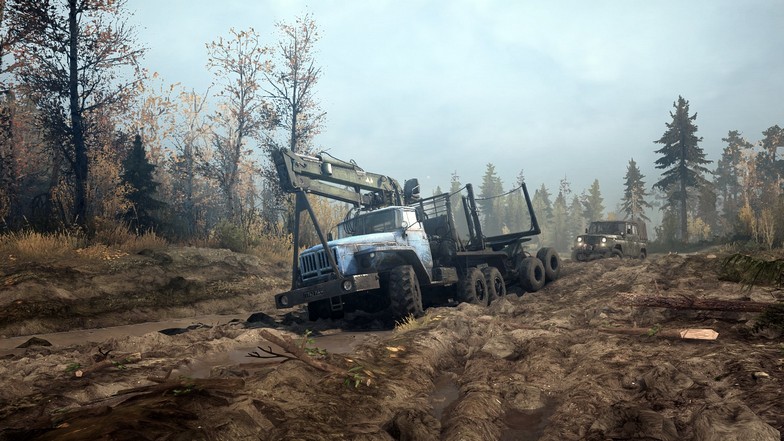 MudRunner is an all-out off-road experience where players have to put their skill to the test and drive through treacherous terrain using only a compass and a map for direction.
Released in October 2017, the game showcases nineteen unique off-road vehicles complete with their own specifications and addable equipment.
Every vehicle is a different experience in completing the required mission or delivery from your starting point until the required destination, and this would mean traversing through the wilderness from snow to mud and even rivers.
The world of MudRunner is vast and open. There is a fluid day-and-night cycle that heavily impacts the mood and visuals of the off-road journey.
Using the game's advanced physics engine, every type of surface or terrain reacts differently to each type of vehicle, and this creates a realistic feel of off-road goodness.
Also incorporating cross-platform multiplayer options, MudRunner expands upon the simple get from point A to B type of activity into something fun and highly addictive.
nail'd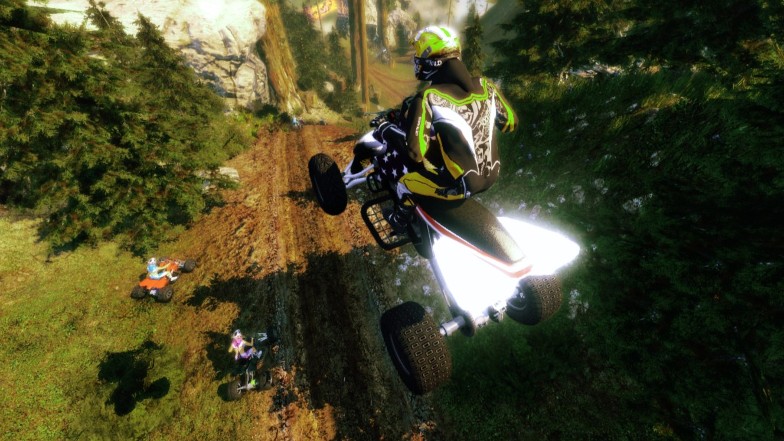 nail'd is a high-octane mud-in-your-face off-road racing experience that will have you zooming down a steep mud hill using either two or four-wheel vehicles to win the match.
Released in December 2010, the game enjoys very positive reviews on Steam. Fast-paced and boasting its own unique soundtrack made by artists from renowned rock bands, nail'd is an adrenaline junkie's dream come true.
You have to time your jumps and landings across extreme ramps and obstacles found in the fourteen different tracks from four various areas.
The game can be played using gamepads or controllers compatible with your PC, but unfortunately, you cannot play it with friends as it is purely single-player only.
Despite this, nail'd is still very fun and focuses less on realism and more on going fast and steering while mid-air. It is unapologetically arcade-like in its presentation, but it delivers this very well and is definitely a game any off-road fanatic must check out.
Super Dirt Racers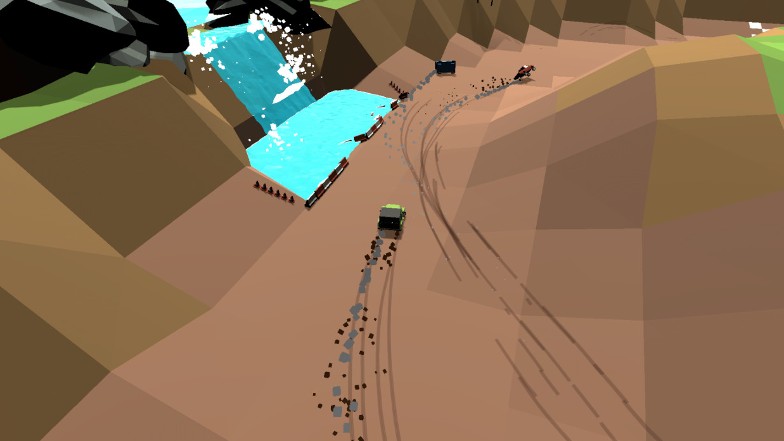 Super Dirt Racers is a matchbox-sized looking off-road arcade game that looks simple but has a lot of charm.
As of writing, the game offers four unique 4WD vehicles that you can use to race against three other NPC opponents as you jump and fall over ramps, dips, and even water.
It is visually simple and is quite blocky graphically as it feels very much like an extension of Minecraft's world if it had high-octane off-road vehicles jumping all over the place.
Released in February 2021, the game is still in early access as of this writing. Yet to be released are additional cars, tracks, modes, and the ability to play against other people.
The developers had also pledged to refine certain aspects of the game, but the core gameplay and feel will remain relatively unchanged.
Super Dirt Racers is an indie game gem and should definitely be checked out by off-road fans looking for a casual and relaxing game.
Wreckfest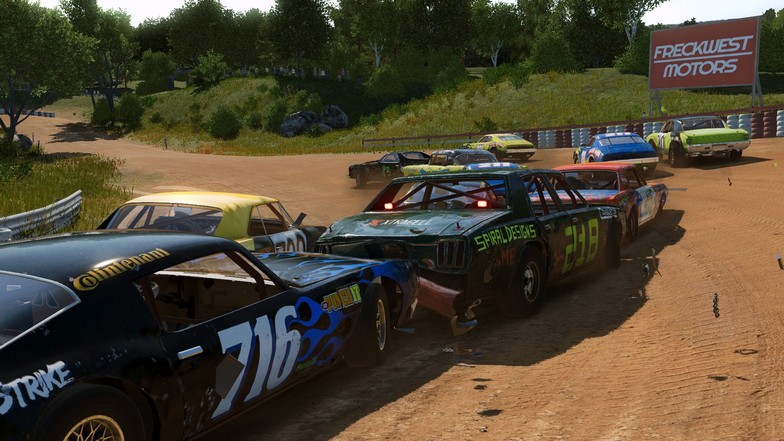 Wreckfest is the WWE of off-road games. It is a full-contact off-road mayhem game that allows the player to run fast or hard while smashing against other all-terrain cars.
Released in June 2018, the game is available for both single-player gaming and online multiplayer. Wreckfest supports most gamepads or console controllers that are PC-compatible.
Race without rules as Wreckfest boasts highly dynamic gameplay with vehicle model damage mechanics that make wrecking each other more fun.
The driving physics is sublime, and handling each customizable vehicle feels unique and immersive. Going full-on demolition mode would encourage you to customize your vehicle with the proper defensive or offensive add-ons such as reinforced bumpers, roll cages, and more.
If monster truck racing is not wild enough, the game also offers other vehicles like lawn mowers, crop harvesters, and even school buses. Wreckfest is an off-road game on steroids, and any adrenaline-loving player would surely enjoy this.
Offroad Mania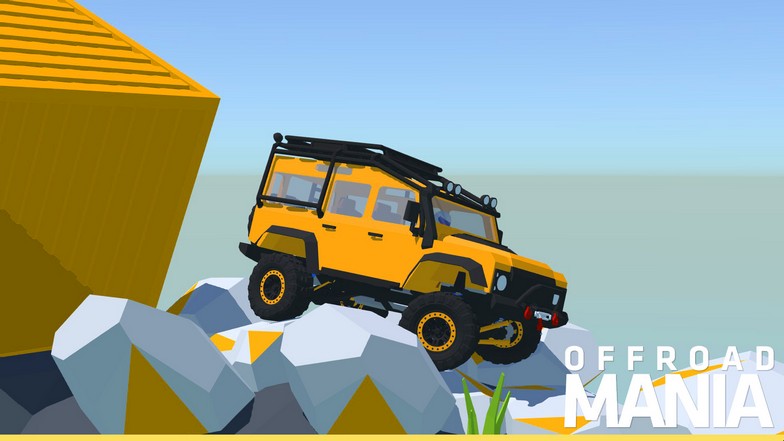 Offroad Mania is a lightweight off-road game that is heavy in gameplay. Released in February 2020, the game supports keyboard + mouse and most pc-compatible gamepads.
Even though the game comes with simple graphics, Offroad Mania boasts impressively realistic physics. Even more impressive is that the developer, Active Games, consists of only one guy who responds actively to his fan base through discord.
Offroad Mania is relatively cheap but is rich with content. As of writing, there are eleven unique 4WD off-road vehicles available to play with, each having its own driving feel and sound.
The game has four different game modes, and the first one, classic, consists of a staggering two-hundred forty levels.
Free roam is a mode that allows players to get a better feel of their vehicle by driving on a course with no limits to time or respawn.
Racing mode sets you on a track that you must finish before the timer ends, and lastly, the endless road is a mode with no time limits and a never-ending track that gives points dependent on how far you have reached before overturning.
MXGP – The Official Motocross Videogame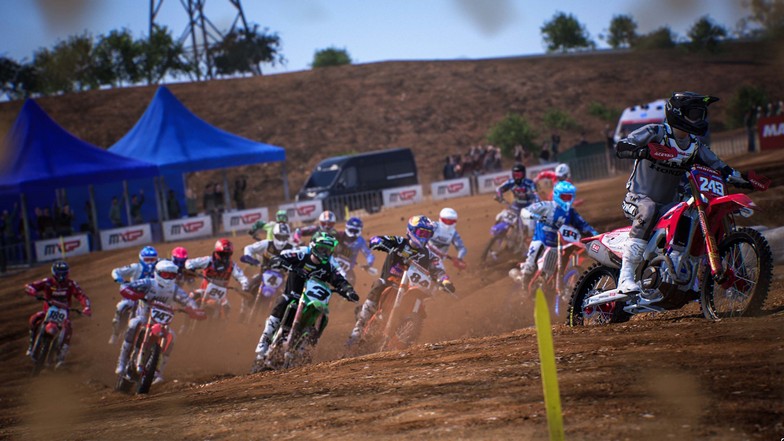 MXGP, being the official game adaptation of the Motocross, is an innovative take on off-road motorcycle racing.
Released in March 2014, the game is an immersive single-player experience that cleverly uses both analog sticks of a gamepad to control both the rider and the motorcycle.
This gives unprecedented control and, combined with the advanced game physics, gives you a sense of accomplishment for pulling off impressive jumps and whips with your thumbs.
Adding to the realism is the game mechanic that allows the road in the tracks to deform after wheels pass over them.
MXGP offers the complete Motocross package as gamers can ride with real-life-based bikes, tracks, and riders from both MX1 and MX2.
Adding to the simulation is the comprehensive career mode, where you will start off in your Debut season and must impress scouts in order to get offers from official teams and start your run in MX2.
Do well in here, and you will find yourself duking out mud and rubber with the champions in MX1.
The Crew 2
The Crew 2 over qualifies as an off-road game literally as it is an open-world racing game that will have you driving vehicles on roads, rivers, and even in the skies.
Released in June 2018, the game is a complete racing package that satisfies your high-octane cravings in different mediums of speed.
Set in America, you are welcomed into an open world filled with beautiful sights of nature and concrete while cruising in cars, planes, and even boats.
The Crew 2 can be played alone or with other people through online multiplayer, where you can share the vast and open world and compete in exciting races that aren't limited to vehicle type.
The player can join different motorsport factions all over the nation. There are the urban street hustlers, the track professional racers, the daring off-road enthusiasts, and the wild freestylers. Whatever floats your boat or plane, The Crew 2 delivers with style and dynamic gameplay.
Til Nord
Til Nord is a snowy off-road mini adventure developed by students from Breda University of Applied Sciences.
The university project was released as a free early access game on Steam in June 2021. Set on the white and powdery slopes of Norway, the game lets you explore a small and charming island using a handy snowmobile.
You are given the freedom to go around and discover things to do, such as climbing up the highest peak of a mountain to gaze at mesmerizing northern lights.
The gameplay content of Til Nord is understandably light but still enjoyable. Various missions can be found all over where you'll be able to bring back power to a scenic lighthouse or enjoy different time trials.
There is a bit of story in Til Nord that you can discover through exploration. Despite being an ongoing project, the game is worth spending time on to relax or just help out students in their projects.
WRC 10 FIA World Rally Championship
WRC 10 FIA World Rally Championship is a highly competitive off-road racing simulation game that is officially licensed by the WRC.
Released in September 2021, the game boats high octane action that focuses on realism and technical driving skills.
It offers single-player modes and cross-platform online multiplayer modes where you can drift and slide with up to twenty iconic real-to-life cars.
The game offers full controller support, which means gamers with gaming wheels and pedals may use their set-up to enjoy a more immersive simulation experience.
WRC 10 FIA World Rally Championship boasts of an over-the-top physics engine that recreates the real-life off-road driving experience that is affected by using aerodynamic factors, managing turbo and braking, and surface reaction to your car.
There is a high skill level to become great in this game, and its impressive career mode will help you develop into a credible rally racer.
MX Bikes
MX Bikes is a hyper-realistic motocross racing simulation experience. Released in October 2019 as an early-access game, it boasts of an ultra-realistic physics engine that was made for this game alone.
This allows the player to turn, jump, drift and crash just like pro motocross racers in real life but in the cozy comfort of your own home.
The game offers a single-player mode, but unfortunately, there is no AI to race against, and you would need to use multiplayer modes through LAN or online connections to race against someone.
MX Bikes offers better immersive gameplay by supporting VR headsets from Oculus, HTC, and Valve. In addition, the impressive game engine simulates chassis flexing, active track deformation, and wet weather effects.
Your ride can be personalized, as well as the rider's looks and gestures while riding. Overall, MX Bikes succeeds in realism thanks to its impressive game mechanics and true-to-life difficulty in mastering off-road motorcycle riding.
Pure Rock Crawling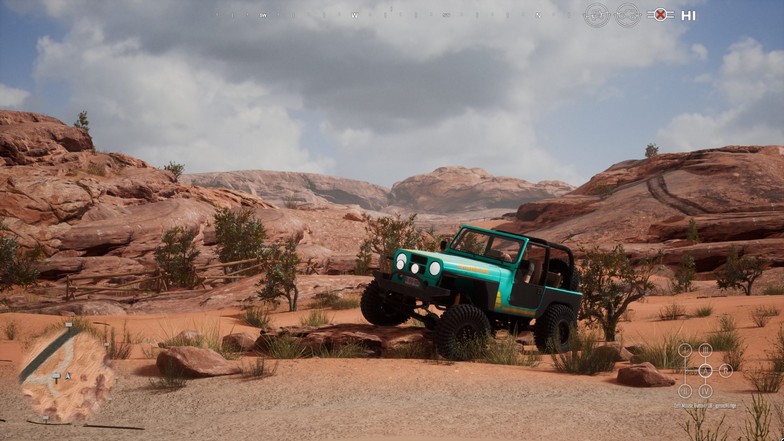 Pure Rock Crawling is a slower-paced off-road driving simulation that focuses on skillful navigation and turning to overcome boulder-sized obstacles.
Released in April 2018, the game offers full controller support, which means you can solve rock crawling puzzles using your game wheel or pedals.
Pure Rock Crawling can be played solo or multiplayer co-op through an online connection. In essence, the game focuses on simulating how the tires and suspension system will enable you to crawl over boulders of all sizes without tipping over and crashing your ride.
Pure Rock Crawling is a game that takes it slow and steady as the main objective is to finish a trail by passing through ten "gates" or waypoints that are made of a pair of cones that cannot be touched by your vehicle.
You get points by passing through each one without causing it to fall or tip over. This requires patience and precision that real-life rock crawlers possess.
Crash Drive 2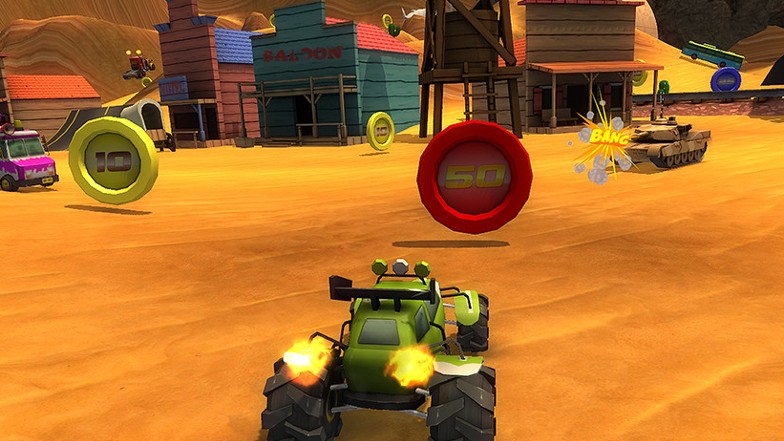 Crash Drive 2 is a cartoonish and silly off-road game that is as fun as it is ridiculous.
Released in May 2015, the game can be played either solo or with other people through cross-platform online multiplayer modes.
The graphics are simple and colorful, like its open-world gameplay. Crash Drive 2 allows players to freely explore its sandbox map full of extreme terrain that will allow you to pull off the craziest of stunts with various vehicles.
Crash Drive 2 features four large sandbox-type worlds that you can roam freely to create your own intense experience or uncover secret areas with rewards.
Coins can be collected all over the game, and this can be used to level up your ride to make it faster or jump higher, which you might need to win the different wacky races available in-game.
Crash Drive 2 is a game that lets you race on a tank or a school bus while jumping over ramps or rivers, and this alone can summarize how outrageously fun it can be.
MX vs. ATV Reflex
MX vs. ATV Reflex is a fast-paced and dynamic off-road racing game that has remained relevant and exciting for years.
Released in November 2010, the game may have outdated graphics and visuals by today's standards, but its gameplay and mechanics reign supreme as it adapts dual control, wherein you can control the rider and the ride independently.
This opens up a nifty mechanic of body leaning, which affects turning and doing tricks and flips.
MX vs. ATV Reflex also uses dynamic track deformation that produces racing lines that can be used to your advantage the next lap.
The game is more than track racing, though, as other maps will have you racing on your dirt bike or ATV across sandy dunes, murky swamps, and rushing rivers.
Ride and rev your engines while the body of your vehicle model receives real-time damage during every bump. MX vs. ATV Reflex will reward the most daring of gamers with a well-executed off-road racing experience.
DiRT 4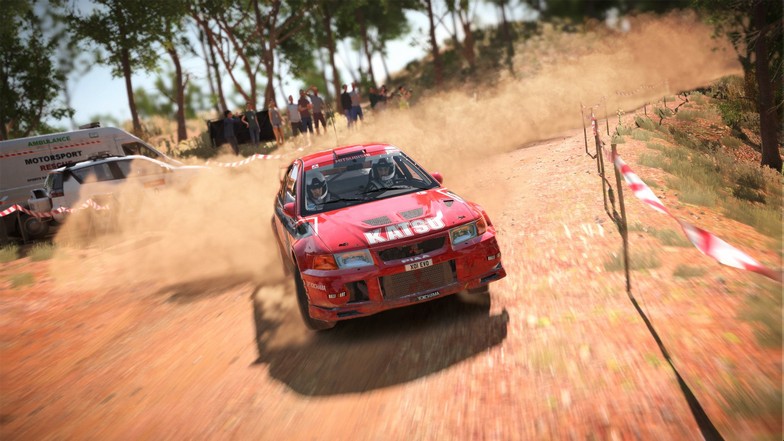 DiRT 4 is probably one of the best rally games ever made, and many would argue that it's better than its successor, DiRT 5.
Released in June 2017, this high-octane off-road masterpiece can be enjoyed solo or with friends through online multiplayer.
The game boasts striking visuals and a kick-ass soundtrack that makes drifting through mud and gravel feel satisfying.
DiRT 4 has also succeeded in finding the right balance between excitement and realism, thanks to its impressive physics engine.
DiRT 4 is more than just the race, as the game offers more than fifty gorgeous off-road cars available in real life.
There are five main rally areas with over a million unique routes you can take in each one. The game also offers smaller tracks to compete with buggies, trucks, and Crosskart vehicles. Rich in content and gameplay, DiRT 4 is a must-buy for any off-road game fan.
SnowRunner
SnowRunner is an extreme off-road delivery simulation game that pushes the boundaries of all-terrain navigation and travel.
Developed by Saber Interactive, the same studio that made Mud Runner, the game is its much-improved successor.
It can be played solo or with up to three other people through an online co-op. For those looking to improve driving immersion, SnowRunner is compatible with most controllers, even the wheel and pedal types.
SnowRunner rewards the bravest of drivers as the game's world will have you traversing through mud, snow, rivers, and even ice with up to forty different vehicles to choose from.
You would have to grind the various missions found in SnowRunner's interconnected world in order to unlock every vehicle the game has to offer.
Adding to the fun are the hundreds of customization options you may use to challenge the extreme terrains every mission has to offer. SnowRunner is basically an essential purchase for any off-road game enthusiast.
Forza Horizon 5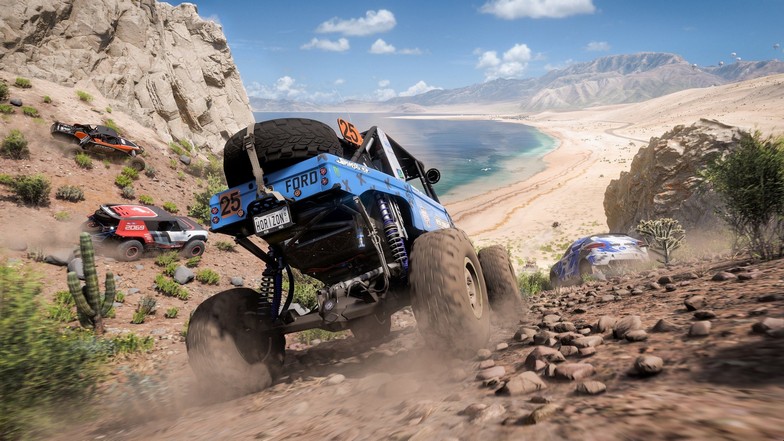 The list would not feel complete without adding this truly incredible racing game. Since Forza Horizon expanded to an open-world dynamic, it also fits the off-road checklist for any car enthusiasts out there.
You'll freely explore the amazingly detailed world with a car of your choice. You also have the freedom to play online and see other people in a massive online racing game.
The graphics alone is second-to-none. The physics and gameplay feel like a realistic simulation of a AAA driving game.
Putting all these together cements Forza Horizon 5 as the best driving game, one of the best open-world games, and one of the best sports games on Steam.