Detective games are usually a mix of puzzles, mysteries, and a good narrative. These elements are not technically in all detective games, but most of them focus on one or two elements mentioned.
We came up with a list of the best detective games on Steam, and you will definitely find a game that catches your attention.
These titles range from multiple subgenres and offer you interactive storytelling, mindbending puzzles, heartwrenching scares, shocking twists, and much more.
Disco Elysium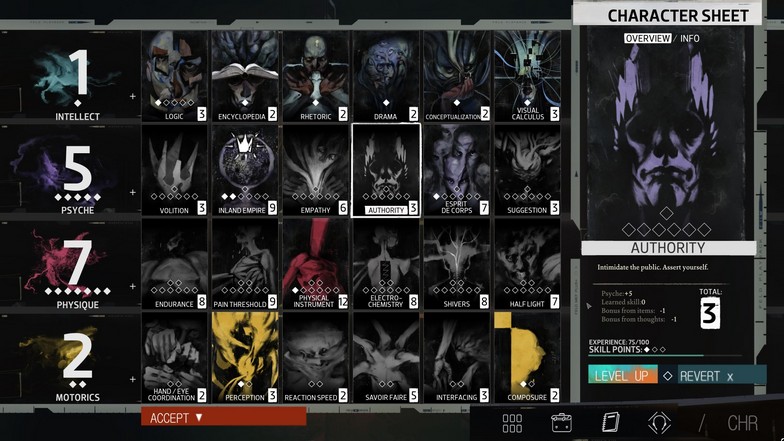 | | |
| --- | --- |
| Genre: | RPG |
| Developers: | ZA/UM |
| Release Date: | October 15, 2019 |
| Find at: | Steam |
| Multiplayer: | N/A |
| Average Playtime: | 20 hours |
Disco Elysium is a noir-themed RPG game with a lot of twists and turns. The Final Cut is an improvement of its original release.
This dialogue-heavy game proves that it's not your typical RPG game. You play as a detective who, by performing skill checks, can gain an increase in capabilities.
Even the smallest actions, such as rolling the dice, can trigger skill checks which can either be useful or disadvantageous to your character.
You will have access to your Character Sheet, where you can see the 24 sections of your brain. Each section plays an important part since the majority of the time; you'll be dealing with your innermost thoughts.
Disco Elysium also involves a lot of political theories. Your dialogue choices heavily influence your political leanings and the characters you meet.
If you choose to be a communist, for example, you will meet two characters that you can't meet when you choose otherwise.
This feature allows the game to be replayable and feel unique with each playthrough. You can choose to build a different protagonist every time, which is very interesting.
Unheard – Voices of Crime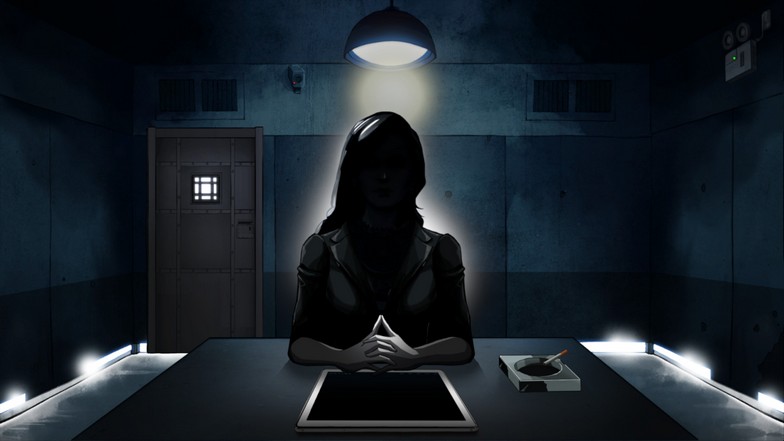 | | |
| --- | --- |
| Genre: | Simulation, RPG |
| Developers: | NEXT Studios |
| Release Date: | March 29, 2019 |
| Find at: | Steam |
| Multiplayer: | N/A |
| Average Playtime: | 4 hours |
Rather than testing your visual skills like usual detective games, Unheard puts your auditory skills to the test.
This narrative-driven game lets you explore from room to room, not playing as a usual character but eavesdropping inside a police station instead.
You'll be using an Acoustic Detective System to listen to a series of conversations where you will have to use your listening comprehension to single out who is talking just from their voices.
There will be a list of questions, and you will have to identify the correct person to solve the case.
There is no clue as to what each character looks like, so you'd have to rely on your ears to do the work for you and eventually pinpoint the right suspect.
The Wolf Among Us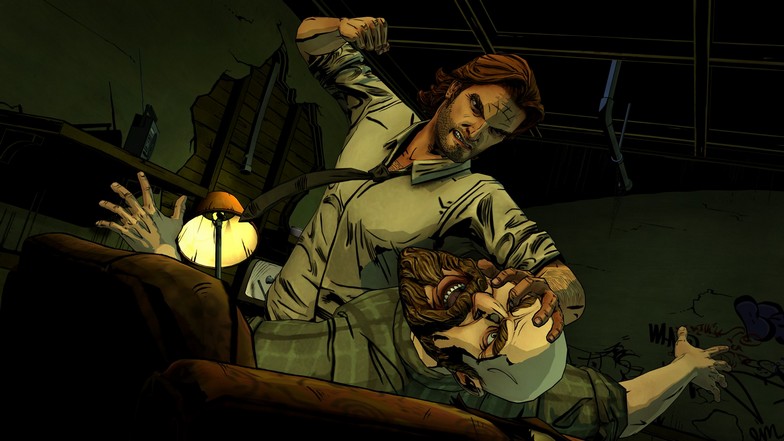 | | |
| --- | --- |
| Genre: | Adventure, Casual, Point & Click |
| Developers: | Telltale |
| Release Date: | October 11, 2013 |
| Find at: | Steam and Amazon |
| Multiplayer: | N/A |
| Average Playtime: | |
The Wolf Among Us is a point-and-click detective/crime game based on a comic book. The game starts with a gruesome murder case which turns into something bigger. You play as Bigby Wolf, a sheriff from Fabletown, based on a fairytale. 
While playing the game, you'll encounter characters like Snow White, Beauty and the Beast, Little Mermaid, and many more.
The storyline gives you a glimpse of how it would be if fairytale characters were to be living on earth, disguised as humans.
It's one of those choose your own path games where your decisions will greatly affect the ending. The question is, will you be a good cop or a bad cop?
Sherlock Holmes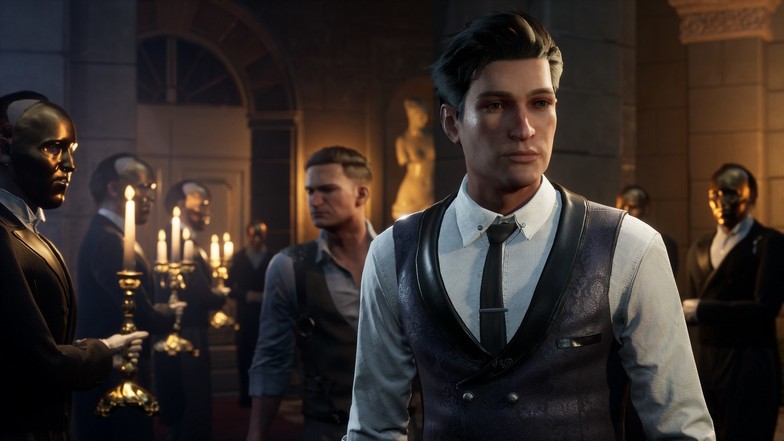 | | |
| --- | --- |
| Genre: | Action, Adventure, Open World |
| Developers: | Frogwares |
| Release Date: | November 15, 2021 |
| Find at: | Steam |
| Multiplayer: | N/A |
| Average Playtime: | 12 hours |
It's a no-brainer that Sherlock Holmes has to be included in this list. While there are a lot of Sherlock Holmes games on Steam, we will focus on the prequel to the world-renowned detective's story, Chapter One.
Here, you get to play a young Sherlock investigating his mother's death on the island of Cordona, his childhood home.
You'll know more about the Holmes family and how Sherlock came to be. Use your detection techniques to solve puzzles with the company of your friend, Jon.
He serves as the voice who guides you to the right path, giving hints and tips along the way. The game has a Case Book where all important details are placed.
It has a pin feature so that evidence can be pinned while you continue on your investigation.
Detective game enthusiasts will definitely enjoy this game since it involves crime scene investigations, witness interviews, and choosing from a ton of outfits to wear as disguises.
It also involves a bit of fighting. Cause detectives do fight bad guys sometimes, right?
Cluedo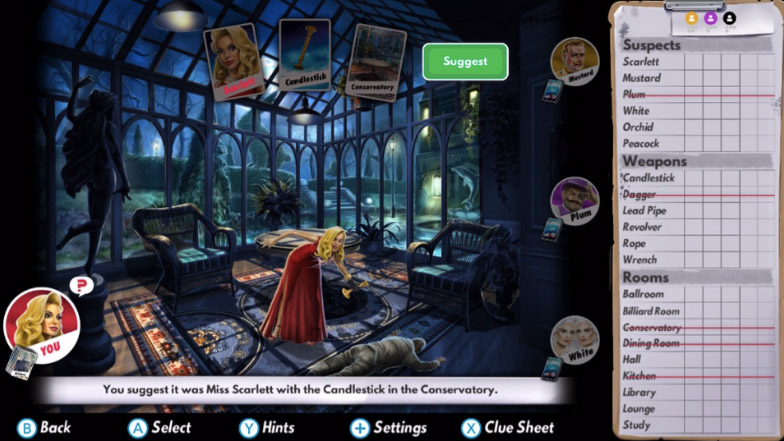 | | |
| --- | --- |
| Genre: | Board Game, Casual, Puzzle |
| Developers: | Marmalade Game Studio Ltd |
| Release Date: | May 17, 2018 |
| Find at: | Steam |
| Multiplayer: | Online PvP, Cross-Platform Multiplayer |
| Average Playtime: | 2 hours |
Cluedo is a mystery game wherein players must guess the correct details of a murder. The game starts with three cards being kept in an envelope.
From there, each player will be given three cards as well containing a person, a location, and a weapon.
Take turns in rolling the dice and use the process of elimination to guess what the three cards inside the envelope are.
The best part about this game is that you can easily take down notes. Each player has a list that they can use to note down their suspicions or strike out wrong guesses.
How you will win the game will depend on your strategy. You can choose to bluff so that you can pull out tricks from under your sleeve. Your friends won't see them coming.
Overboard!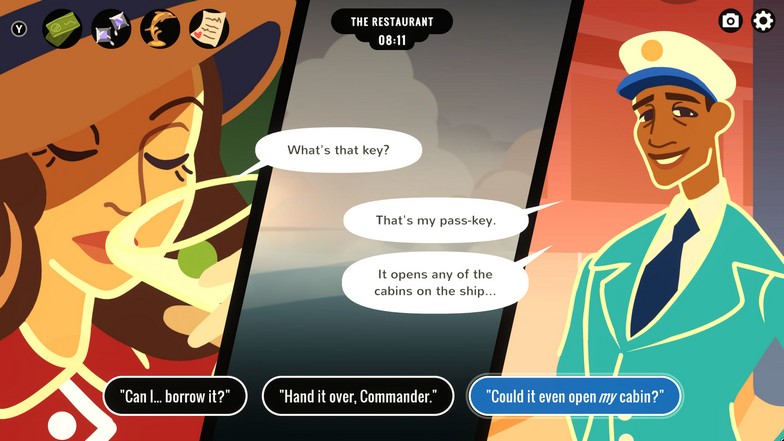 | | |
| --- | --- |
| Genre: | Interactive Fiction, Puzzle, Adventure |
| Developers: | inkle Ltd |
| Release Date: | June 2, 2021 |
| Find at: | Steam |
| Multiplayer: | N/A |
| Average Playtime: | 3 hours |
When you're tired of playing the detective, it's time to play the murderer. But how do you get away with murder?
Overboard is a reverse detective game wherein you play as Veronica Villensey, who murdered her husband by pushing him off SS Hook on your way to America.
The game will focus on your interactions with the people on board the ship.
Be careful of what you say because it might jeopardize you. It becomes a race against time when you must come up with the perfect alibi to get away before 3:00 pm.
You are allowed to play dirty by planting evidence and manipulating people as long as this switches the attention to another person.
Everyone will be asked to gather at the ship's restaurant at 3:00 pm, where each character will give their statement as to who they believe is responsible for the murder.
Playing Overboard can give you multiple endings. If you don't want to take the time to play the game from the beginning, you have an option to fast-forward the game and jump to crucial decisions.
Where in the World is Carmen Sandiego?
| | |
| --- | --- |
| Genre: | Casual, Education, Historical |
| Developers: | The Learning Company |
| Release Date: | August 31, 2020 |
| Find at: | Steam |
| Multiplayer: | N/A |
| Average Playtime: | 4 hours |
90's kids will remember playing a game where they have to catch a woman in red who steals treasures from around the world.
Dive into a nostalgic trip back to your childhood as you follow Carmen Sandiego's footprints alongside detectives from ACME.
While this game might be a bit too easy for the grown-up kid-at-heart in you, this can be a perfect educational game to introduce to kids, whether your siblings or your own child.
Share a piece of your childhood with them as you let them take the wheel by playing the game.
Return of Obra Dinn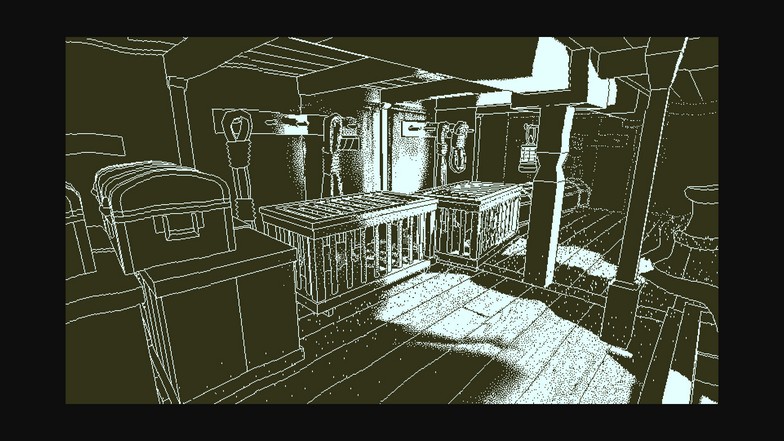 | | |
| --- | --- |
| Genre: | Adventure, First-Person, Puzzle |
| Developers: | Lucas Pope |
| Release Date: | October 18, 2018 |
| Find at: | Steam |
| Multiplayer: | N/A |
| Average Playtime: | 8 hours |
Return of Obra Dinn is a first-person mystery game with a 3D design in 1 bit. You play as an insurance investigator who boards the ship that has been once lost at sea, Obra Dinn.
You own a pocket watch that allows you to witness the final moments of every crew member you find.
This will put your deductive and analytical skills to the test as you have to identify all 60 crew members, how they died and who or what killed them.
Obra Dinn is basically an interactive storybook you write as you experience the chapters page by page.
The story starts with the scenes from chapter 10, and from there on, you slowly unravel each piece of the storyline.
There are only limited actions you can do aside from exploring the ship. You can log the information you find in your journal and use your pocket watch for witnessing someone's death.
The game features a lot of scenes but only a few audio dialogues, leaving you thinking about the characters more.
Heavy Rain
| | |
| --- | --- |
| Genre: | Adventure, Interactive Drama |
| Developers: | Quantic Dream |
| Release Date: | June 18, 2020 |
| Find at: | Steam |
| Multiplayer: | N/A |
| Average Playtime: | 10 hours |
Heavy Rain is a thriller game that was originally only available on consoles. With the PC version, the game has been upgraded to have better resolution and framerate from its original.
You play four different detectives who are on the hunt for the Origami Killer, known for leaving pieces of origami at every crime scene after committing murder.
Who you play switches as the story progresses. While playing the game, you will have access to FBI glasses which would help you investigate the scene of the crime better.
Heavy Rain requires you to make quick decisions because choices are timed. The scenes transition from reality to hallucinations, making them much more interesting than it already is. There are 17 possible endings to this game, depending on how you go forward with it.
Phasmophobia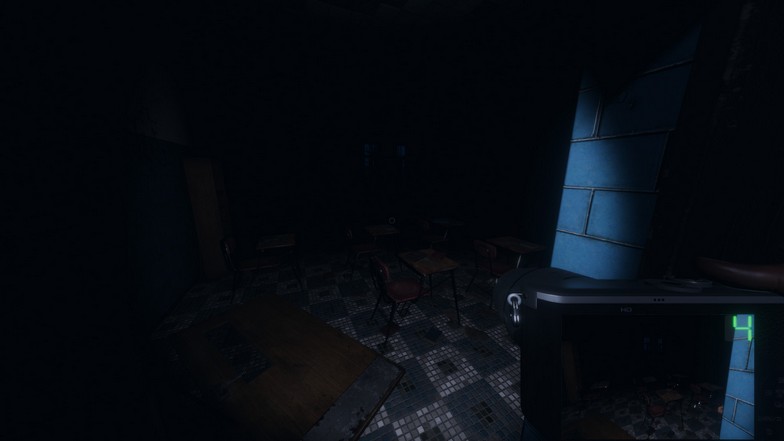 | | |
| --- | --- |
| Genre: | Psychological Horror, First-Person, Online Co-op |
| Developers: | Kinetic Games |
| Release Date: | September 18, 2020 |
| Find at: | Steam |
| Multiplayer: | Online Co-op |
| Average Playtime: | 18 hours |
Phasmophobia is an investigative horror game where you and your friends play as ghost hunters. In the menu, you will have to decide on a location based on the level of difficulty, and you'll be given a case to investigate.
Phasmophobia introduces a new method of playing horror games by introducing the sound proximity where the ghosts can listen to the player's movements and vice versa.
Turning on your flashlight can also be fatal as it can give away your hiding spot when the ghost haunts you. In this game, you will have access to default items, and these items will be used to gather evidence to identify the type of ghost haunting the site.
Additional items can be purchased using the money earned after completing every contract.
Aside from guessing the right ghost type, money can be earned by completing missions. Each contract will have a total of three special missions to accomplish.
You should start a game with complete items, as these will come in handy with the special missions.
Each player has a sanity level that can be monitored inside the van. Lower sanity will mean being an easy target for the ghost and the possibility of getting killed when it haunts.
When players die, they have stripped away of their items. That's why it is important to monitor your sanity level.
L.A. Noire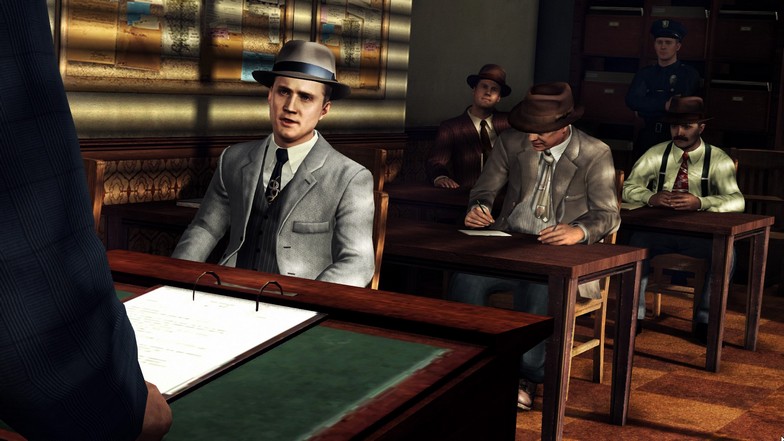 | | |
| --- | --- |
| Genre: | Adventure, Open-World |
| Developers: | Rockstar Games |
| Release Date: | November 8, 2011 |
| Find at: | Steam |
| Multiplayer: | N/A |
| Average Playtime: | 21 hours |
L.A. Noire is a third-person crime thriller where you play Cole Phelps, who starts off as a patrol officer in Los Angeles.
While you do your job of solving crimes and interrogating suspects, your hard work gets paid off with promotions. Each case you finish will work you up the LAPD ladder.
L.A. Noire uses MotionScan technology which allows players to see even the smallest change in facial expressions during the interrogation process.
This can help you sense whether or not the person is telling the truth. Based on your intuition, you can then choose to play the good cop or the bad cop.
The game has been around for a long time, but the game is a timeless classic and it is one of the best story-rich games on Steam.
Pathologic 2
| | |
| --- | --- |
| Genre: | Survival Horror |
| Developers: | Ice-Pick Lodge |
| Release Date: | May 23, 2019 |
| Find at: | Steam |
| Multiplayer: | N/A |
| Average Playtime: | 28 hours |
Pathologic 2 is a Russian horror RPG where you will have to survive a plague in the Town on the Ghorkon River. You play as Artemy Burakh, a.k.a. Haruspex, a surgeon who arrives in a town with an outbreak and is immediately turned into a murder suspect.
The game starts by showing the commentary to the first game's ending and referencing the first game from time to time.
You have a total of 12 days to find a cure to the plague. In order to stay alive, you have to monitor your health and perform actions that would save you from exhaustion or catching the plague itself.
Low health will slow you down since your character can feel the degenerating effects of your health. Looting is one of the things needed to survive.
Useless items can be exchanged in shops in the form of barter. You have to assess the person's identity to have an idea of what the person is interested in to push through with the trade.
You can choose the more evil option, which is robbing and murder; while these actions might have consequences, it helps you earn money faster in order to buy more items needed for survival.
Aside from the survival aspect, you will have to find out who committed the murderers and eventually save everyone.
The Forgotten City
| | |
| --- | --- |
| Genre: | Adventure, RPG, First-Person |
| Developers: | Modern Storyteller |
| Release Date: | July 28, 2021 |
| Find at: | Steam |
| Multiplayer: | N/A |
| Average Playtime: | 5 hours |
The Forgotten City allows you to travel back to 2000 years ago and experience the final days leading up to the fall of Rome.
The game starts with a woman asking for your help to search for her friend, Al. While exploring the ruins, you find yourself being transported to ancient Rome in a time loop.
In the city, you will have a chance to encounter golden statues. These are actual characters that have been turned into statues because they have been punished by gods for committing sin. This is the Golden Rule of the game.
As you play, you will get to know many interesting characters. You have an option to re-enter the loop and restart once the Golden Rule is in effect.
The Forgotten City is a game of exploration, good conversations, and sometimes fights which are the elements of an enjoyable game.
Eternal Threads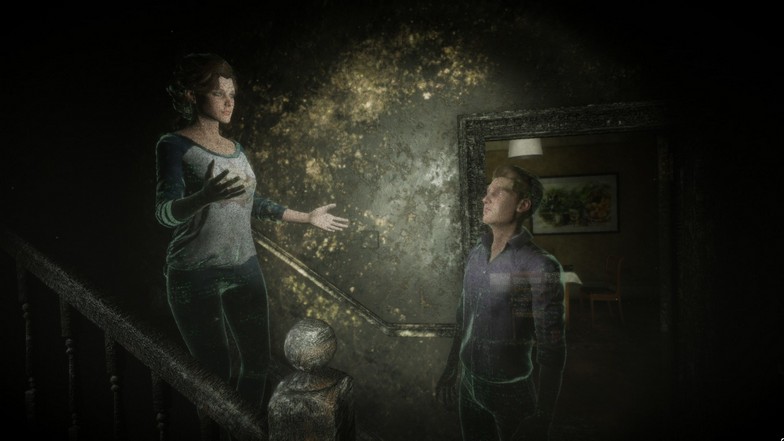 | | |
| --- | --- |
| Genre: | Adventure, Puzzle |
| Developers: | Cosmonaut Studios |
| Release Date: | May 19, 2022 |
| Find at: | Steam |
| Multiplayer: | N/A |
| Average Playtime: | 8 hours |
Eternal Threads is a first-person puzzle game with a deep story and interesting characters. You travel back in time to save six people who died in a house fire back in 2015.
You have a total of 7 days to explore and observe the events leading to the fire. In the course of a week, each of the six people would have made decisions that would eventually cause the fire. That's where you come in; you will have to alter these choices to save everyone.
You possess a portable device known as the visualizer. This gives you access to a time map where you can alter the events chronologically or just based on how you feel.
You'll see current and alternative choices when it's time to modify the course of events. It's up to you whether you want to change it up or retain it as it is.
Aside from the use of the visualizer, you can also snoop around to pick up clues from the house and discover more about each character's life.
Eternal Threads is one of those choose your own adventure type of games where you would want the best outcome for each character. However, you have to be very careful about the things you alter because they will decide each person's fate.