Superhero games are hard to find because we often correlate the word superhero to only the popular ones.
By using the definition of a superhero, a unique character with superpowers, you'll be surprised that most games can be considered superhero games in a different way.
However, we will focus on the best superhero games on Steam, where the games are tagged or categorized in the superhero bracket so the list would be more consistent.
From the popular DC Universe and Marvel Universe all the way to South Park's wacky superhero game, the list has everything, and they will be in no particular order.
Gotham Knights
| | |
| --- | --- |
| Genre: | Action, Adventure, RPG |
| Developers: | Warner Bros. Games Montréal, QLOC |
| Release Date: | October 21, 2022 |
| Find at: | Steam and Amazon |
| Multiplayer: | Online Co-op |
| Average Playtime: | 16 hours |
Gotham Knights is an open-world crime RPG featuring Robin, Nightwing, Batgirl, and Red Hood.
This game can be played either solo or co-op. You play as the vigilantes who search Gotham City low and high for criminals from the Court of Owls. Each Knight has a special skill that they can unlock to roam around the city.
Your base is located in Belfry, where you have a back computer with a map of the city that lets you advance the story by performing missions.
While looking at the map, you see a summary of each mission and its level of difficulty. There is also a workbench to upgrade your stats or equipment that will aid you when pursuing challenges.
While fighting, there will be a Momentum Bar which will increase when you successfully attack an enemy. When the bar is full, you can launch a powerful ability combo.
After resolving each crime, which is the game's mission, you earn XP points, blueprints, and crafting materials. The crimes do not only involve fighting but also involve chasing the criminals.
You may find yourself involved in a chase against smuggling vans where you will have to take down the moving vehicle first before fighting each passenger onboard it.
From its amazing visuals to its beautiful storyline, Gotham Knights is a very exciting game overall.
Injustice: Gods Among Us
| | |
| --- | --- |
| Genre: | Fighting Game, 2D Fighter |
| Developers: | NetherRealm Studios, High Voltage Software |
| Release Date: | November 12, 2013 |
| Find at: | Steam |
| Multiplayer: | Online PvP, Shared Screen PvP |
| Average Playtime: | 5 hours |
Injustice is a fighting game that features superheroes and villains from the DC Universe. 
The story features Superman dealing with the loss of a loved one and the events that unfold afterward.
While the story progresses, you will get to go on one-on-one fights against different characters. Each fighter has a life gauge that determines their health.
In God's Among Us, each fighter starts off with a full gray health bar that changes to red when drained. The red health bar serves as the fighter's second life and last chance.
The game ends if one of the challengers gets knocked out. Every hit you make or take will progress your character's special meter.
When the meter is full, your character will perform a super move. The super move is unique to each character.
There are challenge levels that change on a daily basis to help you gain experience points. These points will allow you to unlock costumes that are unique per character.
From the creators of Mortal Kombat, Injustice: God's Among Us is a game that every DC fan will enjoy.
Injustice 2
| | |
| --- | --- |
| Genre: | Fighting Game, 2D Fighter |
| Developers: | NetherRealm Studios, QLOC |
| Release Date: | November 30, 2017 |
| Find at: | Steam |
| Multiplayer: | Online PvP, Shared Screen PvP |
| Average Playtime: | 5 hours |
Injustice 2 is a fighting game and a sequel to Injustice: Gods Among Us. While its gameplay is similar to its preceding game, however, the storyline is different.
The Injustice 2 story starts with the escape of Supergirl and Superman to Earth from Krypton during an attack.
It is a big upgrade from the first franchise as it introduces the Multiverse Mode, which is the mode to play to level up your characters as well as earn stats.
Here, they introduce the Gear System, which is a loot-dropping system that gives you a chance to earn costume items and modify your character's abilities.
Injustice 2 also features new skills and abilities, which is an improvement from the first franchise.
There are challenges that change daily. Completing a challenge will earn you progression rewards, including rare equipment that changes your characters' appearances completely to give your fighter a unique and distinct look.
When you feel confident with your upgrades, you can try out the game's online servers to battle it out with other players.
DC Universe Online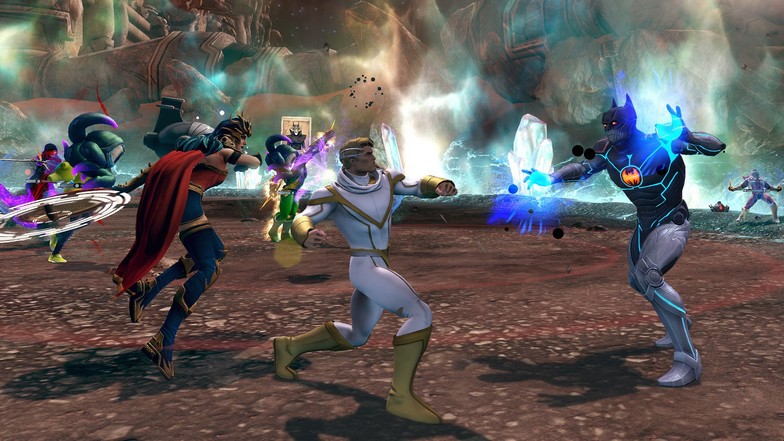 | | |
| --- | --- |
| Genre: | MMO, RPG, Action |
| Developers: | Dimensional Ink Games |
| Release Date: | November 2, 2011 |
| Find at: | Steam |
| Multiplayer: | Online PvP, Online Co-op |
| Average Playtime: | 99 hours |
DC Universe Online is a multiplayer action game that takes place in the DC Universe. It mostly has open-world gameplay where you can explore the city freely without any time limitations. 
The best aspect of this game is its character customization, where you can create your own hero or villain to your liking.
DC fans will definitely enjoy this since it's different from the usual games where you play the superheroes such as Batman, Wonder Woman, and many more.
DC Universe Online introduces Artifacts, which are powerful items that you can level up as you play the game and gain more XP.
These will increase your overall stats and help you gain special abilities to help you in combat. Having Artifacts is one of the requirements that your character will need to fulfill their role.
You can equip up to 3 Artifacts, with each going up to 200 ranks. It will be a challenge to gain a lot of XP for these, but it will pay back.
The game also introduces an Omnibus system where there are weekly missions to help you earn credits for upgrades, making the game sustainable to play long-term.
Marvel's Guardians of the Galaxy
| | |
| --- | --- |
| Genre: | Action, Adventure |
| Developers: | Eidos-Monstréal |
| Release Date: | October 26 |
| Find at: | Steam |
| Multiplayer: | N/A |
| Average Playtime: | 20 hours |
Marvel's Guardians of the Galaxy is a comic-based action game. Unlike most superhero games, this game is a single-player game.
You play as Peter Quill or Star-Lord on his journey to save the universe. You have the rest of the Guardians fighting alongside you. However, you can't swap out to play them. Instead, you get to direct them on what to do.
This game is also one of those choose your own story games where your dialogue choices can have an impact on your missions.
You may be able to find yourself struggling to clear a mission due to what you have said or its complete opposite. Another unique feature is The Huddle. Here, Star-Lord will gather all the Guardians and form a circle to talk about their game plan.
Choosing the right path will give you a damage boost as well as a group revive.
Collectibles can be found while exploring. These are either resources that help you craft better items, cosmetics, or special items that give you more conversation choices.
Fighting helps you gain experience points, and this unlocks more ability points and powers for your character.
Marvel's Guardians of the Galaxy gives another take on the usual Marvel fighting games, which is refreshing and is one of the best story-rich games on the list.
South Park: The Fractured But Whole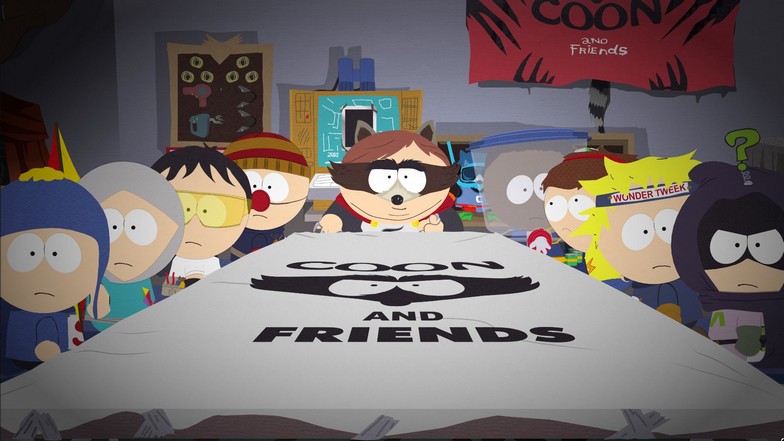 | | |
| --- | --- |
| Genre: | RPG |
| Developers: | Ubisoft San Francisco |
| Release Date: | October 16, 2017 |
| Find at: | Steam |
| Multiplayer: | N/A |
| Average Playtime: | 17 hours |
South Park: The Fractured But Whole is a hilarious role-playing game that is basically a parody of the superheroes we all know and love.
One of the funniest parodies is Timmy's version of Professor X, also known as Doctor Timothy. Since Timmy regularly turns up in a wheelchair due to his disability, this role is perfect for him.
You will see him sitting in a wheelchair with a blanket covering his legs, just like how Professor X is.
In the game, you play as New Kid, also known as Amazing Butthole, who has recently moved to South Park. From the name itself, it is evident that his superpowers have something to do with his butthole. He has the ability to manipulate time by means of farting.
This is unlocked by eating Mexican food from his next-door neighbor. Butthole has the power to pause, reverse, and skip time by using Timefart.
He also has the ability to summon his past self to aid him in battle. Mexican food can also be used as crafting supplies to improve your performance during fights.
You can openly explore the town with a map that lets you know where to perform your objectives.
There are mini-games that involve tapping buttons according to how they are shown on the screen. Players who are good at rhythm games will have an advantage in this game.
Fractured But Whole will make you feel as if you're in an episode of South Park. From its familiar animation to its characters, fans of the series will surely enjoy this game.
Batman Arkham Knight
| | |
| --- | --- |
| Genre: | Action, Adventure, Open World |
| Developers: | Rocksteady Studios |
| Release Date: | Jun 23, 2015 |
| Find at: | Steam |
| Multiplayer: | N/A |
| Average Playtime: | 16 hours |
Batman Arkham Knight is an open-world game that features Freeflow combat. Here, you will have to defeat Scarecrow, along with Deathstroke, who plans to devastate Gotham City with a fear gas attack.
Once you encounter Scarecrow, you will find yourself having hallucinations that get in the way of defeating him.
You will have chances to fight alongside Robin, Nightwing, and Catwoman during some scenarios, which is a delight to Batman fans alike.
The game features voice lines from the comics and villains such as The Penguin, The Joker, Harley Quinn, and many more.
Arkham Knights feature an interactive Batmobile with high-tech features. With its top-of-the-line design up to its navigation feature, the vehicle is the highlight of the game.
You will use it to chase enemies around the city of Gotham, and it can transform from a high-speed car to a military tank. It also features slow-motion explosions that give a thrill to gamers. Best of all, you can control the Batmobile remotely.
While playing the game, you will encounter side missions. However, these side missions are not easily accessible. You would have to openly explore Gotham City to find the side missions yourself, which can give you more hours to dedicate to playing the game.
Batman Arkham Knight is the conclusion to Rocksteady's Arkham Trilogy, and it features the most villains compared to the other two games.
LEGO Marvel Super Heroes 2
| | |
| --- | --- |
| Genre: | Action |
| Developers: | TT Games, Feral Interactive (Mac) |
| Release Date: | November 14, 2017 |
| Find at: | Steam |
| Multiplayer: | Shared Screen Co-op |
| Average Playtime: | 12 hours |
LEGO Marvel Super Heroes 2 features over a hundred superheroes from all over the Marvel Universe as they come together to beat the time-traveling villain, Kang the Conqueror.
Kang is the main antagonist of the story. He created Chronopolis, which brings together locations from multiple timelines, thus, bringing all superheroes from different realities and eras.
Playing the story mode unlocks superheroes. Each has its well-known abilities as well as a unique puzzle-solving capability.
Exploring Chronopolis is an essential key to unlocking all playable characters. It is recommended that you try to unlock superheroes that have the ability to fly to make it easier to roam around.
The game has a multiplayer mode that can be played with up to four players. You can use any of the heroes you've unlocked to play this mode. Some will have an advantage based on the powers of their chosen heroes.
While this cannot be played online, you can utilize Steam's Remote Play feature to invite friends to play couch co-op style.
Its multiplayer mode features games that involve collecting items, such as Capture the Infinity Stones, where you will have to collect the most Infinity Stones and many more.
The unexpected part of this game is that Ms. Marvel and Spider-Man both have the ability to take photos or selfies.
Taking photos will earn you trophies and even unlock hidden characters. There are over 70 trophies that can be unlocked while playing the game, which is also another goal aside from unlocking all superheroes.
Prototype
| | |
| --- | --- |
| Genre: | Action, Adventure, Open World |
| Developers: | Radical Entertainment |
| Release Date: | June 10, 2009 |
| Find at: | Steam |
| Multiplayer: | N/A |
| Average Playtime: | 11 hours |
Prototype is an open-world action game where you play Alex Mercer, also known as The Prototype.
You wake up without any of your memories, but you suddenly have superpowers. Your powers are caused by the virus which you are infected with. Your goal is to recover your memory and find out the truth about what happened.
In this game, you are able to find over 200 orbs that include Landmark Orbs and Hint Orbs—acquiring these orbs grants you Evolution Points, which can be used to improve or unlock abilities.
You have access to a menu with all upgradeable powers. You can choose which specific power you can upgrade first to customize your character to your preference.
One of your abilities is your shapeshifting power. You can take the form of anything you prefer, be it human or weapons.
In the Web of Intrigue, you hunt down characters and consume them to unravel fragments of your past. You can randomly meet these characters in the most unexpected ways, such as while you're performing missions.
You can easily identify characters who are related to this by the red logo that appears on top of them.
The story unfolds once you have unlocked all the important pieces of your memory. Before then, you'd have to go through countless missions and meet various characters in order to reach this point.
Heroes Rise Trilogy
| | |
| --- | --- |
| Genre: | RPG, Text-Based |
| Developers: | Choice of Games |
| Release Date: | September 20, 2013 |
| Find at: | Steam |
| Multiplayer: | N/A |
| Average Playtime: | 12 hours |
The Heroes Rise trilogy is a novel where your choices make the story. It is different from the usual games since this does not involve a lot of action sequences.
Rather, this game is a text-based game where you will have to read through a series of chapters while making decisions along the way.
You are a superhero, and your ultimate goal is to have a legend score of 100 to achieve perfection. However, it isn't as easy as it seems. You will have to make the right dialogue choices to achieve this.
In The Prodigy, you are aspiring to be part of the A-List team of superheroes in Millenia City. In order to do this, you must work your way up the celebrity ladder and be the most famous out of all.
The Hero Project is a reality show where you will have to go against your co-heroes and even villains to become the winner.
The outcome of the first game greatly affects the succeeding games and, therefore, will have an effect on this one. As part of the show, you will have to vote people out, thus the possibility of affecting your relationship with other characters.
In Herofall, you are more than a superhero. You are also a political icon who is fighting for the rights of America. This follows the after-effects of your decisions in The Hero Project. Herofall is an epic conclusion to the Heroes Rise Trilogy.
Batman: The Telltale Series
| | |
| --- | --- |
| Genre: | Interactive Drama, Adventure |
| Developers: | Telltale |
| Release Date: | August 2, 2016 |
| Find at: | Steam |
| Multiplayer: | N/A |
| Average Playtime: | 9 hours |
Batman: The Telltale Series is a choose-your-story type of game with a point-and-click style. Just like any other Telltale game, the choices you make will affect the outcome of your story.
You play Bruce Wayne, who is re-investigating the death of his parents. The farther into the story, the more you find out about the truth of what had really happened.
During moments of the story, you are able to choose whether you want to address issues as Bruce Wayne or Batman.
You can decide on the type of character you want to be, whether peaceful and traditional or brutal and dark. Of course, your character will affect your relationship with your peers.
The game also features quick-time events where decisions must be made in a matter of seconds. Not choosing a dialogue on time will prompt a reaction based on the scenario. You also get to investigate using Batman's detective skills.
If you enjoyed other Telltale games, such as The Walking Dead or The Wolf Among Us, you would surely love this game.
Champions Online
| | |
| --- | --- |
| Genre: | MMO, RPG, Action |
| Developers: | Cryptic Studios |
| Release Date: | September 1, 2009 |
| Find at: | Steam |
| Multiplayer: | Online Co-op |
| Average Playtime: | 16 hours |
Champions Online is a superhero online RPG game. Feel immersed in its comic book-style animation as you explore the city of Millennium. Conversations are in the form of speech bubbles, just like any other comic book. 
What's interesting about this game is that you can create your own superhero. You are allowed to choose your look as well as your power, making it seem like your own comic book world. As you level up, you get to add new powers to mix with your existing ones.
Once you level up to 25, you get to choose your nemesis, who you will encounter during fights. Your nemesis will have his minions all over you while you are busy fighting other enemies.
Defeating them, however, will drop items that will help you during Nemesis Missions. Throughout the game, there will be a final battle.
Defeating your nemesis will send him to jail but doesn't, however, end there. After defeating your first nemesis, you can create a new one with completely different features.
It's just like how in comic books, where you thought that you have already won, just to gain another enemy.
Missions can be done alone, or you can choose to team up with other players online to easily accomplish them.
Accomplishing missions will help your character level up. Perks can also be performed in-game. These are achievements that you encounter randomly while openly exploring the map.
There is no black and white guide for these perks, and you will have to find them yourself, which adds to the excitement.
Marvel vs Capcom: Infinite
| | |
| --- | --- |
| Genre: | Fighting Game, 2D Fighter |
| Developers: | Capcom |
| Release Date: | September 19, 2017 |
| Find at: | Steam and Amazon |
| Multiplayer: | Online PvP, Shared Screen PvP |
| Average Playtime: | 3 hours |
Marvel vs Capcom: Infinite is a fighting game that makes players very nostalgic. From its characters to its traditional gameplay, fans of this game will surely enjoy Infinite. 
Infinite's story mode is also an interesting take. Marvel and Capcom heroes work together to defeat Ultron Sigma. In order to do this, they must retrieve all Infinity Stones to gain back the balance of life and death in both worlds.
The game's PvP mode is a tag-team game with two players per team. Each player will have a health gauge as well as an Infinity meter, which can unleash a very strong power.
A nice touch to the game is the use of Infinity Stones. Before the start of each match, players get to choose one of the six Infinity Stones and use their ability anytime during the match.
This is called the Infinity Surge. For example, your first fighter is eliminated. If you have the Soul Stone, you can resurrect your teammate and get that needed second chance.
Its fighting style is very traditional in the sense that fighters get to launch multiple attacks and combos during matches. Fighters can attack while the opponent is mid-air, denying the opportunity of the enemy to fight back.
Overall, Infinite is a good addition to the roster of Marvel vs Capcom games.