Golf is a highly technical sport, and it would take some serious work to adapt the sport into a video game.
While all the beautiful scenery you see on a golf course is brought to life, the golf swing is an art itself.
Most of the games listed find it hard to implement the complicated mechanics of golf, such as the body or hip movement and arm and wrist action involved in the backswing and downswing.
However, games like PGA Tour 2K still find ways to make the experience as realistic as possible. Some games take a different path with more arcadey-style gameplay, like Golf With Your Friends.
This list will contain the best golf games on Steam, whether they focus on realism and simulation or give an exciting twist to the game of golf.
PGA Tour 2K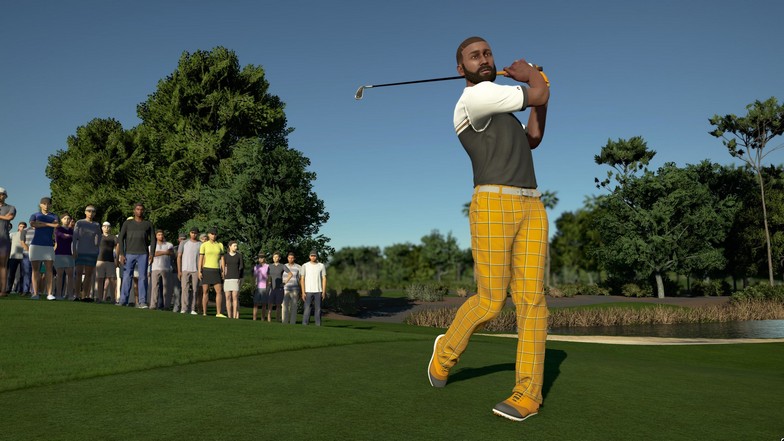 It is only right that PGA TOUR 2K is the first one on this list because of its popularity and success.
Developed by HB Studios Multimedia Limited, the game is an aspiring pro golfer's dream.
It focuses on great visuals, in-depth career mode, realistic physics, and customizable game modes. You can swing it out against the best golfers vying for the Fedex cup using your own personalized character in career mode.
PGA TOUR 2K lets you putt in gorgeous landscapes that can be designed to your liking with over a thousand different options.
Players of different skill levels will find the game fun and exciting as beginners can learn more from in-game tutorials.
PGA TOUR 2K also offers online multiplayer modes you can enjoy with your friends. This will probably be the closest you can get to playing with the top players in the league, and with its impressively realistic graphics and gameplay for avid followers of pro golf.
It deserves to be recognized as one of the best true-to-life golf games on Steam.
Golf It!
Golf It! is an online multiplayer miniature golf game that prides itself in its lively and out-of-the-box gameplay, which is what mini golf is all about.
Developed and published by Perfuse Entertainment, the game was released in Feb 2017 but was frequently updated with loads of content to consume.
One of the main features of the game is being able to create and customize game maps that you can play with your friends.
There are at least six map themes: Grassland, Jade Temple, Mines, Winterland, Graveyard, and Pirates Cove, with each having eighteen fun-filled holes.
Each map has its own creative twist to the gameplay that creates unique experiences per map. Golf It! uses your mouse movement to simulate the strength of the swing, so a good mouse pad will come in hand.
If you are looking for a game that captures the quirkiness of miniature golf courses, then Golf It! is a must-have.
Party Golf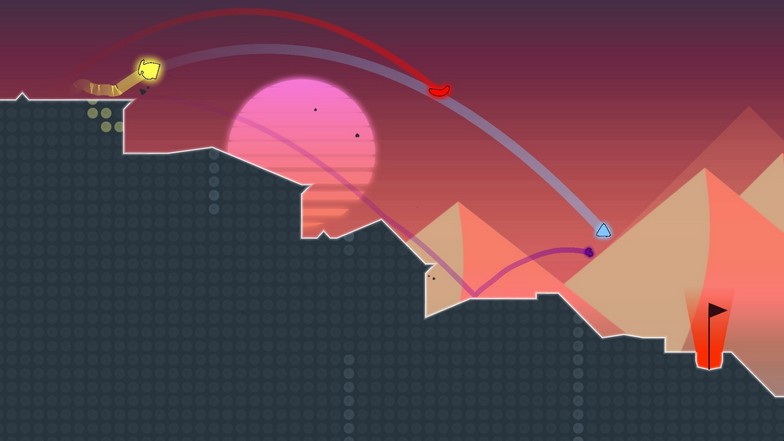 Party Golf is a colorfully vibrant 2D golf game that pitches several players in a race to put the ball into the hole.
Developed and published by Giant Margarita, the game was released in October 2015 and it is played simultaneously with other players in a rich and colorful world.
Multiplayer is offline and is on a split-screen feature that can reach up to eight players with the right controller setup.
The game is fresh and full of wacky features, including terrain being randomly generated every match, which means every game is unique and like no other.
Party Golf features over one hundred game modes that can be customized to up the fun. Aside from the normal concept of golf, there are various power-ups that can radically change the gameplay.
This game is aptly named because it is indeed a party, dynamic, fun, and ever-changing that places Party Golf as one of the best golf games on Steam.
Golf on Mars
Golf on Mars is a 2D sci-fi-themed golf game that is obviously set on the red planet of Mars.
Developed and published by Captain Games, it is set in the year 2866, and parts of Mars have been made inhabitable thus, humankind has decided to golf on its desert landscape.
It was released in July 2020 and is very reminiscent of a game called Desert Golfing.
The scale of Golf on Mars's world is vast compared to playing golf on earth and this can be felt with the ball physics used.
The player actually feels like golfing on Mars with how less gravity is experienced and how far balls go when hit. It also has an achievement of completing a billion holes which means it is pretty much an inexhaustible source of ball-swinging fun.
Golf on Mars is a game that is very light, both on your pc and wallet, which makes it a great buy for any gamer looking to buy a fun and relaxing golf game on Steam.
Speedy Golf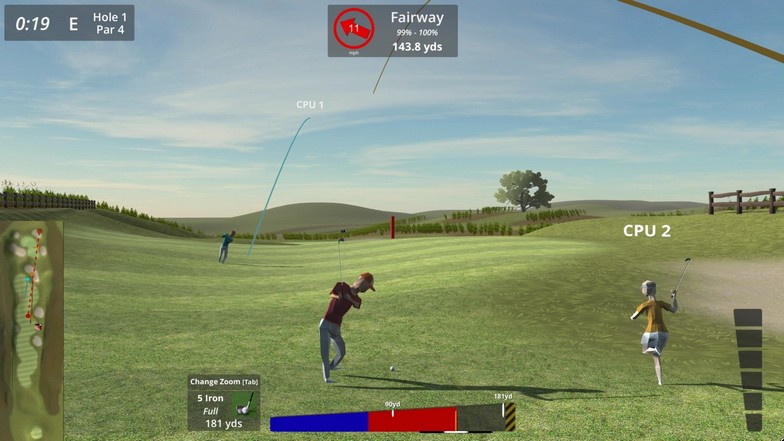 Speedy Golf is a 3D fast-paced golfing game that has players racing to the hole literally by actually running or gliding after swinging the ball.
Developed and published by Off the Deck Games, it is a wacky and unique take on 3D golf games. It can be played offline with up to four AI opponents or while playing online doubles the number of possible opponents.
The game is a refreshing take on golf games due to the fact that it allows players to actually traverse the map compared to the usual swing-and-teleport aspect of usual golf games.
This feature is the heart of Speedy Golf and is a large part of the fun as you dash or fly across the green while picking up power-ups that will impact the match.
Speedy Golf is an absurd yet satisfying game meant to be played with friends, and its greatness shows in fun yet short matches that make use of a crazy marriage of golf and racing.
A Little Golf Journey
A Little Golf Journey is a light-hearted 3D adventure that is part RPG and part golf game.
Developed by Okidokico, it is a unique game that makes ball-swinging a means of uncovering the story and mystery of its virtual world.
Released in October 2021, the game boasts gorgeous and visually-relaxing landscapes. The game world map starts with gray and is part-by-part given color once you complete a certain area.
The world map has over a hundred holes that are set in ten various eye-pleasing destinations.
The game, unlike real-life golf, is simple and intuitive with basic control prompts. There are also hidden holes and mysteries that the player can uncover throughout their journey, and despite its simple nature, the game is actually meaty and full of content.
A Little Golf Journey is definitely a must-buy from the Steam store. Its story-filled golf experience borders on being therapeutic, thanks to its picturesque environment and zen-like soundtrack.
Walkabout Mini Golf VR
Walkabout Mini Golf VR is a virtual-reality golf game that has succeeded in adapting VR technology into a well-crafted mini-golf gaming experience. Developed and published by Might Coconut, the game was released in July 2021.
The game features single-player and cross-platform multiplayer game modes. It requires Tracked Motion Controllers and is compatible with headsets from Valve, HTC, Oculus, and Windows.
This is a game that makes mini-golf look and feels larger than playing in real life, thanks to the massive 18-hole stages complete with gorgeous interconnected environments.
Putting in-game feels natural and the physics is crisp and almost realistic. Walkabout Mini Golf VR is one of those games that looks like a lot of love was put by its creators with its beautiful world and tightly executed VR technology.
This is what makes the game a must-buy for both fans of golf or VR gaming.
100ft Robot Golf
100ft Robot Golf is a dynamic golf game that is part golf and part arcade fighting game with players controlling a giant early 90's style mech.
Developed and published by No Goblin, the game was released in March 2017. Like mixing one-hundred-foot robots and golf, the game is a wacky package of intentionally cheesy humor and absurd gameplay.
You can play golf simultaneously against four robots through split-screen or online. 100ft Robot Golf also offers a goofy campaign mode if you want to know more about the world through appropriately cartoonish cutscenes.
The giant robot experience is well-executed, with you being able to knock down buildings that block your ball's path, and this can provide obstacles for your opponents as well.
The world feels as massive as your robot, and the controls are well-done and take nothing away from the fast-paced experience of every match.
100ft Robot Golf is an out-of-this-world golfing experience that will be refreshing to long-time golf gamers and it deserves to be recognized as a standout among the golf games available on Steam.
Worms Crazy Golf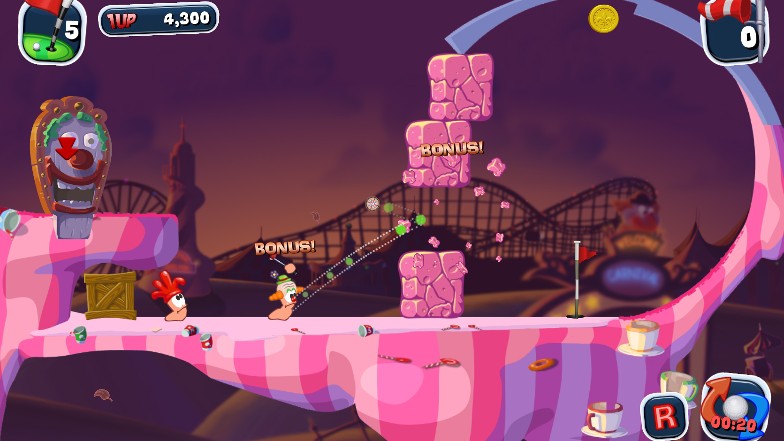 Worms Crazy Golf is a casual 2D Worms-style golf game that was released in October 2011. Developed and published by Team17 Digital Ltd, it is a wacky game of golf mixed with explosions, humor, and cartoon worms.
It offers highly replayable single-player content despite only having three eighteen-hole courses. Online multiplayer will have you duke it out with up to four other worms as you blast and putt your way into the final hole.
Worms Crazy Golf features easy-to-learn controls and gameplay but offers complex and puzzle-like golf courses that require a certain level of wit and creativity to complete.
Each course has its own challenge and interactive items like teleporters, mines, and exploding sheep, which you may need to use in order to reach the final hole.
Worms Crazy Golf is a fun and silly game that uses its wacky charm well. The game knows itself and uses its style to blast its way into being one of the best golf games on Steam.
Golf Around!
Golf Around! is a crazy 3D golf game that feels like playing on a miniature golf course jacked on steroids. Developed and published by Steve Hough, the game was released in December 2020. It can be played solo or with eleven other people in online multiplayer.
Golf Around! features ten built-in courses that contain numerous interactive traps that would range from ball-slicing katanas to fire-breathing dragons.
The game offers a map creator that allows you to make even crazier courses that you can also share with the rest of the community through Steam Workshop.
Golf Around! is a casual mini-golf game that shines brighter when playing with friends where you can share the wacky experience of putting around medieval castles with giant ballistae flinging your ball across tower tops.
The game also enjoys a good-sized player base that allows solo players to playing games. Golf Around! is a great mini-golf game with impressive in-game physics despite the goofy style of the gameplay.
It is fun, immersive, and is continuously being supported through routine updates and is, therefore, a highly recommended golf Steam game.
The Golf Club VR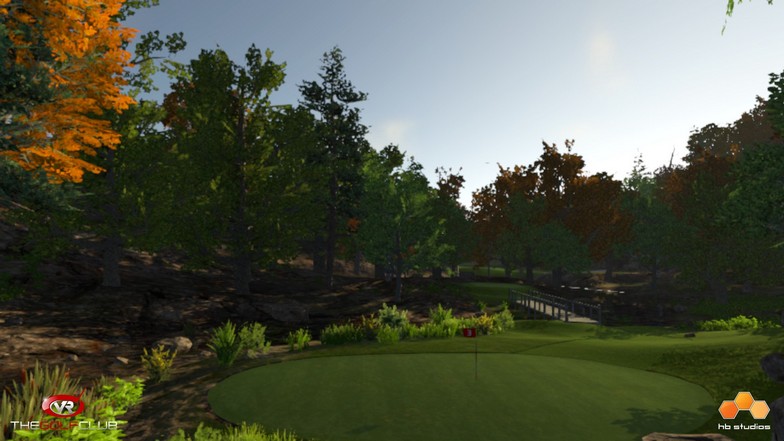 The Golf Club VR is a virtual-reality golf simulation game that succeeds in adapting VR technology to create a realistic and enjoyable golfing experience.
Developed and published by HB Studios, the game was released in February 2017. This close-to-life single-player golf game requires Tracked Motion Controllers and is compatible with VR headsets from Valve, HTC, and Oculus.
Due to the required space clearance in performing a golf swing, it is recommended to have a standing room-scaled play area to avoid accidentally hitting real-life objects or persons.
The Golf Club VR boasts hundreds of thousands of kilometers worth of beautifully immersive courses designed by the developers and other users.
Every moment spent playing in-game feels like actually being on the green thanks to the masterful use of ambient sounds of wind, insects, and other environmental cues while still being in the comfort of your own desired play area.
The Golf Club VR is a must-buy for anyone looking for a great and highly-engaging VR golf simulation.
Golf Peaks
Golf Peaks is a grid-style golf puzzle game that is a simple and refreshing mini-golf experience. Developed and published by Afterburn, the game was released in November 2018. It is a casual single-player game that is more puzzles than actual golf.
Ball movement is dictated by drawn cards as you make your way up mountains by putting golf balls into the holes.
Golf Peaks offers over a hundred well-crafted levels that require both wit and luck thanks to the card system.
Making use of minimalistic visuals, playing Golf Peaks can be very relaxing and fun. Its unique gameplay is not like any other golf game, as pre-determined card draws will determine the distance and direction in which the ball will roll or fly along each grid.
Despite appearing simple, the game escalates the puzzle-solving difficulty as you progress by introducing more obstacles that would need specific card movements to overcome.
Golf Peaks is highly recommended for people looking to hit both their puzzle-solving and golf-playing cravings at the same time.
Cloudlands: VR Minigolf
Cloudlands: VR Minigolf is a virtual reality mini-golf game experience that lets you experience simple and fun VR golfing while being thousands of feet above the ground.
Developed and published by Futuretown, the game was released in April 2016. The game requires Tracked Motion Controllers to play and is compatible with VR headsets from Valve, HTC, and Oculus.
Due to being a swing-the-controller-type of game, it is recommended to have a standing room-scaled play area. Cloudlands: VR Minigolf offers different modes for offline singplayer and online PVP multiplayer.
Playing Cloudlands: VR Minigolf is intuitive and offers a simple and fun putting experience on a set of islands floating in the sky.
It has made great use of the casual and wacky concept of miniature golf by disposing of the usual swing or power meters found in other golf games.
Instead, your gaming experience is focused more on the built-in or user-generated virtual course with various obstacles and interactive objects like canons.
Cloudlands: VR Minigolf excels in being a great VR miniature golf game and deserves to be highlighted as one of the best golf games on steam.
WGT Golf
WGT Golf is a 3D golf simulation game that features one of the most realistic gameplays without VR technology. Developed and published by Topgolf Media, the game was released in April 2020. It features both single-player and online multiplayer among different platforms.
Although WGT Golf is labeled as free-to-play, it has in-game purchases for the clubs and outfits you can use while playing. The game focuses on realism and features several courses based on real ones used in USGA tournaments.
WGT Golf boasts of using actual GPS data to recreate iconic golf courses and it uses a comprehensive physics engine to recreate a real-life golf experience.
To make gameplay even more immersive, different clubs would give varying feedback on golf swings and distance. The game can also be highly competitive with regular online tournaments that give winners various in-game rewards.
Perhaps the most realistic aspect of WGT Golf is that it can be expensive like real-life golf. Yet, it is very rewarding to serious players willing to invest time and money to excel and win in this highly recommended golf game on Steam.
Golf With Your Friends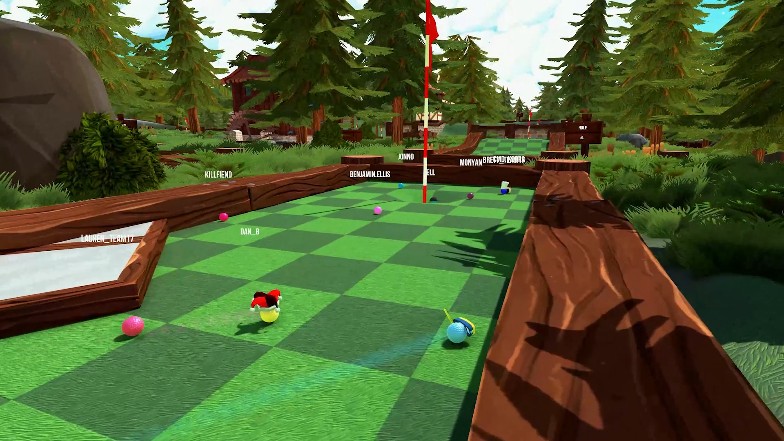 Golf With Your Friends is a casual and wacky golf game. It has crazy arcade-style physics, which is extremely fun to play with friends. Everyone can easily pick up on the game.
You will launch your ball until you reach the hole. There are a lot of unique environments to play around. You just have to think about how powerful your shot is and where to aim.
Gold With Your Friends is a hilariously fun game to play with your friends and family.