In a world where we can just jump online and connect with players from anywhere, couch co-op titles are becoming rare. However, sometimes the experience and novelty of playing side-by-side with a friend, and watching their live reactions to a game can't be beat.
Online multiplayer games will never be able to replicate someone being physically there. Whilst voice chat and video calls are great, being able to turn to your friend or partner for a high-five or celebratory hug after a difficult level is more satisfying.
Whether you want to explore giant open worlds with a friend, or hold hands through horror stories – we've got you covered. Our list covers the best local co-op games on Steam built for these experiences. Prepare your snacks, grab a friend (or two), and get your couch ready for video game night fun.
Cuphead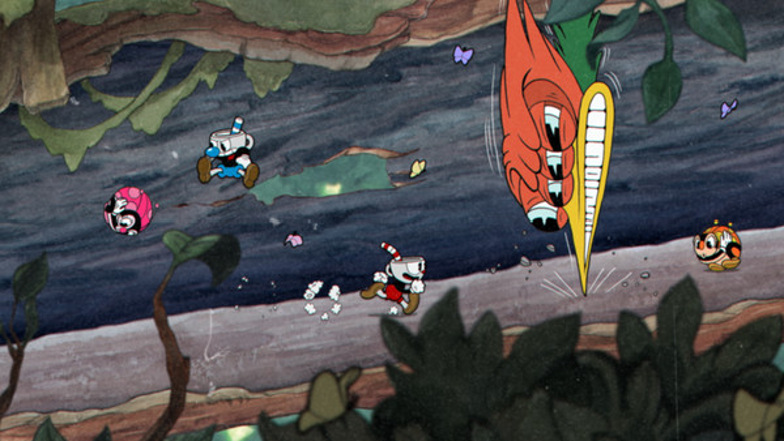 | | |
| --- | --- |
| Genre: | Platformer, Action |
| Developers: | Studio MDHR Entertainment Inc. |
| Release Date: | September 29, 2017 |
| Find at: | Steam |
| Average Playtime: | 11 hours |
Put your friendship to the test in the run-and-gun world of Cuphead. The game is fun, and frustrating, and if you end up hating your friend afterward – don't blame us. 
There's also the chance that you blast through the levels (literally), and the bond with your co-op partner grows stronger than ever. Cuphead allows for couch multiplayer with up to 2 players.
Players take control of the sibling duo, Cuphead and Mugman. You'll explore a world bursting at the seams with personality, completely made up of traditional hand-drawn art.
The game's world and characters all feature a 1930s cartoon aesthetic. It feels like you're playing through an old-school Disney animation.
The co-op experience is akin to platformer games like the New Super Mario Bros. Series. Both characters are controlled on the same screen, as you go through a mix of platformer-esque and boss battles together.
The combat in Cuphead is comparable to games like Megaman. Characters shoot energy blasts from their fingers, and there is a wide range of upgrades and powerful moves to select from.
You can either snipe from afar or get up close with shotgun-like blasts. If you're a huge fan of games like this, give our platformer titles on Steam list a read.
Levels in this game will have you on the edge of your couch. They're difficult and require skill, but this makes it satisfying when you beat them with a friend.
It's also easy to get swept up by Cuphead's charming world. The character designs are especially so vibrant and distinct – from talking carrots to mermaids and even genies.
LEGO Star Wars: The Skywalker Saga
| | |
| --- | --- |
| Genre: | Action, Adventure |
| Developers: | TT Games |
| Release Date: | April 5, 2022 |
| Find at: | Steam |
| Average Playtime: | 18 hours |
The LEGO games have always been a staple for couch co-op experiences. LEGO Star Wars: The Skywalker Saga is no different. 
Despite the new engine in Skywalker Saga, and the gameplay being redesigned from the ground up – it doesn't forget its roots.
LEGO Star Wars: The Skywalker Saga stays true to the series beloved local multiplayer experience. Similar to previous LEGO titles from TT Games, it features a traditional split-screen co-op.
It also has the same, simple drop-in/drop-out co-op gameplay. All your player two needs to do is jump on your couch, and press any button on another controller.
Skywalker Saga aims to provide the ultimate LEGO experience, as well as retelling all nine main films. It lets you explore the world of the movies, and you can pick whichever trilogy to start with.
The game features over 300 playable characters, including fan-favorite Jedi and Sith. There's also a new progression system that lets you unlock new abilities for them.
The combat system in Skywalker Saga is a huge upgrade over all of the previous Lego titles. It takes from games like Dark Souls, where you'll need to time dodges, and pull off combos.
Pick up a blaster? You'll need to aim it now. Using a lightsaber? You can chain attacks to maximize damage.
The game features over 20 planets to unlock and freely explore with your friends. It's also receiving DLC which adds in character packs from other films and series in the Star Wars universe.
LEGO Skywalker Saga is one of the best local co-op games on Steam, and also suitable for the whole family. If you want more titles like this, check out our list of our favorite kid-friendly games on Steam.
Stardew Valley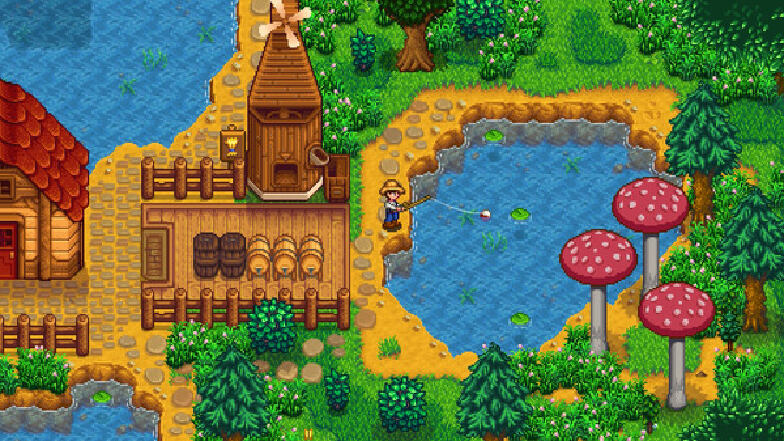 | | |
| --- | --- |
| Genre: | RPG, Simulation |
| Developers: | ConcernedApe |
| Release Date: | February 26, 2016 |
| Find at: | Steam |
| Average Playtime: | 52 hours |
Don't trust a "best local co-op games on Steam" list if it doesn't have Stardew Valley. The indie farming title took the world by storm with its Harvest Moon-inspired gameplay.  
It took out Harvest Moon's convoluted systems, streamlined gameplay, and added much-needed quality of life. The game perfected the farming formula.
Stardew Valley allows up to 4 players to join in on the farming action using splitscreen. My favorite part about the multiplayer experience is – it doesn't water down the gameplay or restrict it.
The other players have almost the same amount of control as the "host" person does. You get your own house in the form of a cabin, you can romance the townspeople, and freely explore.
Starting a local multiplayer session in Stardew Valley is effortless, too. All you need to do is select it in-game options, and then connect a controller.
The game even allows for marriage between players. They can also participate in seasonal festivals, quests, and even go dungeon delving.
Combining the multiplayer experience with the well-written characters and vibrant pixel art creates a near-unmatched charm.
The multiplayer systems in Stardew are also top-notch. There are options that allow you to tailor the multiplayer to your friendship groups. Want to share gold? Or what about separate banks?
One player can go fishing, whilst another tends to the farm, and someone else explores the mines. Multiplayer in Stardew allows you to delegate tasks between your group, and maximize efficiency.
If you want a laid-back game to unwind in with friends, Stardew Valley is a must-play. It's relaxing and offers a chill multiplayer experience.
Streets of Rage 4
| | |
| --- | --- |
| Genre: | Beat'em up, Action, Side Scroller |
| Developers: | Dotemu, Guard Crush, Lizardcube |
| Release Date: | April 30, 2020 |
| Find at: | Steam |
| Average Playtime: | 3 hours |
Launch yourself right back to the 80s and 90s with Streets of Rage 4. The game packs a nostalgic punch, and feels like you're back in the arcade with friends.  
Streets of Rage 4 carries on with the gameplay style seen in the series' older titles from the 90s. It's a classic side-scrolling beat 'em up, and is ideal for an action-packed co-op gaming night.
The game supports four-player multiplayer in local co-op. It'll have each player selecting from a roster of characters, and fighting together to take down waves of enemies.
If you're unfamiliar with the Streets of Rage franchise or beat 'em ups – the gameplay is reminiscent of fighting games. However, instead of competitive battles with other players, you work together.
The world of Streets of Rage 4 immediately draws you in with its hand-drawn art and soundtrack. The visuals are gorgeous, and the music gets you hyped up to knock anybody out.
The roster in the game brings back Streets of Rage fan favorites, along with all-new characters. Each one plays distinctly, adding diversity to the gameplay, and allowing for unique co-op team combinations.
Along with a story campaign, it also offers other modes to play through. There's a Boss Rush mode, as well as a battle mode – where you compete with your friends.
Streets of Rage modernizes the historic beat 'em up genre, updating it for new audiences and fans alike. This makes it a perfect couch co-op experience, and the four-player options accommodate bigger friendship groups.
Brawlhalla
| | |
| --- | --- |
| Genre: | Platform Fighter, Free to Play |
| Developers: | Blue Mammoth Games |
| Release Date: | October 17, 2017 |
| Find at: | Steam |
| Average Playtime: | 78 hours |
Take to the stages of Brawlhalla and duel it out with your friends. This free-to-play platform fighter is colorful, fast-paced, and supports up to 8 players locally. 
The gameplay is comparable to Super Smash Bros. Instead of being a traditional fighter with inputs, Brawlhalla focuses on platformer-like movement and combos.
It also has cross-play between every platform. The game is currently available on PlayStation 4/5, Xbox Series/One, Nintendo Switch, Android/iOS as well as Steam.
Brawlhalla has a huge cast of over 50 characters. Each one has their own combination of stats and weapons at their disposal, offering unique playstyles.
Every character can access two weapons, ranging from bows to guns, and even spears. These allow for different special attacks and combos.
If you thought Super Smash Bros was a huge crossover event, just wait until you play Brawlhalla. It has characters from the most iconic cartoons, TV shows, and even other popular game franchises.
You can play as Michonne or Rick from The Walking Dead, fighting against Ryu from Street Fighter and Jake the Dog. This can result in so many wacky match-ups and fights with your friends.
If you ever get bored with the typical brawling, you can spice it up with one of the wide range of game modes available.
For example, there are game modes where you smash balls at each other, play capture the flag, and even players versus enemies. Survive against waves of enemies with friends in Horde mode.
The Quarry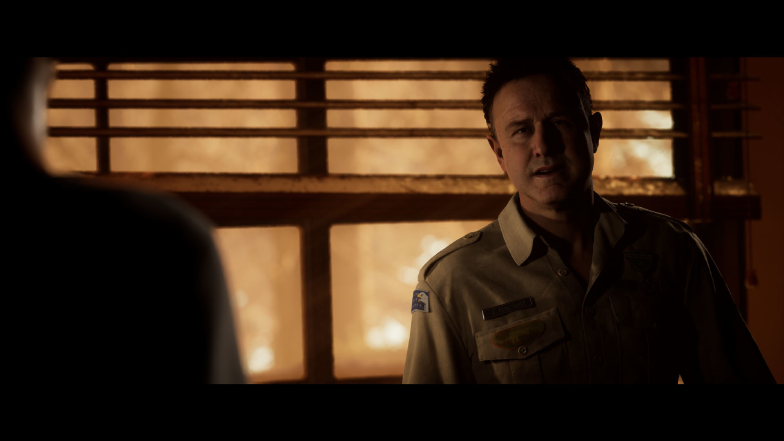 | | |
| --- | --- |
| Genre: | Horror, Adventure, Interactive Drama |
| Developers: | Supermassive Games |
| Release Date: | June 10, 2022 |
| Find at: | Steam |
| Average Playtime: | 9 hours |
From the creative minds behind Until Dawn comes a just-as-terrifying spiritual successor – The Quarry. The game draws on classic horror tropes, placing you in the shoes of nine camp counselors. 
It's the last day of summer camp at Hackett's Quarry, and the teenage counselors are throwing a celebration party. No kids, no adults, no rules – and no one to help if something goes wrong.
As far as local co-op games on Steam go, nothing beats the fright-filled experience this offers. Up to 7 other friends can join you on the couch, each one taking control of a different counselor.
The best part is – all you need is one controller. The multiplayer mechanic in The Quarry is unique, and you'll pass around the controller as each person decides the actions of their counselor.
The game's difficulty can also be tailored for each player. Whether you want to take full control of a counselor, or watch events unfold like a movie – the choice is yours.
The Quarry has you surviving against humans and the not-so-human, far more sinister supernatural—and every decision counts.
The counselors are being hunted by blood-drenched locals, and one wrong turn could mean death. Even innocent friendly banter and flirting could come back to bite you later.
Players will get to watch relationships either grow (or break) under the pressure of the night. As the story unfolds, their lives will literally be in your hands.
Outward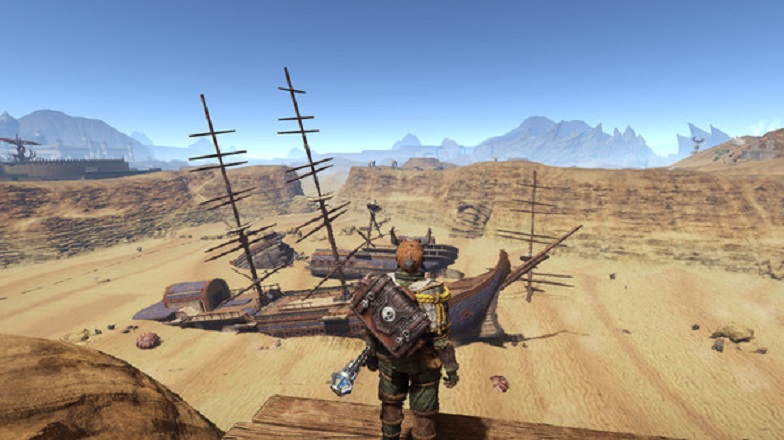 | | |
| --- | --- |
| Genre: | RPG, Open World, Survival |
| Developers: | Nine Dots Studio |
| Release Date: | May 17, 2022 |
| Find at: | Steam |
| Average Playtime: | 34 hours |
Looking for a meaty RPG experience to delve into with a friend? Outward combines the best of the genre with survival elements to create a rich world to explore with friends and deep gameplay systems. 
This is a co-op game where you and your friend aren't the heroes of some fantasy world. You two aren't the chosen ones destined to save the universe, you're just commoners with a debt to pay off.
Outward takes from old-school RPGs like Morrowind, and draws from their more sandbox-like gameplay. Players are free to choose their own path as they explore the game's open world.
The game features branching story paths, where you're free to forge your own destiny. Whilst the survival mechanics are prevalent, they aren't gameplay-hindering.
You and your friend won't die if you forget to eat food, or stop for a drink. However, they do apply pretty neat buffs which will help when you take on foes.
Outward's best mechanic is its unique take on the "death" system. Instead of the game and story ending when a character "dies", it just creates a scenario where you get knocked out.
You might have been defeated in battle, and saved by a passerby or even a wild animal. You'll have to go back and grab your gear.
It's an innovative way to keep together immersion, and keeping you invested in the game's world. The combat in Outward is comparable to Soulslike titles.
The combat is skill-based, and it'll require plenty of time to master. You and your friend better get ready for second-perfect rolls and blocks.
Overcooked! All You Can Eat
| | |
| --- | --- |
| Genre: | Casual, Cooking, Simulation |
| Developers: | Team17 Digital, Ghost Town Games |
| Release Date: | March 23, 2021 |
| Find at: | Steam |
| Average Playtime: | 11 hours |
Did you love cooking up a co-op storm in the original games? Well, get ready to man the kitchen(s) from hell in the all-new Overcooked: All You Can Eat collection.
This title combines both games at yummy 4K goodness and running at a butter-smooth 60FPS. The real cherry on the cake is new additional levels and extra chefs.
Overcooked 1 and 2 were some of the best couch co-op gaming experiences. To have them combined into one title—it's indescribable. It'd have Gordon Ramsay speechless.
For those unfamiliar with the games, they place you (and up to three other friends) managing a kitchen. It gets chaotic, but the fate of the world is on the line.
You and your hash-slinging group of friends will need to cooperate to work through the levels of Overcooked. You'll need to serve as many dishes as you can before the timer runs out.
Sounds easy right? Not quite. There's a range of different recipes to learn, and dynamic kitchen layouts. You might need to cook over swaying oceans, or even lava-filled volcanos.
In a group of four – two players have to grab the ingredients and serve food, whilst the other two prepare the meals.
Overcooked: All You Can Eat also offers various game modes to stir things up. You can sharpen your knife skills in practice mode, see how long you last in survival, or sit through the campaign.
It Takes Two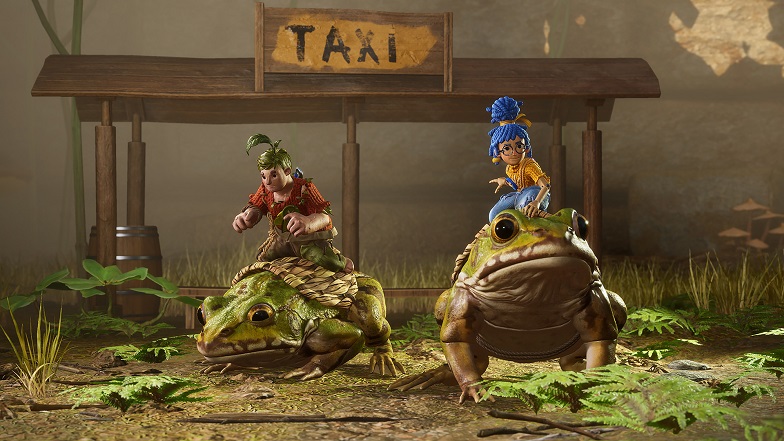 | | |
| --- | --- |
| Genre: | Action, Adventure, Co-op |
| Developers: | Hazelight |
| Release Date: | Mar 26, 2021 |
| Find at: | Steam |
| Average Playtime: | 12 hours |
What "top local co-op games on Steam" list would this be without It Takes Two? It even won The Game Award's Game of the Year in 2021 for its gameplay.
As the title suggests, It Takes Two is designed completely around co-op. It has the couch multiplayer experience perfected, right down to the T(wo).
The game is developed by Hazelight Studios, which is famous for crafting phenomenal co-op experiences. If you haven't played their other title, A Way Out—it's a multiplayer must-play.
It Takes Two throws you and a friend (or significant other) in the shoes of Cody and May. They're a couple constantly at each other's throats, and they need help saving their fractured relationship.
The pair have been turned into dolls through a magical spell. You'll use them to explore vibrant and colorful worlds, ranging from a magical snow globe to even fighting against gangster squirrels.
Not only is the gameplay top tier, but the story is hope-filling, heartbreaking, and heartfelt. The narrative is heightened by the gameplay and unique co-op mechanics.
This game pushes the medium as an interactive storytelling tool. It Takes Two is an experience in the truest sense, and one that can only be told as a co-op title.
If you buy It Takes Two, it also includes a free Friend's Pass, so you can jump right into it with someone else. Online or couch co-op, the game features split-screen play.
Unravel Two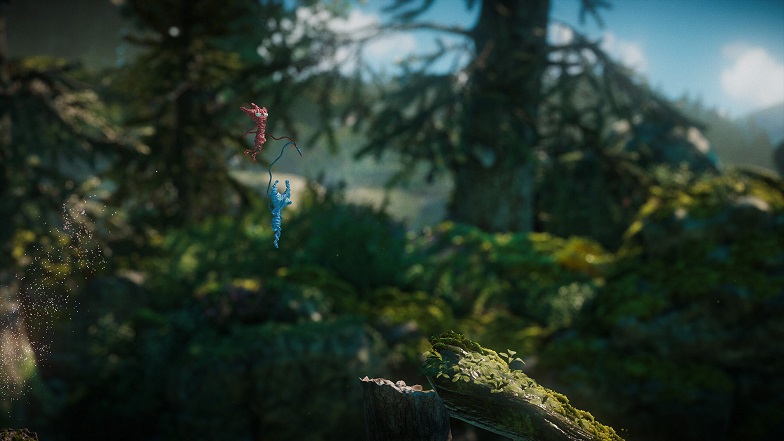 | | |
| --- | --- |
| Genre: | Adventure, Puzzle, Platformer |
| Developers: | Coldwood Interactive |
| Release Date: | June 9, 2018 |
| Find at: | Steam |
| Average Playtime: | 13 hours |
An epic story following two super-cute creatures that'll have you yarn-ing for more. Puns aside, Unravel Two is another multiplayer experience that showcases couch co-op is thriving.
Create your own "Yarnys" (yes, that's what the game calls them), and adventure across a world inspired by the Scandinavian outdoors. From wonder-filled nature to complex suburbia – the game's map is diverse and gorgeous.
It always takes two players in Unravel Two. The game is best when you're on the couch with a friend, but it also offers online play.
The multiplayer experience is seamless, and you'll be playing on the same screen with your friend. You'll traverse the worlds together, solve puzzles, and even unlock new abilities.
Run, jump, slide, and even swing – the gameplay heavily draws from the platformer genre. It's also filled with challenges to solve with your partner, and explore its excellent level design.
Unravel Two's world and gameplay are also backed by a strong narrative. The story is dramatic, heartfelt and packs an emotional punch.
What are you waiting for? This is one of the best local co-op games on Steam. Grab a friend, some popcorn, and also maybe tissues for the emotional moments.