There are lots of ways to play Minecraft Legends.
You can tackle the campaign solo or with friends, you can play cross-platform with friends in PVP, or even play against strangers in an online match. Whatever your gameplay preference is, there'll be something for you.
If you're picking up the game for the first time, you may have noticed that there is a section called ' Lost Legends and Myths' on the title screen. These are additional game modes, and they're incredibly fun to play through.
To help you get more out of your Minecraft Legends experience, here's a complete guide on how to play Lost Legends in Minecraft Legends, including a guide on how to download the content and some tips on how to beat it.
How to Get Lost Legends Content
Lost Legends are special PVE challenges that the Minecraft team releases every month. They're all unique and come with interesting rewards.
The rewards are usually hero skins or mount skins, which you can customize your character with in both PVP and the campaign.
One of the best things about Lost Legends is that they're free! They're a great way to get more out of your game and keep things interesting.
To download Lost Legends, you'll need to head to the Marketplace from the main menu.
Tab over to the Lost Legends section and you'll see the monthly Lost Legend that is available for download.
At the time of writing, the one that's available for me is The Portal Pile.
Simply select it and confirm that you want to purchase it (don't worry, it's all free) for the download process to begin.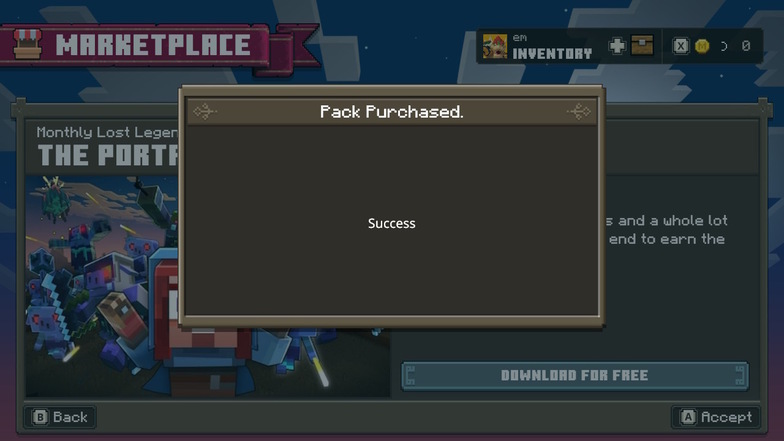 Once the download has finished, you'll be able to open up the Lost Legends & Myths tab from the main menu and start playing.
How to Beat Lost Legends Campaigns
One of the best ways to ensure victory when playing Lost Legends is to play with friends.
These campaigns can be hard.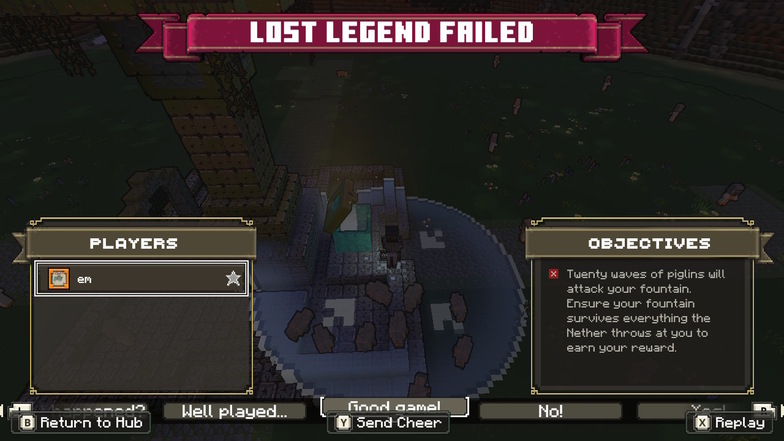 It is possible to solo them, but having a friend or two with you will make a huge difference.
You'll need to add your Microsoft account to your game in order to access online features. Make sure that Player Access is set to online in the settings of your Lost Legends lobby.
When playing with friends, I'd suggest using an external tool like Discord to communicate. There isn't a voice chat option in game, but being able to speak to your friends (if you're not in the same room) is crucial if you want to beat the campaign.
Another way to improve your chances of victory is to make sure that you have the right troops fighting alongside you. This is a strategy game after all, and it's important to take a minute at the start of the game to analyze which foes you'll be facing off against.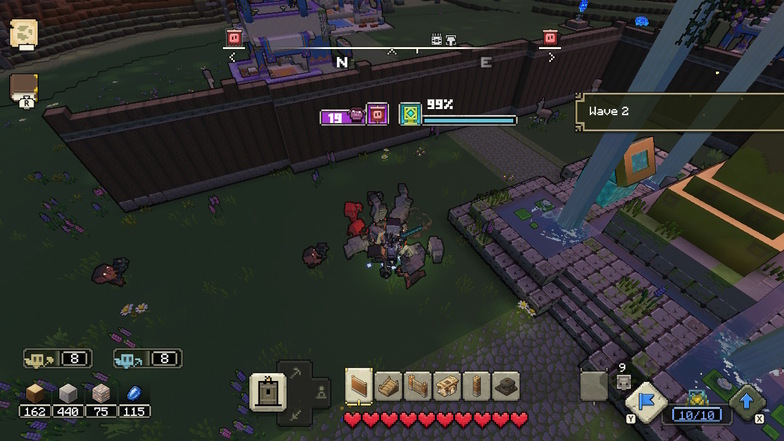 Every type of Golem and other friendly mob has its own strengths and weaknesses.
For example, Plank Golems are great at close-ranged damage but they're not the hardiest mobs in the game and they can't heal themselves. You'll need to bring some Mossy Golems and perhaps the First of Brick to keep them in good condition.
Make sure that you're upgrading your defenses wherever possible, too.
The standard defensive tools that you get in the campaign are fine, but they're not going to ensure victory in every Lost Legends challenge. Upgrade your walls and towers wherever possible, and if you get a moment to breathe, dash out and collect more resources.
Playing through Lost Legends is a lot of fun. I was starting to lose focus in the campaign a little when I downloaded my first one, and it managed to reinvigorate my interest in the game. If you've not tried it yet, take a look at this game mode today.
What to Do Next
If you've been focusing mainly on the story, why not spend some time getting into PVP for a change? The PVP mode in Minecraft Legends can take a little while to get used to, but it's well worth the effort.
To help improve your chances of winning, I'd recommend reading up on the different mobs in the game and how to use them effectively.
It can be tempting to just charge in and start hitting people with your sword, but utilizing your troops and taking it slow is the key to winning matches.