The marksman rifle category in Call of Duty: Modern Warfare 2 is best described as the light snipers category, where there are weapons that offer you the chance to get one-hit kills if you get your shot perfect.
However, you will normally get a hit marker if you hit your enemy anywhere other than the head. That said, the right marksman rifle with excellent attachments can be a very viable weapon in Call of Duty: Modern Warfare 2.
Marksman rifles are also much more mobile than heavy snipers as well, which is essential in MW2, as speed and repositioning are essential.
In this article, we will look at the best marksman rifle in Call of Duty: Modern Warfare 2 to give you the best chance of one-hit killing your enemies and moving around each map at speed.
The Best Marksman Rifle in MW2
Firstly, let's get straight to the best marksman rifle in Call of Duty: Modern Warfare 2, the SP-R 208.
SP-R 208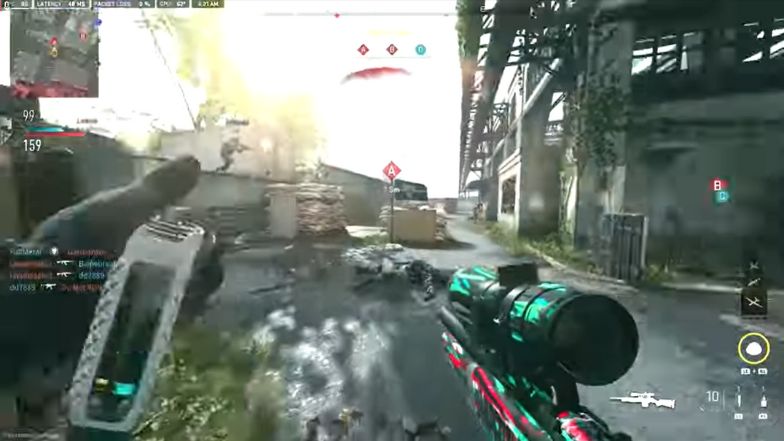 The SP-R 208 is a fantastic marksman rifle and one that many players will opt to run within the game. It is extremely similar to the Kar98k in Modern Warfare 2019 but slightly more powerful.
The Kar98k was already a great option, but with that slight addition of power, the SP-R 208 quickly becomes a real threat on any map in any game mode.
One of the best aspects of the SP-R 208 is that it can be a one-shot kill from the upper chest and above.
It also has excellent mobility, which allows you to get around the map quickly and reposition once you have killed an enemy.
The handling is fantastic, and you can quickly zoom in on players while reloading is very efficient.
Honourable Mentions
Aside from the SP-R 208, there are also a few other marksman rifles that you may want to consider using in Call of Duty: Modern Warfare 2. Pleasingly, there are several workable snipers in this game, so long as you equip them with the right attachments.
In this section, we will focus on the other marksman rifles that are powerful enough for you to consider using in Call of Duty: Modern Warfare 2 multiplayer matches.
SA-B 50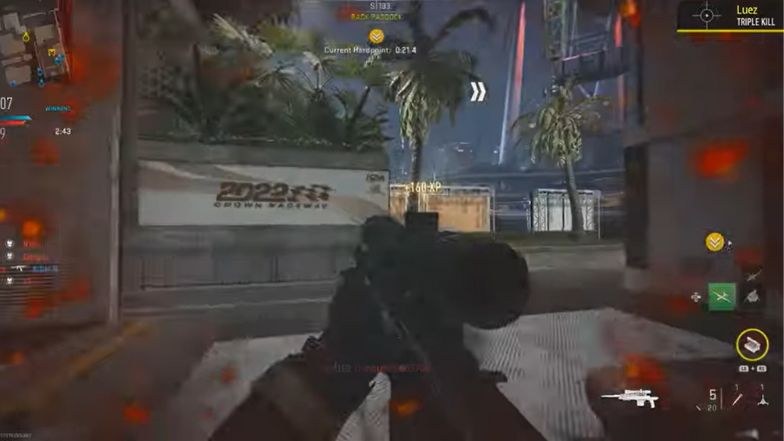 The SA-B 50 is a very close second on this list, and for some players, in may even be the best marksman rifle in the game.
One of the reasons the SA-B 50 is such a popular marksman rifle in Call of Duty: Modern Warfare 2 is that it has lightning-fast ADS while also maintaining the ability to one-shot people with the right attachments.
With such quick ADS, you have the power to quickly lock onto opponents and pick them off before they have a chance to discover your location and fight back.
Another benefit of this weapon is that you get minimal flinch while aiming down the sight, which gives you much more potential to win mid-range or long-range gunfights.
Unfortunately, it is slightly less powerful than the SP-R 208, which is why this weapon comes in as a close second place.
TAQ-M
The TAQ-M is a fascinating marksman rifle, and in the right hands, this weapon can be extremely dangerous and influential on any map.
In many ways, the TAQ-M is a closer representation to a semi-automatic assault rifle than a sniper, and as such, it will very rarely one-hit kill your opponents.
However, that is not too much of an issue, as the fire rate and reload speeds are very high for a marksman rifle.
Not only that, but you get access to some of the best attachments in the game to build your TAQ-M loadout, which allows you drastically reduce the negative impacts of this weapon.
The TAQ-M is not quite as easy to use as the SA-B 50 or the SP-R 208, which is why it ranks third on this list. However, for experienced snipers who like to play at a fast pace, it is certainly a viable option.
Ones to Avoid
Finally, we come to the marksman rifles you should avoid using in Call of Duty: Modern Warfare 2. While sniping can be a lot of fun with almost any weapon in the game, these weapons will likely cause you more frustration than enjoyment.
With low recoil control and slow reload speeds, these guns will leave you yelling at your screen as many opponents turn on you in crucial moments.
EBR-14
The EBR-14 is quite similar to the TAQ-M in the sense that it feels closer to a semi-automatic assault rifle than a sniper. However, the big difference between the two is that the EBR-14 is much less effective than the TAQ-M in that role.
For starters, the EBR-14 has less damage with each bullet, not to mention the fact the fire rate is also slower.
Add that to the slow ADS speed and reload times, and it is hard to justify running the EBR-14 when you have unlocked the TAQ-M, as it is a better version of the same style of marksman rifle.
LM-S
At a quick glance, the LM-S looks like a marksman sniper that has plenty of potentials. However, once you have dropped into a couple of maps with it as your weapon of choice in your loadout, you will quickly realise that the recoil makes follow-up shots almost impossible.
The weapon has solid mobility and handling statistics, but it is by no means a one-hit kill guarantee, and even the best snipers will have a hard time trying to pinpoint their opponent for a second shot due to the extensive recoil.
There are attachments that you can use to reduce the recoil somewhat, but these often come with disadvantages as well, and you will greatly reduce the ADS and handling that make this weapon exciting in the first place.
Lockwood MK2
You might look at the name of the Lockwood MK2 and feel like you have seen it before, and if so, you would be right! The MK2 has featured in other Call of Duty titles before MW2, and it was not a great gun then, and it still isn't now.
The main issue with the Lockwood MK2 is that you are forced to rechamber a round after every shot.
With that reload system, you need a marksman rifle that almost guarantees one-hit kills. Otherwise, you will find your opponents quickly turn on you and kill you before you get another shot off.
Unfortunately, the Lockwood MK2 does not offer that level of damage, which can make you a sitting duck on the map while your operator scrambles to reload.
Marksman Rifle Overall Tier List
There you have it, a complete breakdown of each marksman rifle you can use in Call of Duty: Modern Warfare 2. You should now have a much better grasp on which marksman rifle you should try using in the multiplayer game and save yourself plenty of time using one of the weaker weapons.
Unfortunately, in Modern Warfare 2, you are sometimes required to use certain weapons to unlock other, more powerful weapons, so you may find yourself using one of the weaker marksman rifles at some stage, but it will only be temporary.
| Weapon | Tier | Description |
| --- | --- | --- |
| SP-R 208 | S | One of the best aspects of the SP-R 208 is that it can be a one shot kill from the upper chest and above. It also has excellent mobility, which allows you to get around the map quickly and reposition once you have killed an enemy. |
| SA-B 50 | A | One of the reasons the SA-B 50 is such a popular marksman rifle in Call of Duty: Modern Warfare 2, is that it has lightning fast ADS, while also maintaining the ability to one shot people with the right attachments. |
| TAQ-M | B | The TAQ-M is not quite as easy to use as the SA-B 50 or the SP-R 208, which is why it ranks third on this list. However, for experienced snipers who like to play at a fast pace, it is certainly a viable option. |
| EBR-14 | C | The EBR-14 is quite similar to the TAQ-M, in the sense that it feels closer to a semi-automatic assault rifle than a sniper. However, the big difference between the two is that the EBR-14 is much less effective than the TAQ-M in that role. |
| LM-S | D | At a quick glance, the LM-S looks like a marksman sniper that has plenty of potential. However, once you have dropped into a couple of maps with it as your weapon of choice in your loadout, you will quickly realise that the recoil makes follow-up shots almost impossible. |
| Lockwood MK2 | F | The main issue with the Lockwood MK2 is that you are forced to rechamber a round after every shot. |