Modern Warfare 2 CDL Loadouts (That The Pros Use)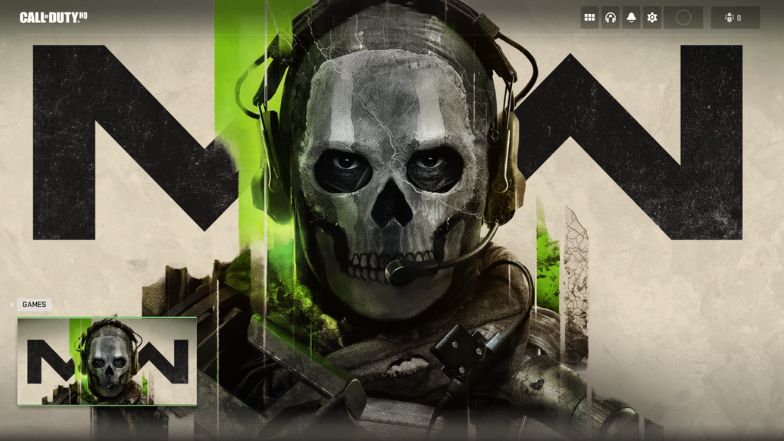 The Modern Warfare 2 CDL season is almost underway, and many fans are searching to find out what classes the best players are running.
This article covers the Modern Warfare 2 CDL loadouts that the pros currently use for you to try out and see if they work for your play style.
Please keep in mind that the situation around loadouts is very flexible at the moment and likely to change as players spend more hours playing the game and gentlemen's agreements are made on what can or can't be used.
Assault Rifles
Firstly, let's focus on some of the current loadouts CDL Pros and former pros are using for Assault Rifles. In 4v4 competition, CDL teams tend to focus on two players running Assault Rifles and two players running submachine guns. Sometimes that varies depending on the map and game type, and sometimes even the time to kill.
If you prefer to play angles and engage in long or mid-distance gunfights, these loadouts are the best for you.
FormaL – Optic Texas – Former Call of Duty Pro – Current Halo Champion
FormaL is one of the best Assault Rifle players to ever play Call of Duty. After starting out as a Halo professional, FormaL went on to become a Call of Duty and Optic Gaming legend before retiring last season.
His retirement didn't last long, though, as he quickly announced he would be playing professional Halo and going on to win the World Championship. It is no secret that he has one of the most accurate shots in first-person shooter history.
Here's the loadout he is currently running:
Barrel: 419MM EXF Barrel
Muzzle: Cronen Op44
Underbarrel: Agent Grip
Rear Grip: XTEN Grip
Stock: Tempus P80 Strike Stock
Crimsix – Former Call of Duty Pro – Most Winningest Player of All Time
One of the most divisive players in the Call of Duty community, there can be no disputing how fantastic Crimsix's record in the game is. In total, he is the winningest Call of Duty player of all time, and some would argue he is the best player of all time.
It is worth paying attention to his loadouts, as he takes every aspect of Call of Duty extremely seriously. When he was playing professionally, he found out what type of chairs they would be sitting on at the World Championships and ordered one for his home to get the most authentic practice possible.
While no longer in the league, he is still an excellent player who is sure to stream plenty of Call of Duty this season.
Here's what he is running:
Barrel: Hightower 20″ Barrel
Muzzle: RF Crown 50
Sight: Corvus Sol-76
Rear Grip: XTEN Grip
Stock: Corio Precio Factory
Cellium – Current Pro Call of Duty Player for Atlanta Faze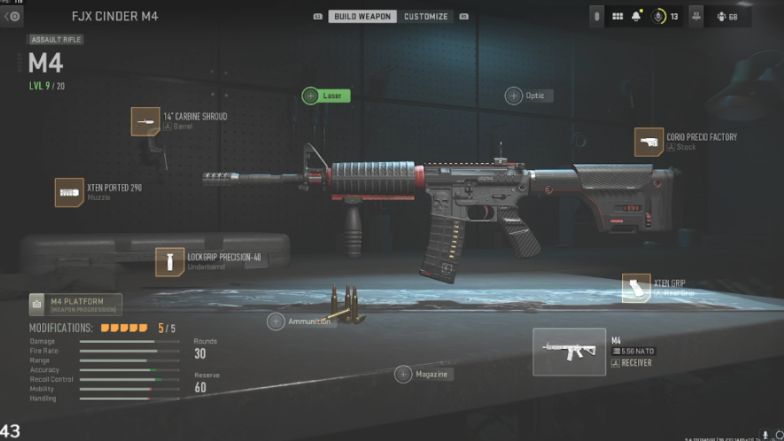 Cellium rose from relative obscurity to become regarded as one of, if not the best current Call of Duty player. When he was picked up by FaZe, the players did not even know what he looked like, but they could see his skillset from a mile off and knew he would be a superstar.
Will this be the best possible M4 class, or will Cellium be forced back into his snaking ways to win gunfights this year?
Barrel: 14″ Carbine Shroud
Muzzle: XTEN Ported 290
Underbarrel: Lockgrip Precision 40
Rear Grip: XTEN Grip
Stock: Corio Precio Factory
Clayster – Current Pro Call of Duty Player for Las Vegas Legion
It is no secret that last year was a tough one for Clayster. Before the start of the season, many were tipping his New York team to compete for the title. Instead, he was dropped before the season had reached the mid-point.
Despite his struggles last year, Clayster brings a ton of experience with him to his new Las Vegas Legion team. As the oldest player in the league, he is sure to have a great idea of the best attachments for his M4 loadout.
Barrel: 14″ Carbine Shroud
Muzzle: Forge-TAC Castle Comp
Sight: Cronen Mini Red Dot
Rear Grip: Gakin ZX Grip
Underbarrel: VX Pineapple Vert Grip
Shotzzy – Current Call of Duty Player for Optic Texas
Shotzzy, also known as the movement king, is a player you want to keep an eye on if you enjoy playing at a fast pace and getting into plenty of gunfights.
Although this is an assault rifle loadout, Shotzzy has used attachments to use the gun as you would a submachine gun.
It will be interesting to see whether or not he uses this build this season and whether it helps bring Scump a championship in his final professional season.
Barrel: Shottac 330MM
Muzzle: RF Crown 50
Underbarrel: Merc Foregrip
Rear Grip: True-Tac Grip
Stock: VLK Stockless
SlasheR – Current Call of Duty Player for Atlanta Faze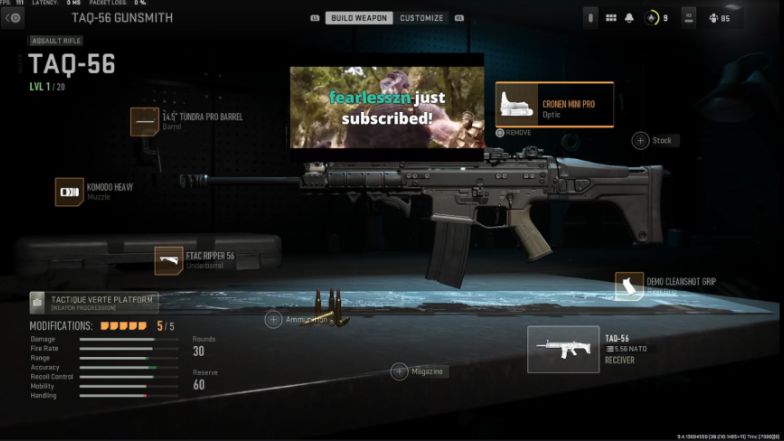 SlasheR has had a couple of average seasons in the CDL but has landed on his feet this off-season, joining the Atlanta Faze replacing Arcitys. Many recent fans might question this decision, but anyone who has followed professional Call of Duty for a few years now will know just how great SlasheR can be when he is on his game.
Barrel: 14.5 Tundra Pro Barrel
Muzzle: Komodo Heavy
Underbarrel: FTAC Ripper 56
Rear Grip: Demo Cleanshot Grip
Sight: Cronen Mini Pro
Submachine Guns
Next, let's focus on the Submachine gun loadouts top players are currently running. There are two types of submachine gun players in CDL teams, one that is the first to engage in gunfights and play the objective and another that focuses more on slaying.
These player types will impact the loadouts highlighted below.
Censor – Former World Champion and Current Boston Breach Substitute
Doug Censor Martin is one of the most prominent characters in Call of Duty today, and although he has never featured in an official CDL match, he still competes at the top of the Challengers league and is the official Boston Breach substitute.
Despite his recent backlash for trying to expose streamers, Censor should be taken seriously when it comes to looking at his loadout.
Barrel: SA Response III
Muzzle: XTEN Razor Comp
Laser: Schlager Peq Box IV
Rear Grip: Demo-X2 Grip
Stock: Markeev R7 Stock
2Pac – Atlanta Faze Search and Destroy Coach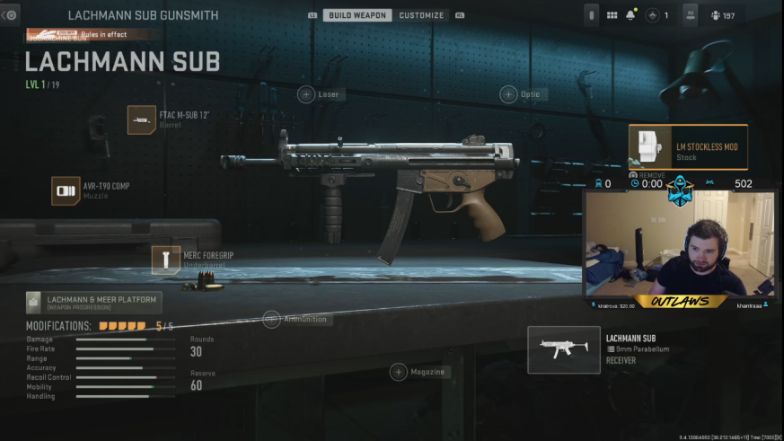 Although 2Pac is no longer a professional player, he is the current Search and Destroy coach for arguably the most consistent CDL franchise, with an outstanding Search and Destroy record.
Here is a glance at his Lachmann submachine gun loadout.
Barrel: FTAC M-SUB 12″
Muzzle: AVR-T90 Comp
Underbarrel: Merc Foregrip
Rear Grip: Cronus Grip
Stock: LM Stockless Mod
Envoy – Current Call of Duty Player for LA Thieves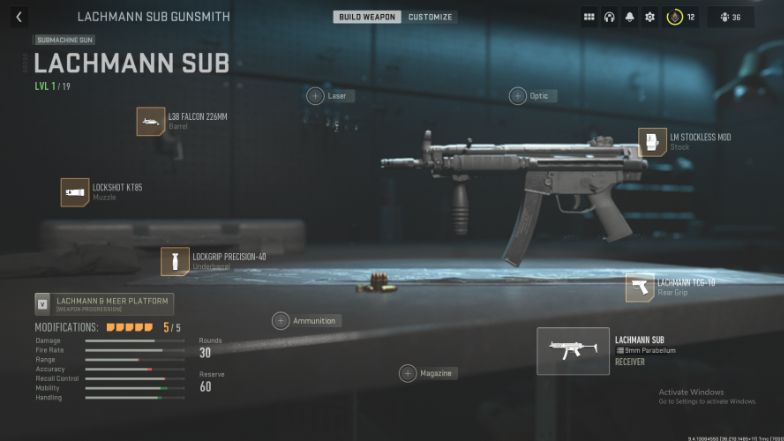 Envoy suffered heartbreak at the end of the Cold War season, as he was released as a free agent by Optic Texas. However, he bounced back in the best way possible, winning the final major of the year and the World Championship with his new team, LA Thieves.
Earlier in the season, there were questions about his place on the team, but by the end of the season, there was a solid argument to make him the MVP of the year.
Envoy likes to make big plays and take long routes to surprise the opposition. If this sounds like you, check out his loadout.
Barrel: L38 Falcon 226MM
Muzzle: Lock shot KT85
Underbarrel: Lockgrip Precision-40
Rear Grip: Lachmann TCG-10
Stock: LM Stockless Mod
Final Thoughts
Now you have a range of loadouts to try based on what the top players in the game are currently using. These loadouts will change as time passes, and these players unlock more in-game features and attachments. These loadouts are also set to be impacted by gentlemen's agreements, which are still yet to be agreed upon.
If you want to try and keep pace with these full-time Call of Duty professionals, you will likely need to use double XP tokens. You can learn how to get double XP tokens here.