When you jump into multiplayer on Call of Duty Modern Warfare 2, you want to ensure that you are using the best possible gun to give yourself a chance of success.
One gun you might want to consider using is the VAZNEV-9K, one of the best submachine guns in MW2 at the time of writing this article, with many top streamers and professional players testing it out.
Early adopters are already calling this gun the modern version of the AK, as the VAZNEV-9K looks and feels distinctly similar to the AK-74u.
Not only does it look similar to previous weapons, but it also offers fantastic mid-range and close-quarter performance.
This article will discuss the best VAZNEV-9K loadout in Call of Duty: Modern Warfare 2, helping you take advantage of these fantastic benefits while also keeping the gun's recoil under control.
The Best VAZNEV-9K Loadout in MW2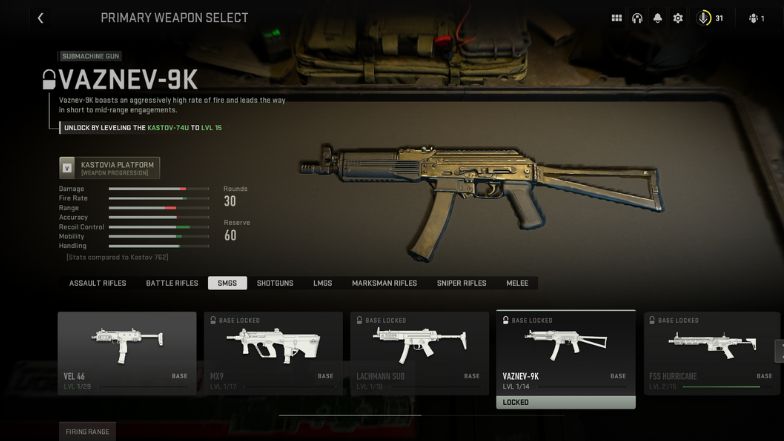 Muzzle: Bruen Pendulum
Optic: Slimline Pro
Stock: Otrezat Stock
Rear Grip: True-Tac Grip
Barrel: KAS-1 381mm
On paper, this attachment combination is relatively simple. The focus here is all on reducing the recoil, increasing mobility, and improving range to make the gun more versatile.
While it might seem like a basic combination, it is a highly effective one.
Muzzle: Bruen Pendulum
The first attachment to discuss in this loadout is the Bruen Pendulum. This attachment is a must-have for the VAZNEV as it significantly lowers the vertical and horizontal recoil. The VAZNEV is a fantastic weapon for close or mid-range gunfights, but it can be tricky to control for beginner or intermediate players.
The Bruen Pendulum muzzle helps rectify that, lowering the recoil to a point where you no longer experience an unwanted level of kick.
Optic: Slimline Pro
Another option for increasing your accuracy at mid-range with the VAZNEV is to attach the Slimline Pro optic.
This optic looks clean and clear on the VAZNEV and offers additional accuracy when engaging in gunfights from mid-range.
Other optics can be substituted in if preferred, but we found from testing that this option offered the most clarity, as the iron sights are quite difficult for less experienced players.
Stock: Otrezat Stock
The Otrezat Stock is a useful addition for the VAZNEV, as it helps reduce the recoil and improves accuracy. On top of that, it also keeps your mobility high, so you can still be effective running across the map.
Rear Grip: True-Tac Grip
The True-Tac grip is a great attachment for the VAZNEV, as it increases your ADS speed and improves your sprint-to-fire. For anyone that wants to run around the map and get into as many gunfights as possible, aiming down the site quickly is essential, as you will often find yourself in fast-paced fights where whoever reacts quickest wins.
The same can be said for the improved sprint-to-fire time. If you are able to pull out your weapon and start shooting before your opponent, chances are you will manage to get enough bullets into them before they fire back to ensure you win your 1v1.
Barrel: KAS-1 381mm
Finally, the KAS-1 381mm barrel is an excellent option as it provides more accuracy for mid-range shots, better handling, and doesn't lower your mobility, unlike other barrels.
When running the VANEZ, you want to keep your mobility high, as you likely want to run around the map at pace.
Alternative VAZNEV-9K Build
Muzzle: AVR-T90 Comp
Barrel: KAS-1 381mm
Laser: STOVL Dr Laser Box
Stock: Markeev R7 Stock
Rear Grip: True-Tac Grip
If you would rather use the Vaznev-9k as an assault rifle, you could use this alternative loadout and potentially swap out the KAS-1 381mm for the Response III barrel.
However, the Response III barrel does lower your mobility all around, so we wouldn't recommend it if you are trying to build the best run and gun loadout to tackle close engagements.
This Vaznev-9k build is sure to be effective in-game, as it is currently the loadout of choice for Shotzzy, a professional Call of Duty player for Optic Texas. Check out which loadouts the pros are currently using.