The EBR-14 is a practical marksman rifle and one you can access from your first multiplayer match in Call of Duty: Modern Warfare 2.
While the marksman rifle class is not the most popular class for players in MW2, when used correctly, these weapons can be highly effective in mid-range and long-range gunfights.
The EBR-14 is often referred to as a classic Call of Duty weapon, as it has featured in many previous titles.
This article will highlight the best EBR-14 loadout in Call of Duty: Modern Warfare 2 for you to equip and test in multiplayer matches.
The Best EBR-14 Loadout in MW2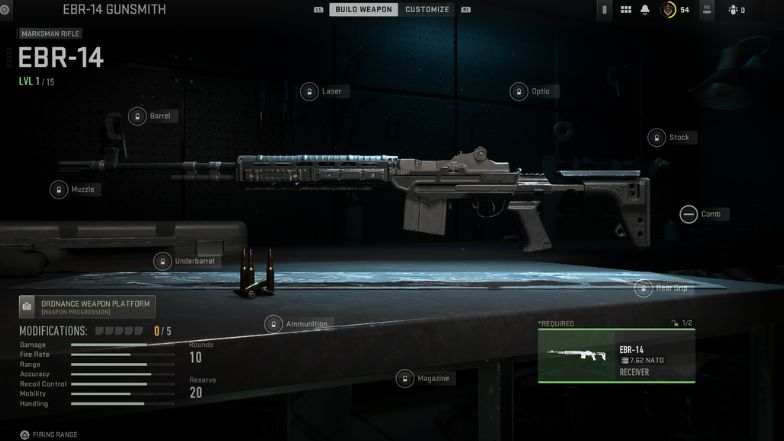 Laser: FSS Ole-V Laser
Muzzle: ZLR Talon 5
Optic: Corio Enforcer Optic
Rear Grip: FSS. Gen 7 Grip
Stock: SO R55 Adaptor
One of the benefits of picking the EBR-14 as your gun of choice is that it is available as soon as you log on to Call Of Duty: Modern Warfare 2 multiplayer. While other weapons require you to rank up other weapons first, you can use the EBR-14 straight away, making it a great weapon to rank up fast.
This loadout aims to improve the accuracy and range of your EBR, to take it from a mid-level weapon to one of the best ones in the game.
Laser: FSS Ole-V Laser
The first attachment to focus on within this loadout is the FSS Ole-V Laser. We opted for this laser because it vastly increases your ADS speed, which is essential for MW2 multiplayer.
You need to ensure your weapon allows you to quickly snap onto your opponents and start to fire, as the time to kill is so fast in this game.
On top of that, this laser also improves the accuracy and handling of your EBR-14, the two aspects we want to try and improve with these attachments.
Muzzle: ZLR Talon 5
For the muzzle, we opted to attach the XLR Talon 5, as this attachment has many benefits. For starters, it improves the damage of your EBR-14, which gives you more chance of killing your enemy with one or two bullets.
This muzzle also improves the range of your EBR-14, allowing you to engage in gunfights from further across the map. Even at a distance, this muzzle improves your shooting accuracy, so you can be confident you stand a good chance of winning any long-range gunfight.
Optic: Corio Enforcer Optic
Another essential attachment for this EBR-14 loadout is the Corio Enforcer Optic. This optic is excellent for increasing the range of your EBR-14, giving you the confidence to engage in longer-range gunfights.
As mentioned, one of the main focuses of this loadout is to increase the range of your EBR-14, and the Corio Enforcer Optic does just that.
Rear Grip: FSS. Gen 7 Grip
One of the unfortunate downsides of the ZLR Talon 5 muzzle is that it drastically lowers your handling ability. Therefore, it is important to also equip the FSS. Gen 7 Grip, to rectify this issue. The FSS. Gen 7 Grip is an excellent rear grip attachment and the best one for improving your handling, which you will need to call upon in many gunfights with this weapon.
Stock: SO R55 Adaptor
The final attachment to add to complete your EBR-14 loadout is the SO R55 Adaptor. As we have touched on, the ZR Talon 5 muzzle has many upsides, but the major downside is it reduces your handling.
The SO R55 Adaptor stock goes some way to increasing the handling to a much more feasible level.
Alternative EBR-14 Build
Laser: FSS OLE-V Laser
Rear Grip: FSS Grn. 7 Grip
Stock: SO R55 Adaptor
Underbarrel: FSS Sharkfin 90
Optic: SZ Bullseye Optic
With this loadout, we have focused on improving the EBR-14's ADS speed while making the weapon as light as possible.
This loadout will make the EBR-14 an easier weapon to run around the map with, utilising the additional mobility on offer to quickly reposition and line up another deadly shot.