If you're wondering what the best HCR 56 loadout in Call of Duty: Modern Warfare 2 is, you're in luck. While the HCR 56 has many benefits, some players will find the recoil control so poor that it is almost impossible to use.
This loadout will rectify that while also offering many other benefits that take your HCR 56 to the next level.
Sure, this isn't the best assault rifle in Call of Duty: Modern Warfare 2, but it can be a very strong option with the right attachments.
This article will discuss the best HCR 56 loadout in Call of Duty: Modern Warfare 2, showing you how to tackle the issue of recoil.
The Best HCR 56 Loadout in MW2
Barrel: 18" Bruen Guerilla
Optic: Cronen Mini Pro
Laser: VLK LZR 7MW
Underbarrel: FTAC Ripper 56
Muzzle: SAKIN Tread-40
Before we jump into the attachments we have chosen for the best HCR 56 loadout; it is worth noting that you won't be able to unlock this weapon until you reach level 41, which can take some time.
You should check out how you can get double XP in MW2 and how to rank up as quickly as possible.
Barrel: 18" Bruen Guerilla
The first attachment to consider for your HCR 56 loadout will immediately help reduce the recoil this gun offers, which is essential to get to groups with the significant kickback you get from this gun.
The 18" Bruen Guerilla barrel is excellent as it lowers hip and standard recoil while also improving your ADS speed.
It does lower your damage range and movement speed, but the pros certainly outweigh the cons when it comes to this attachment for your HCR 56.
Optic: Cronen Mini Pro
For improved visibility at range, we chose the Cronen Mini Pro optic. This optic does lower your ADS speed, but it improves your shot accuracy at a longer range.
However, if you prefer other optics, you can replace the Cronen Mini Pro with your desired optic and still have a strong loadout.
Laser: VLK LZR 7MW
For the laser, we have chosen the VLK LZR 7MW, which helps improve your sprint-to-fire speed and ADS speed. These improvements are important, as sprint to fire is an essential attribute for winning gunfights in MW2 because the time to kill is so quick.
It is also essential we address the ADS speed, as many of the other attachments in this loadout will reduce that attribute. To ensure the weapon is still functional, we need to keep the ADS balanced.
Underbarrel: FTAC Ripper 56
When it comes to the underbarrel, the FTAC Ripper 56 is a fantastic choice for your HCR 56, as it greatly improves your recoil control while also buffing your hip-fire accuracy. This additional hip-fire accuracy comes in handy when you find yourself in a close combat gunfight.
However, this attachment does lower your ADS and walking speed, but we have focused on sprint speed and recoil for this loadout, as those attributes are more important in MW2.
Muzzle: SAKIN Tread-40
The final attachment we have chosen for this loadout is the SAKIN Tread-40, which is easily the strongest option for handling recoil, as it improved both horizontal and vertical recoil control.
Your ADS will drop further, but with all of these attachments, you will find the HCR 56 feels more like a turret than a gun with how straight your shot is.
Alternative HCR 56 Build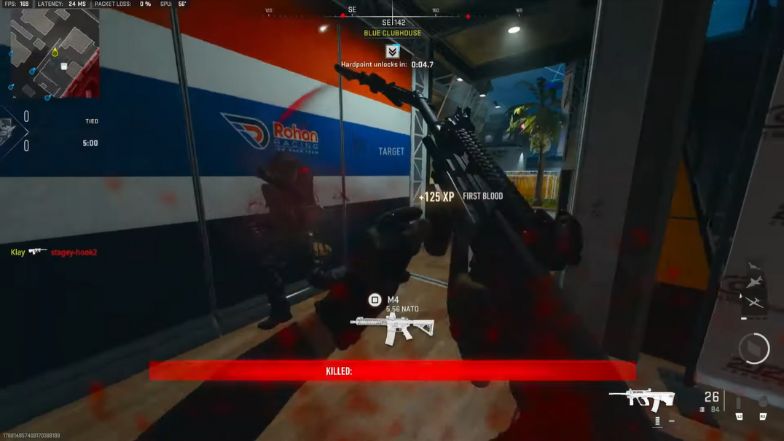 Muzzle: RF Crown 50
Optic: Cronen Mini Pro
Underbarrel: FSS Sharkfin 90
Ammunition: 5.56 High Velocity
Comb: FTAC C11 Riser
As you are likely already aware, the MW2 gunsmith offers a diverse range of attachments that allow you to create the perfect loadout for any style of player.
If you want an HCR 56 loadout that focuses more on speed and damage, give this alternative loadout a try.
While the other loadout focuses on recoil control, if you feel you can handle this trait without any support, you can focus more on other benefits, such as bullet velocity and sprint-to-fire time.