With several guns and countless attachments on offer in Call of Duty: Modern Warfare 2, it can be hard to find the perfect weapon to suit your playing preferences.
However, one gun you should certainly consider as your go-to SMG in MW2 is the MX9. It is one of the most effective close-range weapons in the game, and with the right attachments, it can cause the opposition team plenty of headaches in and around objectives and bomb sites.
Here is the best MX9 loadout in Call of Duty: Modern Warfare 2 for you to dominate opposition at close range.
The Best MX9 Loadout in MW2
Magazine: 32-Round Mag
Rear Grip: Bruen Q900 Grip
Comb: FTAC C11 Riser
Stock: Bruen STB 556 Stock
Laser: EXF Solarflare Laser
As we have touched on, choosing the right attachments for your MX9 is tricky, as there are so many options for you to choose from. For this loadout, we have focused on improving the handling and accuracy of the MX9 to help you dominate your opposition in mid-range and close-range gunfights.
Magazine: 32-Round Mag
As the MX9 is an SMG that you will use to quickly move around the map with, you might feel as though you need plenty of ammunition, but that is not the case. Rather than some of the larger magazines that will slow you down, select the 32-round mag to add some additional ammunition without the side effects.
This magazine offers you plenty of mobility and agility to react quickly and outsmart your opposition.
Rear Grip: Bruen Q900 Grip
When choosing your rear grip, opt for the Bruen Q900 grip, as it offers you fantastic sprint-to-dire speed. This rear grip is perfect for any player that wants an effective run-and-gun class.
It also helps improve your ADS speed, which counteracts the one negative side effect of implementing the 32-round mag.
Comb: FTAC C11 Riser
Another attachment you can use to increase your mobility is the FTAC C11 Riser comb. This comb improves your mobility and handling even further and gives you an upper hand against your opposition in close combat.
This comb does lead to slightly more recoil, but the change is minimal, and if you have reasonable gun skill, this should be no issue.
Stock: Bruen STB 556 Stock
For your stock, the Bruen STB 556 Stock is a great option that helps remove that issue of recoil and actually makes it significantly better.
This loadout is not designed to make the MX9 a mid-range weapon. Instead, it focuses on close-range combat. However, this stock does give you a fighting chance at range.
Laser: EXF Solarflare Laser
Finally, the EXF Solarflare Laser is the last attachment for this weapon and will greatly improve your sprint-to-fire speed and how you handle the weapon.
Alternative MX9 Build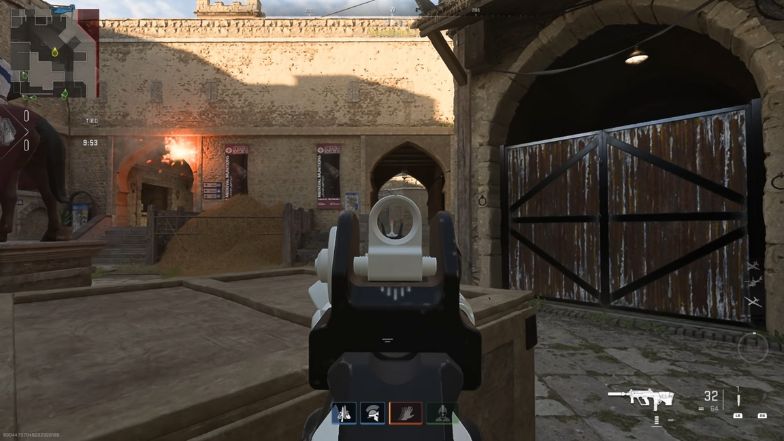 Muzzle: AVR-T90 Comp
Barrel: 16.5" STB Factory
Magazine: 32-Round Mag
Optic: Slimline Pro
As the main loadout we have created focuses on close-range combat, our alternative MX9 build focuses more on making this weapon much more effective at mid-range. Many players use SMGs solely as a close combat weapon, but you can use this loadout to turn it into an excellent option for mid-range gunfights.