The Lachmann-556 feels like a slightly lighter version of the M4 in MW2. It is a bit weaker at close-quarter battles, but it is more reliable at long-distance gunfights.
If you're looking to optimize for a zero recoil Lachmann-556 build or if you want to minimize its TTK, we've got you covered.
The Lachmann-556 can be made into an excellent AR, but it can be underwhelming without the right attachments. If you want the most out of it, you must know what you want from it and what attachments to use.
Here's the best Lachmann-556 loadout in Call of Duty: Modern Warfare 2.
Best Lachmann-556 Attachments in MW2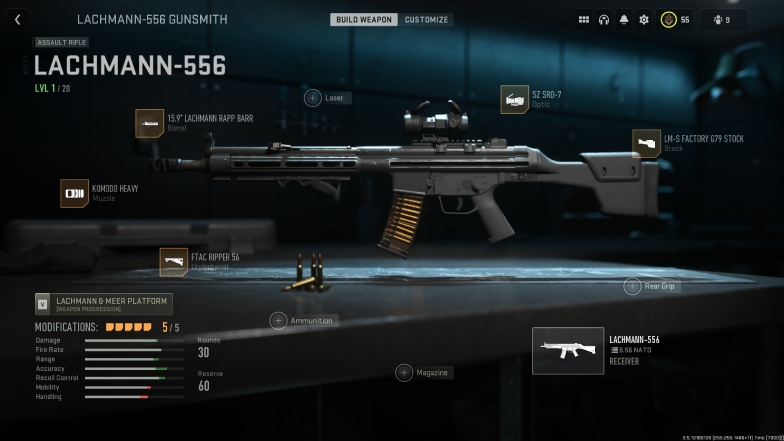 Barrel: Tempus Hightower 20" Barrel
Laser: None
Optic: Cronen Mini Red Dot
Stock: None
Underbarrel: VX Pineapple Vert Grip
Ammunition: None
Magazine: None
Rear Grip: Rear Grip
Receiver: LM 16
Muzzle: Echoline GS-X Suppressor
With this setup, you lose a bit of the weapon's handling and mobility in exchange for range, accuracy, and a bit of damage.
This loadout will improve the Lachmann-556's strengths, but it will also make its weaknesses a bit more noticeable.
Generally speaking, your Aim Down Sight speed and Movement Speed will be slightly worse, but the rifle will be more effective and reliable.
Its recoil will be tremendously easier to control. With the help of the Cronen Mini Red Dot, you will have the accuracy needed to make the most out of this AR's TTK.
The suggested loadout is especially helpful when you are trying to use the Lachmann-556 greatest strength. Its good damage output at a distance is only effective if you hit the target.
That said, I recommend having a reliable secondary weapon for short-distance battles. It's never a bad idea to use Overkill to carry an SMG with the Lachmann-556. Check the best SMGs in Modern Warfare 2 to make that choice.
You should also check out where the Lachmann-556 ranks on our MW2 Assault Rifle Tier List.
Alternative Lachmann-556 Attachments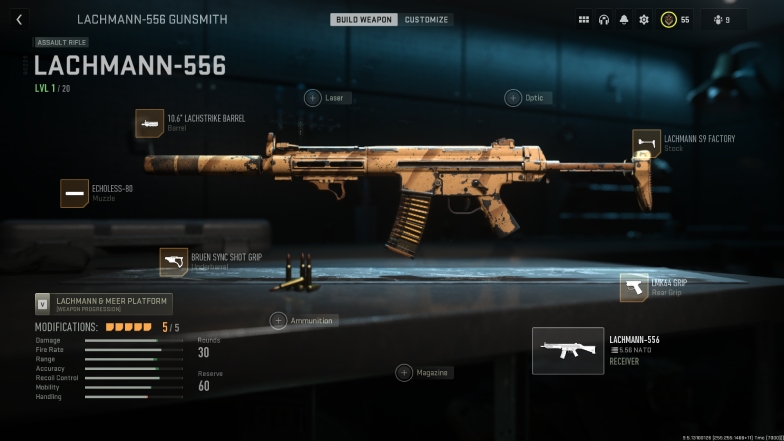 Barrel: 10.6″ Lachstrike Barrel
Laser: None
Optic: None
Stock: Lachmann S9 Factory
Underbarrel: Bruen Sync Shot Grip
Ammunition: None
Magazine: None
Rear Grip: LMK64 Rear Grip
Receiver: Lachmann-556
Muzzle: Echoless-80
This loadout's idea is to make up for some of the things that the Lachmann-556 lacks. In exchange, you will have a slightly worse Aim Down Sight Speed.
On the other hand, you get more damage, range, accuracy, and recoil control. This makes the weapon more reliable at all distances and much better at medium-distance bullet trades.
That said, the lack of an optic might cause trouble if your enemy is far from you. In other words, it might not be the best idea to trade shots with a sniper if you can't clearly see them.
As mentioned above, you should always consider using a secondary weapon at close-quarter distances.
Rifles are slower than shotguns and SMGs when you are right next to your opponent, and the Lachmann-556 is not the best at it, even against other rifles.
Still, this alternative build doesn't hurt your Aim Down Sight Speed as much as the one above, so try them out and see which one fits your playstyle better.