MW2 has seen many weapons resurface from previous games to introduce new players to some of the best guns of all time and turn back time for long-standing fans.
Alongside the M4 Assault Rifle, MW2 also brings back another beloved Modern Warfare weapon for you to run, the PDSW 528.
The PDSW 528, formerly known as the P90, is a solid SMG to use in MW2.
For anyone who wants to run a versatile SMG that can be used effectively for different play styles, here is a look at the best PDSW 528 loading in Call of Duty: Modern Warfare 2.
The Best PDSW 528 Loadout in MW2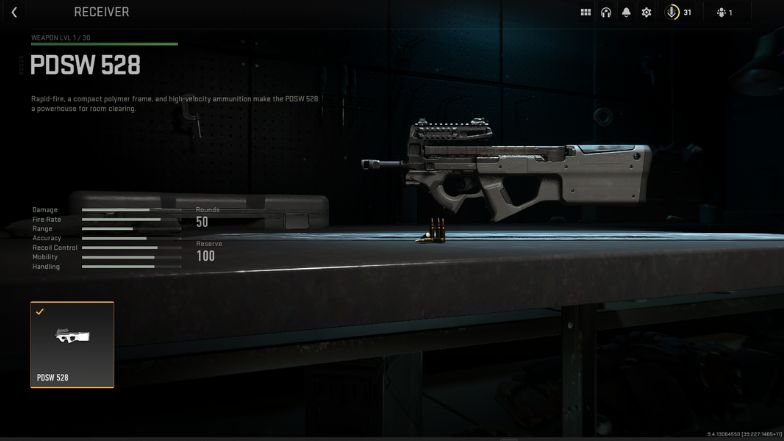 Muzzle: Spiral V3.5 Flash Hider
Barrel: 9.5″ Duke-30
Stock: CQB Stock
Rail: Integrated Reflex Rail
Ammunition: 5.7x28mm Overpressured
When you start running the PDSW 528 in competitive multiplayer matches, you need a loadout that offers you plenty of recoil control and as much mobility as possible. When you run an SMG in matches, you want to be able to move quickly across the map, whether that is trying to get the first blood in a Search and Destroy match, rotating to the next Hardpoint, or simply cleaning up in a Team Deathmatch.
This loadout will focus on providing you with plenty of mobility and increased speed.
Muzzle: Spiral V3.5 Flash Hider
Firstly, let's focus on reducing some of the vertical recoil the PDSW 528 can bring and improving our accuracy rate.
One of the slight downsides of the PDSW 528 is that it does have a tendency to spray bullets a little wildly, especially from mid-range.
We need to try and utilize the fantastic fire rate by reducing some of that recoil. The Spiral V3.5 Flash Hider muzzle is a perfect addition to this, as it helps you reduce some of the vertical recoil.
Barrel: 9.5″ Duke-30
Now that the recoil has gotten reduced somewhat, our next attachment focuses on improving your mobility while using this weapon.
There is no point in setting up a gun and run loadout if you are unable to aim down the site quickly or engage with hip fire shooting when needed.
The 9.5" Duke-30 is a fantastic barrel choice for the PDSW 528, as it offers improved mobility while you are aiming down sight, allowing you to continue moving quickly across the map while preparing for engagements when you turn blind corners.
Not only that, but it also offers additional hip fire recoil control, so when you are caught up in an extremely close gunfight, you can simply hip fire at your opponent and stand a strong chance of winning your duel.
Rail: Integrated Reflex Rail
When it comes to selecting a sight for the PDSW 528, it is tricky to find a sight that offers you plenty of clarity while not ruining your ADS speed.
If you prefer playing without a sight, you might not need to worry about this attachment, but for many, they will need the Integrated Reflex Rail to gain additional accuracy. This rail is a solid choice. The sight is clean and easy to use and doesn't impact your ADS speed too much.
Stock: CQB Stock
To increase your mobility with this loadout even further, as well as increasing sprint speed and crouched movement, we have opted to add the CQB Stock.
Additional sprint speed can make a huge difference in MW2. If you are able to beat your opponent to a particular key spot, it can completely swing matches in your team's favour.
Crouched movement speed is always essential in a Modern Warfare game. With no dead silence on offer until you have been in the game for a particular amount of time, keeping as quiet as possible while still moving at speed is very important.
Ammunition: 5.7x28mm Overpressured
Finally, the 5.7x28mm Overpressured ammunition is an excellent choice to help you win close gunfights. This interesting attachment results in your enemies getting hit with additional flinch when your bullets hit them, which can throw their shot off and result in them missing you as they retaliate.
With such a fast time to kill, the difference this will make will only be minimal, but winning important 1v1s as an SMG is essential to shift the momentum and put your team on top.
Alternative PDSW 528 Build
Optic: Cronen Mini Red Dot
Comb: TV TacComb
Laser: STOVL Tac Laser
Barrel: FTAC Series IX 14.5″
Muzzle: XTEN RR-40
With this alternative PDSW 528 build, the focus is more on dominating close-quarters engagements and adding additional bullet velocity and damage.
The FTAC Series IX 14.5" barrel and XTEN RR-40 muzzle provide you with more range, bullet velocity and damage, and the Cronen red dot sight helps you remain accurate from slightly further away.
This alternative build is not as fast, but some SMGs prefer to play slightly slower. If that is the case for you and your playstyle, this loadout probably suits your needs slightly more.