When it comes to gunning down people in this franchise, there's always a weapon you can count on at any moment.
I feel like the M4 is that all-around weapon in this game, and it ranks pretty highly on our MW2 AR tier list.
It is steady enough for you to hit people far away, its TTK is pretty good, and it works marvelously with fast Aim Down Sight Speed builds in narrow corridors.
If you're looking for a zero recoil M4 build for MW2, we've got you covered below.
Best M4 Attachments in Modern Warfare 2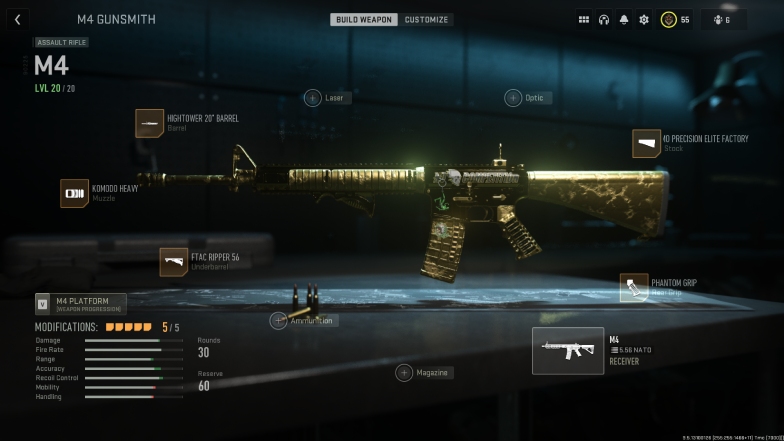 Barrel: Tempus Trench Pro
Laser: None
Optic: None
Stock: Demo Precision Elite Factory
Underbarrel: Ftac Reaper 56
Ammunition: None
Magazine: None
Rear Grip: Xten Grip
Receiver: M4
Muzzle: Komodo Heavy
The M4 is probably the best weapon for beginners in Call of Duty: Modern Warfare 2. It works pretty well at any distance, it has a good standard loadout, and it can be customized in a few different ways.
Once you slide or jump to surprise your enemy, you should be able to aim and hold the trigger before your opponent can react.
This build provides the quickest possible Aim Down Sight Speed you can get with the M4, turning it into a fantastic close-quarters tool.
There are ways to make it more balanced. Still, I recommend carrying this weapon and using the Overkill perk to carry another primary weapon. That way, you can carry a sniper or rifle with attachments that optimize it for long range.
You can run with the long-range weapon and dash cancel to use your short-range one in case you run across an enemy.
Alternative Build for the M4
Barrel: Tempus Hightower 20″ Barrel
Laser: Corio Laz-44 V3
Optic: Cronen Mini Red Dot
Stock: Demo Fade Pro Stock
Underbarrel: None
Ammunition: None
Magazine: None
Rear Grip: Xten Grip
Receiver: M4
Muzzle: None
The alternative is to focus on attachments that you can unlock early and make the M4 better.
The focus is to improve the M4's accuracy and recoil stability. This helps you keep your crosshead on the enemy so you can unlock gold camo earlier or just level up the M4 to use the better class setup.
The Tempus Hightower 20′′ Barrel significantly increases bullet velocity, damage range, and recoil control, which makes the M4 more reliable at any distance. This way, you can sure hit someone on the other side of the map at the cost of some Aim Down Sight Speed.
Keep Corio Laz-44 V3 laser boosts your accuracy for virtually no cost. This is used to counterbalance the accuracy issues the other build might have.
The idea is to make this rifle as stable as it can be. It also helps a bit with your Aim Down Sight speed. We don't want a heavy rifle that takes forever to be accurate.
This is why we are rocking the Xten Grip and Demo Fade Pro Stock. Generally speaking, this loadout helps you make the M4 more like its base version, but better.
It won't be super impactful and won't feel like a different weapon, like the PDSW 528 after you modify it, but the M4 is pretty good in its base form.
That's why making a slightly better version of it works pretty well.