Since the release of Call of Duty: Modern Warfare 2, one of the greatest aspects of the game has been the reintroduction of snipers as a viable weapon for any and all game types.
MW2 has a range of snipers for you to choose from, including the best sniper for quick scoping.
One of the best snipers for dealing plenty of damage is the LA-B 330, especially with the right attachments.
With a bolt-action firing mechanism, the LA-B 330 offers immense power and can eradicate your opponent with one single shot.
This article will show you the best LA-B 330 Loadout in Call of Duty: Modern Warfare 2.
The Best LA-B 330 Loadout in MW2
Muzzle: TA CG76
Barrel: 23.5″ Fluted R-67
Stock: ZLR T70 Pad Extension
Ammunition: .330 High Velocity
Comb: Aim-Assist 406
The MW2 gunsmith offers you plenty of different attachments to choose from, allowing you to create the perfect weapon to suit your playstyle.
This set of attachments is aimed at increasing the LA-B 330's range and accuracy while also reducing the recoil.
Muzzle: TA CG76
The first attachment you want to include in this loadout is the TA CG76 muzzle. This attachment is excellent for reducing recoil while maintaining damage levels.
Barrel: 23.5″ Fluted R-67
For the barrel, we have opted for the 23.5″ Fluted R-67 barrel, as this helps reduce the amount of recoil on this sniper without impacting how much damage it inflicts.
Controlling recoil is essential for any sniper, as it allows you to instantly lock back on your opponent if your first shot is a miss or a hit marker.
Stock: ZLR T70 Pad Extension
The ZLR T70 Pad Extension is a great option for the LA-B 330 as it helps reduce ADS speed with minimal downsides. Fast ADS is essential for quick game types like hardpoint or domination and also makes quick scoping much easier.
Ammunition: .300 High Velocity
For ammunition, we chose the .300 High Velocity, as it will greatly improve the amount of damage each bullet inflicts.
As a sniper, there is nothing worse than lining up your opponent perfectly, catching them off-guard with the perfect bullet, only to get a hit-marker. This lets your opposition know where you are hiding and could mean you miss out on the kill altogether.
Comb: Aim-Assist 406
Finally, we have opted for the Aim-Assist 406 comb to round off this list of attachments. This attachment is great for reducing ADS speed so that you can react to any opponents that suddenly appear in front of you.
With such a fast time to kill in MW2, you need to be able to quickly zoom in on your opponent, or you will be dead before you can get a shot away.
Alternative LA-B 330 Build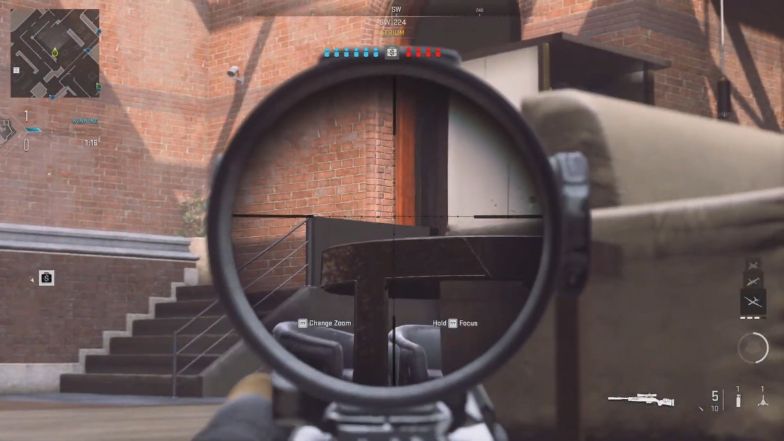 Laser: SZ 1MW PEQ
Stock: ZRL T70 Pad Extension
Barrel: 18.5″ Bryson LR Factory
Bolt: FSS ST87 Bolt
Comb: Aim-Assist 406
If you would rather have a more mobile loadout to try that allows you to run around the map with your sniper, you might want to try out an alternative LA-B 330 build.
You don't need to worry about adding a suppressor to your sniper, as it will have significant downsides to your gun's ability. It is not a necessity in MW2, as unsuppressed shots no longer appear on the mini-map.