If you are trying to build the best Minibak Loadout in Call of Duty: Modern Warfare 2, you have come to the right place. With the right attachments, the Minibak can be one of the best SMGs in the game.
As the gunsmith system has changed in MW2, it is not particularly easy to unlock the Minibak. You will need to get various other weapons to certain levels before it is unlocked.
However, once you do, you will have access to an extremely strong SMG, and one that you can make even stronger with these loadouts.
This article will show you the best Minibak loadout in Call of Duty: Modern Warfare 2 to tackle any close-range multiplayer gunfights.
The Best Minibak Loadout in MW2
Laser: Stovl DR Laser Box
Stock: Otrezat Stock
Barrel: BAK-9 279 mm Barrel
Rear Grip: True-Tac Grip
Muzzle: Xten RR-40
One of the best features of the Minibak in MW2 is the size of the magazine. Where other SMGs only offer a small magazine, the Minibak has a 64-round drum, so you have plenty of ammunition to play with.
With that in mind, this loadout focuses more on the handling and speed of this weapon to allow you to jump into as many gunfights as possible.
Laser: Stovl DR Laser Box
For the laser, we have opted for the Stovl DR Laser Box, which improves the hip-fire accuracy, ensuring you can quickly pull the trigger and kill opponents as they try to aim down their gun's sight.
Stock: Otrezat Stock
To ensure that sprint speed was as high as possible with this Minibak loadout, we have also added the Otrezat Stock. Not only does this attachment increase sprint speed, but it also increases your aim walking speed, another excellent bonus.
Barrel: BAK-9 279 mm Barrel
The BAK-9 279 mm barrel is another excellent addition to your Minibak loadout, as it helps improve the range of your weapon while also increasing your hip fire accuracy.
Not every gunfight will be a clear one where you have time to scope in on your opponent. Improved hip fire accuracy is necessary to win awkward fights where you bump into an opponent around a corner.
Rear Grip: True-Tac Grip
The True-Tac rear grip is an excellent choice for your Minibak loadout, as it offers you more mobility to get around the map faster.
It also increases your sprint to fire and ADS, which is essential for any SMG loadout. As an SMG, you will often find yourself engaging in sudden gunfights. Therefore, you need to be able to quickly snap onto opponents and start shooting.
Muzzle: Xten RR-40
The final attachment you want to add to your Minibak loadout is the Xten RR-40 muzzle. This suppressor increases the range of your Minibak significantly to help you compete better in mid-range gunfights.
Alternative Minibak Build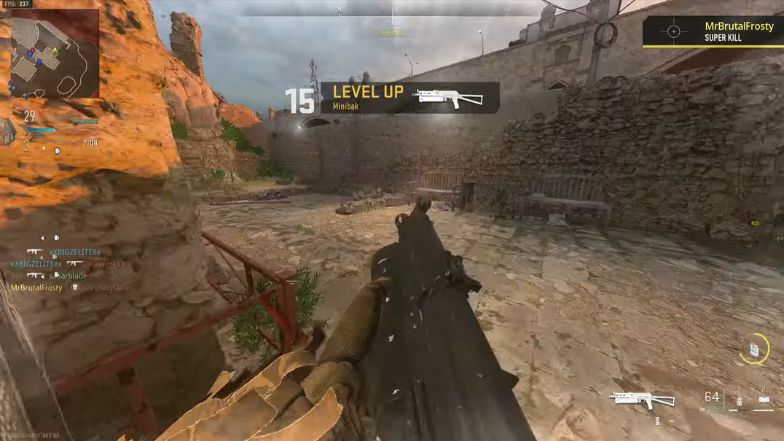 Stock: Otrezat Stock
Rear Grip: True-Tac Grip
Laser: Stovl DR Laser Box
Barrel: Bak-9 279mm Barrel
Muzzle: XTEN RR-40
For our alternative build, we have kept some of the same attachments to ensure that the Minibak is still very mobile on the map. However, we have also increased the SMGs' recoil smoothness, damage range, and bullet velocity.
Check out the best run and gun loadout for MW2.
While not quite as mobile as the other loadout highlighted above, this option is still quick enough and packs more of a punch with each shot.