As an LMG, the RAPP H can be a surprisingly solid tool with the luxury of delivering long-lasting suppressive fire. 
If you like the idea of holding down the trigger until your enemy is down, keep reading.
Here's the best RAPP H Loadout in Call of Duty: Modern Warfare 2.
The Best RAPP H Build In Modern Warfare 2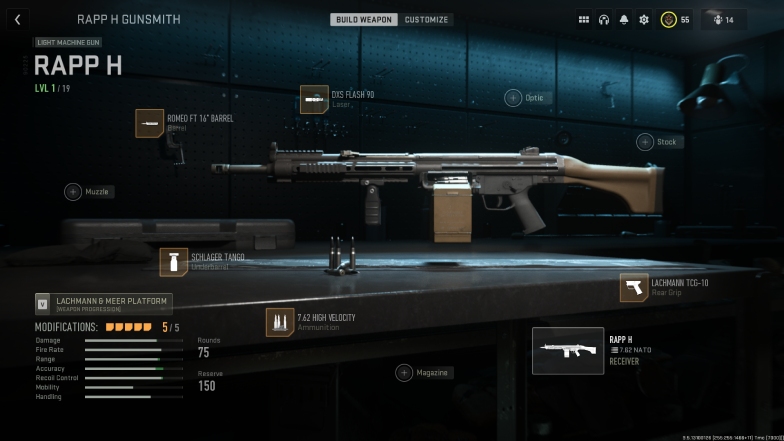 Barrel: 10.6″ Lachstrike Barrel
Laser: None
Optic: None
Stock: F.T. Mobile Stock
Underbarrel: FSS Sharkfin 90
Ammunition: None
Magazine: None
Rear Grip: Lachman TCG-10
Receiver: RAPP H
Muzzle: Sakin Tread-40
Although they have tremendous firepower, LMGs are often unreliable. These attachments are meant to change that.
The main goal of this build is to make this LMG accurate, reliable, and as viable as an Assault Rifle.
If you intend to use the RAPP H in maps with long corridors and large areas, the loadout might need a few tweaks. We have an alternative class setup for that. Check below.
You will be slower when holding an LMG, but this loadout will ensure you are as fast as you can be with a heavy weapon. It also makes the gun stable enough to keep your crosshead on the target.
After all, it makes your Rapp H much faster, but it also lets you add the Lachman TCG-10 underbarrel to your loadout.
If you decide that the RAPP H is not the best for you, make sure to check out our guide with the best LGMs in Modern Warfare 2.
Barrel: 10.6″ Lachstrike Barrel
A short, heavy barrel that keeps the muzzle down when firing.
It grants Aim Down Sight Speed and Hip Recoil Control but slightly lowers your damage. Still, it helps tremendously to control this gun's recoil.
Underbarrel: FSS Sharkfin 90
The FSS Sharkfin 90 is a well-rounded angled foregrip for those who prefer accuracy while on the move.
This underbarrel grants you Aim Idle Stability and has no downside, which is why it shows up in class setups for many weapons in MW2.
Stock: FT Mobile Stock
The FT Mobile Stock is a polymer stock with limited weight for faster aiming when it really counts.
It increases your Sprint Speed, Aim Walking SPeed, Crouch Movement Speed, and Aim Down Sight Speed.
In exchange, you will lose some Aim Stability and Recoil Control, but it won't be enough to ruin your accuracy.
Rear Grip: Lachman TCG-10
With the LMK Grip, you get Sprint to Fire Speed and Aim Down Sight Speed, making the RAPP H more viable to use while moving around.
It does take away some of your Recoil Control, but not enough to be problematic.
Muzzle: Sakin Tread-40
This attachment will make the LMG slightly heavier. Although this is a lot since LMGs are already heavy weapons, it is a necessary evil.
In exchange, you will get Vertical Recoil Control and Horizontal Recoil Control.
Alternative RAPP H Attachments in MW2
Barrel: ROMEO FT 16″ Barrel
Laser: DXS Flash 90
Optic: None
Stock: None
Underbarrel: Schlager Tango
Ammunition: 7.62 High Velocity
Magazine: None
Rear Grip: Lachman TCG-10
Receiver: RAPP H
Muzzle: None
This loadout is also focused on reducing the RAPP H's recoil, much like the previous one, but there's a difference. It also grants you accuracy, so you can use it at longer distances.
The downside of this class setup is the Aim Down Sight Speed. Unlike the other loadout, this one doesn't focus on making the RAPP H lighter.
Assuming you want to unlock gold camo, you might need to tweak your attachments to complete the challenges more effectively. However, these two loadouts should be enough.
That said, we recommend this alternative class setup for large maps and Domination or Invasion games.