It's that time of year once again as the TOTS promo rolls right around the corner. It's the final promo before the game begins the inevitable descent into irrelevance, but there's still a fair bit of time between now and then.
That means you have the opportunity for one more period of grinding – a final hurrah, if you will. Overpowered cards will be added to the game in their numbers and the power curve will be significantly affected, but maybe not quite as much as one might expect.
If you'd like to fully maximize this year's TOTS promo and put your club in the best possible position to compete with the ridiculously overpowered teams that will be borne from it, then you want to pay close attention to this guide.
Here, we discuss the information we have about the TOTS promo, how to prepare for it, and what to expect at the end of the promo. Let's get right into it!
How Does the Promo Work?
There's a pattern to the format of this promo, based on what we've seen from previous years. This makes it a bit easy to know what to expect even before official announcements are made.
This year will be pretty similar to the last. From April 21st, which marks the end of the Trophy Titans promo, we'll get the TOTS Warm-Up series which we expect to include a lot of SBCs and Objectives.
In terms of pack content, nothing is confirmed to be in packs at the time of writing. However, there are rumors that EA might do a "Best of" series, handpicking certain players from previous promos and putting them back into packs for the week preceding the official beginning of the TOTS promo.
As far as official announcements go, we already know what to expect in terms of the Community TOTS nominees. Voting is closed now, but you can still check out the list. The official Community TOTS team will be released on the 28th of April, 2023.
That day marks the beginning of the promo, but let's take a look at how the rest of it is expected to unfold in terms of dates.
Release Schedule
The expected schedule of the TOTS Promo for FIFA 23 is as follows:
| Team | Release Date |
| --- | --- |
| TOTS Warm-Up Series | April 21, 2023 |
| Community TOTS | April 28, 2023 |
| Premier League TOTS | May 5, 2023 |
| Bundesliga TOTS | May 12, 2023 |
| La Liga TOTS | May 19, 2023 |
| Serie A TOTS | May 26, 2023 |
| Ligue 1 TOTS | June 2, 2023 |
| Ultimate TOTS | June 9, 2023 |
Other leagues will also be involved, but the expected dates for those releases are heavy speculations. Typically, they are released at the same time as the main team or a few days after.
We expect TOTS squads from these leagues:
Eredivisie (Netherlands)
EFL (England second tier)
Saudi Pro League
Liga Portugal
Süper Lig (Turkey)
Belgium Pro League
Rest of World
MLS (United States)
Griding Packs
The first thing that many people make sure to do in preparation for the TOTS promo is to save as many packs as possible.
Now, people that are planning to do that typically start weeks (sometimes, months!) before the promo actually begins.
However, I think you can still get a good number of packs saved even if you only start on the day that the Warm-Up series begins. This gives you the opportunity to try your luck with the ongoing Titans promo by opening your packs as long as it lasts.
There are three most effective ways to grind high-value packs that give you a decent chance of packing a promo card. These include:
Playing Rivals/FUT Champs
Grinding Objectives
Upgrade SBCs
Division Rivals and FUT Champs
If you have any ounce of familiarity with FIFA Ultimate Team, you already know about these two game modes.
Division Rivals grants rewards every week based on the number of wins that you get. The minimum cutoff to qualify for rewards is 3 wins, but you can get upgraded rewards if you manage 8 wins.
The quality of the rewards that you get depends on the division that you're in. The lowest level is Division 10 while the highest is Elite.
Obviously, if you're targeting good rewards, you should aim to continue winning games so you can qualify for promotion to the higher levels. In my opinion, the rewards get decent once you hit Division 3.
When it's time to claim your rewards, you get three options – tradeable rewards, untradeable double rewards, or untradeable rewards + coins.
If you're trying to grind packs to save for the TOTS promo, I recommend going for the untradeable double rewards that give you the highest number of packs.
Look out for the season rewards as well. The current season ends just before the TOTS promo begins next week, so you can claim a few decent packs from that too.
The quality of the packs that you'll claim depends on the number of Rivals games that you've played across the current season.
Completing 90 games gives out the best packs, but it will be difficult to grind that in the time left if you've not already completed a decent chunk of it by now. However, you can set a target to complete the number in the next season which should be over before the Ultimate TOTS squad is released into packs.
Similar logic applies to FUT Champs, which is the game mode with the best rewards in FIFA. Every weekend, you can compete in this game mode (provided you've successfully completed the qualifying stage) and try to rack up as many wins as you can within the 20-game limit.
The number of wins that you manage determines the quality of the rewards that you can get. Depending on your skill level, it should be fine to aim for a minimum of 9 wins to get decent-enough rewards.
Grinding OBJs
Apart from the aforementioned game modes, you can also get many good packs from completing objectives.
Some of these objectives also involve playing Divison Rivals or FUT Champs, so keeping an eye out for new objectives can be a great way to combine efforts and get multiple packs by playing a few games.
Objectives also stretch out to other game modes such as Squad Battles and Friendlies. We can expect a lot of them to come as long as the TOTS promo lasts, so you might have to decide which ones are worth it for you in terms of the rewards and the effort required to get them.
Packs such as the Jumbo Rare Players Pack, the Rare Players Pack, 81+, 83+, and 84+ packs are examples of rewards that offer good value in potential returns.
Completing Upgrade SBCs
The beauty of upgrade SBCs is that they allow you to use cards that would otherwise be useless in your club. These cards (for example, Gold/Silver Commons) are required to complete certain SBCs that offer decent packs in return.
I already gave examples of such decent packs, so be sure to check the "Squad Building Challenges" page every day before and during the promo to make sure that you don't miss a good upgrade SBC.
During the TOTS promo, we can expect SBCs that offer a TOTS player in return, which is as direct as you can get when it comes to packing a good TOTS player.
Trading and Investing
Now, we've discussed setting yourself up properly to pack a good TOTS player during the promo. However, the reality of the matter is that the best players of the promo will only be packed by a relatively small number of FUT gamers, no matter how many packs you save.
The alternative, in that case, would be to buy these players on the market, but they will be very expensive and unaffordable for a large number of people.
However, if you make some smart moves trading ahead of (and during) the promo, you can grow your coin balance enough to afford a fantastic TOTS player or two.
Now, I'm no professional trader, but there are a couple of tips that usually prove relevant around this time of the year, every year in the FIFA cycle.
Before we get into it, you must have noticed that some of these pictures are from the Companion App. I find it easier to grind the menus and claim rewards there compared to using my console and dealing with all the unnecessary animations. I recommend you try it and see if you feel the same.
Stock Up on Fodder
This one's pretty straightforward. Stock up on fodder (recommend 83s, 84s, and 87s) when they're priced low and resell for profit when they're priced high.
This usually happens when a new SBC drops with requirements that have players scrambling to buy fodder off the market. Demand goes high, so supply reduces and price subsequently increases. It's Economics 101.
Since we expect many SBCs to come throughout the promo, there will be a steady stream of demand for fodder. However, the important thing is buying at the right price if you hope to resell.
83s are generally good value if you can grab them for about 900 coins, 84s for less than 3,000, and 87s for less than 19,000.
You could buy multiple units of the same popular player (for instance, 87-rated Trent Alexander Arnold) and keep them unassigned in your store or add them to your transfer list. You could also buy one unit each of various players instead.
This method of trading is low risk with the potential for high rewards if you have enough coins to invest heavily.
In-Form Trading
There will be one more Team of the Week promo between now and the official launch of the TOTS promo. After that, TOTW will no longer be in packs.
The result of this fact is that when SBCs that require TOTW cards are released, there's a scramble to get them on the market. The same situation that applied to fodder in the previous section applies here as well.
However, investing in TOTW cards is a bit trickier and requires more patience because it can be much harder to get good deals, especially when the promo is so close. I recommend waiting until the current Team of the Week is about to be phased out (possibly Tuesday evening or Wednesday night) and looking for deals then.
You can stock up on 83-rated, 84-rated, and 87-rated cards here as well. However, when deciding which prices to buy at, I recommend going sub-10.5k for 83s, sub-11.5k for 84s, and sub-19.5k for 87s.
If you use tools such as Futbin, you can set filters to notify you when a card drops below a certain price. This makes it much easier to track price fluctuations and move quickly when a deal opens up.
Flipping Cards
Unlike the previous two options where you're targeting specific groups of cards, flipping cards happens on a deal-by-deal basis.
With the TOTS coming up, a lot of meta cards on the market are dropping in price and fluctuating heavily as people expect better cards to be added to the game. However, the reality of the matter is that even when TOTS cards drop, a good number of these meta cards will still be on the same level or better than those cards.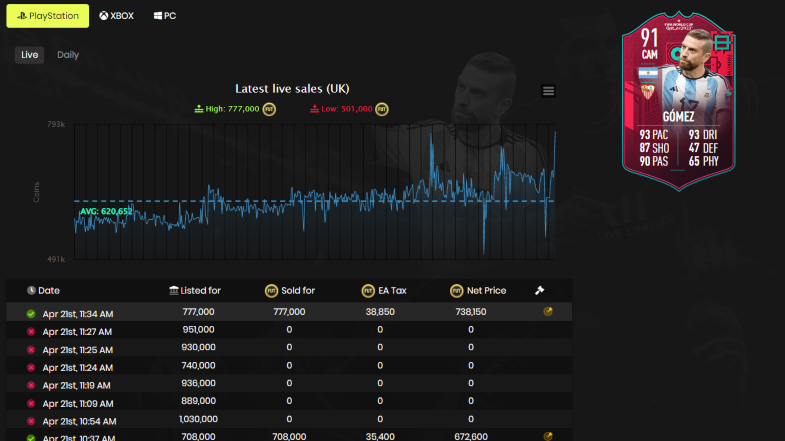 Papu Gomez's World Cup PTG card, for instance, is a double 5-star card that offers some of the best dribbling capabilities in the game. I've been tracking the price fluctuations of the card, and I expect it to be a very good option for flipping if you can get it below 600k.
If we look back at FIFA 22 last year, Neymar's TOTS card was the only double 5-star card in the promo. It shows that certain skill sets are still relatively rare even during the biggest promo of the year, and meta cards that were released earlier with those skill sets should offer decent returns if you can grab them for cheap during price fluctuations.
Spend some time on Futbin and go crazy with the filters. There are more "hidden" gems like Gomez in there.
The Power Curve
As I said, many meta cards in the game will still be very much usable during this promo, but make no mistake, the power curve will get steeper.
The influx of TOTS cards from all the major leagues (and a few minor ones) will significantly improve the quality of most teams, especially in the lower divisions. You will need these cards in your team, which is why you're in a better position if you plan ahead.
However, it can also make this the most fun time of the year for many people. Cards get much cheaper and you can try out many players that you like and may have had an eye on throughout the year.
For me, the most important thing is to have fun, and everything else is secondary.
What Next?
Last year, the Shapeshifters promo and Futties promo came after TOTS. Futties, in particular, was a lot of fun with double 5-star players all over the place. We can expect a similar cycle this year, but as I said, post-TOTS is the beginning of the end.
I've spoken a lot about meta cards so far. If you're interested in reading more about them, check out our guide to the best meta players in FUT 23. It's a fun read!