While bowling is an activity that is usually reserved for the real world, it doesn't mean that there aren't a lot of people who would like to experience it from the comfort of their living rooms.
As such, there have always been a few bowling games for every single console. The Xbox Series X and S are no different. What's more, you also have access to some of the best bowling games that were made for the Xbox One.
With a mix of both simulation and arcade bowling games, there are quite a few titles for you to choose from. However, one of the most important aspects of bowling is the fact that you usually do it with friends. As such, we place multiplayer capabilities and the multiplayer experience a bit higher than we do on other lists like this.
Here is our list of the best bowling games for the Xbox Series X / S.
PBA Pro Bowling 2021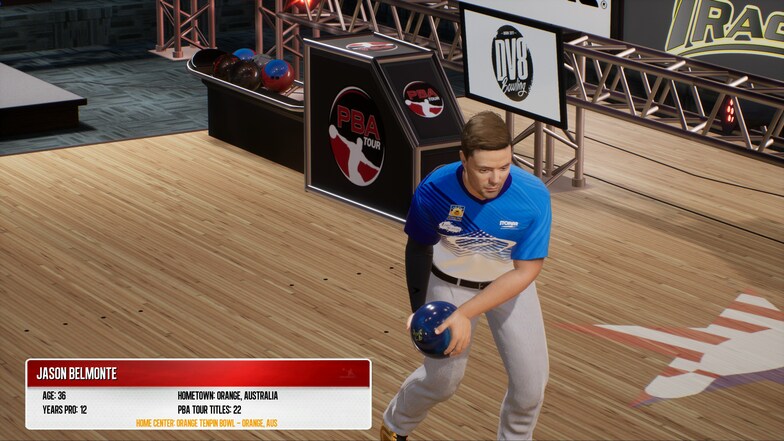 PBA Pro Bowling 2021 is the first game on our list. There was a previous PBA Pro Bowling game released in 2019, but the 2021 version improves upon that edition in almost every way.
For one, it has some of the best graphics from all of the bowling games out there. While that is definitely due to the game being newer than other titles on this list, it doesn't change the fact that this feels like the most authentic bowling game of all the other entries on this list.
There is both the option for local and online multiplayer. However, PBA Pro Bowling 2021 is also ideal for playing alone. There is a career mode with over 100 tournaments to participate in. Those who are fans of bowling as a competitive sport can also play as some of their favorite players.
As for the bowling itself, it is fairly realistic and has a high skill ceiling. If there is one bowling game that you want to main and get better at, this is it.
Tekken 7 (Ultimate Tekken Bowl)
We can be sure of one thing whenever we pick up a fighting game in the modern era: It will have a bunch of mini-games. The good news is that a lot of these mini-games have a surprising amount of depth to them. When it comes to Tekken 7, one such mini-game is Ultimate Tekken Bowl.
Ultimate Tekken Bowl is an arcade bowling game where you can pick some of your favorite fighters from the Tekken universe and battle each other in a game of bowling. While not much in terms of realism, it is an extremely fun bowling game to play.
It is available as a DLC, so you will need to shell out a few extra bucks on top of Tekken 7 to play it. However, we think of it as getting two games for the price of one game and one DLC. After all, Tekken 7 as a standalone game was good enough to get a place on our list of the best party games for Xbox.
Brunswick Pro Bowling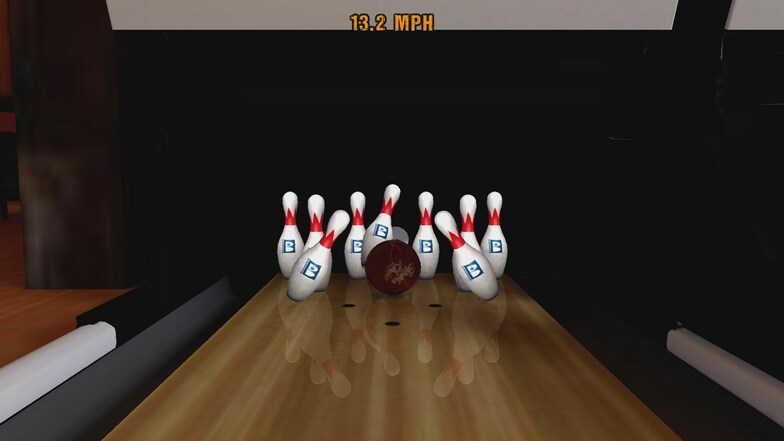 Brunswick Pro Bowling is the next game on our list of the best Xbox bowling games. In the simplest of terms, Brunswick Pro Bowling is like PBA Pro Bowling lite. It tries to recreate a simulation experience and does a surprisingly good job of it. While not as visually exciting, the mechanics are surprisingly on point.
On top of that, the gameplay is much simpler in Brunswick Pro Bowling and is ideal for bowling fans that want to pick up and play a game.
There is a lot of equipment for players to use, including over 40 bowling balls. On top of that, there is a long career mode where players can pursue 200 different achievements, allowing for a lot of replayability.
The only problem with the game is that it does not have any online multiplayer. There is an option for local multiplayer for up to 4 players, but not being able to play online drops it down a notch in our eyes.
ACA NeoGeo League Bowling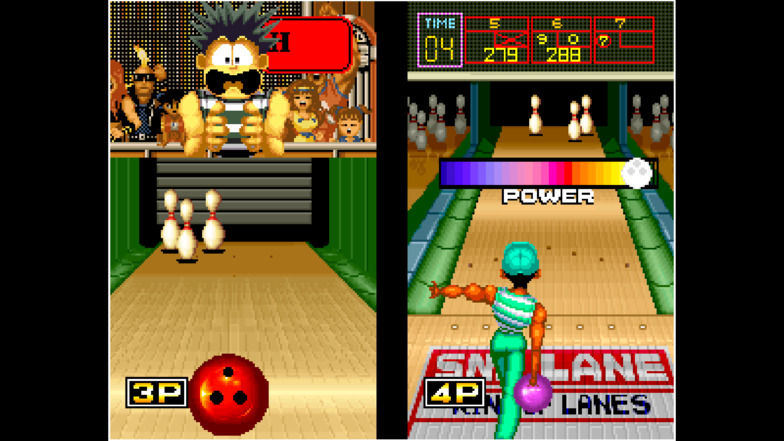 The ACA NeoGeo series of games make regular appearances on our lists of the best Xbox games. This is quite understandable, as the entire project is about re-releasing classic games for modern consoles.
League Bowling originally came out in 1990, and it is now possible to play that on the Xbox Series X and S. There really are no other classic bowling games available on the console, so this is your only chance at experiencing what bowling games were like in the 1990s (or experiencing a lot of nostalgia).
While the mechanics or the graphics fail to match up to modern games, there is the option of local multiplayer for up to two players. Unsurprisingly, there is no online multiplayer in ACA NeoGeo League Bowling.
Yakuza 0 (Mach Bowl)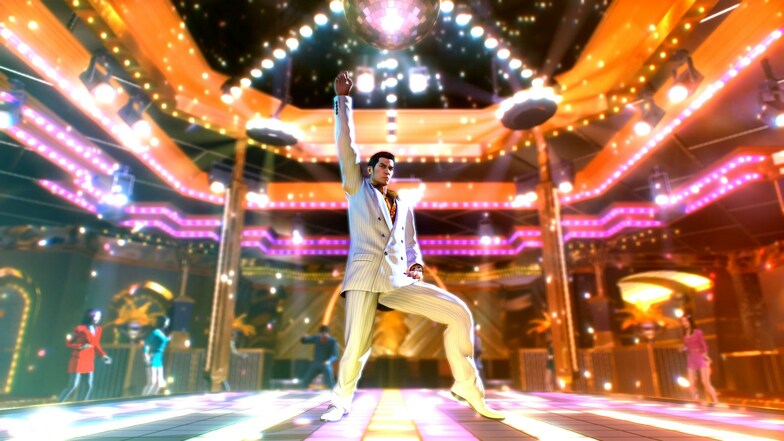 We are almost certain that there is no gaming franchise on earth that likes to have fun with the game's mechanics as much as Yakuza. However, underneath all that belies great gameplay. For example, Yakuza 0 was a part of our list of the best hack and slash games for the Xbox Series X and S.
Now one of the things that you can do in Yakuza (apart from dancing and killing others) is go bowling. The mini-game is known as Mach Bowl, and it allows you to partake in bowling using the characters in Yakuza.
Just like the bowling mini-game in Tekken, Mach Bowl does not take itself too seriously. There are no simulation elements. However, it is possible to play the game seriously and see if you can beat your previous score. There is also an easter egg to be found in the game, although we won't tell you what it is.
Crazy Strike Bowling EX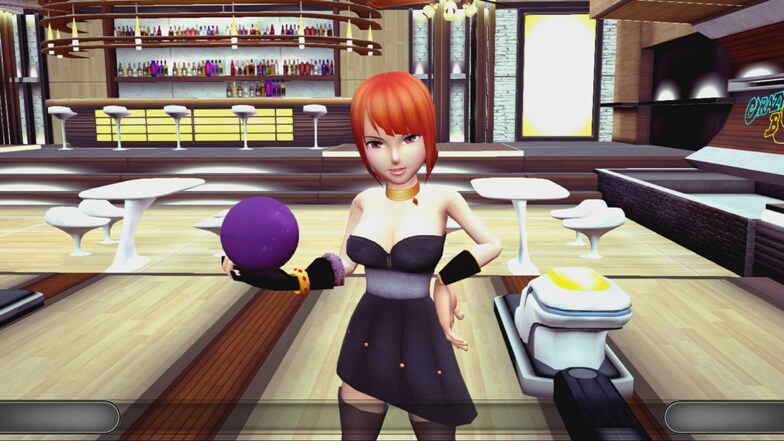 We wanted to end our list of the best bowling games for Xbox Series X and S with a game that provides a solid bowling foundation and is also great for the family to play together.
Crazy Strike Bowling EX allows you to bowl in exotic locations with animated characters. Despite there being a huge arcade feeling to the game due to its art style and image, the bowling itself is quite realistic.
The skill ceiling is fairly high, and chances are that those who practice will be able to outdo everyone else at the next family gathering.
The only problem, once again, is that there is no option for online multiplayer. There isn't even a lot of single-player content here for you to enjoy. As such, this is a game best reserved for playing locally when you have two or more people willing to play with you.