Although space games are not technically a genre of themselves, they do have their very own fan base. As the name suggests, space games are games that are based in space. Beyond that, there really aren't a lot of restrictions on which games can be considered to be a part of this category.
Games that are set in space can be about anything ranging from combat and warfare to exploration and building. Since we ourselves don't have a very good idea of what lies in space, the developers usually have a lot of creative freedom when it comes to deciding what the game is going to be like.
It is this fascination with the unknown that makes space games so popular on all major platforms. While the number of titles set in space is relatively low, many of them have a huge and dedicated community.
After combing through all of the available games, we have listed the 16 best space games for Xbox Series X / S.
No Man's Sky
We start our list by taking a look at a game that can only be described as controversial. Hailed as the greatest space sandbox to exist before release, the game was met with a lot of hate due to its unfulfilled promises.
Fast forward a few years later, No Man's Sky is finally the game that its developers and its fans imagined it to be. Simply put, it leaves you with a spaceship and lets you do whatever you want. Regardless of whether you want to avoid fights and mine resources in peace or go all out trying to defeat other players, you can do it in No Man's Sky.
If you are a fan of space games and would like to play something that allows you to have the maximum amount of freedom, No Man's Sky is it. This is also why we had it in our list of the most underrated Xbox games.
Halo: The Master Chief Collection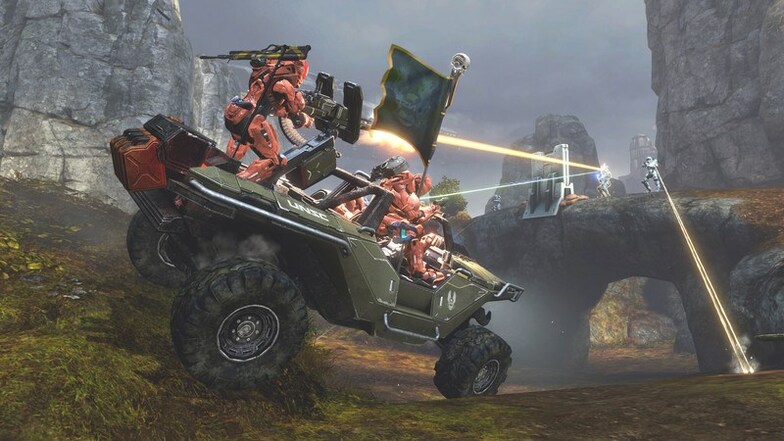 This is a list of the best space games on Xbox. We are pretty sure that it was understood by everyone that there will be at least one Halo game on here. While the Halo games are not exclusively set in space or even based around similar themes as some of the other games on this list, all of them borrow heavily from the genre.
The Master Chief Collection comprises a bunch of games in the series. It is a great way for new fans of the franchise to experience the previous games. It is also perfect for older fans of the series that want to once again experience the Halo universe in its more youthful form.
While some of the games definitely look outdated by modern standards, all of them have been enhanced for the Xbox Series X. This means that you will be able to enjoy the games in detail never seen before. Of course, there is no need for us to speak about the legendary gameplay of the franchise. Just know that Halo: Master Chief Collection was also a part of our list of the best action games for Xbox.
Chorus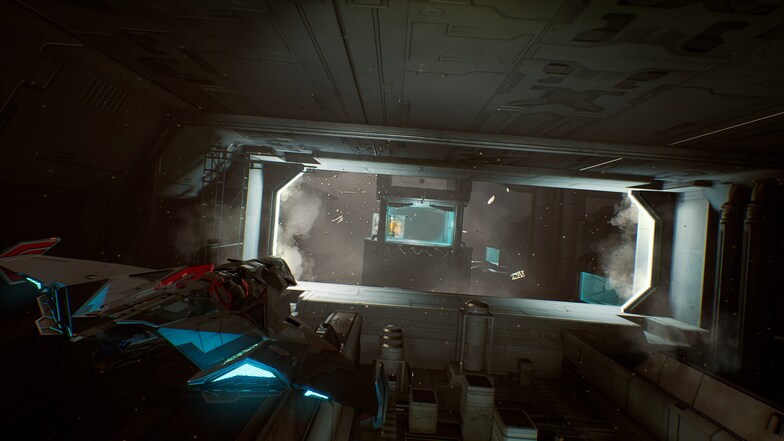 Chorus is a game that takes the space combat formula and adds just enough new elements to make the game feel unlike anything else you have played before. You take control of Nara, someone who is being targeted by a cult. Your journey will take you on a hunt to destroy the entire cult.
Luckily, you are not alone. You also have forsaken, who is your sentient starfighter. The two of you will need to take out members of the cult until you get to the point where you can face The Great Prophet.
Along with having your starfighter, you also have special abilities that you can use to take out your enemies. These abilities evolve as you venture forward in the game, and it is possible for you to unlock upgrades that make you develop a unique fighting style.
Outer Wilds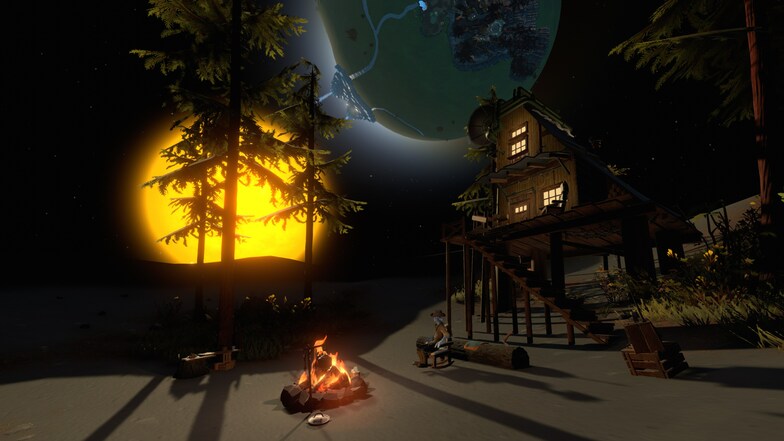 Outer Wilds is another game that was on our list of the best Xbox action games. It is one of those games that allows you to play through the story in an endless time loop. Each iteration changes certain things in the story, but most of your progress is saved.
Overall, there are multiple unsolved mysteries in the universe. The end result is that after a certain amount of time, the universe is always destroyed. Only when you discover what is the reason behind this will you be able to stop it from happening.
In a world that is constantly changing due to your input (and due to the actions of others), chances are that you can play through the game multiple times and always find something new for you to do. If you are looking for a space game that is not that big on combat, Outer Wilds will get you your mystery and exploration fix.
Elite Dangerous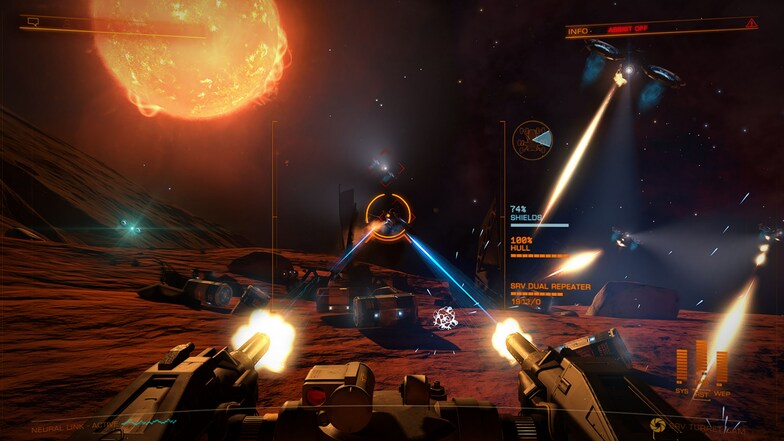 Going from a game that isn't about combat to one that completely revolves around it, Elite Dangerous is the next game on our list of the best Xbox space games.
While the formula used by the game is nothing new, it does a good job of optimizing everything in an MMO setting. You begin with a small spaceship and a small number of credits. With a world that is constantly changing and players out there that are always stronger than you, you will need to slowly learn to survive.
Remember that Elite Dangerous is a game that needs to be played online. On top of that, the skill curve is quite massive. Not only will new players have to slowly learn all the mechanics, but they will also need to begin by facing enemies that have access to much better equipment than they do.
That said, the game truly never becomes boring. New content is still regularly added to the game, and there is always a fight waiting to happen.
EVERSPACE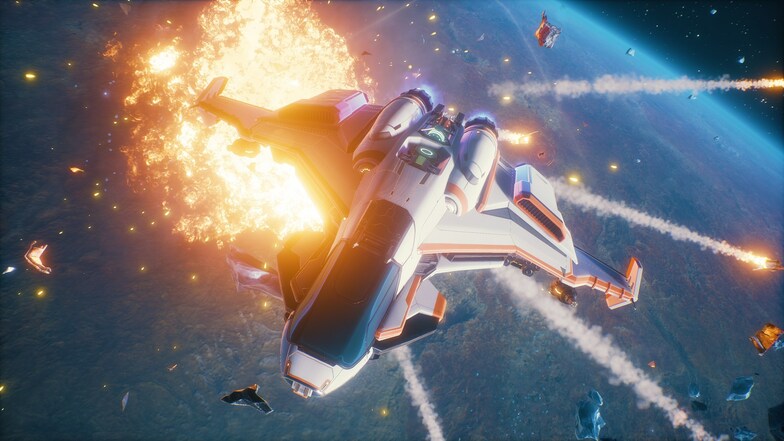 EVERSPACE is a single-player space game with a primary focus on combat. With no multiplayer to speak of, this is one of your best options (along with Halo) if you are looking for a shooting game with space elements.
The story is pretty similar to other games on this list. You are unaware of the reasons for your existence, and it is up to you to fight your way through space to discover how exactly you came to be.
Although the game came out in 2017, it has since been remastered and enhanced for the Series X. As such, it is one of the best-looking games on this list. With unique crafting systems and multiple ships for you to choose from, there is a lot of depth and playtime in EVERSPACE for a game that has no online elements.
Stellaris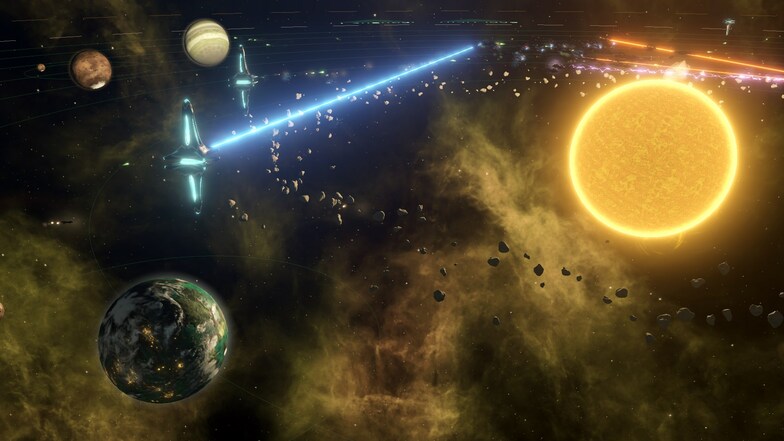 So far, almost all of the titles on our list of the best space games for Xbox Series X and S have been unique in some way. We continue that with Stellaris, a game that primarily focuses on strategy.
In many ways, the game is similar to No Man's Sky. There is a lot of exploration to do, with multiple galaxies that are always changing and evolving. The world is procedurally generated, which means that those who enjoy the game will probably be playing it for a long time.
The battles are primarily based on thinking and executing strategies rather than reflexive button pressing. There is also the option for multiplayer, allowing you to play with or against your friends in a galaxy of your choosing.
Astroneer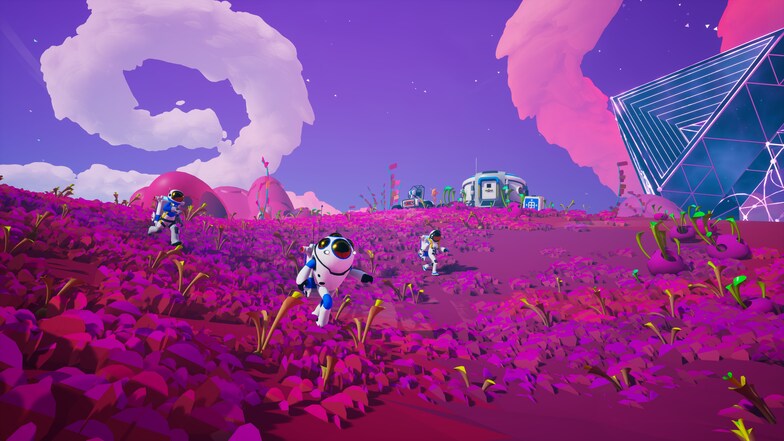 The premise of Astroneer revolves around adventuring toward the end of space as we know it. As you take your astronaut to these exotic places, you will have to contend with a lot of dangers and unknown elements. Your objective? To find out as much about the universe as you possibly can.
The great thing about Astroneer is that it is ideally played in co-op. In fact, it may very well be the best co-op space game on Xbox. Players can work together to build bases on faraway planets and construct vehicles to explore them.
The only problem that we have with Astroneer is that it is a bit light on the story. While you can continuously explore new planets and have fun with your friends, there will come a time when everything seems a bit monotonous. Still, the game provides a unique art style, gorgeous graphics enhanced for the Xbox Series X, and intriguing gameplay.
Star Wars: Battlefront II
Star Wars: Battlefront II was considered to be one of the most hyped games of 2017. Only when the game was released did players realize just how many pay-to-win elements the online component of the game had. On top of that, most of the players weren't even particularly happy with the story. This led to one of the biggest backlashes that a game studio has ever had to face after release.
Fast forward a few years, and the developers have managed to sort out most of the issues that were plaguing the game. While we will still say that the story mode is nothing to be happy about, the online side of things are now a lot more fun, balanced, and less 'grindy'.
As such, this is a game that we would recommend to any Star Wars fan who wants to play with their favorite heroes from the franchise and take down other players in intense 40-player battles.
Destiny 2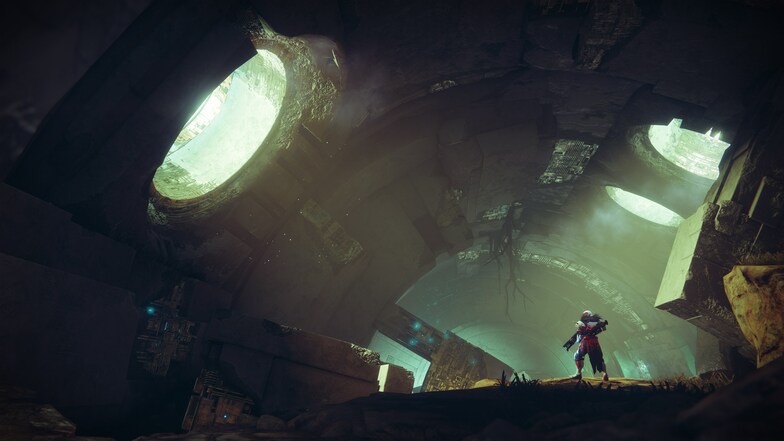 Although many players hated the grindy nature of Star Wars: Battlefront II when the game first came out, there are certain players who like that sort of thing. We fully understand that there is something quite rewarding in spending hours and hours to unlock an extremely rare piece of gear. If you are someone who is into those kinds of games, then Destiny 2 is for you.
The game is an MMO at heart and manages to perfectly combine looter-shooter gameplay with tight fighting mechanics. Although the game has been out for some time, it still has a substantial playerbase, and the developers continue to add content and new quests sporadically.
While there are other games of a similar nature out in the market, almost none of them are able to compete with Destiny 2 when it comes to scope and optimization.
Lastly, remember that while Destiny 2 is an online game that must be played in an MMO environment, it can be played alone. That is why it was on our list of the best single-player campaign games for Xbox.
Mass Effect Andromeda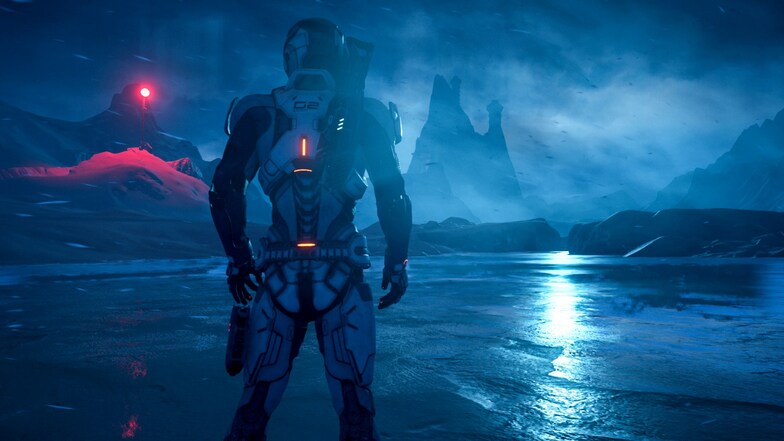 It seems that it is extremely common for space games to be buggy and incomplete messes upon launch. It is completely understandable too, as the scope of these games is usually larger than your average shooter or exploration game.
While Andromeda was both hated and made fun of upon release, it is another game that is now worth playing for Mass Effect fans. While we won't say that this is a title that truly stands out in any way, it manages to provide a modern and somewhat complete Mass Effect experience. If you are a fan of the series, you should play this game for sure. If you aren't, you can take it or leave it.
Alien: Isolation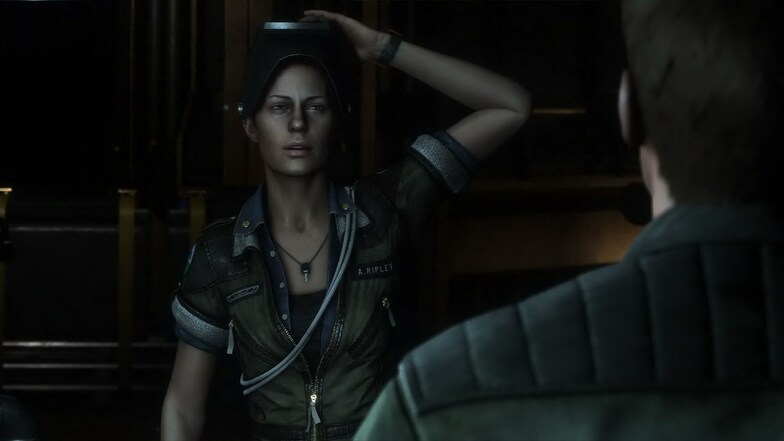 You would think that there would be a lot of space horror games, but you will be surprised by just how short that list is. Despite the fact that space allows for the writers to indulge their creative side and use the emptiness to their advantage, horror games are usually based on Earth.
Alien: Isolation came out all the way back in 2014. It has not even been optimized for the Series X, which means that the game looks quite outdated by modern standards. Despite that, it truly is one of the best games when it comes to combining horror elements with survival in a space setting.
When an alien attacks the Earth, you not only have to save your own life but also avoid all the panic-stricken people trying to do the same. With barely any resources at hand, the game can be extremely difficult at times. That said, it also creates a very rewarding experience when you clear a difficult section after multiple failed attempts.
Surviving Mars
Surviving Mars is the next game on our list of the best space games for Xbox. While the title may make you think that this is a game in a similar vein to Alien: Isolation, it is actually quite different. Surviving Mars is a city builder that revolves around humanity colonizing Mars.
Think of yourself as Elon Musk. You are responsible for making all the major decisions that will determine the welfare and survival of all the people in the colony.
While the game is a standard city-builder and fails to stand out from a host of other similar games, it does have a theme very specific to space. As such, fans of space games may find it to be a much more enjoyable experience as opposed to other simulations of a similar sort.
Dead Space Series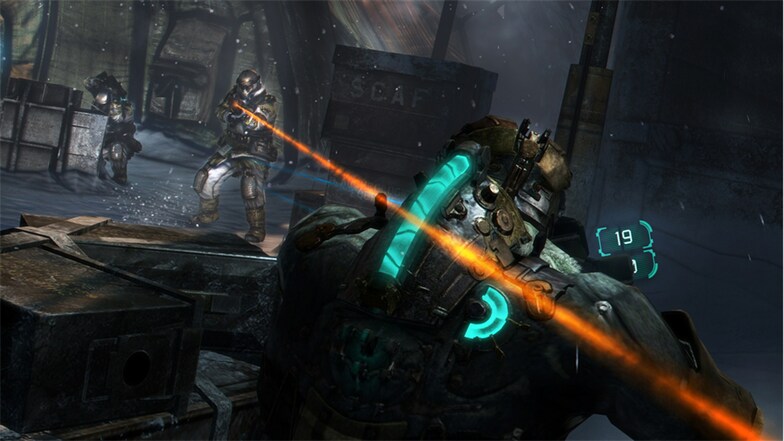 Dead Space games were quite popular back in the day, although they have largely faded into obscurity. Despite that, all three games in the series had their moments. Due to the backward compatibility features on Xbox Series X and S, it is possible for you to now play them.
You have access to many of the expansion packs that came with the games as well. Overall, the gameplay is a bit like Alien: Isolation. However, combat plays a much larger role in Dead Space, with horror and survival taking a backseat.
The story is quite standard, with you fighting to save both yourself and mankind from forces never seen before. Still, the three games in the series should provide enough gameplay for their cost to be worth your wallet.
Lovers in a Dangerous Spacetime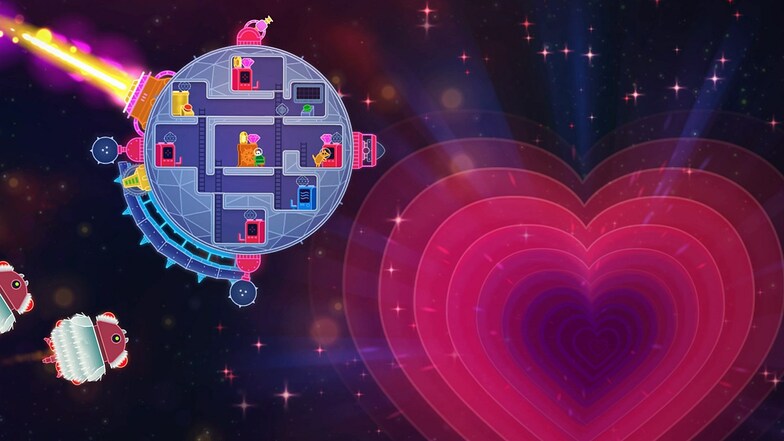 The last few entries on this list have been all doom and gloom. It's time to change that with a game that is set upon a much happier premise. That said, Lovers in a Dangerous Spacetime is based primarily around combat. You and up to three other players fight evil forces that are against love, and it is up to you to stop them.
The controls are extremely simple, and all you need to do is to fight, upgrade your equipment, and fight some more until you get to the end. There isn't a lot in terms of a story, but the game is extremely challenging and will have moments where you want to rip your hair off.
Considering how cheap the game is relative to other games on this list, we would strongly recommend that you and your friends give Lovers in a Dangerous Spacetime a try. That said, this is meant to be played in co-op mode, and we did not find it to be nearly as enjoyable when played alone.
Kerbal Space Program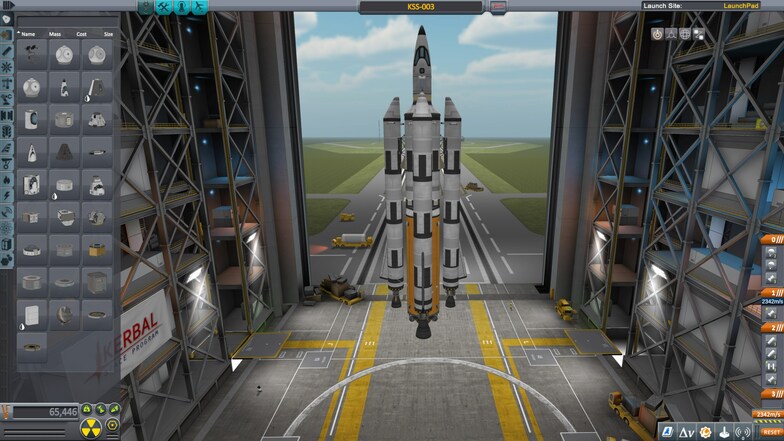 Kerbal Space Program is the last title on our list of the best space games for Xbox Series X / S. In this game, you control an alien race's space program, and it is up to you to develop the program in its entirety.
At first, you will be developing aircraft that will take you to outer planets. Later on, you will be able to set up bases on the planets that you have discovered to further expand your program and find out what lies in the galaxy.
It is quite surprising just how much depth Kerbal Space Program has. There are nuanced parts of every launch that will directly or indirectly impact the result of your exploration. As such, this is a game that space nerds can play all day long.